Nest has hatched another egg. The Alphabet subsidiary has opened preorders for its newest product, the Nest Cam Outdoor, slated to ship in fall for $200.
The white, weatherproof brother of the popular Nest Cam Indoor retails for the same price and offers similar features: continuous live streaming surveillance via Nest's app, motion and sound alerts and two-way audio communication. Both have night vision, though the Outdoor's is enhanced with eight infrared LEDs. The new camera joins the family of Nest's internet-connected home devices: a thermostat, a smoke and carbon monoxide detector and an indoor camera.
By enabling the Nest Aware service on the Nest Cam Outdoor for $10 or $30 per month, buyers will be able to archive 10 or 30 days of footage for review. They'll also receive alerts from the company's newly minted "Person Alert" software, a machine learning program developed at Google that recognizes people in the camera's field of view, as opposed to a dog or a particularly wind-troubled tree. If subscribers are so inclined, they can also create timelapses from footage to watch their grass grow. Nest Aware is available on any Nest camera.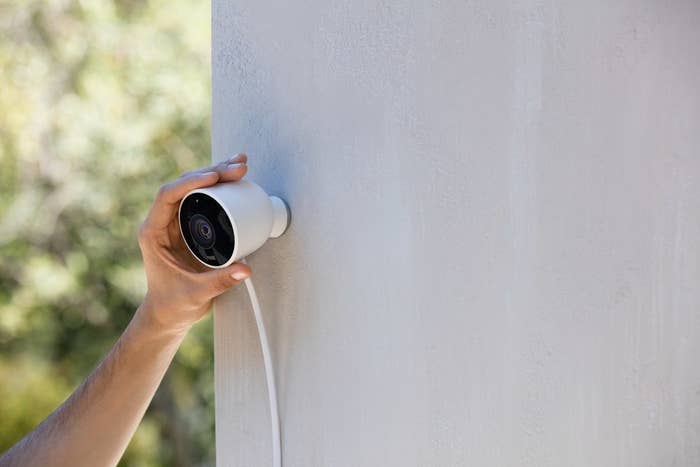 A central selling point of the new camera, according to Nest Product Manager Mehul Nariyawala, is its technical superiority. Its field of view, weighing in at 130 degrees, is one of the widest on the market. Nariyawala said the team designed the camera so buyers wouldn't need many to completely surveil their homes.
The Nest Cam Outdoor's photo and video resolution—1080p at up to 30 frames per second—also outstrips a lot of its competition. But saving such high definition images and footage necessitated that customers pay for storage as a subscription, according to Nariyawala. A month of 1080p video is data-intensive. It adds up to about 150 GB of cloud storage.
Nest users have been requesting an outdoor camera for a long time, and the company claims that 30 percent of its users point their indoor cameras out their windows and "hope for the best," in Nariyawala's words. A University of North Carolina at Charlotte survey of burglars bolstered support for the product within the company; the study concluded that more burglars think about whether there are security cameras than if there are people in the house. The survey also found, however, that an audible alarm, a feature the Nest Cam Outdoor lacks, was a more effective deterrent to crime than cameras.
Haomiao Huang, CTO of outdoor camera maker Kuna, thinks such conspicuous surveillance is a mistake. He's impressed with the video quality of the Nest Cam Outdoor but disappointed by its design. Kuna's outdoor camera, in contrast to the Nest Cam Outdoor, is disguised as an exterior light fixture. It comes with a 100 decibel alarm and two-way audio communication. Its 720p video footage is lower quality than Nest's, but Kuna users can archive 30 days of footage for less—$4.99 per month.
Nest titled its latest press release "Nest Reinvents the Outdoor Camera," but Huang thinks it's nothing new.
"It's disappointing that this new product is just a weatherized Nest Cam with an extension cord," he said. "You don't want to live in a house with cameras and cables everywhere. It'll look like a drug dealer's house." The Kuna camera plugs into existing sockets meant for light fixtures, hiding its power cables. The camera isn't completely concealed, though; Huang believes that burglars notice Kuna cameras because they're on the lookout for surveillance.
The Nest Cam Outdoor does come with a 25-foot power cord that users can attach to their walls with several clips. The camera itself mounts magnetically. Nariyawala said the cord was intentional. To make 24/7 surveillance happen, he said, the camera needed continuous power. He compared battery-powered, motion-sensing cameras to sleeping security guards, unreliable and only waking up at loud noises, but praised the constant filming by the Nest Cam Outdoor as akin to an alert security guard, always on the lookout. To him, the camera furthers Nest's goal of "turning every home into a thoughtful sanctuary."
To Kuna's Huang, it's a missed opportunity.
"It's still just a passive monitoring device," he said. "The point isn't to catch them in the act or after the fact. It's to prevent the act in the first place."