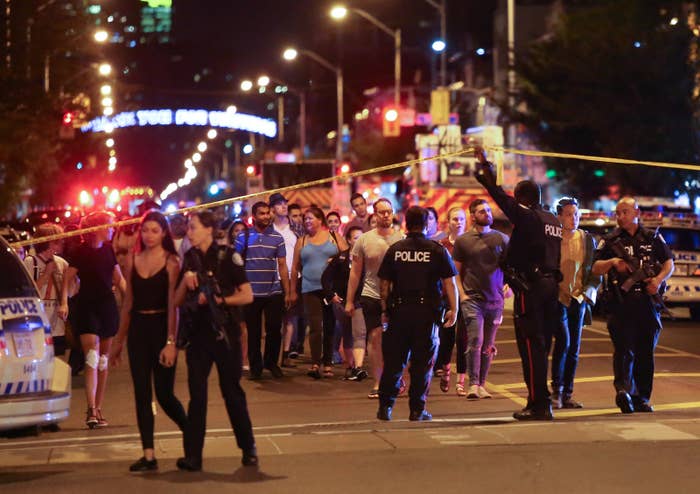 Police said Wednesday there was "no evidence" to support claims that the Toronto shooter had ties to ISIS after the terrorist group claimed responsibility for the deadly attack.

Officials identified 29-year-old Faisal Hussain as the gunman who opened fire in Toronto Sunday night, killing an 18-year-old woman and a 10-year-old girl and injuring 13 others.
"We will continue to explore every investigative avenue including interviewing those who knew Mr. Hussain, reviewing his online activity, and looking into his experiences with mental health," Toronto Police Chief Mark Saunders said.

Earlier Wednesday, ISIS claimed Hussain "was a soldier of the Islamic State and carried out the attack in response to calls to target the citizens of the coalition countries." It provided no evidence to back up the claim.
"At this stage, we have no evidence to support these claims," Saunders said.
In a statement, Hussain's family said he had "severe mental health challenges, struggling with psychosis and depression his entire life," and added, "the interventions of professionals... were unsuccessful."

The family said they did their best to help him, but "could never imagine that this would be his devastating and destructive end."
"We are utterly devastated by the incomprehensible news that our son was responsible for the senseless violence and loss of life that took place on the Danforth," the family said.
Aamir Sukhera, a friend of Hussain's, told local media that Hussain had disclosed to Sukhera eight years ago that he was suffering from psychosis and depression, and was getting professional help.
"I can't say why he did it or not," Sukhera told CBC News. "I wish he had talked to me about something like this. But do people talk to someone before they do something like that? I don't know."

Sukhera said that Hussain was "quiet and reserved," but that when he saw him three weeks ago, he saw no signs of anything wrong.
"He had a million-dollar smile and he was very upbeat and happy whenever I saw him," he said. "I didn't identify any triggers."
Khalid Malik, a friend of Hussain's father, told local media Hussain was "mild-mannered and polite."
When Malik would run into him, where he worked at a Shoppers Drug Mart, Hussain would say he was making himself a sandwich for dinner, because his mother would often visit his brother at the hospital.
According to CBC News, Hussain lived with his mother, father and brother in a high-rise in Toronto's Thorncliffe Park neighborhood, but his brother had been in a coma for nearly the past year and a half, following an accident. The family made daily visits.
The shooting broke out in Toronto's Danforth neighborhood, also known as Greektown. The two victims killed in the shooting, 18-year-old Reese Fallon and an unidentified 10-year-old girl, were from the Toronto area, Police Chief Mark Saunders said earlier in the day, adding that another young girl remained in critical condition.
The Ontario Special Investigations Unit (SIU) said that after speaking to Hussain's family, they decided to release his identity "due to the exceptional circumstances of this tragic incident and the public interest."

They also confirmed that Hussain died of a gunshot wound, but said his motive remained unclear.
The SIU did not immediately respond to a request for comment.