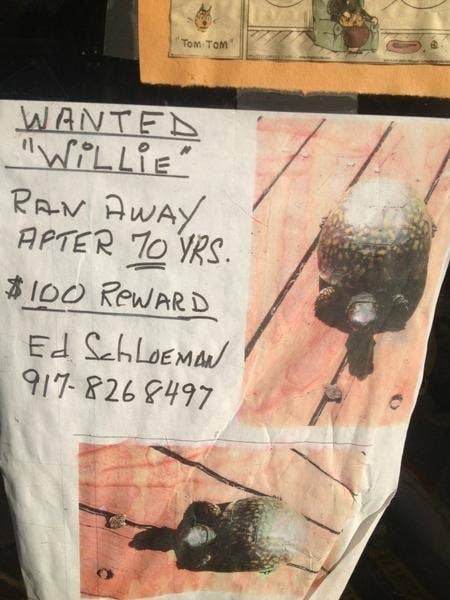 Ed Schloeman's parents purchased four eastern box turtles in the early 1940s, right around the time Schloeman was born.
When his parents died 15 years ago, the surviving turtle, Willie, went to Schloeman, who still lives in the Windsor Terrace neighborhood he grew up in, and who is now 70 years old.
"When my parents passed away I received that wonderful gift," he told BuzzFeed.
Schloeman kept Willie, who's about seven inches long with the species' distinctive brown and yellow shell, in a "caged environment" in his back yard on East 2nd Street, a sloping street a block from Green-Wood Cemetery. But late last year, Willie vanished.
"He just got out somehow," said Schloeman, who plastered the neighborhood with "Wanted" flyers, one of which BuzzFeed noticed on the door of the nearby Sean Casey Animal Rescue.
"He's probably hibernating someplace somehow," Schloeman, who sells fire suppression systems from his Brooklyn home.
Schloeman, a Vietnam veteran, is also active in a charity that brings Transcendental Meditation to soldiers suffering from post-traumatic stress.
"Hopefully if he unhibernates in April, a neighbor will find him," he said.
Schloeman said Willie has no particular personality, and didn't appear personally anguished over his disappearance.
"You can't get close to a turtle," he said.