Here Are Some Facts About How Women Watch Porn That Might Surprise You
What are women searching for, and what are their opinions on porn in general?
Recently, I published an article that showed how porn has changed in the last 10 years. But it still seems to be taboo for women to watch porn and openly discuss it. So I think it's time we get that discussion going, don't you?
YouPorn recently released some data about women and their relationship with porn. Considering that around a quarter of YouPorn's audience is women, there's quite a lot to look at.
Of the 24,000 people surveyed, 76% are considered millennials (18-34 years old), 57% label themselves heterosexual, and 32% identify as bisexual. Fifty per cent are also single, while 27% are dating, and 20% are married.
The three most viewed porn categories by women are Lesbian, Romantic, and Threesome. Compared to men, women are more likely to look at the Cunnilingus (306%), Lesbian (144%), and Romantic (134%) categories.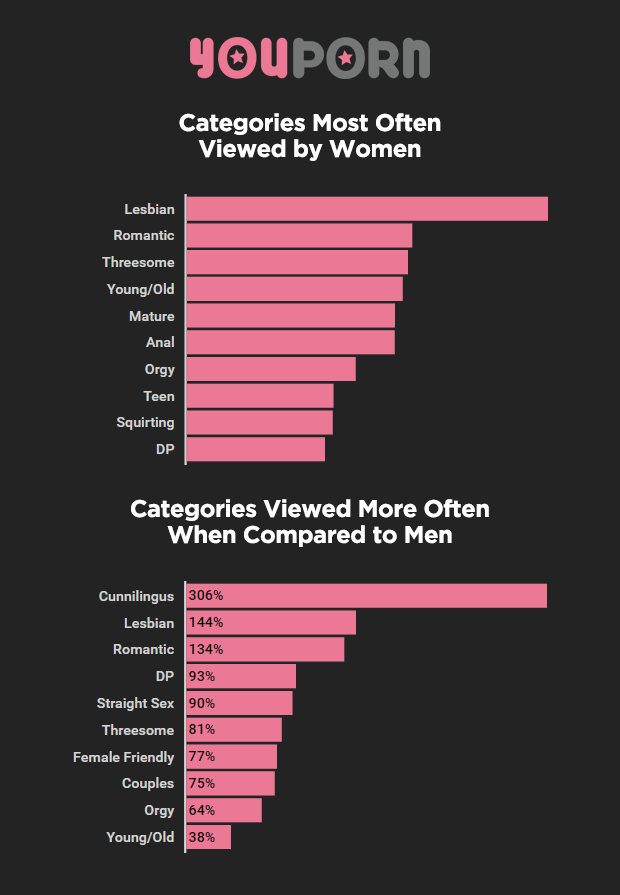 What women are looking for isn't much different. The most popular search terms by women are "lesbian", "massage", and "threesome". In comparison to men, women are more likely to search for "hardcore pussy licking" (630%), "lesbian scissor" (570%), and "lesbian threesome" (351%).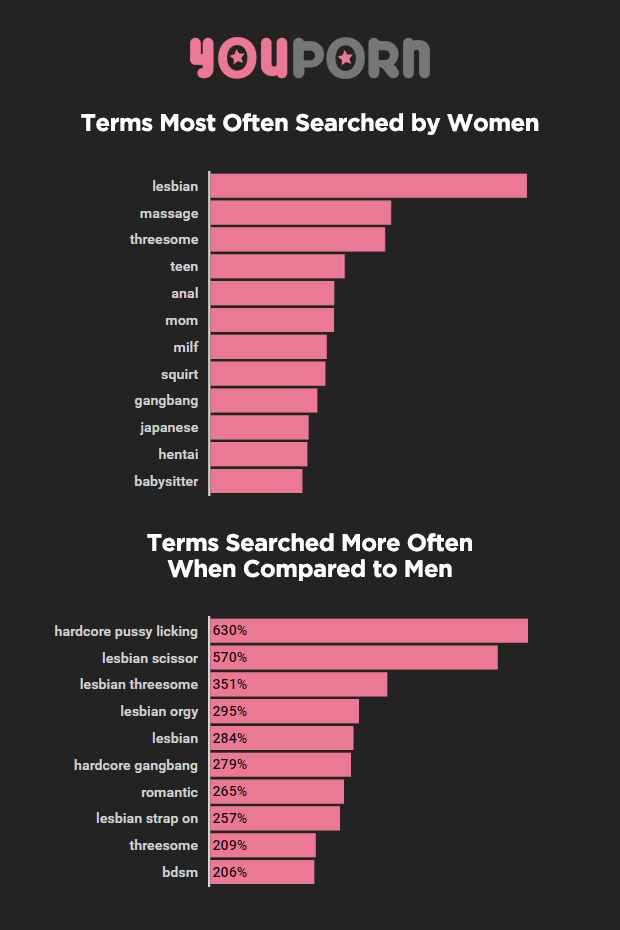 Wondering if you watch porn the same way as other women? Well, 28% decide to get fully naked before watching porn, while a whopping 58% don't do anything beforehand – they just want to get down to that viewing pleasure.
When asked why they watch porn, 27% of women got straight to the point and said it's because they goddamn enjoy it. The other two top reasons for watching porn were because it satisfies a fantasy without acting on it (16%) and because they feel excited at that moment (14%).
In relation to picking porn to watch, 34% of the women surveyed choose videos that include a participant they can relate to. This is super interesting, as 56% of women have apparently imagined themselves appearing in a porn video.
Twenty-eight per cent of the women also choose videos with a dominating female character, while 40% choose to watch a video that includes actresses within their age group.
In a rather sad statistic, only 51% of women agree that it is equally acceptable for women to watch porn as it is for men.
In a similar vein, only 54% would discuss their porn habits with their friends, and over half would actually be embarrassed if their friends knew they watched porn at all.
Meanwhile, looking at relationships, 89% of women would prefer to watch porn alone than with their partner, but 69% (nice) wouldn't be embarrassed if their partner found out they'd been watching it.
However, 3 in 10 women actually think that watching porn without their partner counts as cheating.
So how do women feel after they've watched porn? The majority (37%) feel satisfied, while only 17% feel naughty. But that's overruled by the 20% of women who say they still feel horny afterwards, and are raring to go again.
So, now you've got all those stats, what's your opinion? Don't be embarrassed to discuss porn – sound off in the comments below!