Jade From Little Mix Had A Drag-Themed Birthday And My Little Gay Heart Is Exploding
Condragulations to the fifth member of Little Mix: Shaneeda Nibbles.
In case you didn't know, Jade Thirlwall (from the Haus of Little Legends, also known as Little Mix) is a gay icon. She's basically an honorary member of the LGBT community.
So it was only fitting that for her 25th birthday celebrations, Jade threw the gayest party of all time and transformed herself into a drag queen for the night.
The genius name was given to Jade by none other than drag queen Willam, who was a contestant on Season 4 of Drag Race.

Fans were happy to see Jade having the most Jade party of all time.
And that she had revealed her true form in Shaneeda Nibbles.
It wasn't just Jade that went all out for #Jades25thkiki. Leigh-Anne looked like a vision in pink and iridescent thigh high heels.
And there was also this INCREDIBLE pink fur coat, which she matched with her boyfriend.
Jesy also dressed up for the party, and came to slay in red.
She even turned one of her friends into a drag queen. Jesy Nelson: A DRAG MOTHER.
From now on I'm going to attend every party in one of these outfits and nobody's going to stop me.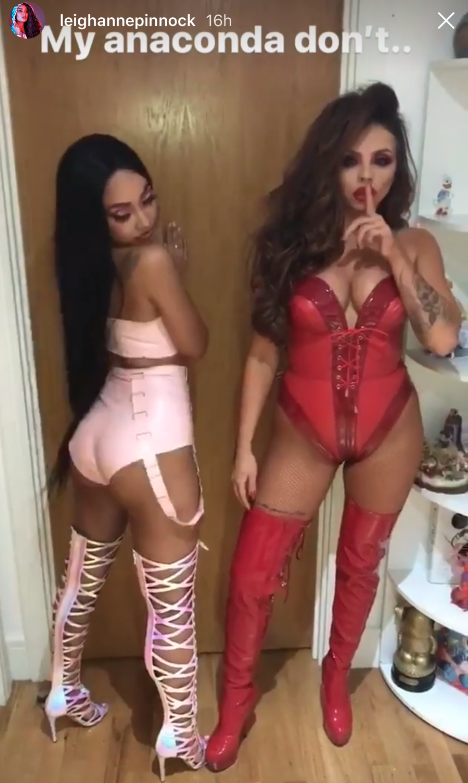 And tbh I can't blame her because the party looked like so much fun.
If you listen really carefully, you can probably still hear me screaming "YAAAASSS" at the top of my lungs.
This is like all my gay dreams come true.
If Little Mix ever decide to go their separate ways (RIP me on that dreaded day), Jade definitely has a future in party planning. Now, how do we get an invite for #Jades26thkiki?