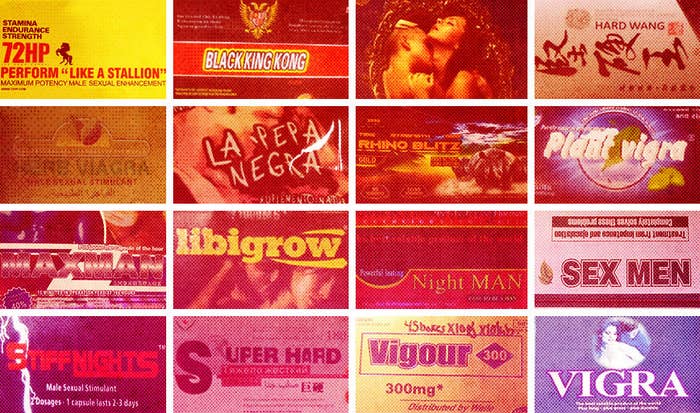 Bodega customers, beware: Some of those herbal supplements claiming to be an all-natural ticket to a long-lasting hard-on are most likely pulling a fast one. It's not that they don't work — it's that they contain the active pharmaceutical compounds found in drugs like Viagra.
In the past week alone, the Food and Drug Administration has uncovered 25 supplements tainted with the active ingredients found in prescription erectile dysfunction drugs, such as Viagra and Cialis.
"We're not talking about trace amounts of this stuff," Pieter Cohen, an assistant professor of medicine at the Cambridge Health Alliance who specializes in the supplement industry, told BuzzFeed News. "FDA doesn't say how much they've found, but whenever we've taken a look at this, these dosages are really significant."
"They can contain dosages twice as high as Viagra itself," Cohen added.
Unlike prescription drugs, supplements can be sold without going through an FDA approval process to ensure they are safe or do what they claim. No one knows what ingredients these supplements actually contain until consumers complain about unexpected medical problems, at which point the FDA may conduct an investigation.
"The law is absurd. It's just saying, 'We encourage false advertising,'" Cohen said.
The supplement industry grosses roughly $32 billion a year selling some 85,000 products.
In the last decade, more than 500 of them have been found to be tainted with pharmaceutical compounds. One of the biggest categories of tainted supplements are those promising improved sexual performance.
This week's warnings from the FDA, for example, revealed that an array of supplements — with brand names such as Hard Wang, Night Man, Stiff Nights, and Vigra — all contain sildenafil citrate, the active ingredient in Viagra. Stiff Nights was implicated in the death of a Missouri man in 2012.
Many of these products are produced in factories — usually located in China — that also make counterfeit drugs. According to Albert Wertheimer, a professor at Temple University's School of Pharmacy who specializes in counterfeits, Viagra opened the door to what is now a huge illicit industry.
"We really only see the tip of the iceberg," Wertheimer told BuzzFeed News. "For every one counterfeit that's made public, there could be 50 or 100 others."
It's likely that many of the same producers cranking out fake Viagra are also selling an array of dietary supplements, which carry less risk of legal consequences because they typically fly under the FDA's radar.
"They are often distinctly linked. The same folks who are manufacturing prescription medicines are manufacturing these over-the-counter supplements," Neil Campbell, senior manager for global security at Pfizer, the drug company that produces Viagra, told BuzzFeed News. "Whatever makes money, they'll manufacture."
Pfizer has hired a team of chemists, former customs employees, and ex-FBI agents who are devoted to tracking down and reporting counterfeit drug producers.
Pfizer has a vested interest in rooting out fake versions of Viagra, which raked in nearly $1.7 billion for the company last year.
In a 2013 study, Pfizer scientists tested 58 "herbal" and "all natural" supplements collected from convenience stores and gas stations in Atlanta and Baltimore. Of those, 81% contained the active ingredients found in Viagra and Cialis, or contained synthetic analogs that have never been tested in humans. The cost of the supplements ranged from $2.99 to $17.99, whereas Viagra is around $22 per pill.
The FDA declined to comment on whether the recent string of busts was part of a single shipment found to contain many of the tainted supplements, or whether it's part of an expanded ongoing effort to crack down on the industry as a whole. But in general, Cohen said, drug-spiked sex-enhancing supplements seem to be on the rise.
Cohen and Wertheimer argue that stopping the problem will require an overhaul of federal regulations. Campbell also stressed the importance of increased cooperation between the FDA, law enforcement, and the various pharmaceutical companies producing the drugs.
But Cohen also supports a more provocative move: To curb demand for supplements and counterfeits, increase the supply of the real thing.
"Make Viagra an over-the-counter medication," Cohen said. "If you were told what to watch out for, what not to combine it with, if you had Viagra on sale at all drugstores, things would be much safer. It's our moral and social resistance to that that's stopping it. That and, Pfizer wants to make more money."
A spokesperson for Pfizer said Viagra should not be prescribed without consulting a health care professional.