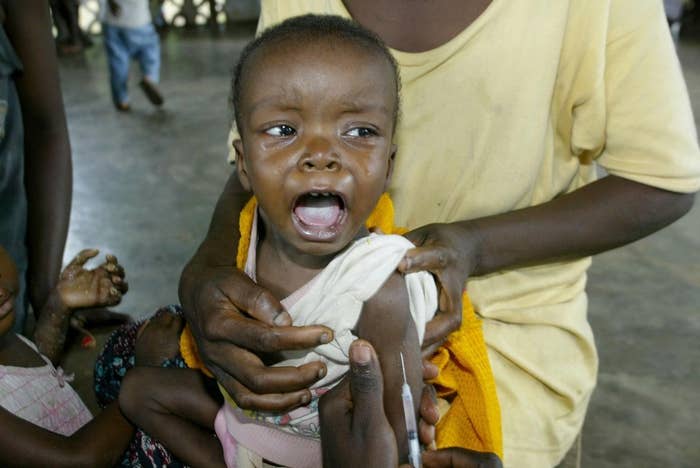 As people in Sierra Leone, Guinea, and Liberia begin to recover from last year's Ebola outbreak, a new menace is on the horizon: measles.
The three countries are facing a huge measles outbreak that could cause anywhere from 2,000 to 16,000 additional deaths, according to a study published Thursday. Measles will have a much greater reach than usual because the Ebola crisis prevented health care workers from delivering routine vaccinations to children, the study found.
The scenario is not uncommon after humanitarian crises, when access to health care is cut off and malnutrition is widespread. Wars, natural disasters, and political upheavals are often followed by infectious disease outbreaks.
Beginning last March in West Africa, "health care centers were closing, people weren't coming in because they were scared of the disease, and resources were all being diverted to fight the Ebola epidemic," Justin Lessler, assistant professor of epidemiology at Johns Hopkins University and lead author of the paper, told BuzzFeed News.
What's more, when people contract measles, they are more likely to die because of the widespread malnutrition and vitamin A deficiency associated with the Ebola outbreak, Lessler said.
Lessler and his colleagues created a mathematical model that estimated that for each month of the Ebola outbreak, measles vaccinations in Sierra Leone, Guinea, and Liberia dropped by about 20,000 kids.
Based on forecasts of how long the Ebola outbreak will last, as well as where unvaccinated children live, the researchers determined that measles could infect 227,000 people — 100,000 more than would be expected if the Ebola outbreak hadn't happened. This could cause anywhere from 2,000 to 16,000 additional deaths, a rate nearly 10 times worse than that of a healthy population with a stable health care system.
"This commonly occurs after humanitarian crises, but this is particularly bad," said Lessler. "Our projections are fairly dire, I would say."
More than 24,000 cases of Ebola have been documented in Sierra Leone, Guinea, and Liberia, and nearly 10,000 people have died.
Case numbers have dropped substantially, from around 1,000 a week at the outbreak's height to around 150 in recent reports. But the countries are still struggling to reassemble their fragmented health care systems.
Liberia's president, Ellen Johnson Sirleaf, foresaw this problem when she declared a state of emergency in the country last summer.
"The epidemic is having a chilling effect on the overall health care delivery," Sirleaf said. "Consequently, many common diseases ... may lead to unnecessary and preventable deaths."
Before the Ebola crisis hit, all three countries had been planning major measles vaccination campaigns, Lessler said. This is because measles vaccination rates had already been dropping in recent years — an ironic consequence of a decade of success.
Between 1994 and 2003, the the World Health Organization reported about 100,000 cases of measles across the three countries. Public health campaigns over the next decade lowered that to about 7,000 cases, showing progress toward eliminating measles from the population. At the height of the campaigns, vaccination coverage reached nearly 90% of 1-year-olds.
But after the success of this big push, vaccination campaigns became less of a priority. By 2013, immunization rates dropped to 73%. This could lead to what experts call a "post-honeymoon period outbreak," in which infection rates spike to dangerous levels because people aren't as vigilant about vaccinating.
Other experts agree: The risk of measles is high.
"We do know that this is a real threat," Karen Grépin, assistant professor of global health policy at New York University, told BuzzFeed News.
Grépin pointed out, however, that Lessler's forecasts make generalizations that might not accurately reflect variations in vaccination reductions, the length of time Ebola crushed the health care system in the countries, or behavior changes among the population, such as schools being closed and people going out much less than usual.
"It's just not clear what these numbers actually are," Grépin said. "[The study is] based on no real data in terms of what actually happened in the context of the crisis, but the answer is we don't know. We don't have better data."
Regardless of the specific numbers, the impending crisis highlights the need for immediate and aggressive vaccination campaigns across Sierra Leone, Liberia, and Guinea.
"We'll need to focus on kids who missed their doses during this crisis, which might require some extra effort," Saad Omer, associate professor of global health and epidemiology at Emory University, told BuzzFeed News. "It'll need more than just a resumption of previous activity."
The increased risks are not limited to measles.
Public health officials are also worried about new malaria and polio infections, and about people being adequately treated for chronic infections such as HIV and tuberculosis.
All of this will require increased support from the international public health community. With measles, there's a relatively easy solution: a one-time, relatively cheap vaccine delivered to children.
"We want to raise the awareness that the international community should not just be thinking about Ebola when they pour money into these countries right now but should also be thinking about the secondary health effects," Lessler said.
According to Grépin, planned interventions from organizations like UNICEF are already underway. "This is a very high priority," she said. The immunization campaigns "are planned, and they are going to happen."
But it won't be easy, particularly because these countries are still staving off Ebola. It will take a delicate balancing of priorities, Omer said, but will ultimately require resilience on both fronts.
"If your job is to save lives, if a child dies of Ebola or dies of measles, there's no difference," Omer said. "At the end of the day, a child is dead."