1.
A bottle of Mike's Hot Honey that you might as well top every meal off with. It's absurd how many things you can add this condiment to.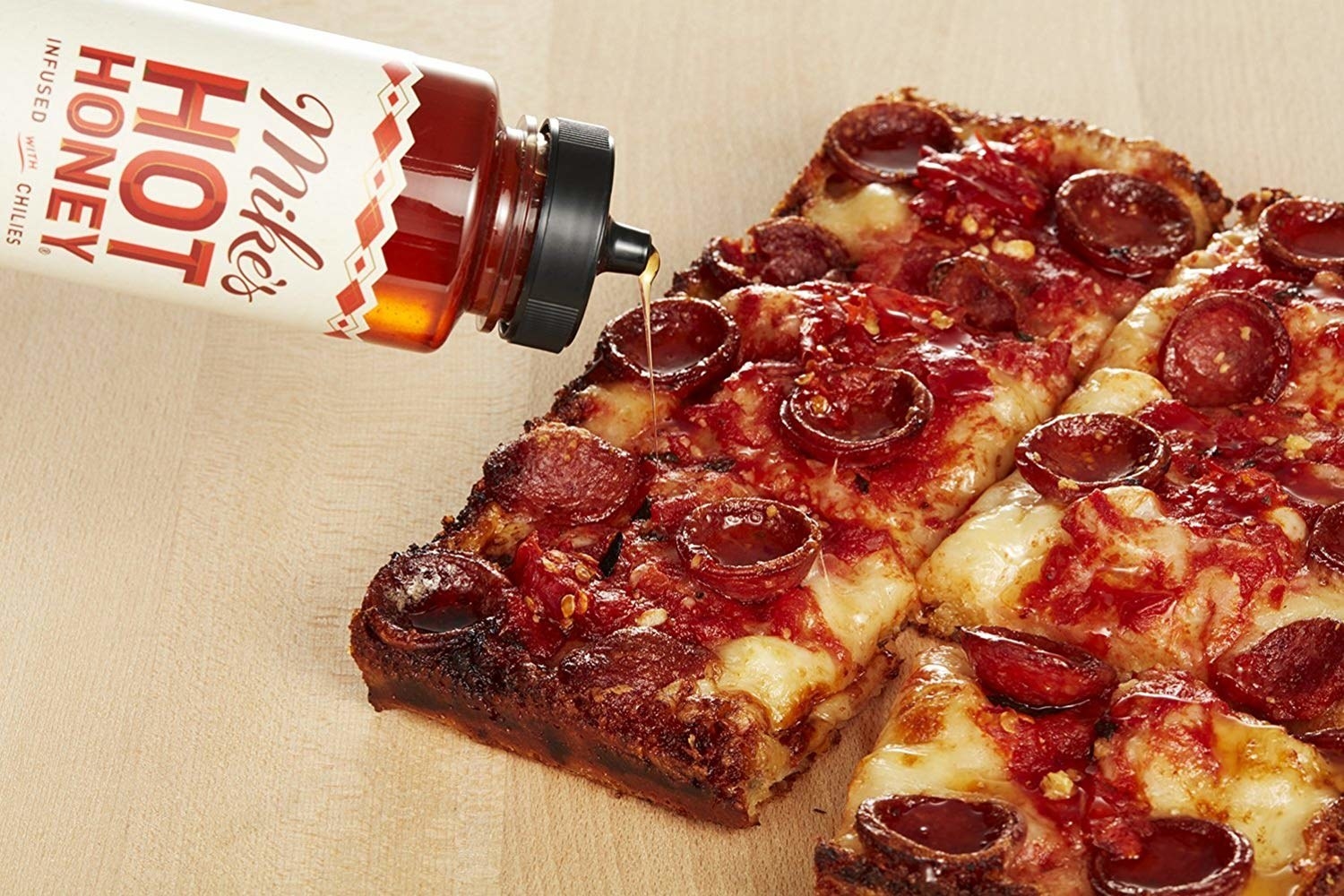 Promising review: "It's just the right amount of heat to make it interesting, but not so hot that it'll interfere with other flavors. One of my peeves about spicy versions of normally nonspicy items is that it's often all about the heat but the flavors imparted by the chiles aren't particularly noticeable or interesting. This honey has a great chile FLAVOR to it, in addition to the heat, but it doesn't overwhelm the flavor of the honey at all. I like it on buttered toast and on fried chicken equally well, and this has definitely become a staple 'sauce' for me!" —S. Ferguson
Get it from Amazon for $9.99.
2.
Essence's Lash Princess mascara to make you look super attentive (and glamorous) during those back-to-back Zoom meetings — even if you're actually bored out of your mind.
Promising review: "Hello, that is my face above, because I bought into the hype of over 110,000 5-star reviews and now I will never look back!! Putting it on is like giving my eyelashes butterfly wings. It doesn't get clumpy, it stays put ALL the live long day (I spent all of last year's ridiculously hot pandemic summer wearing it, so I can speak to that), and you can apply it on very lightly if you don't want it to look so dramatic, or continue applying for longer lashes each time." —Emma Lord
Promising review: "I am a 30-year-old who has been wearing mascara since I was probably 15 or 16 and this is by far the best mascara ever. This beats Dior's almost-$40 mascara. A few times I made make up purchases based off of what reviewers and make up influencers hyped up and was disappointed, this surely wasn't a disappointment." —Mary
Get it from Amazon for $4.99.
3.
A reusable oil-absorbing Revlon Volcanic Face Roller that's a much more reliable alternative to blotting papers. Bonus: It can even be used on a finished face without ruining your makeup!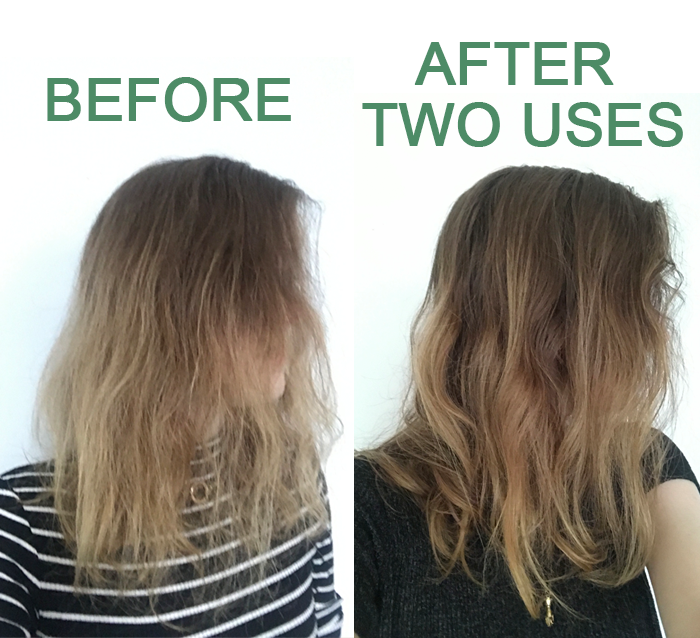 Promising review: "My hair used to be really soft, and then I discovered hot tools and hair dye. While my hair looks good, I really missed the soft texture. This works so well. There are no instructions on the box but I washed my hair with my usual shampoo, towel-dried it, worked about two quarter-sized dollops through my hair, let it sit for 20 minutes and then rinsed out. I went to bed with wet hair which usually results in my hair being kind of tangled and rough looking but I woke up and my hair was as soft and silky as it was before I started coloring it. I'm totally in love with this product, I have long fine hair but this doesn't leave it greasy or weigh it down. I'll definitely buy again." —Ellie
Get it from Amazon for $13.
Bek, a BuzzFeed editor, thinks this protein treatment is the miracle product she's been searching for — read this post on game-changing beauty products to learn why!
5.
A pair of high-waisted yoga pants that actually have pockets (*gasp*) so you can finally store your phone comfortably while working out. They come in so many colors you'll want to buy a pair for every gym day of the week!
Promising review: "I bought these for the pockets and the high waist. The material is surprisingly squat-proof. Even with white undies, not a single bit was seen when I did a squat... and trust me I was looking for these to fail. The material has a matte finish and is really soft (like cotton). I hate constantly pulling up yoga pants so I was looking for high-waisted that stayed high and these are it. They're a bit snug, but I never have to pull them up. I am a womens 14 and the XL fit great." —megan

Get it from Amazon for $19.95 (available in sizes XS–3X and 18 colors)

6.
A Revlon one-step hair dryer and volumizer hot air brush, which is one of the most versatile (and most popular) hair appliances on the internet. Instead of having to hold both a brush and a blow-dryer simultaneously to style your hair, you can now free up one of your hands for selfies — because the world deserves to see this thing in action.
Promising review: "I have very thick, wavy hair. I can never blow out my hair because it's too hard to hold the round brush and hair dryer in the right spots. THIS!! It is everything all in one and the oval shape makes it so easy to use. It gets really hot. It is a little loud on high, but I've found if my hair is already a little dry then I can just use it on low. I used a blow dry primer spray to accelerate the drying time and protect my hair. I'm in love! The flat iron always flattens my hair and makes it look dry. This straightens and retains the volume and gives it a soft, nondamaged look." —SAHM2011
Get it from Amazon for $41.97+ (available in four colors).
7.
A L'Oreal *eight-second* lamellar water rinse-out treatment to give your hair out-of-this-world shine and softness, and starts working after just one use. Reviewers say it's become a staple in their routines.
And it's silicone-free!
Promising review: "I don't usually do reviews on products, but for this one I absolutely have to. I have 3c type hair and struggle with a lot a breakage, unmanageability, and moisture. When my mom mentioned this product to me I didn't take her seriously because of the simple fact that we have two completely different hair textures. I never would of thought this brand would work on my hair. I have always used ethnic hair products and stayed away from brands such as this one because of the alcohol consumption. I have never in my 22 years felt my hair like this. I feel like I have a completely different head of hair. This product is so amazing and I will FOREVER be using this product in my hair regimen. Thank you so much!! ♥️" —Theressa Hailey
Get it from Amazon for $5.95.
8.
A weekly Wet & Forget Shower Cleaner that requires no scrubbing, meaning it's perfect for those of us who are basically allergic to manual labor. Just spray it on the tub after you shower and rinse it off before the next time you hop in. The grime will magically dissolve during the time in between.
Promising review: "This Wet & Forget Shower cleaner is really amazing. I was completely skeptical that any cleaner would work without scrubbing but decided it was worth a try. I first tried it on my fiberglass shower stall and was surprised at how well it works. It is just so easy to spray on after a shower and as the name says, forget. Before my next shower, I just let the water run for a while and use the handheld sprayer to complete the rinsing process so I am not standing in the cleaner. I then tried it on my tile shower stall and it works equally well. I just wish that I could find cleaners for other chores that are so easy to use and that do such a good job." —Bichon Mom
Get it from Amazon for $16.94.
9.
A pack of washing machine cleaning tablets to clean out all the grossness that's accumulated during the time that you've neglected this chore. Reviewers love how well this thing eliminates foul odors and thick layers of grime — which is great, because how do you expect to pull heavenly scented clothes out of a filthy appliance?
Promising review: "I have tried everything to clean my washer. And was a Leitrim skeptical when getting this product. However, these thing are amazing. I used two tablets one at a time but two cycles and my washer looks like it is brand new again with no smell. I will continue to buy these. Amazing product!" —joe tremper
Get them from Amazon for $11.98.
10.
And a pack of dishwasher-cleaning tablets that'll penetrate, dissolve, and remove the residue in the appliance that's even more likely to stink over time than your washing machine. Just pop these in once a month and you'll be good to go.
Promising review: "I am skeptical by nature and have an older machine that was stained from years of use. We have very hard water in our region which makes it even more difficult to clean things. These tablets were like magic...got rid of years of hard water use deposit with one try. Truly impressed. You can bet this is going to be a monthly routine from now on." —Amazon Customer, 3/12/2021
Get a six-pack from Amazon for $5.99.
11.
A genius cat toy to keep your kitty entertained for so long it'll honestly make you jealous. I wonder what it must be like to not have bills or responsibilities.
Promising review: "My cats are OBSESSED with this toy and I find it hilarious since of course it's the cheapest thing we've bought them. When it's time to put it away I literally have to hide it so they don't see where it goes. I swear they would play with it until they passed out if I didn't stop them." —AliaDanielle
Get it from Amazon for $2.95.
12.
A grooming glove – it can be used wet or dry to remove excess hair from your furriest friend *and* give them endless belly rubs at the same time.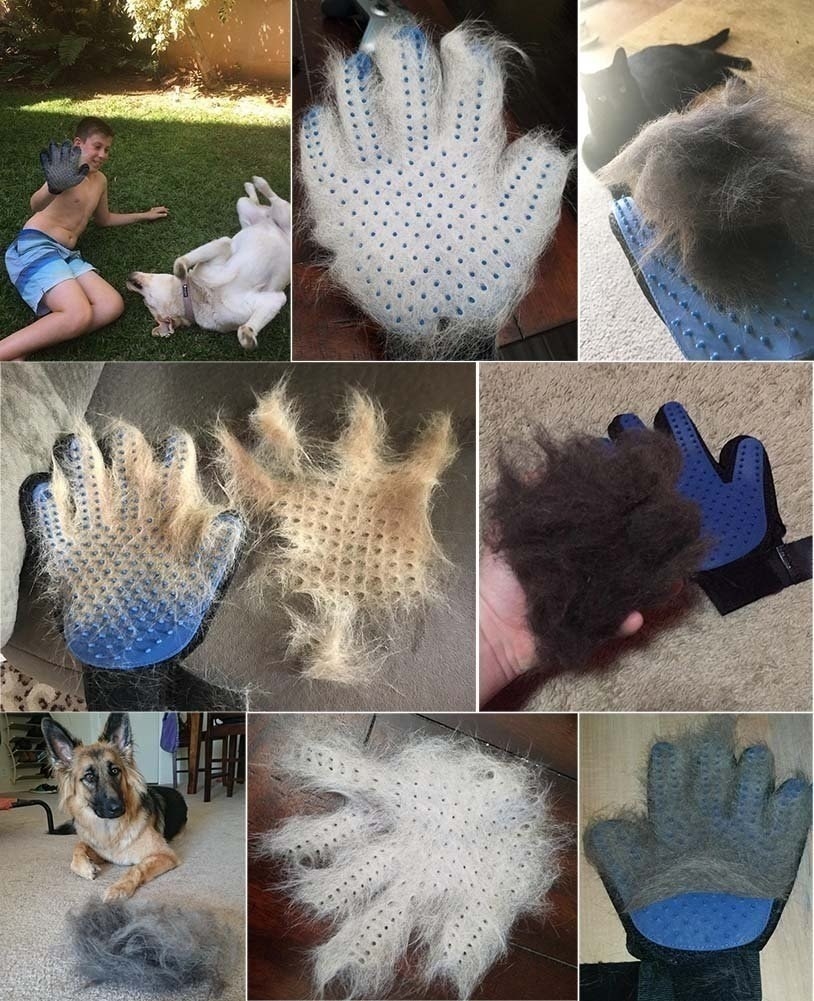 Promising review: "Fantastic dog grooming aid! Our older rescue dog isn't too keen on the routine dog brushing stuff but her thick coat really needs the grooming — this dog grooming glove is the exact right answer. Put the glove on, pet the dog, and all that loose hair comes away, leaving her coat feeling so much smoother and softer without causing her to be nervous or upset over a brushing. Highly recommend, and yes I'm going to be ordering as gifts for a couple of other dog owners I know!" —DSP
Get each glove from Amazon for $7.99 (available in both left-handed and right-handed versions).
13.
An anti-dandruff shampoo to save you from having to shell out a co-pay at a dermatologist's office. Whether you have a relatively mild case of dandruff or your scalp and shoulders resemble the Swiss Alps during ski season, this thing will become a staple of your shower routine.
Promising review: "MIRACLE PRODUCT! If you have a flaky scalp from dandruff, BUY THIS. I was about to go to the dermatologist if this stuff didn't work. Thank goodness I saved myself hundreds of dollars by giving this product a shot. I used it four or five times (over a month) and it cleared my scalp almost completely. One more use and my scalp will be 120% healed! This stuff blew my mind. Totally worth it." —Chris
Get it from Amazon for $10.29+ (available in two sizes).
14.
Or this bottle of sulfate-free Biotin shampoo infused with tea tree, jojoba, and argan oils to help treat hair loss. This is a potential option for folks whose hair is thinning a bit sooner than expected, or people simply looking to go a few extra rounds with father time.
Promising review: "I love this shampoo! I had gastric sleeve surgery and my hair was very, very thin. I started taking biotin and switched to biotin shampoo as recommended by my doctor. It doesn't make your hair grow by washing it but it makes your hair and roots stronger. And it worked. After using the whole bottle, I found my hair was stronger. I had a lot of new growth that was sticking around (the previous new growth fell out early on) and my hair was getting thicker. Eight months later, my hair is back to normal. It's longer and thicker than ever. I still use it twice a week and love it! I'm not crazy about the way it smells but others love it when they smell my hair." —Diane J. Huff
Get it from Amazon for $9.95.
15.
A bottle of Ambi Skincare Fade Cream to gradually fade dark spots and prevent new ones from appearing. It's made with hydroquinone, vitamin E, and alpha hydroxy acid — and it has SPF to protect your skin from the sun!
Promising review: "I have purchased this product over eight times. I love it!!! I noticed results after about two weeks of putting it on once a day. Every time I get a new pimple, I put this on after the pimple heals and it gets rid of the scar. I use it on my face, arms, back, and chest. Recently I started using it on my bikini area as well to get rid of ingrown hair scars. I recommend this product to everyone I know who has acne scars." —Amazon Customer
Get it from Amazon for $4.97.