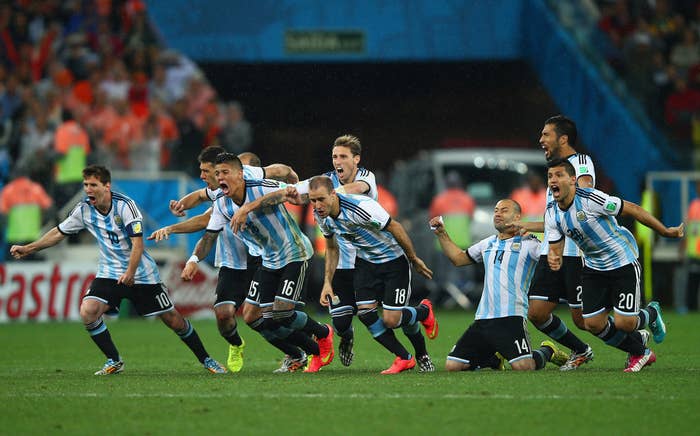 Updates
Argentina wins in penalties! 4-1 after Rodriguez puts it in!
Kuyt keeps the Dutch alive, trail 3-2 in penalties.
It's in, and Argentina leads 3-1 in penalties! Netherlands must score here to stay alive.
SAVED! Argentina blocks another and they're in prime position to advance to the World Cup Final.
2-1, Argentina leads at the end of Round 2 in penalties.
Robben capitalizes, puts it in to tie at 1-1.
Messi! Argentina goes up 1-0 in penalties.
BLOCKED! Netherlands fails to make their first penatly : 0-0
Here we go! The Dutch will step up to take the first kick of the shootout.
120th minute: There's the whistle and we're headed to penalties!
117th minute: Fans eagerly look on at this exciting 0-0 match. 108th minute: Pablo Zabaleta down on the pitch after a brutal hit, looked to have a mouth injury.
Half-time of extra-time: Netherlands 0-0 Argentina
95th minute: Robin Van Persie subbed off. Huntelaar on.
91st minute: Extra-time is underway! Full-time: Netherlands and Argentina are tied 0-0 going into extra-time.
90th minute: Robben with the first real opportunity the Dutch have had the entire match. Deflection leads to a corner.
85th minute:
75th minute: Still nil-nil in the 2nd half after not much from either side. 64th minute: The rain is falling in heavy doses in Sao Paulo. Could make the next half-hour quite interesting.
58th minute: Argentina was a missed opportunity off the mark, still nil-nil.
46th minute: We're back underway in the 2nd half!
Netherlands backup GK spotted practicing for penalties during halftime.
No semi-final World Cup match has finished at nil-nil.
HALF: Netherlands 0-0 Argentina
39th minute: Nil-nil still after only a few chances for both sides. 28th minute: Mascherano down on the pitch after a head-to-head collision. He's clearly a bit out of it as he gets up, but he'll continue..
25th minute: Still 0-0 in Sao Paulo.
15th minute: Messi with a hard free-kick around the left side of the Dutch wall. Save made, still 0-0.
14th minute: Argentina with a free-kick from about 20 yards out. Messi to take it
13th minute: First real chance of the match comes of a bad clear from Argentina around their area. Shot off the volley goes wide-left by the Netherlands.
Argentina players are all wearing a black arm-band in honor of the late Alfredo di Stefano. 7th minute: Slow start to the match, but most of the possession being held by the Dutch.
1st minute: We're underway in Sao Paulo between Netherlands and Argentina!
An Argentine fan shows his support in the stands ahead of the match in Sao Paulo.
Dutch fans show their support ahead of the match in Arena Corinthians.
Here's the team sheets, including starting lineups, for the both teams in their semi-final matchup in Sao Paulo, Brazil.