Power Is Slowly Creeping Back In Tri-State Area, Utilities Say
New Jersey and New York City are still suffering from the largest number of outages, and it could be another week before power is restored in the worst affected areas.
Con Edison's senior vice president of electric operations John Miksad addressed the current power situation in New York City on a conference call this afternoon, here are updates for some of the major locations that are still without power.
Restoration in lower Manhattan is underway. The Cortland network was restored this morning (bounded bounded by West street and Broadway below Liberty St) for roughly 2000 customers. The Bowling Green and Fulton networks that supply the remaining areas of lower Manhattan are still not ready to be turned on — "sometime in the Friday to Saturday time frame those two networks will be working their way back online" said Miksad.
The following network to be restored is the Brighton Beach location which will be ready by 4pm today.
The major flooding and subsequent explosion at the 14th street and FDR location is still a huge problem for Con Ed. "There's a major workforce at that station, working on repairs of the transmission cables that were impacted by flooding as well the protective relay (circuit breakers). We're working to dry out equipment and repair damage." Looking at a Friday to Saturday for the ten networks and 220,000 customers serviced by this location.
No definitive timeline for the roughly 113,000 without power on Staten Island. "We are still doing damage assessment in order to come up with a good estimate of last customer. It's all determined by amount of additional resources we get in around the country." Up to ten days would be "in the ballpark" for Staten Island.
Outside of New York City, other utilities have offered the following updates:
As of Wednesday, 870,814 residents and businesses were still without power, with time estimates of a week to ten days, the Long Island Power Authority said in a statement Wednesday.
New Jersey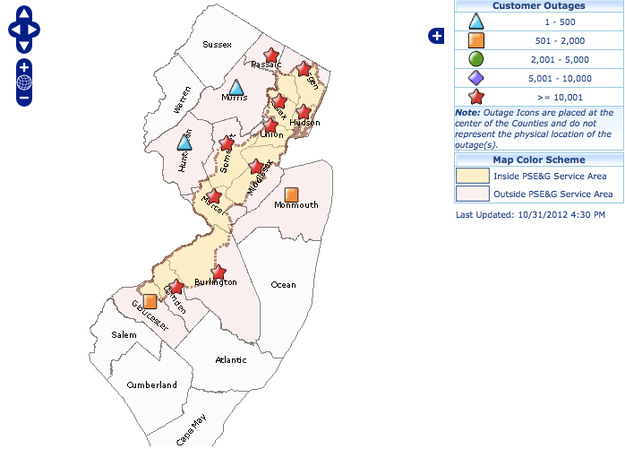 As of 4:30pm on Oct. 31st, still more than 900,000 customers are without power in New Jersey. Could be more than a week before power is restored to all areas: "Given the destructive nature of this storm, however, some customers may be without service for seven or more days," said PSE&G president Ralph LaRossa.
"Repairs necessary to restore electric service knocked out by the hurricane could last 7 -10 days, with a possibility of longer duration outages for some areas," Orange & Rockland said in a statement yesterday.
Jersey Central Power & Light service areas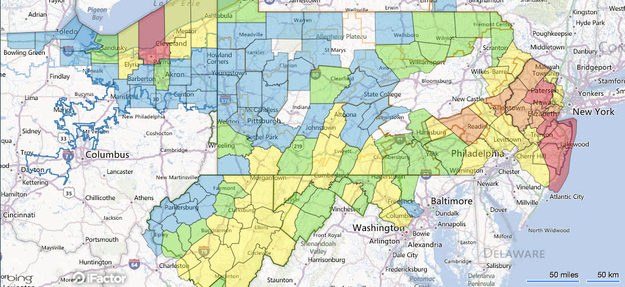 A total of 312,286 customers are still affected in Connecticut, with the areas in black representing the 90% of customers still without power. (The areas in grey are not serviced by Connecticut Light & Power.)