This post has not been vetted or endorsed by BuzzFeed's editorial staff. BuzzFeed Community is a place where anyone can create a post or quiz.
Try making your own!
More News Equals More Followers On Twitter
As Twitter grows so does referral traffic to publishers. BuzzFeed analyzed growth in Twitter followers during the election.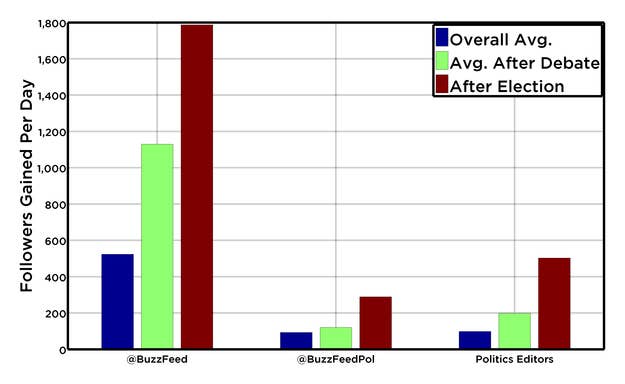 Breaking News Spurs Social Media Growth for Publishers
The surge of over twenty million tweets that lit up Twitter during breaking or major news events in October and early November was an unexpected windfall for news organizations, allowing them to grow their follower base substantially.
A study conducted by BuzzFeed found that tweeting during these events increased follower count for BuzzFeed's writers, as well as BuzzFeed's main account, by as much as four fold. The site's most popular editors gained roughly a follower per tweet on Election Day.
Tweeting more than average — contrary to popular wisdom about tweeting too much — helped spur the growth in followers. During the four presidential debates, BuzzFeed's politics team tweeted 51% more than they did on a normal day and gained 67% more followers than they would have on a normal day. The same was true for BuzzFeed's main account, which tweeted 150% more than it does on a normal day and was awarded with a 120% increase in followers as compared to an average day. One possible reason for this growth is that users are more open to more frequent tweeting during major news events. In fact, they may expect it.
On Election Day, the BuzzFeed politics team tweeted 150% more than they would have on a normal day, and collectively gained 400% more followers than they do on an average day. BuzzFeed's main account doubled the number of tweets it sent out during election day and gained double the number of followers as compared to an average day.
Notably the BuzzFeed account didn't simply tweet articles from BuzzFeed — it actively participated in the dialogue on Twitter, increasing the opportunity to be retweeted and thus followed.
The direct reward of having more followers is simply more referral traffic, especially as Twitter continues its fast-paced growth as one of the biggest referrers of traffic in 2012. According to the BuzzFeed Network, referral traffic from Twitter grew by 96% between January through October 2012, sending 21M referrals to publishers. (The BuzzFeed Network should not be confused with BuzzFeed.com, it represents a set of sites like TMZ and The Daily Mail that altogether have over 300 million users a month.)
The equation is simple – more followers on Twitter the greater the opportunity to grow referral traffic. And one of the best opportunities to grow Twitter followers appears to be during major news events, as a larger audience flocks to the social platform to stay up to date.