We recently shared some stories from our readers about brides who were way more chill than people expected them to be, and they were heartwarming, funny, and very, very cool: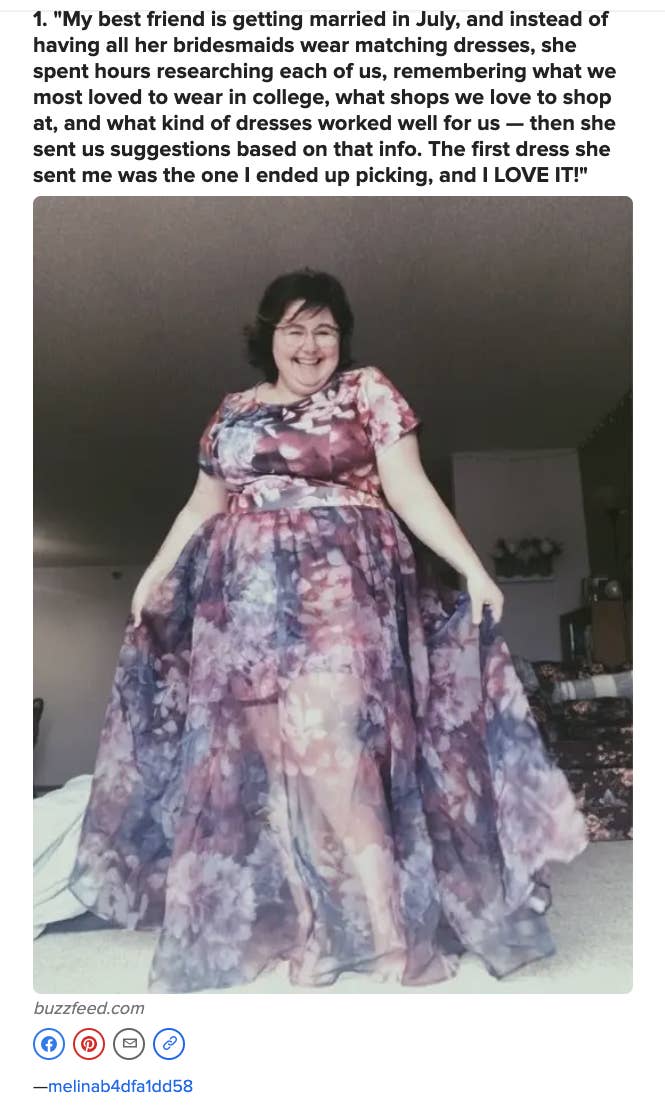 Well, here are a few more stories from our readers about selfless, chill, and really kind brides that will totally make your day:
1.
"I'm a wedding planner, and right after one of the ceremonies, a bird pooped on the Ketubah — the Jewish marriage license which gets signed by the couple, their rabbi, and witnesses, and is usually framed and hung in the couple's home. I nearly had a panic attack having to tell the bride. But her response was to laugh and say, 'Oh well. Shit happens.'"
2.
"My fiancé died shortly before my coworker's wedding. She pulled me aside to let me know that she understood if it was too difficult for me to attend, but that she wanted me to be there. So I decided to go, and I had a great time — but I did end up drinking too much..."
"And she held my hair as I vomited over the balcony, and made sure I had water to help me recover. We've gotten closer over the years, were pregnant at the same time, and now she's going to be my matron of honor at my wedding!"
3.
"My friend Monique had an outdoor wedding in a state park, and it was hotter than hell, humid, there were bugs swarming all around us, and — to top it off — the officiant showed up plastered. He was so drunk that he kept calling her 'Marie' throughout the ceremony, though she kept correcting him..."
"Well, suddenly toward the end of the ceremony, we noticed her shoulders shaking and thought she was crying. But as she got louder, we realized she was actually laughing so hard that tears were streaming down her cheeks! By the end of the ceremony, everyone was cracking up, and Monique and her husband were doubled over with laughter!"
4.
"I had handed the wedding rings to my maid of honor the morning of my wedding, but when my grandfather asked for them during the ceremony, she and my bridesmaids panicked. Apparently, she had forgotten them on the bus..."
5.
"My sister got married at an outdoor gazebo on the river, so we played the ceremony music on a stereo. Well, when they started the music for her to walk down the aisle, they accidentally started playing the wrong song! She took her first steps toward the altar to 'Apple Bottom Jeans' by Flo Rida! I was so relieved she just laughed it off!"
6.
"My cousin misplaced her veil, and she didn't realize it until a few minutes before we were supposed to walk down the aisle. So we cut some tulle from a discreet corner of her decorations, stitched it to a hairclip, and trimmed it up nicely. And she walked down the aisle with just as bright a smile as if we'd found the real one."
7.
"We had depleted our savings a few months before my best friend's wedding when I had to stop working because of my high-risk pregnancy and having to cremate our daughter. So my best friend was thoughtful enough to buy my dress for me and she was willing to pay for my expenses to get to her wedding..."
8.
"We were at the altar about to take our vows when the fire alarm went off. It was an old church, so it had an old fire alarm we couldn't turn off, and the sound was deafening! Well, everyone looked at me expecting me to flip out, but I was laughing so hard I thought I was going to wet myself!"
"We ended up finishing the ceremony on the front steps of the church, while the fire department was coming around the back, and we got some hilarious pictures of it!"
9.
"At my best friend's wedding, my daughter — who was her flower girl — tripped on a piece of carpet and smashed her face right into the bride's gown. But my best friend just picked her up, dried her tears, and let her walk down the aisle with her and her dad."
"And after all of my apologizing and worrying, she just hugged me and said, 'Sister, she's fine.'"
10.
"I rented a limo from a guy my brother-in-law was doing some work for, and a month before the wedding, he sued my brother-in-law. He refused to give me a refund on the limo, so the day of my wedding, I just hoped for the best..."
11.
"My mom passed away the week before my wedding. I was devastated, but I thought that since everyone had already planned a trip in town for my wedding, I should have her funeral the day before. So we celebrated her life, and then we celebrated our new beginning."
12.
"My best friend's sister was a bridesmaid at her wedding, and she left her dress at home...THREE HOURS AWAY! But the bride was so relaxed, she just told her to go buy another one. And her sister couldn't find anything close to the right color, so she just got a black one and used the sash from my dress so it looked planned!"
13.
"The day of my wedding, it was 98 degrees and the room we were getting ready in had no air conditioning. We were as sweaty as can be — even my dad's tux was drenched! — but we just rolled with it. And we laughed all the way through our father/daughter dance."
14.
"My former boss passed away from a chemical spill at work the week before my good friend's wedding. It was really scary for me because he was a young, healthy guy and I respected him a lot. Well, at the wedding, when I went to congratulate the bride, she immediately hugged me and asked how I was doing..."
"She didn't even blink when I started to tear up — she just hugged me and let me weep for a minute. With all she had going on, the first thing she did was make sure I was OK."
15.
"We spent the night before my cousin's wedding watching cartoons, drinking vodka, and eating penis pasta in this little cabin. Well, the morning of, the bride had a huge allergic reaction to the vodka from the night before, which caused her face to swell up, turn red, and peel! But it was no big deal to her — she just put her makeup over it!"
"Nothing was going to ruin that day for her."
16.
"I used to work at a hotel where we often booked wedding room blocks, and once a bride hung her wedding dress from a fire alarm sprinkler. Well, her dress was so heavy that it pulled the sprinkler right down! The sprinkler ruined her dress, and all the sludge turned parts of it black..."
17.
"It was my wedding day, and my father-in-law was late. When he finally came rushing in, I could see that he'd been crying, and when I asked him what was wrong, he burst into tears. He said that he was in the car crying because he was so happy his first son was getting married, and he lost track of time — and that seeing me in my dress made him cry again..."
"Just then, my wedding planner came over, furious that we were delayed. I told her to piss off, and hugged my father-in-law for another 10 minutes until he calmed down enough to walk into the church. He passed away in 2013, and I'm glad he got to see his son get married."
18.
"Just as the wedding party was walking down the aisle, the bride's soon-to-be stepson had a blowout — and who changed the diaper 30 seconds before walking down the aisle? The bride."