 Just before 8:30 a.m. at the University of Southern California on Saturday, Liz Philosophos Cooper carried three big bags across campus. To anyone aware of the Jane Austen Society of North America's southwest regional winter meeting, it was clear where the woman in tights was going. Cooper is JASNA's vice president, and she would later morph into Pride and Prejudice's Caroline Bingley, complete with feathery headdress.
Those in attendance for the meeting were mostly women (though I counted five men), a few of whom were in Regency costume, but mostly, they were just really excited about Jane Austen.
"It's a bright group," said Jaye Scholl Bohlen, a JASNA-SW board member. "If you say that she published Pride and Prejudice in 1811, hands'll go up because everybody knows it was published in 1813."
Those at the meeting didn't care how you came to love Jane Austen or whether Colin Firth had some role in your love; they only cared that you loved her. (And maybe that you knew she published Pride and Prejudice in 1813.) Bohlen said she's wholly unapologetic about Austen's genius.
"You think Philip Roth is better than Jane Austen? You're crazy."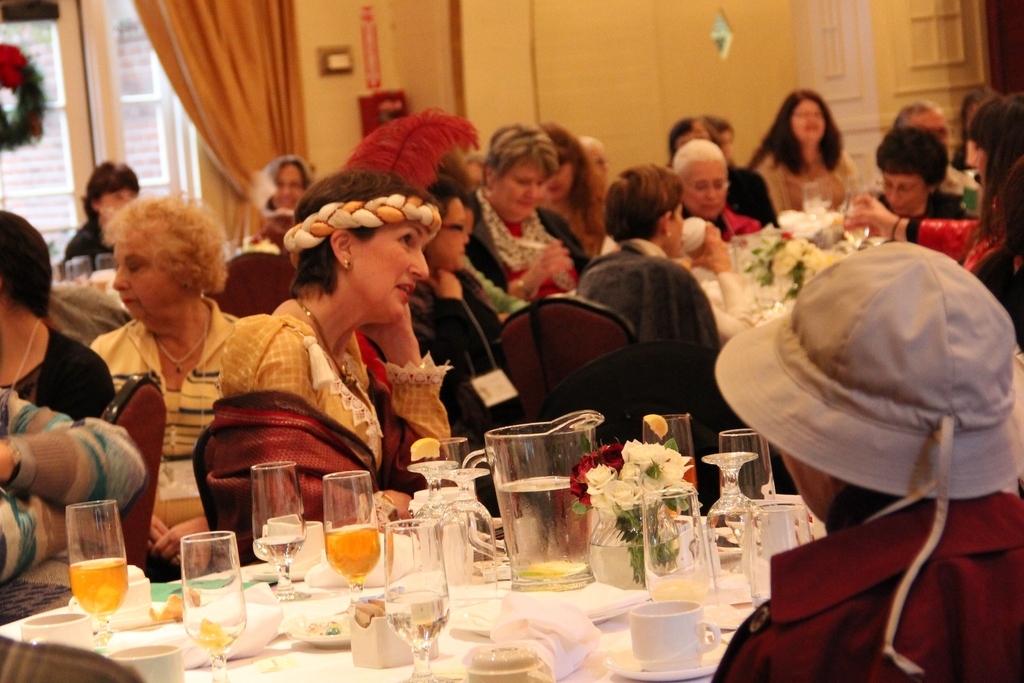 Seeing as 2013 marked the 200th anniversary of Pride and Prejudice's publication, the talks at the JASNA-SW winter meeting revolved around the novel's "characters we love to hate," including the arguable choice of Charlotte Lucas, Elizabeth Bennet's homely best friend.
Pride and Prejudice was JASNA President-elect Claire Bellanti's first brush with Austen's work. She initially read it in college and started "rereading it every year as a Christmas present for myself," she explained. "It's a delight every time."
This self-perpetuating enthusiasm for Austen was everywhere at USC's Town & Gown in downtown L.A. "Whenever my husband and I are sick, we turn on Jane Austen," said Annemarie Thomas, an artist and former graphic designer who brought a number of her paintings with her. One was of Austen's church, another was based on a drawing of what might've been Austen's house, but most were stacks of Austen books.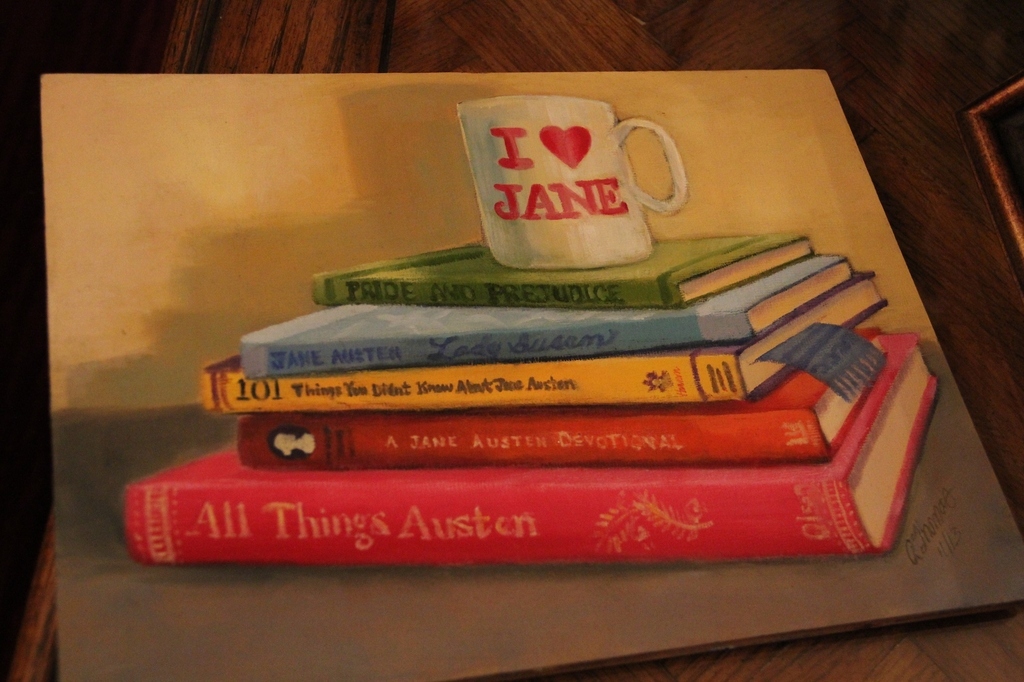 Thomas said she fell in love with Austen after the first of her three sons was born 22 years ago; she planned on becoming an expert on Austen and the New Testament during her maternity leave. "Any parent will laugh," she said, noting that she did not reach her goal at the time because "children are always hungry." Still, something sparked. Thomas recently visited her 22-year-old son, who's studying abroad in England; he proposed to his girlfriend during the trip. She expressed some concern about the young engagement, but his fiancée is lovely.
"She likes Jane Austen, so how bad could it be?" she said with a smile.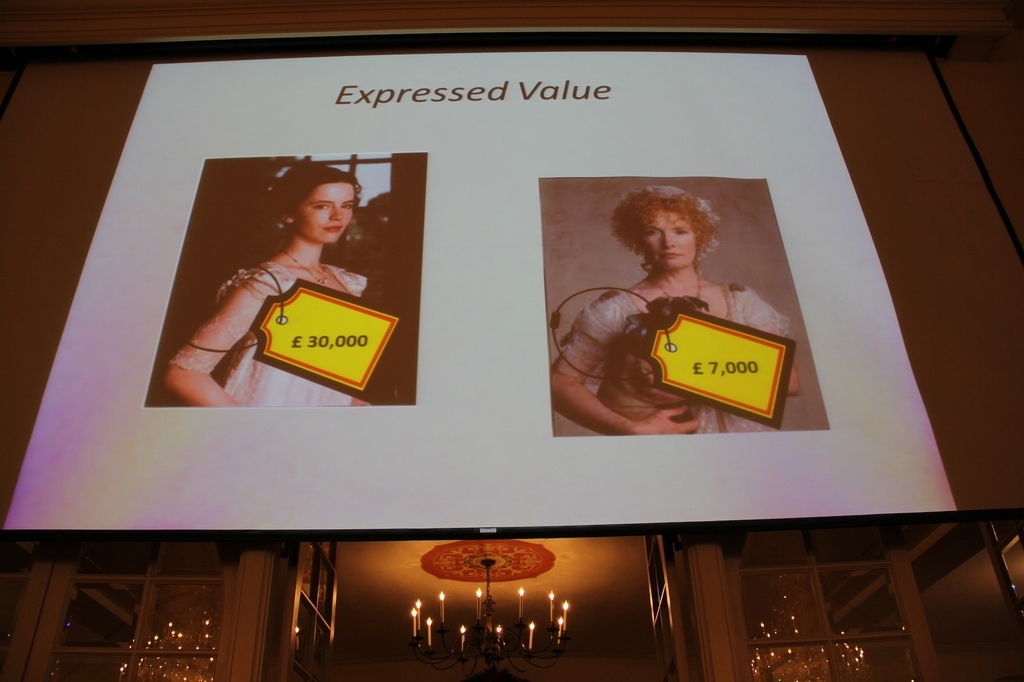 Chapman University's Professor Lynda Hall began the day's program dedicating her presentation to an old friend who was once quoted in People magazine as saying she loved Austen novels for all the "frustrated sex." Her talk on Austen's "women who settle" centered on Charlotte Lucas' marriage to the irksome Mr. Collins. Hall encouraged everyone in the room to reread Austen, focusing on the minor characters.
"The one we pay attention to is the one we can't ever be," Hall said. "Somebody has to be Elizabeth Bennet, though, and we all secretly think, That was me."
During her presentation, USC doctoral student Amanda Bloom focused on Mr. Wickham and the way false male narratives function in Austen's work. She also discussed Bridget Jones. When Bloom finished speaking, there was a break during which some of the women discussed relationships. ("Any man who loves Jane Austen, it's a go," Bohlen explained.)
Sue Forgue, one of the few people in Regency dress (a dusty rose affair made by a costumer friend), created an online Regency encyclopedia and presented her map of 1811 London. She's mapped out all the potential hiding places for Mr. Wickham and Lydia. There were many Edward Streets where Wickham's accomplice Mrs. Younge might live, and two St. Clements in 1811. Forgue works as an accountant to a wealthy family, and said she began working on the encyclopedia because of mistakes she saw in Jane Austen fan fiction, things like characters traveling from London to Derbyshire in an afternoon when it would have taken two days and eight hours by coach. "Fan fiction really exploded after the Colin Firth–Jennifer Ehle P 'n' P," and with that explosion came mistakes. Forgue drew heavily on the 1811 London census to create the map of Pride and Prejudice spots in London, and a fellow Austen fan in Toronto signed on as her programmer.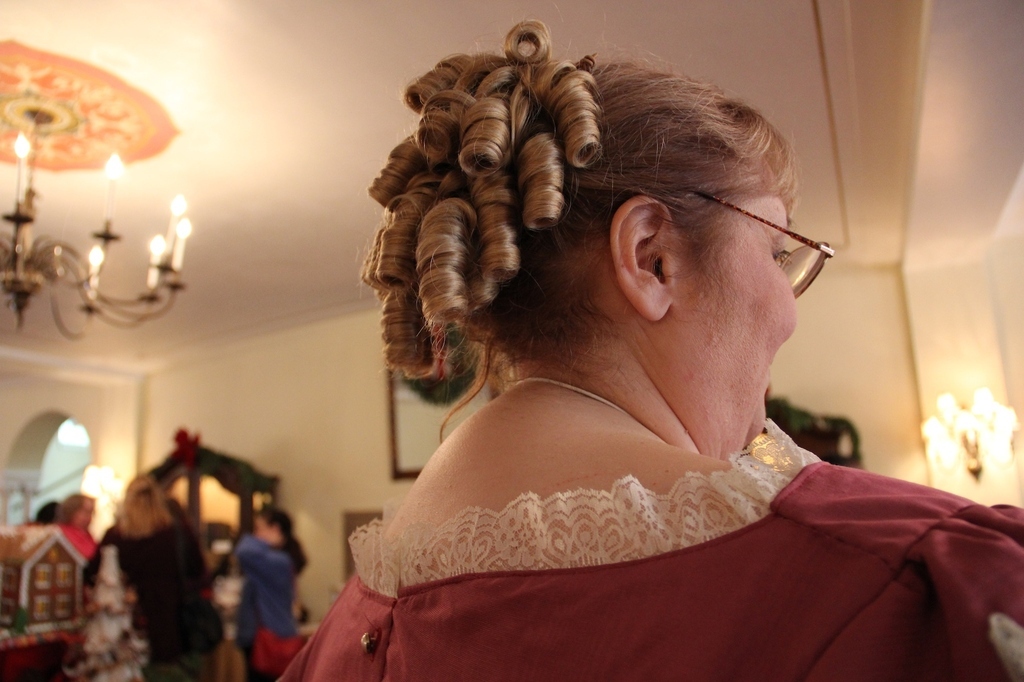 After a 22-year-old student discussed Lydia Bennet's "attachment to rakes," Cooper and author Syrie James took the stage to detail Regency pastimes in character: Cooper as Caroline Bingley, and James as her sister, Mrs. Hurst.
"I'm Mrs. Hurst; I'm very vain," James said, taking off her glasses for the photo below.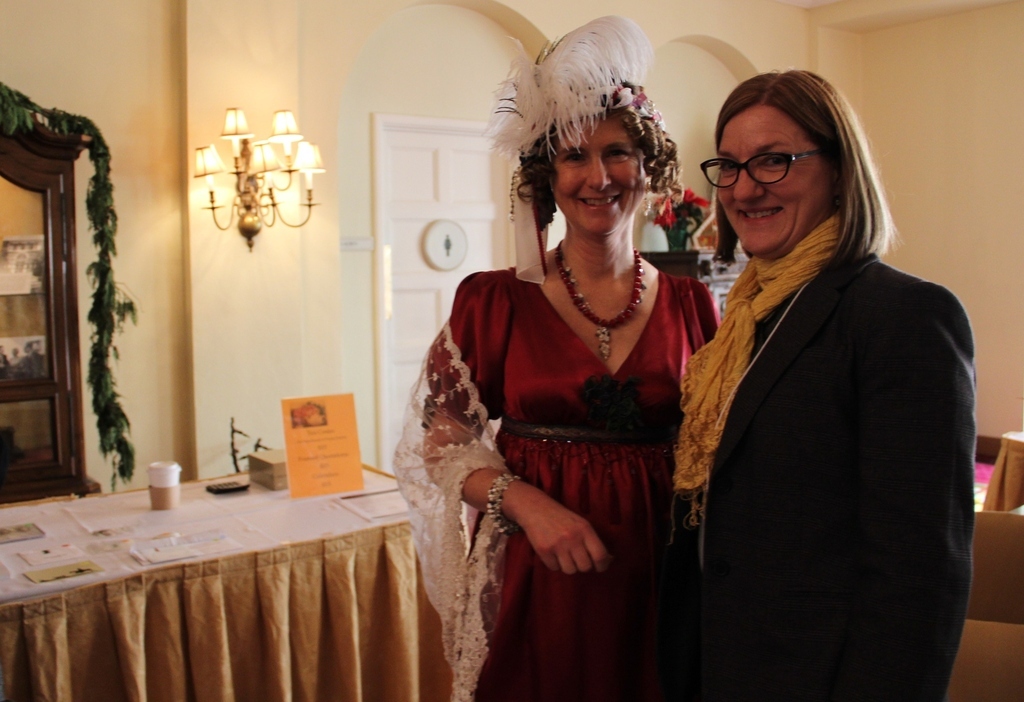 The "Bingley sisters'" presentation drew on visuals from the Regency, historical research, excerpts from Austen's correspondence, and a photo of Colin Firth giving "the look." An image of the Jane Austen 10-pound note, accompanied by her words, "I declare after all there is no enjoyment like reading," got a round of applause.
The event ended with Nancy Gallagher, the regional JANSA president, telling the room that reservations had been made for 2017's annual general meeting, hosted by the southwest chapter. At that meeting, she said, "There's always a ball on Saturday night."