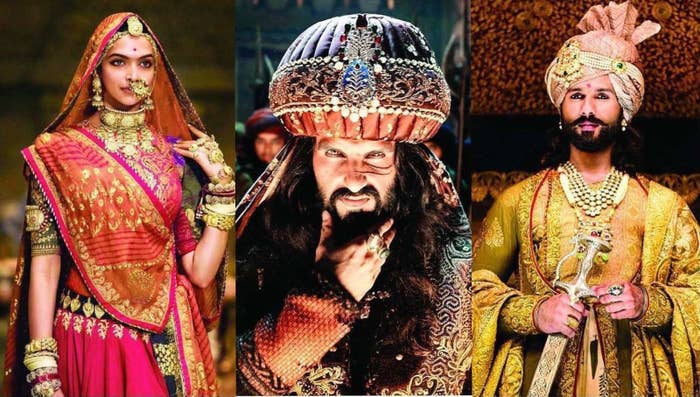 As I took my seat in one of Delhi's few remaining single screen theatres, there was a distinct absence of lighthearted chatter before the lights dimmed; instead, the air was ripe with uneasiness. By coming to watch Padmaavat, I, along with a few hundred others, had subjected myself to the potential wrath of the Karni Sena, the self-proclaimed watchdogs of medieval Rajput valor in modern India. But as the movie unfolded over the next three hours, I realized that everyone should probably be protesting the film. Everyone except the Karni Sena.

Why? Because after a grueling narrative that spans months of festivals, intricate costume changes, and lessons on usools, nobody in the film emerges a winner besides the Rajputs. It now seems the Karni Sena is realizing this as well, because a few days ago the Shri Rashtriya Rajput Karni Sena's national vice president Yogendra Singh Katar said a few members of their outfit had viewed the film and found it to be a moving tribute to the great Rani Padmavati.
Bhansali's Padmaavat (previously Padmavati) is named after and inspired by the similarly titled epic poem by Malik Muhammad Jayasi. However, like any cinematic adaptation of literary material, it takes liberties. This means that arguments in Padmaavat's defense citing the context and period of the source material don't exactly stand strong. Any adaptation, unless it faithfully follows each line and word of its text, is ultimately the choice and creative vision of its adaptor. And Bhansali has made more than a few disappointing choices.
Any adaptation, unless it faithfully follows each line and word of its text, is ultimately the choice and creative vision of its adaptor.
The first and most glaring one is his take on Alauddin Khilji. While historians largely agree that Rani Padmavati is a purely fictional character, there is no doubt that Khilji was a real man. And should he or his descendants have been around to watch Padmaavat, they would have certainly taken the movie to court for what can only be called defamation of character.

Portrayed by a remarkable Ranveer Singh, Bhansali's Khilji is the embodiment of every tired trope about Muslims Hindu communalism has been able to come up with. From the very beginning of the movie, the Khiljis are introduced to us as a group of gluttonous, bloodthirsty men. His uncle, Jalaluddin Khilji, is asleep on his throne when a young Alauddin walks in, having captured an ostrich. In return for the bird, he asks for his uncle's daughter's hand in marriage. This may be the nicest thing he does in the whole movie, because over the next few hours he becomes a patchwork of every negative stereotype you can apply to a Muslim man.
The writing of Khilji is almost laughably heavy-handed and betrays a complete lack of nuance. (At one point, he literally sings habibi, habibi.) There are no greys here; there are only 50 shades of black. Ranveer Singh's costumes, his face, even his horse, everything is black. In comparison, the honorable Rajput King, Maharana Rawal Ratan Singh played by Shahid Kapoor always appears in front of us in pleasing, muted tones of white or beige. The age-old trick of light vs dark aesthetics to signify good vs evil is employed by Bhansali to hammer home the point: this Muslim is a bad, bad man. (Or is it the other way around?)
The writing of Khilji reveals no greys; there are only 50 shades of black.
Within the narrative of the film, of course, it is easy to understand why Khilji is a villain. He wants Padmavati, with her consent or without it. But when your character has such a dastardly motive, does he really need to be shown as a downright degenerate to make it clear that he is, should you be confused, the antagonist?
At one point in the film, while preparing to meet Khilji, Shahid Kapoor's character is nobly and lovingly dressed by his loyal wife. In comparison, we are shown Khilji, who sprinkles ittar on an unwilling woman and then rubs her on himself like a human roll-on deodorant. His character's entire portrayal is as in your face as that one sequence. He is ruthless, uncouth, disloyal, untrustworthy, and so on. He eats meat straight off the bone like an animal, and his soul is so unclean that his face is never clean either. (Clearly, whoever was in charge of Deepika's highlighter had none to spare for Ranveer).
Kapoor's character is equally flat – he is a beacon of universal good, though rather than being shown so, we are told so, over and over. At any other time, perhaps creative license could have excused Bhansali. But at a time when communal tensions are high, taking a well-known historical figure who happened to be Muslim and othering him to this extent is not only distasteful, it's disconcerting.
Surely, Bhansali knows he's playing into and shamelessly confirming age-old anti-Muslim biases?

And one can make a case for women to be angry at Padmaavat too. As well intentioned as valorizing Rani Padmavati's courage may be, the movie is equally tone deaf in its handling of gender.
For the first half of the movie, Deepika Padukone is little more than a beautiful face. There are, however, flashes of strength that come to fruition in the second half. As her strong Rajput husband finds himself a prisoner of Khilji, it is up to Padmavati to find a way out of the fix he has landed them in.
And how does she do it? Through cunning and treachery – two very un-Rajput traits, displayed liberally by the very man she outsmarts. With a little help from Khilji's neglected wife, she manages to find safe passage back to Chittor for herself and her husband. But of course, this man cannot be shaken off that easily, and he declares war on them once again.
Heavily outnumbered and destined for defeat, the Rani of Chittor now has two options before her: to be raped, or to die. She chooses the latter and this decision is the climax of Padmaavat, the crescendo it has been building to all along. A crescendo whose echo, the film's very final line informs us, can be heard in every corner of the country to this day.
Padmaavat confirms the notion that a woman whose sexual purity may be compromised is better off as a corpse.
Take a moment to digest this. Padmaavat is the celebration of a woman's decision to take her own life in the face of an imminent rape. Padmaavat is not, in any way, a critique or a questioning of what brought its namesake to this absolutely dehumanizing choice. It is not a critique of the way women were, for centuries, little more than human loot in the wars of men. It is not a questioning of why war against men is physical, but war against women is always, always sexual. It is not the story of a strong, skilled woman who, thanks to the disastrous choices of the man in her life, finds herself walking into a raging inferno. It is, instead, a valorization of jauhar. It is a confirmation of the notion that a woman whose sexual purity may be compromised is better off as a corpse.
I had the unique pleasure of being in an audience that applauded Rani Padmavati's decision. And though it was, as opposed to sati, her own choice, isn't it important to view the film as an audience that lives in the 21st century? Shouldn't we be lamenting the fact that these women were faced with such a dilemma in the first place? Shouldn't we be questioning the patriarchal structures that drove them to such a drastic decision? Bhansali, it seems, does not think so.
He takes his saga of regression a step further by throwing in a homosexual character: Malik Kafur, portrayed by the talented Jim Sarbh. Malik is the embodiment of Hindu, heterosexual male anxiety in the movie and in our society.
He is given to Khilji as a gift but is obviously meant as an insult. He is androgynous, almost effeminate, and clearly lusts after his master. He is rejected again and again, but his devotion is absolute. He is that sexually deviant, hairless plaything we've been told all Muslim kings liked to dabble in. Because after all, they pursued physical pleasures, not the ascetic piety of love our men did.
Parading under the guise of a film, Padmaavat is every upper caste Hindu male's wet dream.
Sarbh's character becomes the literal butt of the joke when the senapati of Chittor refers to him as Khilji's Queen. The audience bursts into laughter, their disdain for this alien creature echoed on a 70mm screen, and any chance at humanizing a man who was a formidable warrior and general in his own right is firmly thrown away.

Muslims. Women. Homosexuals. Everyone is thrown under the bus, one by one. Parading under the guise of a film, Padmaavat is every upper caste Hindu male's wet dream. A confirmation of the fact that they can do no wrong.
It doesn't matter if the Rajputs lost pretty much every major battle they were a part of. It wasn't because they were not clever; it was because the Muslim was not honorable. Because you see, it doesn't matter that there may exist a multiplicity of voices or beliefs. If you don't play by our usools, we'll get Ranveer Singh to play you as a dirty, despicable beast of a man seven centuries later. Because history, after all, is nothing but what the majority chooses it to be.