For just $53, you can purchase a guaranteed front-of-the-bus seat on the TMZ NYC Tour. After stepping on the bus in the middle of Times Square, a TMZ-trained tour guide — handsome, blond, amiable Australian — will ask you and the rest of the bus if you're a huge fan of the show. You'll clap; the rest of the bus will roar in agreement. When a tanned, smiling face shows up on the television screen above your seat, you'll be prompted to cheer for "our fearless leader, Harvey!" — and laugh when the guide promises to show you "all the places where celebrities party and bone and get diseases." Here on the bus, you become one of TMZ's people — the ones who've helped turned a gossip website into a $55 million yearly enterprise.
The TMZ tour gives the same experience of a generic Manhattan tour — the story of Times Square, which, in the guide's words, "isn't just home to 1,000 illegal immigrants working as Disney characters"; a quick turn through the Meatpacking District; a view of Central Park — only punctuated with landmarks of celebrity significance, introduced with TMZ's trademark leering tone. While driving along Broadway: "Ladies, dry off your seats, James Franco's on Broadway! And if you're under 16 on Instagram, he's probably tried to have sex with you!" While passing ABC studios: "Here's the set of Good Morning America, where Chris Brown is known for his hits!"
Halfway through the three-hour tour, the bus stops in SoHo: To the left, there's DASH, the Kardashian-branded store; to the right, you can backtrack to the loft where Philip Seymour Hoffman was found dead of a heroin overdose.
These two attractions perfectly encapsulate two of the modes of coverage at which TMZ excels: the frivolous and the macabre, Celebrity Banality News and Celebrity Death News. But there's a third TMZ mode, one that neither the tour nor the TMZ syndicated program can truly translate. It's this mode that distinguishes TMZ from all other celebrity news sites — what gives it teeth or, more precisely, bite. It's not the TMZ-employed paparazzi trailing B-listers at the airport, photos of hot celebrities at the beach, or mugshots of celebrity stalkers.
TMZ's real engine — what defines its mission, what legitimizes it and sets it apart — is a unique and controversial mix of scandal mongering and investigative journalism. But it's also that mode that some have claimed is responsible for acquiring a video of Justin Bieber telling a racist joke and, over the course of four years, not publishing it.
BuzzFeed spoke to nearly two dozen former TMZ employees, and it's clear that Bieber's tape was not the only near-priceless piece of dirt in the proverbial TMZ vault. (TMZ did not respond to multiple requests for comment.) According to these ex-employees, the sealed testimonies from the Michael Jackson molestation trial hide there as does footage of various celebrities — Bieber, Lohan, Travolta — behaving badly. The vault isn't a secret at TMZ — even the lowest on the staff ladder have heard whispers of its existence. As to what goes up on the site and what stays vaulted, that's a finer, more esoteric calculus — and one in which celebrities and their publicists have come to live in fear. As one source explained, "There's no doubt: [Harvey] Levin absolutely changed the way celebrities function today."
TMZ has been responsible for breaking the biggest celebrity scandals of the last 10 years: effectively ending a 30-year career (Mel Gibson), tarnishing golf's most sacred idol (Tiger Woods), and puncturing the pristine image of celebrity royalty (Solange Knowles attacking Jay Z). But it's not just celebs: In 2009, it caught a bank spending millions of taxpayer bailout funds on a lavish party (Northern Trust), and, via spin-off TMZSports, instigated the $2 billion sale of an NBA team by applying the same surveillance to a racist owner (Donald Sterling) once reserved for the Hollywood stars and socialites.
Before TMZ, the gossip landscape was predominantly characterized by what those in the industry call "blow job news" — tidbits and sound bites that flatter the egos and images of celebrities. But TMZ disrupts that. It trades in scandal, and revels in exposing the narrative for what it is: a story as fictional as the films and television shows in which these stars appear. It didn't just revise the accepted notion of what "Mel Gibson" means. It immolated it.
In the first five years of its existence, TMZ became the new standard not only for scandal mongering and gossip gathering, but multiplatform brand dominance. But its quest to become the "future of entertainment news" seems to have leveled out a bit. According to Quantcast, unique traffic has increased just 11% over a two-year period (24.48 million to 27.23 million; compare to usmagazine.com, whose unique traffic has increased 156%, from 12.8 million to 32.8 million) and Famous in 12, a TMZ-branded CW series, was canceled after five episodes this summer.
In 2007, though, TMZ did indeed look like the future. And even if that status is less certain today, TMZ has been the most influential and important media organization of the last decade. It's not in good taste. It's brazen, proud of its gaudiness. It's altered the way that news about celebrity is treated, spread, and consumed — and earned its place in a lineage, spanning from Confidential magazine to the National Enquirer, that turns "celebrity gossip" into serious investigative journalism impossible to ignore.
But TMZ's remarkable success and reputation have come at a price, as the demand to acquire and "own" scoops while simultaneously catering to a demographic of untraditional (read: straight male) gossip consumers has transformed a rag-tag group of reporters invested in illuminating Hollywood hypocrisy into a cabal of ruthless, click-hungry, and aggressive TMZers with little journalistic training and a tolerance of misogyny, both within the workplace and on the site and television show.
TMZ is both better and worse than you thought it was. In the words of a former staffer, "We built a brand that turned into a monster that can run on its own." It's a well-oiled, money-making, gossip-generating machine. But has it compromised the mission that set it apart from the rest of the gossip industry?
To answer that question, we have to look closely at the story of TMZ — its founding narrative, its breakthrough, and, most crucially, its founder — the man for whom the bus of TMZ acolytes cheered so emphatically. Because as anyone affiliated with the site will tell you, the story of TMZ is really the story of Harvey Levin.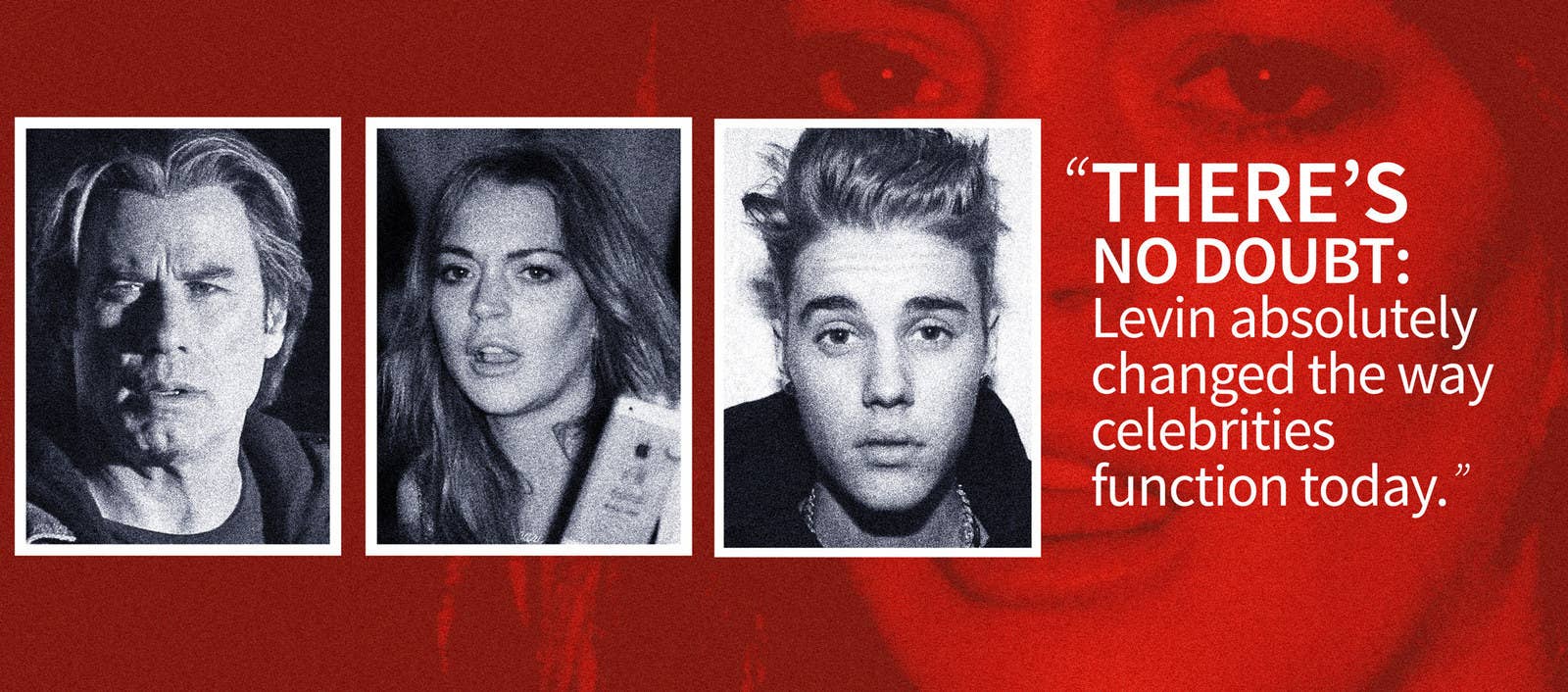 Harvey Levin grew up, in the words of one former associate, as a "Jew nerd from Reseda, Calif." — in proximity to the glamour of Hollywood, but definitively excluded from it. He was short, smart, and savvy, and spent his childhood observing his father, who owned a liquor store, attempting to avoid selling booze to kids with fake IDs, while the cops indiscriminately chose when to prosecute and when to look the other way. According to this confidant, this experience would motivate and structure Levin's career, as he worked to expose the hypocrisy of those in power, whether they be the police, celebrities, or the various apparatuses that supported and sheltered them. He received a B.A. from UC Santa Barbara and a J.D. from University of Chicago, passing the California bar in 1975.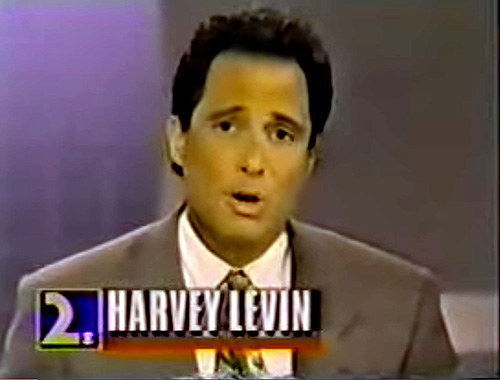 Levin taught law and briefly practiced it, but starting in 1982 began focusing on his media career: He had a legal radio talk show, a column in the Los Angeles Times, and law-related reporting gigs at KNBC and later KCBS, which is where he was working when the biggest celebrity scandal of the '90s broke: the O.J. Simpson trial. He was but one player in the larger industry that popped up around the trial and its aftermath, but he was skilled enough — and natural enough on camera — to win the role of host of the revival of The People's Court. In 2002, he became the executive producer of Celebrity Justice, but the show only aired for three years.
In these pre-TMZ years of Levin's life, the building blocks of the TMZ empire are all visible: the obsession with hypocrisy, the keen understanding of the law, the application to celebrity, the tireless ambition. Levin was intelligent, but more importantly, he was telegenic, with the smooth talk of the most practiced lawyer and the charisma of a television star. After Celebrity Justice was canceled, he began making regular appearances on CNN's Showbiz Tonight, but, according to a confidant, he wanted something of his own — which is why he said yes when Jim Paratore, head of Time Warner-owned production company Telepictures, approached him with an offer.
Paratore had headed up Telepictures since 1992, putting in place a blockbuster slate of daytime syndicated programming (The Tyra Banks Show, The Rosie O'Donnell Show, The Ellen DeGeneres Show) along with primetime mainstay The Bachelor. But one of Telepictures' longest-running and most reliable shows was Extra, an entertainment news program developed in 1994 to provide synergistic promotion across the sprawling Time Warner media conglomerate. In 2005, Extra had already been on the air for more than a decade, amassing a trove of old footage of celebrities, all ready to be recycled and exploited on the cheap.
Which is exactly what Paratore would have Levin do. When Time Warner merged with AOL in 2000, the idea was to use AOL's internet muscle to exploit Time Warner's media holdings. But the two companies had very different corporate climates, and struggled to foster the originally imagined cross-platform synergies. According to Jim Bankoff, then president of AOL (and current CEO of Vox Media), Bankoff hit it off with Paratore at a 2005 meeting between AOL and Warner Bros. executives designed to kindle increased collaboration. Paratore regaled him with stories of thousands of hours of unused Extra footage — the perfect candidate for an AOL collaboration. Neither Bankoff nor Paratore knew what, exactly, they wanted to do with that footage, save put it on AOL and establish a brand that was something other than "AOL Celebrity." That vague, amorphous idea was enough to pique Levin's interest.
Levin didn't know anything about the internet and had no interest in cultivating a web presence. (Multiple sources confirm that even today, he still uses an AOL email address, and all tweets from his Twitter account are automatically generated.) But he'd have something approximating free reign — and the ability to mold the property into something to finally match his grand vision.
Plus, following the historic summer of 2005, gossip was percolating at an alarming rate. A cottage industry of blogs, almost entirely run by women and queer men wholly outside the industry, were exploiting that interest — most visibly Perez Hilton, but also D-Listed, Lainey Gossip, Pink Is the New Blog, Just Jared — all of which were proving, to the somewhat startled old guard of gossipmongers, that the future wasn't in syndicated television or print, but online. Constantly updated, dynamic, with a strong authorial voice; snarky, immediate, and originating outside the carefully cultivated celebrity sphere.
These bloggers were defined by their outsider status — and their very lack of access — but that outsider status (and lack of capital) also proved problematic. Hilton, for example, was sued multiple times — more than once for copyright infringement. What these bloggers lacked was infrastructure and capital to expand and bolster their operations, all while keeping the same all-important outsider ethic.
Which is precisely what an operation housed at Telepictures, with the larger launching pad of AOL (which, in 2005, still boasted an amplifying power of 22 million subscribers), could achieve. Levin and Paratore brought along some staff from Celebrity Justice and Extra, including eventual TMZ personalities Mike Walters, whose father was an assistant sheriff in Orange County, and Evan Rosenblum. Rosenblum is son of former Warner Bros. television chief Bruce Rosenblum, and is also married to the daughter of People's Court producer Stu Billett. The official staff eventually numbered a grand total of seven.
The site had a sketch of an overarching mission, but it still lacked a name — according to a former staffer, there'd been a discussion of "Crushed Candy," but that was too girly. The name needed to be catchy, different, and, most importantly, short, so as to better facilitate views via the burgeoning mobile market. Someone pitched the idea to use "TMZ" — Hollywood shorthand for the "Thirty Mile Zone," or "studio zone," which historically delineated the boundaries for union-related rates within the industry and, in branding terms, connoted a mysterious sort of insider knowledge.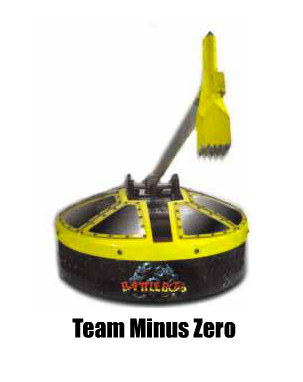 The only problem? The URL was already taken by an electronics company that went by the name of Team Minus Zero. According to a staffer from that time, Levin called the owner up and offered $5,000 for the URL — but without revealing who he was or what, exactly, the URL was for. The guy jumped at the offer, but Levin, according to a source, also knew that if he showed up with the cash in his Porsche, the URL owner would immediately up the asking price. His solution: Borrow a staff member's totally average car. Hand over $5,000 in cash. The URL — and the brand — was theirs.
On Nov. 9, 2005, TMZ wasn't even in beta, but it got its hands on something too big to wait for the official site launch: footage of the aftermath of a car crash involving Paris Hilton, her then-boyfriend Greek shipping heir Stavros Niarchos, Rod Stewart's daughter Kimberly, and Laguna Beach star Talan Torriero. Evidence of celebutante Hilton behaving badly was at a premium, but this was something bigger: The video showed the Bentley, driven by Niarchos, crashing into a truck, leaving the site of the crash, nearly hitting a bystander, and later, once police had pulled the car over, Hilton blowing a kiss to the officers and saying, "We love the police."
TMZ sent an email blast to the far corners of the American media, describing the video and noting, at message's end, "There is no evidence on tape that the police ever conducted field sobriety tests on the driver."
It was a splashy debut, bearing the hallmarks (video footage, celebrity shaming, prodding the Los Angeles Police Department) that would make TMZ famous — even if no one knew what TMZ meant. But it was a start.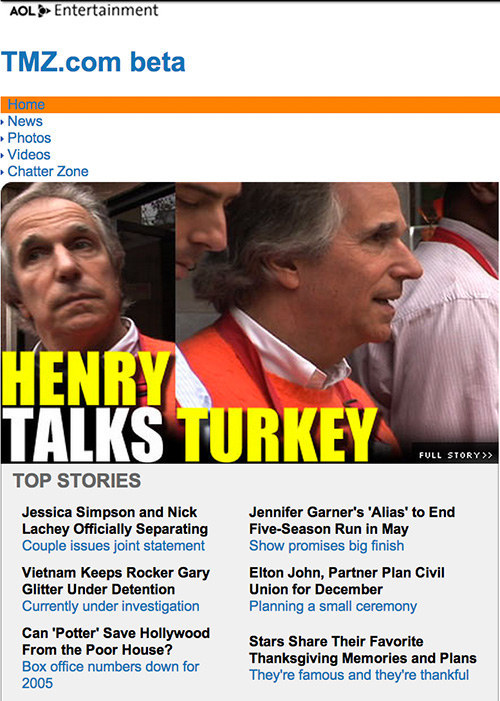 When the beta version of the site went up in mid-November 2005, its identity was still unclear, packed with a scattershot mix of softball gossip ("Jessica Simpson and Nick Lachey Officially Separating"), trade news from a full-time industry reporter ("Can 'Potter' Save Hollywood from the Poor House?"), and true pabulum ("Stars Share Their Favorite Thanksgiving Memories and Plans: They're Famous and They're Thankful").
The aesthetics that would go on to define the site are visible even then, albeit in slightly altered form: At first, yellow was the contrast color of choice, and would gradually transition to red, white, and black. The scheme (like both The Smoking Gun and the Drudge Report) is the inverse of pastel-bathed Perez, D-Listed, and Just Jared, as well as the cover schemes of People and Us Weekly. From the start, TMZ was working to cater to a market that it's cornered today: male consumers, many of whom wouldn't even consider what they were reading "gossip." Today, 42% of TMZ's readership is male; compare that to usmagazine.com (15%) and people.com (11%).
In these ways, TMZ bore a resemblance to another ideologically disruptive publication: Confidential magazine, which, over the course of the 1950s, exploited and amplified the anxieties of an American society very much in transition. Confidential's style not only affected the rest of the gossip industry, but also catalyzed a radical reconceptualization of stars and the industry that had, to that point, served as the primary source of the American fantasy world — a description that could readily be applied to TMZ as well.
Because of laws governing the sale of "obscenity" through the mail, you couldn't get a subscription to Confidential — it was sold, along with the other lowbrow publications, at drug stores and cigarette stands. No reputable company would advertise in it. But by 1955, it broke the record for single-issue sales, selling 3.7 million copies of its January issue. Confidential succeeded because it offered something novel, dirty, and unspeakably sexy: the truth, or at least some rhapsodic version thereof.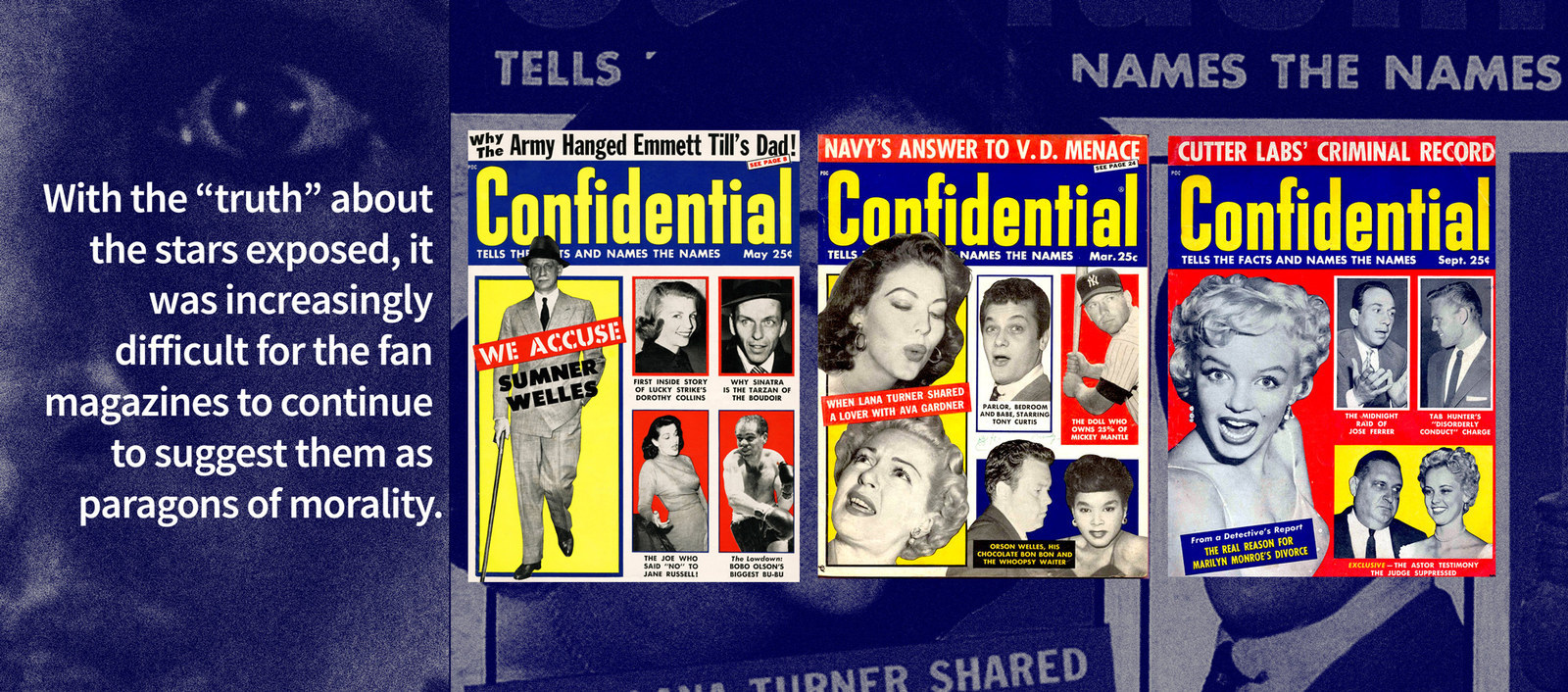 Or so it promised, right under its title: "Tells the Facts and Names the Names." It told the fact of Liberace's homosexuality and named the name "Frank Sinatra" as the man who ate a breakfast of Wheaties in order to maintain his virility. A magazine like Confidential might have thrived during any decade, but the cultural climate of the '50s fostered a stream of anxiety-producing issues, including the Red Scare, the Kinsey reports, and increasingly fraught race relations. Dozens of publications were reporting on those topics, but Confidential pressed each hot button vis-à-vis Hollywood stars, politicians, and socialites. And it was able to — at least in the case of the most prominent and visible subjects — because of a significant change in the way that Hollywood managed its stars and their behavior.
The intricate history of the studio system's production of stars is filled with manipulation, cover-ups, excised histories, and a gossip press willing to overlook it all as it behooves its own interests. In the 1920s, a series of star-related scandals threatened to expose the industry to government-imposed censorship; to avoid that fate, the studios and the press that covered them agreed to a symbiotic relationship in which one would provide a constant stream of material about the stars and advertising dollars in exchange for the implicit understanding that the magazines would not print anything that contradicted the studio line of stars as moral exemplars. If and when the stars did misbehave, each studio employed "fixers" to cover up the evidence (which included bribing cops, paying off mistresses, and arranging for abortions).
This symbiosis between the film and gossip industries was only possible because of the monopolizing control of the major studios, each of which operated as its own factory, acquiring the "raw" star material, signing them to long-term contracts, and controlling every facet of the production and management of their images, from their names to their dating lives. When and if the star acted out of bounds, he or she was completely beholden to the studio's means of covering it up.
What happened in the 1950s, then, and what Confidential was able to exploit, was a disintegration of that system. The government-issued Paramount Decrees of 1948 forced the studios to divest themselves of their theater chains, effectively cutting off one of the major sources of income at the same time that the suburbs and television dramatically decreased the movie-going audience. The studios began to downsize, severely cutting the number of stars on contract.
Many quickly co-opted agents and press agents to perform the image and career maintenance previously performed by the studios, but the system of image management was in flux and primed for a magazine to come and exploit its vulnerability. Which is precisely what Confidential's Editor-in-Chief Richard Harrison did, using call girls, bellhops, and a vast assortment of tipsters to obtain information, relying on signed affidavits, private investigators, and twisty, punning language to avoid charges of libel and obscenity.
Harrison used candid photos and amateurish decoupage tactics to suggest what couldn't be said; he manipulated headlines and punctuation to achieve maximum titillation. The aesthetic was all primary colors — bold, in-your-face — the exact opposite of the genteel, appealing aesthetic of the fan magazines to which he offered such a clear alternative in style, tone, and purpose.
Confidential was effectively neutralized in 1957 after a series of (ultimately unsuccessful) libel trials that exhausted Harrison's resources. But the damage was done: With the "truth" about the stars exposed, it was increasingly difficult for the fan magazines to continue to suggest them as paragons of morality. Thus: the "scandalization" of the traditional gossip press — evidenced in the increasing reliance on paparazzi photos — that echoed Confidential's brash approach.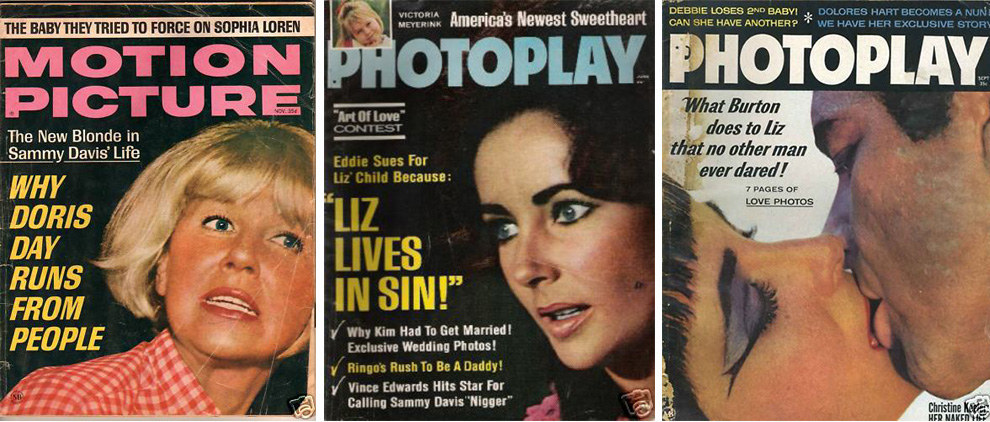 Which is all to say that TMZ has precedent and, more important, its tactics are nothing new. They're accelerated for the digital age, but they're operating on the same principle and profiting off the same impulse to excavate down to the deepest, "truest" level of the popular figures that surround us.
Harrison and Levin both developed a publication around their personalities and attempted to imprint their sensibilities as broadly as possible. Both were incredibly savvy about the law and the way to wield it in their favor; both relied heavily on the seemingly human impulse to trade secrets for money; both understood that secrets about race and sexuality, especially female sexuality, are the most effective ways to draw an audience.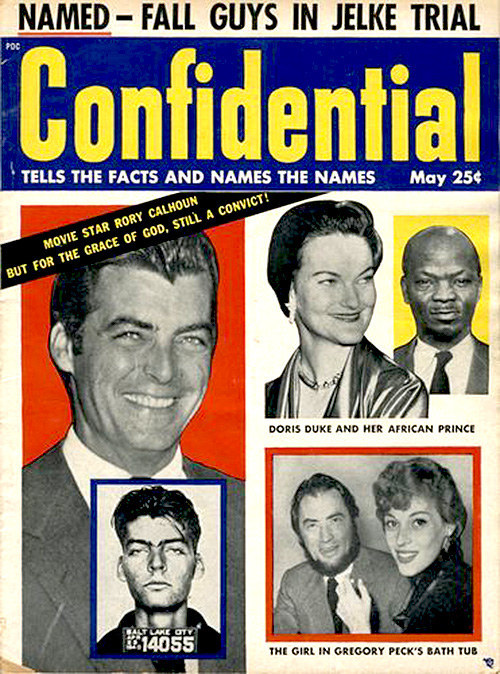 And both, it seems, were not above leveraging the contents of their figurative vaults: Harrison had ample evidence of Hollywood heartthrob Rock Hudson's homosexual activity and was primed to publish it — or, in the Confidential style, heavy insinuations thereof — but Hudson's agent, Henry Willson, arranged a deal in which Hudson's image would be salvaged in exchange for information about the illicit juvenile delinquent past of another of Wilson's clients, Rory Calhoun.
From this vantage point, it seems like an unbalanced trade, but Harrison knew what else he'd purchased with the deal: continual leverage, not only with Hudson but any of Willson's stable of young, virile, seemingly very hetero (yet often homosexual) stars. He didn't want exclusives or interviews with those stars — that wasn't Confidential's game. He wanted tip-offs from them. A tit for a tat; a secret kept for a secret told. It was dubious moral algebra, but it was ruthlessly effective and presaged the way TMZ has maintained power.
It's not that there'd be no TMZ without Confidential; rather, the landscape of contemporary publicity is a palimpsest of all the crises and cover-ups that have come before. After the tumult of the post-Confidential years, Hollywood responded with the sort of iron-tight, exacting image control typified by Pat Kingsley's immaculate management of Tom Cruise's career before he started jumping on Oprah's couch. The stars were contained, they went wild, and then they were contained again — until, that is, the internet and digital technologies sprung leaks in the once air-tight system of image management.
All of which was beginning to percolate in 2005–2006, both on the various independent gossip blogs and the nascent form of TMZ, which was beginning, ever so gradually, to develop a voice. The key, however, wasn't specific content, but tone and philosophy. It wasn't what TMZ covered so much as what it didn't cover: no weddings, no red carpets — nothing, in other words, that had been managed.
As Levin was fond of telling his staff, "We don't do agenda" — and those who tried to do just that (cowing to a publicist, hobnobbing with a star) would be put on notice. According to a source, when TMZ ran a Beyoncé story and Mathew Knowles called to get it taken down, it blew him off. When Knowles then called AOL, it also blew him off. And unlike other gossip organizations, whose content was predicated on future access to Beyoncé, it could afford to do so. (According to multiple sources, the only coverage TMZ steered clear of was anyone, like Ellen DeGeneres, involved in Telepictures productions; other Time Warner properties were, however, fair game).
TMZ had the freedom of an independent operation, the savvy of decades of investigative reporting, the connections of more than 20 years in the Los Angeles court system, and the backing of a major conglomerate.
It was terrifying. The celebrities just didn't know it yet.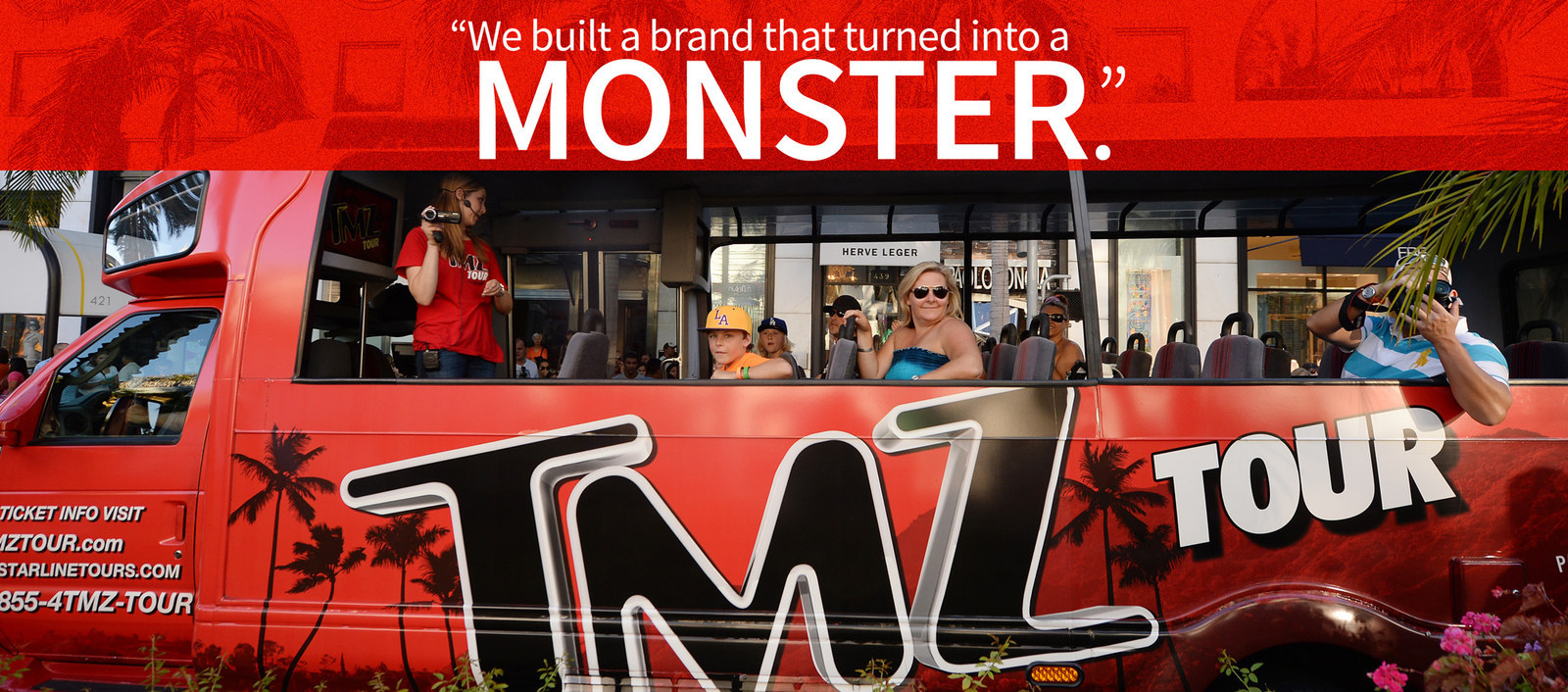 Because this was all before July 28, 2006, when Mel Gibson was pulled over in the early morning hours for driving under the influence. As former staffers recalled, at 11 a.m., TMZ received a tip concerning the arrest. No specifics; just, there's something there. The official police statement was that he had been arrested "without incident." Yet as Levin and his staff, which had grown to nearly 20, began to pursue the story, there were conflicting reports, and whispers of an anti-Semitic rant.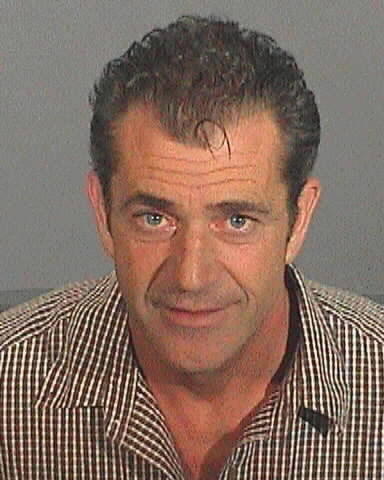 The police insisted otherwise: As Levin told Broadcasting & Cable in 2012, the police told TMZ, "You will destroy your operation if you put that up on your website, because it's false." But the staff pushed and pushed, eventually confirming the existence of an arrest confirmation through a copy of the full police report. "We sold our souls to Warner's legal to get it on the site," recalls one staffer. By 9 p.m., the report, including vivid descriptions of Gibson's belligerence, the use of the phrase "sugar tits," and his claim that "the Jews are responsible for all the wars in the world," went live. (Four years later, RadarOnline ran damning audio of him seething about wanting "Jew blood on my hands" — essentially scooping TMZ on threats purportedly directed toward Levin and snuffing out a potential comeback.)
With the Hilton footage and Gibson arrest report as TMZ's two most visible scoops, it'd be easy to assume that its primary objective was simply finding incriminating footage. But again, according to multiple sources, TMZ didn't go after Gibson just because he drove drunk, or even necessarily because he was an anti-Semite. It was because the police attempted to cover it up. According to several of his staffers at the time, Levin was driven to tirelessly pursue these scoops by a desire to dismantle the unspoken but elaborate system that exempted the high-powered and beautiful of Hollywood from the rules to which the rest of the world were held. Levin had spent nearly 30 years observing the system — cops, judges, prosecutors, juries — allow the beautiful, wealthy, and powerful to misbehave, sometimes with total impunity. TMZ was his opportunity to right those wrongs.
It's an admirable philosophy. And it does, in some ways more superficial than others, remain the guiding ethos of the TMZ operation today. But even constant digging doesn't mean that you'll find anything dirty — slightly dusty, maybe, but not the sort of pay dirt that revises the way society thinks about one of its idols. There were subsequent scoops, but the site had to run content all day, every day.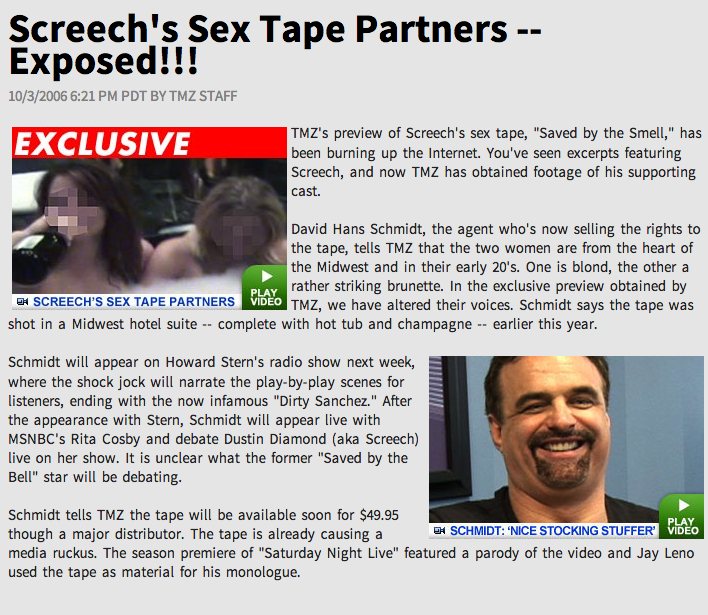 Over the course of the fall of 2006, reader preferences (measured via clicks) helped hone the pointy, aggressive tone that characterizes the site today. The more vanilla, People-esque coverage of celebrity goings-on began to disappear. In its place: exclamation marks, puns, and dirty jokes. If before, TMZ had adopted the flat, journalistic tone of The Smoking Gun, then, over the course of 2006, it adopted the tone of a tabloid — especially when covering its own exclusives. A sampling of headlines: From Oct. 3, "Screech Sex Tape Partners — Exposed!!!" From Nov. 9: "Borat Lawsuit — High Five!!!" From Dec. 19: "Brody's Looking Grody!"
That voice coalesced via multiple channels. Some of it was Levin's — as a former overseer at AOL explained, he might not have understood exactly how the internet worked, but he absolutely understood how to write a headline. Headlines began to feature more puns, exclamation marks, and innuendo; content became incrementally harsher, meaner, crueler.
This shift had easily anticipated effects: First, several of those brought in to launch the site began to find the requisite compromise of their integrity increasingly troublesome. For one former employee, the last straw was when Levin demanded that a headline refer to a celebrity's sister, who had a history as a sex worker, as a "whore." Others, unaccustomed to Levin's management style (described by one former employee as one of "constant screaming") wearied of his constant antagonism and bullying. As the site grew, so too did the imperative to produce original scoop ideas. June 2009 brought the site its biggest scoop yet, breaking the news of Michael Jackson's death, much to the horror of traditional news outlets.
Even before the TV show made the TMZ "morning meeting" famous, the staff would circle around Levin, standing at a white board, and go around the circle with their pitch/tip/idea for a story. Every employee was responsible for one; if someone took your idea before you did, you were screwed; after enough screwups, you were done.
In the early years of the site, the work day was punishing — staff was expected to be up and at a computer for East Coast hours (6 a.m. PT) and work well into the night; 14-hour days were the norm. The windows in the Los Angeles office were blacked out — "like working in a submarine," according to one staffer — and during winter, a TMZer could easily go the entire day without seeing the sun. Low-level staffers were compelled to constantly hunt for leads, no matter how small, only to give it over and have someone else pen the story, with your investigative work wholly elided, a simple "TMZ Staff" affixed to the post. It was a highly alienating form of journalistic labor, and the turnover rate was high: Even a quick search of LinkedIn shows dozens of employees who stayed with TMZ for under a year; one source explained that dozens more would come for a one-week tryout and flame out immediately.
But Levin could afford turnover. Those who survived, thrived. And "preditors" (the industry term for producer-editors responsible for finding content) were easy to find and cheap to replace: They didn't need journalistic training, they just needed wherewithal, ambition, and the ability to not take no for an answer. When they burned out, Levin would force them to hand over their source information, sometimes hounding them for weeks until they did. It wasn't that this sort of schedule or leadership was a novelty in Hollywood, or even in journalism. But the combination of intraoffice competition and the shift to tabloid-style content gradually began to affect the office atmosphere — especially for women.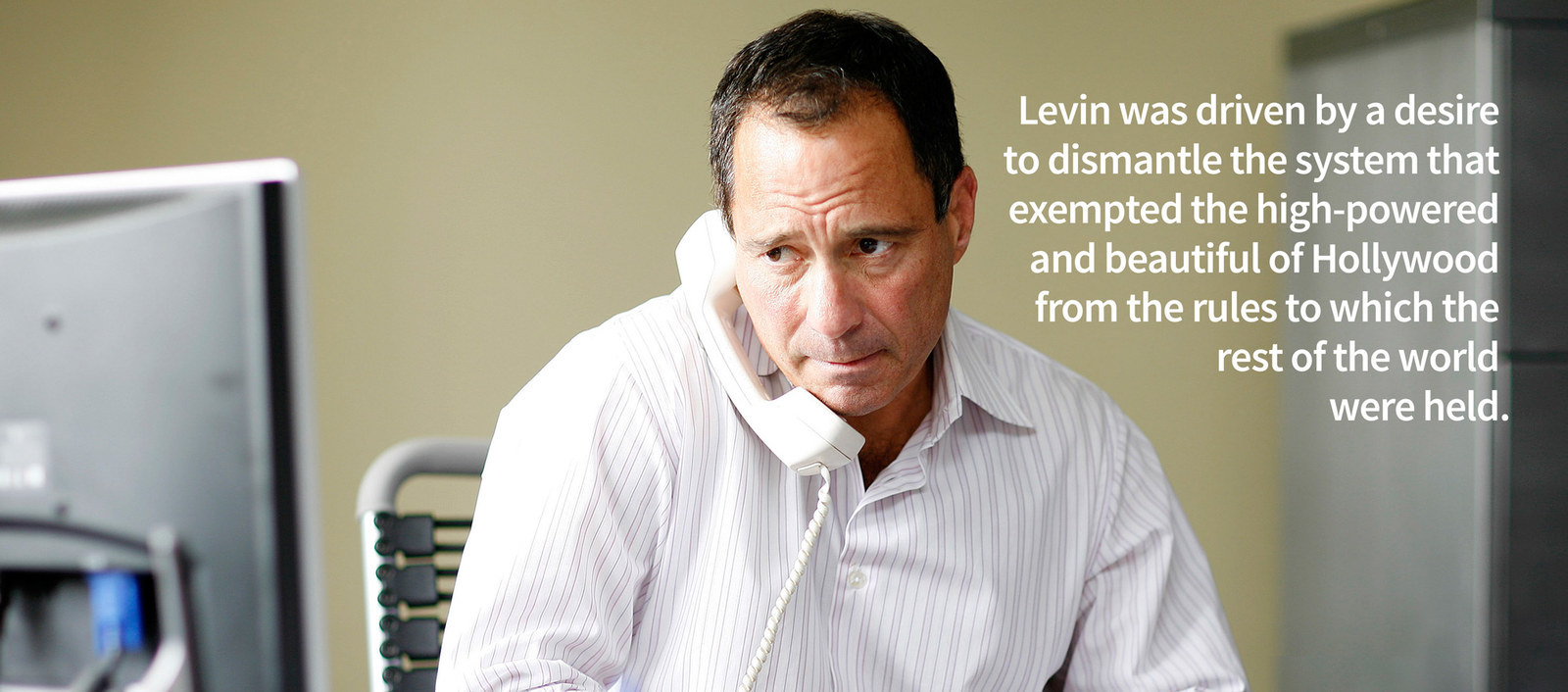 If the filler kept the site filled with content, then the "exclusives" were what made the name pop — and, month by month, offered more and more legitimation. Those scoops, however, required hard, tireless work: staking out courthouses, following up on every call on the tip line, keeping friendly with bellhops and cocktail waitresses and hairdressers, and maintaining a reputation as the place to send a tip anywhere outside of New York.
Some of the scoops just arrived: Mike Walters, who had been with the show from the start, loved Vegas and spent a lot of his free time there. According to one employee there at the time, it was through Vegas connections, specifically cocktail waitresses, that TMZ gained knowledge of Tiger Woods' myriad affairs months before the car crash that catalyzed his image implosion. Tipsters could be inside the legal system, inside an airline, or inside the celebrity family (Jackson and Lohan in particular). Everyone was a potential source, ready to be groomed and, if necessary, paid.
"Checkbook journalism" — paying for scoops — is, at least according to traditional American journalism standards, unethical: The truth should never be paid to come forward. These critiques have been launched at tabloids for decades, but money remains the most reliable form of obtaining material about celebrities.
"I have no problem paying," Levin told Broadcasting & Cable in 2013, "but we hardly do it at all. If someone calls and says, 'I have gone through court files in a certain city and there's a big lawsuit in which you'd be interested,' I don't mind paying them for their work. But we have to verify every story that we do." But that defense, according to former employees, downplays just how willing TMZ is to throw money at promising documents. It's a critique often leveraged by the media; Mediabistro has lambasted "the overall operation's reliance on cash payments for big stories."
In November 2006, for example, a source came forward with the recording of the Michael Richards racist comedy routine. The source wanted several thousand dollars for the tape, and TMZ would pay it, but the source wanted the cash immediately — as in before-the-banks-opened immediately. Levin couldn't write a personal check and allow the money to be traced back to him, and he, like everyone else, had a limit on the amount of cash he could take out in a single day from the ATM. His solution, according to multiple staffers working for the site at the time: Call every TMZ staffer and force them to immediately take out their ATM max and bring it down to the TMZ offices. The staffers were reimbursed, but the story highlights just what lengths TMZ was willing to go to obtain — and pay — a source.
Indeed, several investigative reporters who cover the Los Angeles courthouse speculated that TMZ has dozens of government employees on its payroll. These claims lack substantiation, but several scoops — including access to the evidence photos of Rihanna's beaten face or footage of rapper The Game in police holding, which one misguided staffer purportedly attempted to pay for with a Telepictures check — suggest that those within the system do regularly send tips to TMZ. Although Levin, for what it's worth, has promised, "I won't do stolen documents, I won't do medical records."
TMZ scoops linked to government employees, however, have led to multiple wide-scale internal investigations. In 2010, longtime Los Angeles County Superior Court spokesman Allan Parachini was very publicly fired amid rumors that he had been caught accepting regular bribes from TMZ that intensified when, in 2008, he hired former TMZer Vania Stuelp to serve as his deputy. Parachini contested his firing, but the optics, especially when Stuelp lost her job in a series of layoffs and returned to TMZ, were damningly suggestive, but never substantiated.
Levin's claims concerning the intensive vetting and verification of scoops are, by most accounts, true. TMZ, with the sizable and highly suable bank of Time Warner behind it, simply cannot afford to be wrong. Which is why TMZ relies so heavily on assets: tangible proof that something did happen, that someone did behave this way. It's not libel, after all, if it's true.
According to sources, TMZ writers go back and forth with in-house counsel several times a day, exchanging a word here, extracting another one there, in order for a headline or post to pass the standard for libel and defamation set forth by the landmark Supreme Court decision New York Times v. Sullivan. And it's worked: At the time of this writing, TMZ has never been successfully sued for libel or defamation. (Which is not to say its reporting has been infallible: The site retracted a 2012 story about Janet Jackson slapping Paris Jackson and claimed that Lil Wayne was being read last rites after an overdose last year.)
The reluctance to sue, however, is also linked to "The Streisand Effect" — a term used to describe the way in which attempts to cover up a secret ultimately end up publicizing it even more. Put differently, going to the police to stop TMZ from using a video, photo, or other piece of information becomes tantamount to publicizing that activity.
According to this logic, a celebrity would rather be in thrall to TMZ than have certain revelations of their private lives made public — a notion substantiated by Justin Bieber's racist video. A look at TMZ's extensive Justin Bieber archive reveals that on Jan. 24, 2011, the site published a year-old video of Bieber, taken at the approximately the same time as the racist joke video, phoning his mom to plead for permission to buy a helicopter. From that point forward, TMZ specialized in Bieber-related "exclusives": on Feb. 6, an image of his Super Bowl cameo; on Feb. 21, Bieber phones into TMZ to talk about his much-anticipated haircut; on Feb. 22, TMZ publishes the first photos, heavily watermarked with the TMZ logo, of Bieber post-haircut. On May 13, exclusive details of his collaboration with President Obama to make a 9/11 orphan's "dreams come true." On July 11, exclusive video of Bieber and girlfriend Selena Gomez kissing during karaoke; on July 18, exclusive footage of them crashing a wedding; on Aug. 24, exclusive details of the "most romantic date ever" — a private dinner for two at Staples Center.
The list of exclusives extends for pages, suggesting a close collaboration between TMZ and Bieber's management. According to TMZ, it chose not to post the video because Bieber "was 15" and "immediately told his friends what he did was stupid." The statement does mesh with TMZ's self-regulatory practices; as Harvey Levin put it in 2008, "Everybody has standards. That's something that really matters to us and we deal with that every day. We turn down a lot of stories." Maybe so. But as the trail of Bieber exclusives suggests, it might also get something in return.
TMZ also exploits a mostly untapped resource: the massive stream of court documents processed through the Los Angeles Court System. If you go to the ninth floor of the Los Angeles courthouse and know where to look, you'll find the door to the "press room," dingy, with an overpowering smell of old flop sweat, and stuffed with dilapidated vinyl couches, cheap office furniture, and ancient computers.
There's a line of computers with various "Reserved for" signs tacked above, a room for the Associated Press, and another for TMZ, where a group of staffers scan every docket that passes through the court system. It's through these staffers' endless labor that TMZ is able to beat the rest of the industry to report who's filed a restraining order, a name change, for divorce, or a suit against a star. This information isn't hidden, and it's not exclusive to TMZ — but the willingness to bankroll that labor ensures the branding status of "first."
Owning the source — either by paying for it in the form of tips or paying the videographer who catches it — also sets TMZ apart from its competitors. Instead of relying on paparazzi — whom TMZ would have to pay on a sliding scale contingent on the quality/value of the material — with little, if any, sense of site loyalty, they hired their own paparazzi, some more professional than others. What mattered in the rough-and-tumble game of mid-2000s paparazzi, however, wasn't skill so much as tenacity, which is why one of Levin's hires purportedly came from the parking lot of a gas station, where he was hocking CDs with such persistence that Levin knew he'd make a perfect TMZ pap.
These paparazzi aren't investigative reporters. Their only goal: Get celebrities on tape however you can without chasing them or breaking the law. They specialize not in photographs but video, no matter how unremarkable. In the early days, they'd set up shop at the hot clubs of the time (Pure, LAX) and simply wait for drunk celebrities to come out and engage them — which is exactly how TMZ nabbed the incendiary footage of oil and entertainment heir Brandon Davis calling Lindsay Lohan a "fire crotch."
Back at the TMZ offices, an editor would be waiting to assemble the night's footage into a sort of "greatest hits," which would go up on the website in time for the East Coast sunrise. The "fire crotch" video was an anomaly — most footage was simply of celebrities walking, maybe stumbling, verbally (and not very cleverly) sparring with the videographer — but back in the mid- and even late 2000s, this sort of unmediated footage was a novelty. Granted, many readers, especially those relying on AOL dial-up, couldn't even load it. But its existence punctured the celebrity myth not through the scandal of their words or actions, but the very banality of their existence. It was a quietly radical idea: Celebrities weren't "just like us," in fact, they were more clumsy, less intelligent, more boring.
The reliance on video also facilitated the development of TMZ on TV. Like Telepictures sibling Extra, TMZ was developed for syndication and, through an agreement with the Fox network of affiliates, pre-sold in an unprecedented 80% of American stations. Its first episode aired in September 2007; by month's end, it had become the highest-rated new show in syndication, with a 1.7 household rating, second only to Entertainment Tonight in its genre. Today, TMZ is still second to ET — and regularly battles for the second place spot with Inside Edition — but remains, according to Broadcasting & Cable, dominant in the all-important 18–34 demo.
And it does it on the cheap, with production values that The Atlantic's James Parker called "low-res, viral, shit-textured." Each episode is composed of two overarching elements: paparazzi footage, which could be shot, edited, and added to the show right up to the last minute using TMZ's cutting edge "instant production" and the now much-emulated morning meeting, in which the ever-expanding TMZ staff, seated casually at their desks, spar with Levin concerning potential stories.
In these meetings, Levin functions as a sort of hapless, middle-aged father figure who might not understand things like Google Glass, but knows the business better than anyone. And he's been smart enough to surround himself with people whose vitality match and complement his own: Co-producer Charles Latibeaudiere, who came over from years at Extra to co-produce the show, is the voice of reason; Mike Walters and Dax Holt are the benevolent big brothers; the rotating carousel of young staffers are the whippersnappers fighting each other to say something clever enough to make the final cut. Even the lawyers get in on the mix, discussing which stories can be covered, how, and with what language. It's all performative, of course, but the unmediated "reality" aesthetics make it seem like a window onto the "real" world of gossip production.
The main show may be the means through which most of America is exposed to the TMZ brand, but the site remains the central node for all of the properties, from the TMZ-branded tours of New York and Los Angeles to brand offshoots TMZ Sports, Dax Chat, and TMZLive. The TMZ team was the first entity to successfully transfer web content to television, illustrating a cross-media savvy and dexterity that has earned unreserved admiration within the industry. As New York Times media critic David Carr put it, "TMZ is one of the best written, best cast shows on television. There. I said it."
Accounts of Levin suggest that he's driven far less by a desire for personal fame and much more by a generalized, all-encompassing hunger: to be the best, to dominate the industry, to prove his naysayers wrong. He's a man of extremes (in the '90s, he was overweight; today, he's incredibly fit, doesn't drink, sleeps four hours a night, and looks younger than his 63 years). Former employees describe him as a "mad genius," "all fast-twitch muscle," and "like he's taking the blue pills in Bourne Identity." And it's that metabolism and bottomless hunger that's manifested in the site: When people call it all-consuming, they're both referring to its domination of its corner of the gossip landscape and the way it dominates the lives of its employees, including Levin himself.

Yet in the quest for domination, TMZ itself has become a source of gossip. Back in 2010, a blind item began circulating via Metafilter concerning an environment of pervasive sexual harassment at "a huge trashy entertainment news website with a three-letter name." The allegation slowly faded away, only slightly inflamed by observations from Forbes and FishbowlNY that TMZ was a "boy's club" and a "male zone." But in May 2013, former TMZer Catherine "Taryn" Hillin filed suit against TMZ executive producer Evan Rosenblum for gender discrimination, claiming she was told by multiple employees that "TMZ hates women" and favors male employees and alleging that Rosenblum "routinely yelled at and humiliated" her, calling her "f---ing shit" and telling her, "I f---ing hate this shit you hand in" and, "Don't be a girl."
Regarding the atmosphere of generalized sexism and discrimination described in the suit, male and female TMZ employees, none of whom were willing to go on the record, reported that it was all true, if not worse. (Two other former employees agree that it's a toxic environment while averring that every newsroom is toxic.)
Levin, according to one source, is "one of those gay men who's just never been able to get along with women." He's stacked his organization with young, bro-ish men who help make the tone and feel of the website masculine and definitively non-gay. It's not that Levin's homophobic — he's spoken openly about triumphing over his fears of being outed in his early career, and how he's operated as a gay man in the contemporary mediascape — so much as he's savvy as to the ways in which any hint of effeminacy on the site could repel the target demographic. Cloaked misogyny, in other words, sells.
Which is why it's so difficult to reconcile the site's incredible innovation, even brilliance, with its alleged gender politics. But it's equally difficult to pinpoint the source of those politics: As readers clicked at higher rates on posts with a misogynist bent, they effectively encouraged a generalized editorial mode that gradually seeped and/or validated a posture of sexism and degradation toward women. Put differently, it's difficult to write a headline like "'French Montana DROPS A LOAD on Khloe for 30th Birthday" and a slideshow of "Celebrity Butterface" without propagating an office culture that endorses the same gender politics.
There's something to say, however, about the masculinization of gossip and the legitimacy it offers. Yes, TMZ trucks in "fact" instead of speculation; legal documents are "hard" evidence as opposed to the "soft" conjecture of thinking about which celebrities are dating, and why and how we feel about that. TMZ has not only cornered an alternative gossip market, but also inflamed it. Readers and viewers are not only attracted to its voice, but emulate it themselves, whether in comments, in conversation, or in call-ins.
It's easy to look back at Confidential and think about the ways in which its mission, so degraded at the time, anticipated and even encouraged the more progressive, truthful, and emancipatory truths from stars concerning their sexual activities and preferences in the decades to come. But the fact remains that in the 1950s, the text itself was rancid, even hateful; the reason it was "scandalous" was, at least in part, because millions of readers would deem the described activities — whether fornicating with a person of the same sex or a different race or, if you were a woman, just pleasuring in sex at all — as worthy of censure.
Like Confidential, TMZ strays from censoring any celebrities itself; like Confidential, it claims to simply tell the facts and name the names. And while the impulse to demystify and deconstruct the celebrity images that propagate restrictive understandings of what "normal" or "beautiful" are is, indeed, admirable, it's difficult to endorse organizations that can only wield equally destructive language and editorial ethos in order to accomplish those aims.
Back in 2008, Levin defended the site, claiming, "What we're doing is not the fall of Western civilization. Celebrities are just people who other people invest in." He's right: Celebrity is, indeed, as old as organized civilization itself. But the mode, tone, and matter in which celebrities are mediated absolutely influence the type payoff received from that celebrity investment. Ultimately, we have to look at TMZ and decide for ourselves: How much is one Donald Sterling takedown worth, and how many "Lupita Nyong'o: 12 Years a Babe" headlines should we tolerate to fund it?
This story has been updated to clarify that the allegations against Allan Parachini were never substantiated and were disputed by Mr. Parachini. Further, BuzzFeed has been advised that the Court was never able to identify any specific instance or example where Mr. Parachini ever compromised any confidentiality, and that any dispute between Mr. Parachini and the Court arising from his termination was resolved.