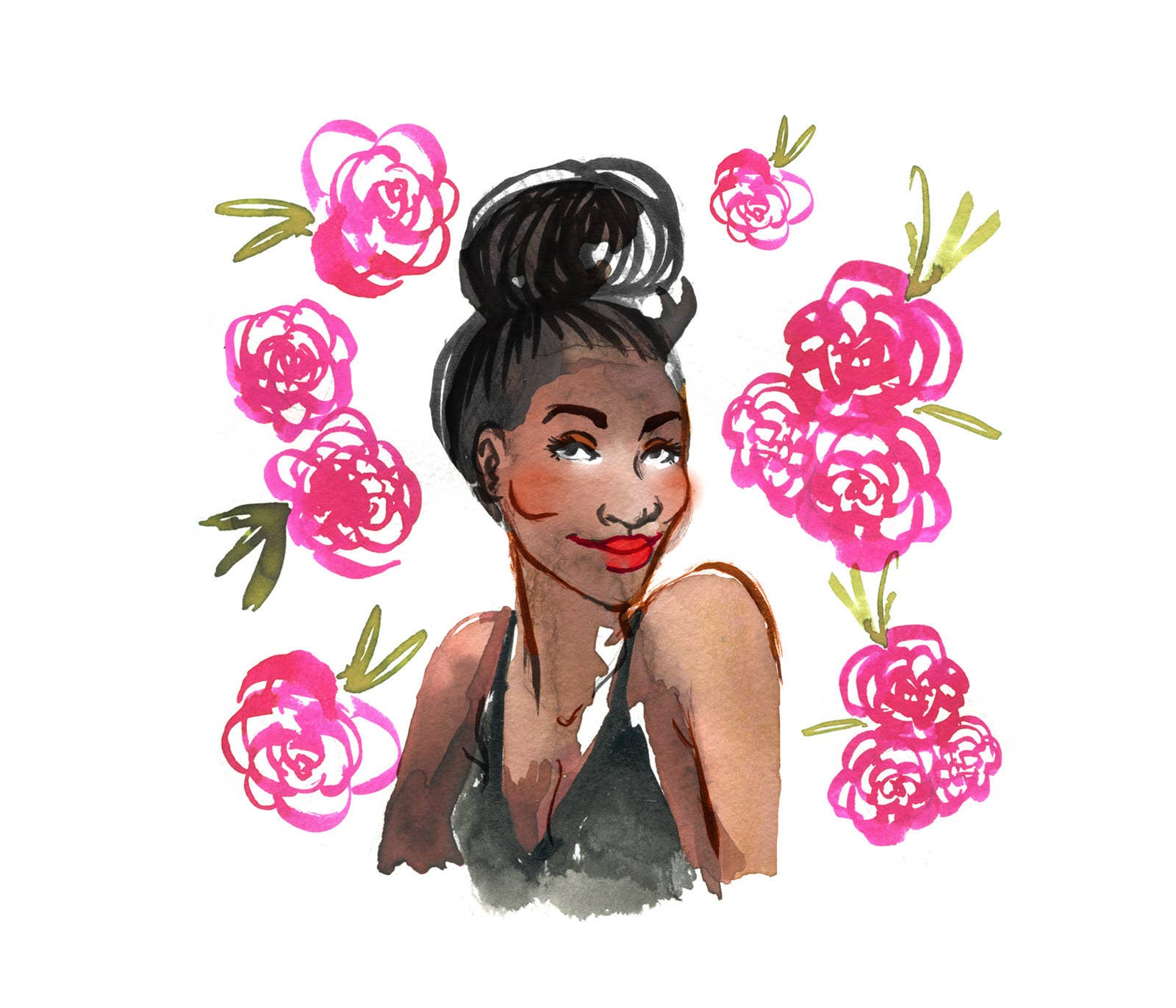 On Saturday, April 19, dozens of people gather in front of the Faith Community United Methodist Church in Baltimore. Some mingle outside, hugging friends, relatives, and acquaintances from present and past, while others make their way up the steps, passing through the Greco-Roman columns into the foyer. On a narrow table against the wall, a guestbook fills steadily with signatures. I consider adding mine. I did not know her.
In the preceding days, a grid of photos of a young black woman rippled across the web. The woman, wearing a black tank top, smiled in various poses on a white background. Her hair was piled high atop her head in a mass of braids and everything about her seemed to glow. Her name was Karyn Washington. She was stunning, she was slim, and, at 22, she had just committed suicide.
I hadn't heard of Karyn before then, but I quickly wished I had. She was the founder of For Brown Girls and, later, the #DarkSkinRedLip Project, online movements for black women that fought against colorism — discrimination based on how dark the particular shade of one's skin is. For Brown Girls had accompanying social media channels and a Tumblr, continuous scrolls of photographs featuring black women of all ages, shades, and sizes. Here were Jet magazine covers circa the '90s, India Arie, Serena Williams, mothers and daughters pulling wide-tooth combs through one another's hair, Chimamande Adichie, women holding signs as reminders that "Black Lives Matter," and so on. "Brown Girls, Receive Love!" read the command on my Chrome tab.
For days, Karyn — always beautiful, almost always smiling in that same grid of photos — flowed in an endless stream on my TweetDeck, her name on outlets as varied as the Washington Post, BET, Madame Noire, Cosmopolitan, The Grio, Bustle, Clutch, the Huffington Post, The Root, Essence, The Frisky, and Salon. She was two years younger than me, but she seemed self-assured in ways that I've only grasped for. And yet, the steady beat of coverage on Karyn's death seemed out of sync with the modest scale of her online presence. For Brown Girls had a few thousand followers on Twitter and Facebook combined and her original posts on FBG's Tumblr were usually reblogged a few dozen times.
Karyn's death highlighted a number of social taboos: suicide, mental illness, the way the two intersect with and can be silenced by race, gender, and class. Online, Karyn projected what seemed to many an unwavering air of happiness and security, while her reality was far more complicated. It's a curious paradox: In an age where tweets, texts, pictures, posts, check-ins, and updates allow us to express ourselves online in more ways than ever before, we are more beholden to — and, in ways, stifled by — what we choose to share. This is even truer if our presentation of ourselves is scrutinized under stereotypes of gender and race. As a young black woman and online activist, Karyn wasn't an exception to this; she was the rule. And in our minds, she was never meant to be broken.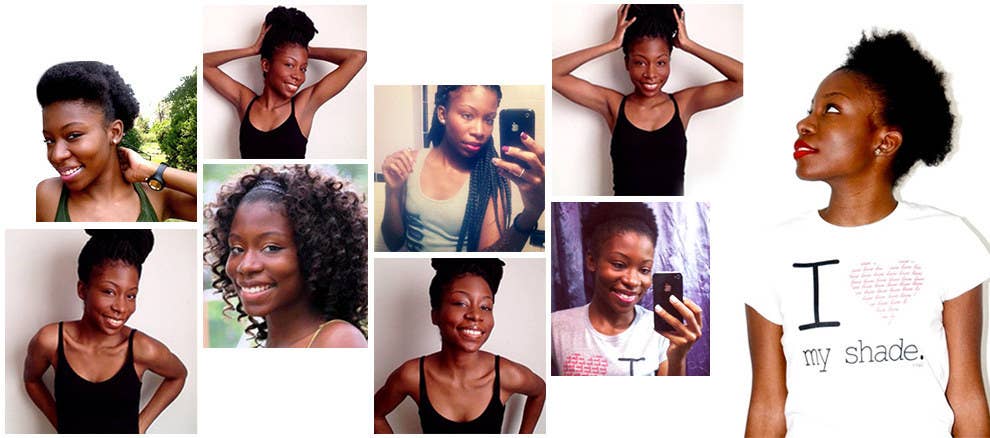 Karyn Leslie Washington was born and raised in Baltimore. The daughter of Rip, a disability support examiner at the Social Security Administration, and Gloria Yancey, who went by Jean, a social worker for Baltimore city, she was one of eight siblings, four full and four half. She grew up in a modest single-family house in Belair-Edison, a blue-collar neighborhood and one of the largest row house communities in the country. Coleman Washington, Karyn's half-brother, describes it as "50-50." "You've got the violence out there, but the neighborhood they're in is really good."
During her elementary years, she attended Greater Grace Christian Academy, an insular private school with approximately 200 students in grades K-12. There, she met Nieshia Watts, a childhood best friend who exudes warmth when we meet in a Baltimore coffee shop. "It was a majority white school, so as young minority girls we kind of found each other and we became best friends," she explains.
"Karyn and I would talk a lot about boys," she tells me. "There were a lot of white guys and not a lot of black guys. So, we felt like we were never good enough to get with white guys and we thought that there was a stigma for the black guys, like they wanted us to have this long hair."
"I remember both of us being very unaware of what it was that was going on at the time, just understanding that we didn't like it."
Karyn eventually left Greater Grace to attend Western High, a mostly black, all-girls public school that educates more students per grade than the former's entire population. She had a soft-spoken voice and was a "tiny little thing," as her ninth-grade health teacher Brian King recalls; yet he still remembers all her "big picture ideas."
"Study vocabulary? Ehhhhh. But if you wanted to have discussions ... she always was up-to-date on current events and was aware of what was going on," King says. "She always had this sense we weren't doing enough."
She enrolled at Morgan State, a historically black university in Baltimore, in fall 2010 to major in strategic communications, a combination of public relations and advertising.
Dr. OluwaTosin Adegbola is the chair of the strategic communications department. A Nigerian native, she cuts a striking figure: Incredibly tall — especially in the black wedge-heeled booties she wears when I meet her — she is thin and fashionable in a light-pink cardigan and fitted dress, with cheekbones that sit high on a face free of any makeup and skin the shade of supermodel Alek Wek.
Adegbola had never met Karyn before they were introduced via another student her freshman year, yet Karyn had admired the professor since she initially arrived on campus. "She said that she had read up about me and that she wanted to compliment me … on being a dark-skinned female who didn't seem to be bothered by her skin complexion," Adegbola says. She speaks with a British accent, her words measured and deliberate. "I didn't see it as a compliment."
The two had their first of what came to be "countless" long discussions that day, on which Karyn spoke of her idea to create an online movement for dark-skinned women. Adegbola, a feminist scholar, was initially skeptical of the plan. "I said, when you focus on celebrating someone because of this, the underlying question becomes 'Was there something wrong with them to start with?'" Yet as the two continued their conversations, which eventually evolved into a close mentor-mentee relationship, she warmed to the idea. "If you happen to be a dark-skinned female in the United States of America, you look around and you don't see too many representations of who you are on a daily basis, you ask questions," she says.
"I think [Karyn had] enough observations and enough people talking to her about the stereotypes that they have gone through, [that she wanted] to create a healthy space for them not to see themselves as other," she says.
"She's black female power all the way."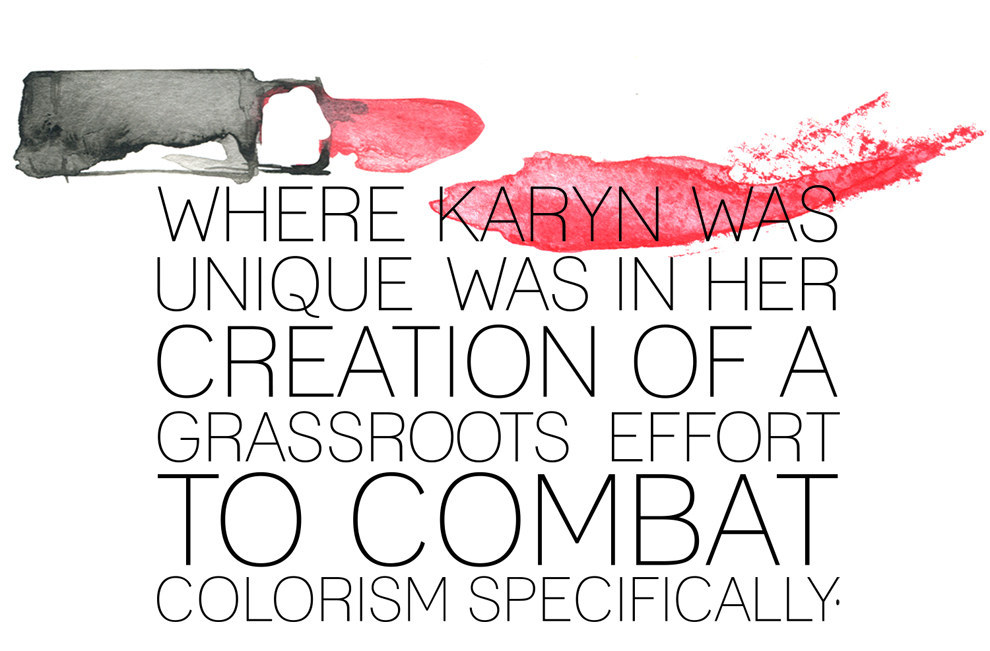 Karyn created the For Brown Girls Tumblr in July 2011 and registered forbrowngirls.com as a domain that September. She hit her stride with the site the next year, posting constantly, interviewing young black female entrepreneurs, and sourcing other women's reflections on their identity. She was contacted for a few interviews, the biggest with Madame Noire, in which she described FBG's goal "for new generations of darker-skinned girls to not even have one thought of wishing to be lighter, to never doubt their beauty."
In the summer, she began selling jelly bracelets tagged "For Brown Girls" and T-shirts with the words "I Love My Shade" emblazoned on them, despite a failed Kickstarter campaign for the project that made $586 of its $3,000 goal. In November, she attended Black Girls Rock!, an annual BET event that highlights accomplishments made by women of color, where she cried during India Arie's performance and was inspired to do more to further her mission.
She seized an opportunity when rapper A$AP Rocky suggested black women shouldn't wear red lipstick, and started the #DarkSkinRedLip Project, a social media campaign that amassed hundreds of supporters via photo submissions, and once again caught the attention of black media outlets. #DarkSkinRedLip, the official site for which has since expired, quickly became Karyn's most successful and most publicized project.
"I think beauty shines most bright when you are positive, happy, and genuinely kind to others," she said in an interview with CollegeLifestyles.org. "It shows through your heart and radiates in your smile."
Karyn embodied a lifestyle that many didn't know existed until this year: the Carefree Black Girl. Coined by an eponymous Tumblr launched in May 2013, the Carefree Black Girls movement came to the forefront this January as an expression of joy and celebration for black women, not in spite of their skin color, but because of it. Sites dedicated to Carefree Black Girls often depict black women in natural settings, basking in sunlight, being active, laughing, dancing. They can be 100 pounds or 300. Their skin can be albino or so dark that it seems tinged with blue. Examples include celebrities like Solange Knowles, Lupita Nyong'o, and Janelle Monae.
Karyn was not the first to carve out a niche online celebrating black women. Le Coil, a popular Tumblr created by photographer Jamala Johns in 2009, spotlights black women — and sometimes men — with natural hair, a colorful array of afros, braids, dreads, coils, and twists. Sites like Fuck Yeah Black Beauties and All Things Black Women have been curating diverse representations of black beauty since 2009 and 2010, respectively. Others have for years focused on black women in television and film or in fashion. And, of course, media organizations that cater to black female audiences have existed for decades.
Where Karyn was unique was in her creation of a grassroots effort to combat colorism specifically. For Karyn, who grew up in one of the country's few majority-black metropolises, the issue wasn't just representation — at a black university in a black city, she could at least see her reflection all around her — but that within her own group she was made to feel outcast. Often, she'd be told by black men, "Oh, you're cute...for a dark-skinned girl." Though awareness of colorism has increased recently via sites like Pretty. Period. and the documentary Dark Girls, For Brown Girls was early in its focus.
Fakaira Gabriel, a sophomore at Florida Atlantic University, is one of the few women I find who followed For Brown Girls from the beginning. She grew up in Haines City, Fla., a small city of about 20,000 that is a third black, and turned to Tumblr to boost her self-esteem around age 16. "I never really had a problem with my skin tone until I got to high school, and it was more of a 'You're pretty, but you would be pretty if you were of lighter skin,' she tells me over Skype. She made a Tumblr and searched for tags such as "dark-skinned girls" as a way to avoid taking more drastic measures, like bleaching her skin. "I actually did kind of start bleaching," she admits, "but I got over that phase quickly." When she discovered FBG, she was floored. "Before then, there was nothing really for dark-skinned girls," she says. "It was just very positive ... It's just a safe zone to get away and just feel good about yourself."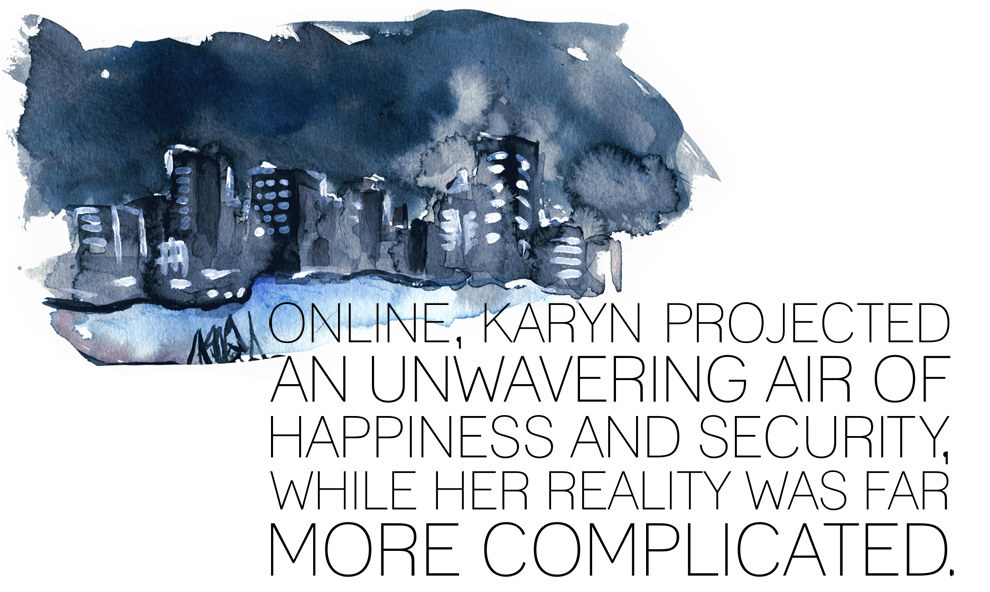 By 2012, when For Brown Girls was taking off, Karyn's mother Jean had been battling cervical cancer for four years. She had been diagnosed Karyn's junior year of high school.
"Her mother was probably one of the only people she really was comfortable talking to, family-wise," John Griffin tells me. A friend and old crush of Karyn's from high school, he speaks at a near whisper on an upper floor of MSU's library and looks like Will Smith in his Fresh Prince days, with flattop hair and a black-and-gray diamond-patterned sweater. "She never really talked about a lot of people in her family, but she loved her mother."
Griffin is the first of many to explain that Karyn and Rip, her father, had a particularly difficult relationship. Though he declined to be interviewed, Rip admitted in a Facebook message that Karyn "hated" him because he disagreed with some of her "behavior." "I know she told me in high school at one point her parents had taken the hinges off the door to her room," Griffin says. "She didn't have any privacy."
Jean underwent chemotherapy and radiation and eventually went into remission. Karyn spoke with her every day, often calling from her shifts working at Radio Shack. However, the cancer returned, and things didn't get better after that. On Aug. 30, 2013, Karyn's first day of her senior year, Jean was told she was too weak for further treatment and was transferred to in-home hospice care. #DarkSkinRedLip had launched four months before.
Karyn took a leave from MSU in order to stay at home, a time she would eventually describe on her personal site: "I stayed home with her looking after her but she wanted me to go to school, to keep busy and not worry. I wanted to say ' Of course I am mommy you are dying! And I don't know what to do. I want to do something!' But I let those screams stay inside of my head." She took care of her mother at home until Sept. 22, when Jean had a seizure and was taken to the hospital. Karyn slept in her room each day until the morning of the 25th.
"When I woke up, I realized that I did not hear that same heavy breathing anymore. Pandora radio had stopped. There was silence. You weren't breathing anymore. I walked over to you sobbing, kissing you. 'Mommy.'"
Karyn, who was the main beneficiary of her mother's will, moved into her own place last November. She also bought herself her first car, a black 2012 Toyota Yaris. Her friends considered it a fresh start. Mal Davis, one of Karyn's closest friends, visited her not long after she had moved in. Karyn made shrimp and rice with french fries and they set up her new table and chairs in the dining room, which she had painted bright orange. She had become more reserved and less communicative, yet overall she had good days and bad days.
"It was a definite noticeable difference, but it wasn't anything I didn't feel like I could handle or anything that would have pushed me or anyone else away," Davis says. "It was expected."
The posts Karyn wrote on her personal site in early October — "dear mama," "try sleeping with a broken heart," "good morning," and "try a little tenderness" — reveal glimpses into Karyn's mental state. There were times she struggled to wake up or get herself a glass of water. Those posts coincided with her retreat from forbrowngirls.com, which she stopped updating at the end of October. However, she kept up with friends and even made a new one — her downstairs neighbor, PJ.
PJ, who requested I identify him by only his nickname, is startled when I first knock on his apartment door on Ramblewood Road. "I don't like to talk about Karyn," he says guardedly, in a rumpled white shirt and dark sweatpants. Yet after inviting me in to the apartment he shares with his roommate, he opens up. Like many, his descriptions of Karyn oscillate between past and present tense.
"She gives me the perspective of not only women, but women of color too. She was cool, man. She was just cool," he says. "She made me understand that, hey, I'm gonna have daughters one day."
PJ saw Karyn's moods swing between "real extreme highs and real extreme lows." She seemed particularly conflicted in reconciling her mother's death with the newfound freedom it afforded her. "She always used to get emotional about that because she felt like she traded her mother for the money," he says. "She always thought about that."
Karyn returned to Morgan State for the spring 2014 semester and began attending classes again. She was "shut down," Adegbola noticed. "I think the excuse someone like myself — and, to be fair, many people — might have applied is that everybody grieves differently," she says.
One morning in February, PJ awoke to Karyn telling him she had taken her mother's old pills. He waited as she threw up and gave her a bath, but knew they needed to go to the hospital; Karyn had started itching. She would later describe the incident to Griffin, who is an aspiring comedian on campus. "She was like, 'One day you could take this and turn it into a joke,'" he says.
In late March, Karyn created new personal Facebook and Instagram accounts. She said she wanted to get back to blogging, to expand FBG, though by that point she hadn't updated the social media accounts for over a month, and the site for over four. A couple weeks later, on April 6, she and Davis were to start a new routine of getting together weekly to work, but Davis had to cancel. "No problem!" Karyn said. Davis texted Karyn the next day, Sunday, but didn't hear back. On Monday, she texted and called. Still, no response. One day without communication was fine; two was concerning. On Tuesday, April 8, Davis called and texted again. "Are you ducking me?!"
Karyn was found in her car with a plastic bag over her head — tubing running underneath — and a helium tank, at 5:38 p.m. on a residential road 10 miles north of Baltimore. Five minutes later, she was pronounced dead. The police didn't find a note.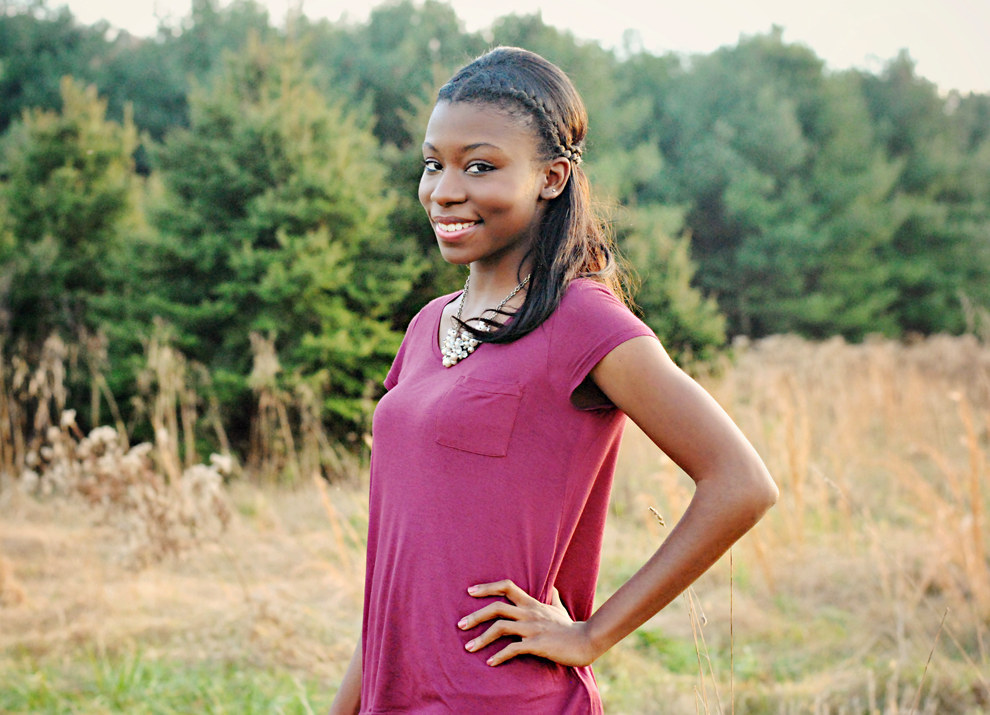 Coleman Washington, Karyn's half brother, has a slow, deep voice, one that's clearly been out of use for several hours when I call him for the third time at 3:30 on a Saturday afternoon. "I haven't even gotten out of bed yet," he says. We agree to meet at 5:00 at the peanut stand outside the World Famous Lexington Market in downtown Baltimore.
He's a slight, sinewy man, as thin as Karyn, with the same long face and high cheekbones I've seen in pictures over and over on my laptop screen. Despite the heat, he has on three layers of clothing. An orange-and-tan striped hoodie is pulled over his head, pockmarked skin and salt-and-pepper stubble peaking through the middle. After we've hugged and introduced ourselves, we go inside and buy something he calls "The Peach," a syrup-sweet drink sold in an enormous Styrofoam cup, and head upstairs to talk.
He speaks of Karyn with the tenderness of a sibling and the knowledge of a good acquaintance. At 35, he's 13 years her senior and only shared a roof with her briefly when he was a teenager. "It was almost like how it was supposed to be," he recalls fondly of the time. For the most part, however, he visited Karyn and her sisters every so often while they were growing up. "I made a point that if I was in the area, I don't care whether it's months that passed or a year, I'm stopping past," he says. "Spend a little time and then leave. That's how it was. It was just like we never skipped a beat."
In one breath, he's remembering Karyn as a "little, little thing," in the next he's vehemently describing his own mother as an "a-hole." It was during an impromptu visit to her house that he found out Karyn had died. "She said, 'You know, Karyn killed herself.' Like it was nothing," he remembers.
"I go on Facebook. All these so-called 'friends.' I'm watching this girl's feed, posting stuff. She was crying for help. She was saying everything was fine, but I knew, I knew. I swear to god, I swear to god, I swear to god."
By this point, Coleman has been bawling for several minutes. His hands tremble, clasped on the linoleum table between us. He eventually excuses himself to blow his nose. A few minutes after he returns, a security guard tells us the market is closing. Coleman continues speaking. His eyes, wet with tears, harden when she repeats herself. "I said I hear you! Excuse yourself. Excuse yourself. Then fuck you!" In an instant he's in her face. She calls for backup. They scream at each other for a few seconds before two men bound up the stairs and tackle Coleman to the ground. The Styrofoam cup flies out of his hands and The Peach puddles a few feet from his sprawled body. I stand, paralyzed, as they cuff him and take him to a room down a dark hallway. I wait for a few minutes. I go outside. After a little while, the two male security guards come outside to ask me what happened. I tell them I'm a reporter doing an interview. I tell them this man's little sister just committed suicide. They nod their heads sympathetically. Coleman eventually comes outside and we're back in front of the peanut stand.
"I'm hurt. I'm angry. I want to do something. It's almost like you want to be able to blame somebody or to go at somebody. But there's nobody you can go after. You know, if somebody wrongs you or your family, you can say, 'All right, we're going to get together and get them.' Who can you get?"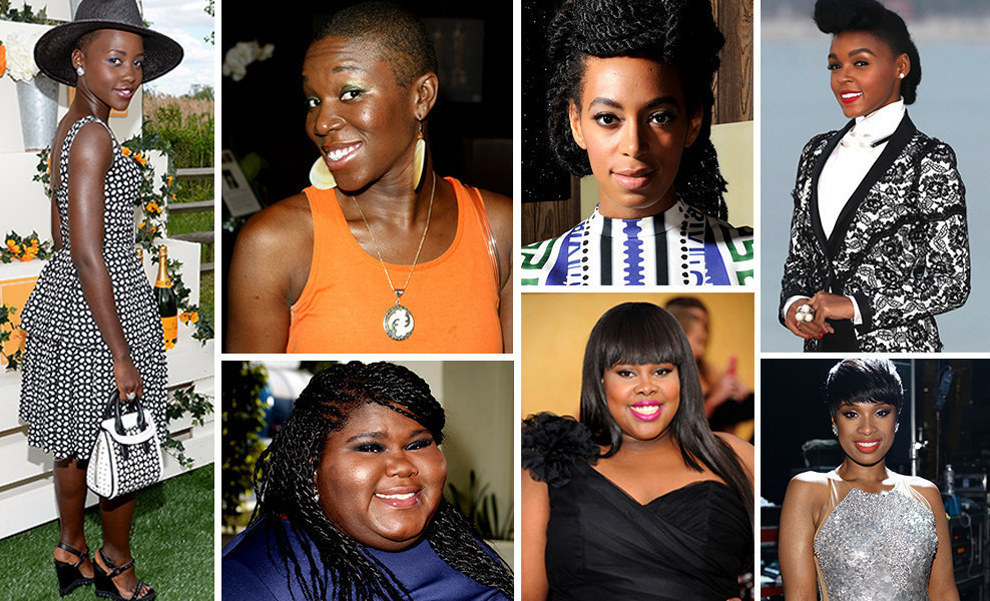 When I ask people their fondest memories of Karyn, they recall her wearing a bright yellow shirt and laughing at a bar, or smiling in a way that's so enthusiastic it's contagious. "She used to just break out and dance [at work]," says Neil Ezem, an old co-worker from Radio Shack. I ask him what songs she liked to dance to and he chuckles. "There was no song playing. She'd just start moving her feet. That was Karyn."
Earlier this year, Patricia Ekpo wrote for feminist zine Bluestockings, "the Carefree Black Girl is more than just image and representation, it is practice and embodied performance as well." In this sense, Karyn was a Carefree Black Girl in the most profound way. But to the outside world, her "performance" silenced a reality that now does nothing short of scream at us: Karyn was not carefree.
What made Karyn's story so sensational was not her celebrity. Free resources that measure website traffic, such as Alexa, show zero activity on forbrowngirls.com, which was recently taken down, for the majority of its existence (there likely was activity, just not enough for it to register). Quantcast, the most popular of these websites, doesn't have For Brown Girls as a search option. (I couldn't search #DarkSkinRedLip, as its site had already expired when I tried. Both sites' Tumblrs, however, are still live.)
Rather, Karyn became a celebrity in death, and one made only possible through social media. Almost everyone near Karyn — even her best friends — found out she had died on Facebook or Instagram and word traveled from there. The question was obvious: How could a beautiful, talented young woman whose mission was to uplift others take her own life?
The discussion this question ultimately prompted — of mental health issues among the black community and black women in particular — was well-meaning, but one-dimensional, riding on the assumption that Karyn had been victim of a common trope: the Strong Black Woman. The Strong Black Woman doesn't cry and always holds it down for her significant other, job, friends, children, etc. She wouldn't ask you to help her do the laundry, let alone work through feelings of grief, anxiety, or depression. "Is 'Strong Black Womanhood' Killing Our Sisters?" asked Ebony. Because Karyn killed herself, it was implied she hadn't tried to seek help for her pain.
Except she did. On Aug. 30, the same day Karyn found out her mother was going to die, she emailed lifestyle writer Ty Alexander. Alexander, whom Karyn had never met, had written earlier in the year about losing her mother to cancer. "I need some of your strength tips," Karyn wrote.
The two corresponded for several months, as Alexander offered advice on things Karyn should do before Jean's death — record her voice, take pictures of their hands held. Karyn wrote Alexander the day her mother died and later of her plans to visit Roberta's House, a community grief and loss center, and go to a candlelight service at a local museum. She posted updates like "I miss my mother" repeatedly on Facebook, and stacked her Twitter feed with positive affirmations. By their accounts, Karyn was constantly in contact with her closest friends until a few days before her death. A toxicology report afterward showed she had the anti-depressant Zoloft in her system. Karyn's suicide was born of tragic — and ultimately unknowable — circumstances, yes, but it wasn't born of denial.
More troubling were some of the first reactions to Karyn's death: that her dark-skin pride was simply a front for frailty and insecurity, that she preached "fake self-esteem." Though that discussion quieted when one of Karyn's best friends, jewelry designer Yumnah Najah, posted a YouTube video explaining Karyn's struggle to cope with her mother's death, nasty echoes of that initial cry of hypocrisy remain, particularly in an unscrupulous video that, albeit infrequently, still pops up on Twitter.
Carefree Black Girls can't always be carefree, nor should we expect them to be. Rather they are — and Karyn was — before anything else, human. That it is so hard to reconcile the idea that Karyn could have loved the skin she was in yet also have been deeply depressed reflects more on us than it does on her. And perhaps the reason it's so difficult is because, as Ekpo writes, the Carefree Black Girl is "enacting, reenacting, and embodying an affective state that was never supposed to be hers." Karyn broke character; the reaction was "I told you so!" Black women aren't allowed to be complex. We're Carefree with a capital "C" or we're nothing at all.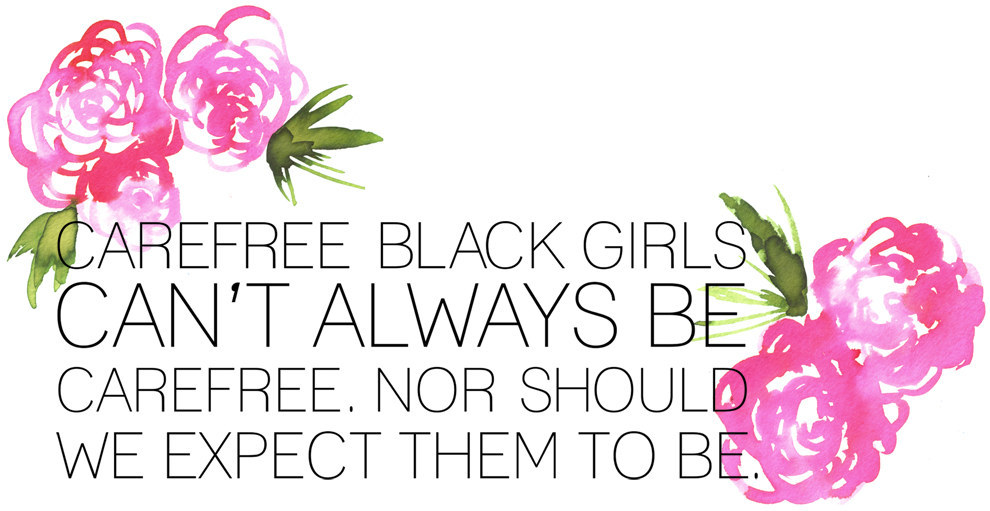 Karyn is dressed in all white and a dim red light casts a pink glow over her face. Her hair is wrapped atop her head in a long braid, encased in a wreath of white flowers.
Before her, around 30 people — most high school and college friends under the age of 25 — are already seated in the pews nearly an hour before the memorial starts. A cool breeze and the sounds of sleepy cars on Harford Road drift in through the open doors of the small sanctuary, the walls lined on either side with three arched stain glass windows.
Pearl earrings dot her ears and a small heart tattoo is etched on her right ring finger. Surrounding her are flowers in shades of pink, purple, and white — babies breath, roses, lilies, carnations — and large purple satin bows. On the floor, to the right of the rose-gold casket, is a white glossy poster with a selfie of Karyn smiling in her car, pastel-painted fingernails and a flower-print tank top peeking in the frame. The crowd eventually swells to fill the chapel. Several of the young women — friends from high school and college — wear "I Love My Shade" shirts, while others wear red lipstick or red clothing. There are red blazers, a red bag, a red cardigan, a red tank top, a red headband.
"Who is in a position to condemn? Only God," begins the reverend. The taboo of suicide hovers heavily over the ceremony, but is lifted by positive recollections, by testimonials, by spoken word, by the promises of the seeds Karyn planted. In a poignant reminder of Karyn's medium, the reverend lists the "Top 10 Things Karyn Taught Me." No. 1: That time spent teaching is never wasted.
At the end of the ceremony, Shalea Moser, a childhood friend, steps up to the podium. She's petite and wears a mustard cardigan over a pink-and-teal patterned dress with a gold necklace. She begins singing what was No. 1 on a playlist Karyn posted on For Brown Girls: India Arie's "I Am Light."
I'm not the mistakes that I have made
Or any of the things that caused me pain
I am not the pieces of the dream I left behind
I am light
I am light
Sign up for our BuzzReads email, and you'll get our best feature stories every Sunday — plus other great stories from around the web!