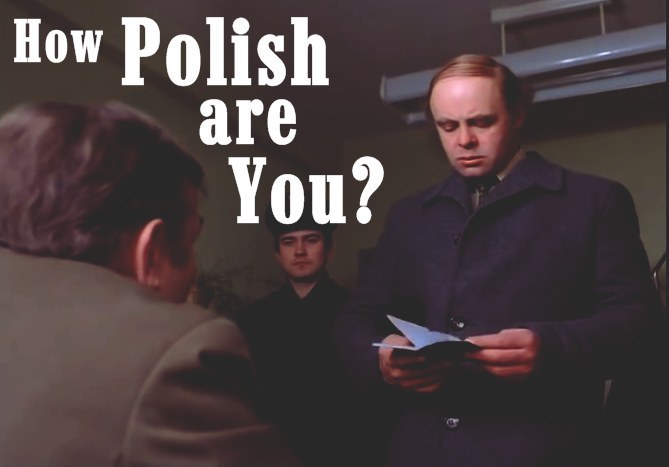 1.

In Poland, which ONE of these food ingredients is usually presented separately for you to assemble yourself?

Stanisława Barei / Via youtube.com

Pizza arrives separately from tomato sauce which comes in a little jug which you then have to pour on.

Nuts from Snickers bars arrive in a small separate sealed bag (for health and safety reasons). You have to dip the Snickers in the nuts.

Spaghetti is served separate from meatballs, which are normally in a small bowl made from bread.

Scrambled eggs contain only scrambled egg white as the yolk is considered unhealthy

Via polishforums.com

2.

How strong is the strongest commercially-available Polish Vodka?

Via malathronas.com

Spirytus Rektyfikowany is an eye-watering 96%.

Via files.karnet.krakow.pl

3.

Which of these is a genuine Polish radio or TV station?

Via cambus.net

Mary Radio

radio station featuring frequent recitals of the rosary

Reality Plumbing Channel

TV channel featuring almost-constant plumbing-related TV shows

Naked Radio

radio station where the presenters are completely naked

Meat TV

TV channel where people talk about Kielbasa (and other meat). A lot.

Believe it or not its Mary Radio (or Radio Maryja)

Radio Maryjas programmes consist of frequent recitals of the rosary, the breviary, and the Chaplet of the Divine Mercy; the unction to the Black Madonna of Częstochowa; discussions on the Catechism of the Catholic Church; a daily transmission of the Mass; coverage of papal trips; and sociological and political programmes

Via upload.wikimedia.org

4.

Which of these is NOT a real celebration day in Poland?

Via buffalonews.com

Alas there is no Neighbour Day...

5.

Burek is the most common name for a dog in Poland. It translates into English as:

Via tvr24.pl

7.

When asking for an item in a shop in Poland the direct translation of "I'm sorry, I'm afraid we haven't got any of that at the moment, try again tomorrow or would you like me to order some for you" would be

Nie ma

...said in a tone of voice that makes you feel guilty for having even asked.

Snilas mi sie tej nocy

...said in a mildly aggressive manner

Marzę o twoim dotyku

....said warmly while touching you

Niech idzie lizac grzejniki w bibliotece

...said with a look of unhinged excitement.

Via dor.academy

8.

Diary of a Visitor...

Via fatcap.org

Read the following text and then complete the rest: Monday - I went drinking with some Poles; Tuesday - Hangover so bad, I almost died; Wednesday - I went drinking with the poles; Thursday -_________________________

I went to work with a slight headache.

I went to the GP. Just as a precaution. I couldn't feel my feet and had lost the ability to see the colour orange.

I wish I'd died on Tuesday.

Due to already having got used to drinking vast quantities of vodka on Tuesday I felt absolutely fine.

I wish I'd died on Tuesday...

Via filmneweurope.com

A loud continuous humming noise.

Polish girls are apparently like Raspberries...

Youtube: Voyager - Polskie dziewczyny (worth it for the music video!

Via wordpress.com

10.

Dog goes hau hau, cat goes miau. Bird goes ćwir ćwir, and mouse goes pipipipi.

Via timeslive.co.za

What does the Polish Sheep say?

Polish Sheep says Beee...

Via ruudveltenaar.nl

11.

This is a Marzanna.

What would you do with her?

Dance with her

– to symbolise to a girl that you are single (a bit like a traffic light party)

Marry her

- to symbolise your desire to continue to live as a bachelor

Drown her

– to say farewell to winter

Tie her legs to the back of a tractor and drive around shouting with delight

Why? Because.

12.

What is this animal meant to be?

A vole crow monkey…thing...?

...featured in the 1980s cult Polish film Miś....

Via pagowski.pl
This post was created by a member of BuzzFeed Community, where anyone can post awesome lists and creations.
Learn more
or
post your buzz!