There have been a lot of TikTok trends over the past couple years, but I admit I never expected sea shanties to be one of them.
For those unfamiliar with sea shanties because you aren't a 19th century privateer, they were songs sung aboard merchant vessels (and likely pirate ships as well) to coordinate the workers as they did tasks that required synchronized effort, like raising the anchor. This video has several examples:
Other singers have added onto Evans' original video, filling out the sound with more voices and instruments.
Some truly amazing and wholesome videos have come along as people discover just how much of a banger "The Wellerman" is.
"This was probably one of the first times I had went and listened to sea shanties and I loved it, so I uploaded it and it went a bit crazy," Evans explained. "'Leave Her Johnny' is now sitting on 1.1m likes, back at the time when I only had 10k followers, so that was crazy for me!"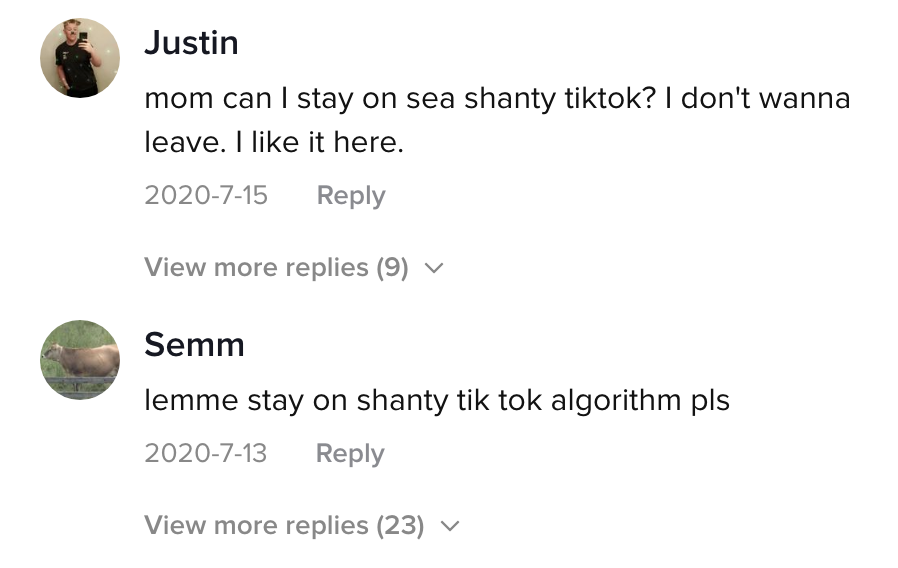 Naturally, this all leaked to Twitter, and the jokes started:
We've got some very specific requests going:
:(
There are some fears that we'll ruin shanties with all this attention:
But others are pointing out that of COURSE today's young people love sea shanties — they're designed to be bops:
And plus, what better time to sing songs that are naturally communal, unifying, and spirit-lifting during long periods of isolation than now? As this piece from Vulture points out, sea shanties were practically made for a pandemic lockdown:
I, for one, look forward to the resurgence of Gregorian chants on TikTok next month.