140 Thoughts I Had Watching The Battle Of Winterfell On "Game Of Thrones"
Mostly just a lot of screaming "NOOOOO!"
1. WHOOOOOOO'S READY TO BE EMOTIONALLY DEVASTATED?!
2. Boy I know I am.
3. Honestly, why do we do this to ourselves?
4. Today's episode is directed by Miguel Sapochnik, who directed "Hardhome" and "Battle of the Bastards," so that really sets the fucking tone.
5. Poor Sam. All he ever wanted was to be a wizard. Now he's maybe a cleric, or at best a rogue with poor stealth stats.
6. Question of the day: Who or what is Bran gonna warg into to save himself?
7. We've never seen a Dothraki army this quiet and regimented. It's unsettling.
8. Kinda wish Wun Wun was still here.
9. SAM! He's gonna fight. What a good boy.
10. SO IS GHOST. Also a good boy.
11. You know what? Everyone here is a very good boy.
12. Melisandre????
13. Girl what is you doing here?
14. Oh shit please tell me she's gonna give the Dothraki some fuckin' fire swords.
15. FUCK YES.
16. Only thing better than Dothraki cavalry is Dothraki cavalry with LOTS OF FIRE.
17. Mel, I have not forgiven you for Shireen but that helped.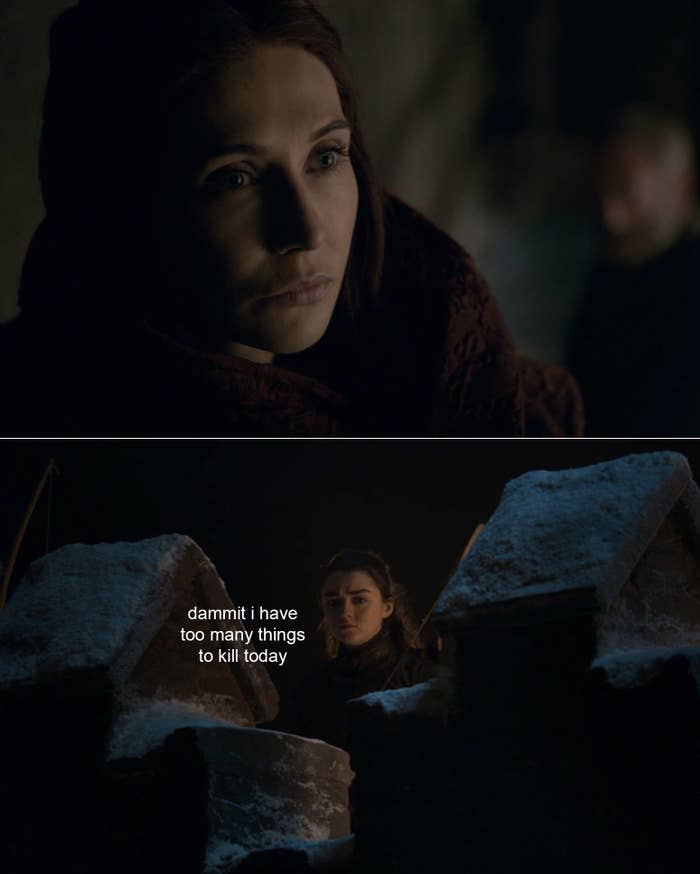 18. Not really a fan of Jorah and Ghost being on the front lines here.
19. Oh my god, that shot of the lights just...going out.
20. Fuuuuuuuuck.
21. I have chills and they are NOT GOOD CHILLS.
22. Why'd they have to do this at night?
23. Well, there's a whole Dothraki army for the Night King to raise. Great.
24. Stay alive, Grey Worm.
25. Holy SHIT.
26. That is a literal fucking wall of wights.
27. A WALL.
28. Eat your heart out, Walking Dead.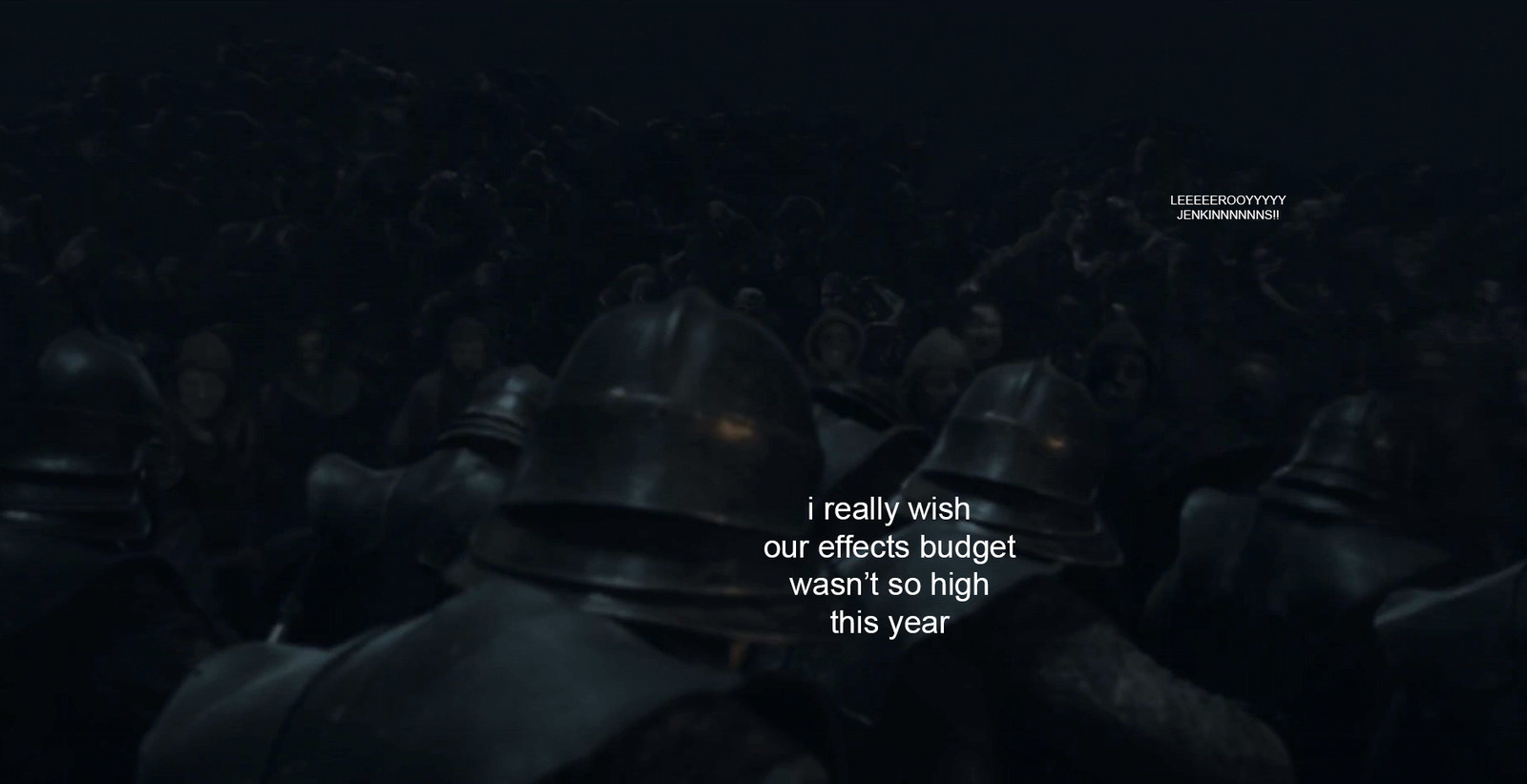 29. Two muthafuckin dragons!
30. Jon and Rhaegal must've had a training montage or two that we didn't see.
31. DON'T CHARGE AT THE WHITE WALKERS WITH ICE SPEARS YOU DUMMY.
32. "Stick them with the pointy end." AHHHHH I knew it was coming but it was incredible anyway.
33. Now I have good chills. For like, a couple seconds at least.
34. NO EDD.
35. And now I'm just pissed.
36. Tarly, I love you, but you're a liability sometimes.
37. Oh damn! I seriously thought that was the Night King and Viserion in that midair collision for a second.
38. Where's the FAA when you need it?
39. This has gone rather poorly thus far.
40. Welp, now I'm sobbing at the Unsullied protecting the retreat.
41. That's gotta be the end of Grey Worm, right? He's doing something noble. A good way to make sure you die on this show.
42. Dammit, every time a dragon shows up through the mist I'm so sure it's Viserion.
43. It's giving me a heart attack every time.
44. At least the traps are kinda working!
45. Aaaaaand the trenches aren't lighting.
46. Goddammit, Grey Worm's gonna sacrifice himself to light the damn trench isn't he?
47. Oh thank god, Mel's gonna do it.
48. We can lose her, that's fine.
49. She picked a very good time to finally get her magic working properly. She was pretty hit or miss for a while there.
50. A little faster would be great now though.
51. And THAT'S why you make sure you put a mage on your team!
52. Poor Hound.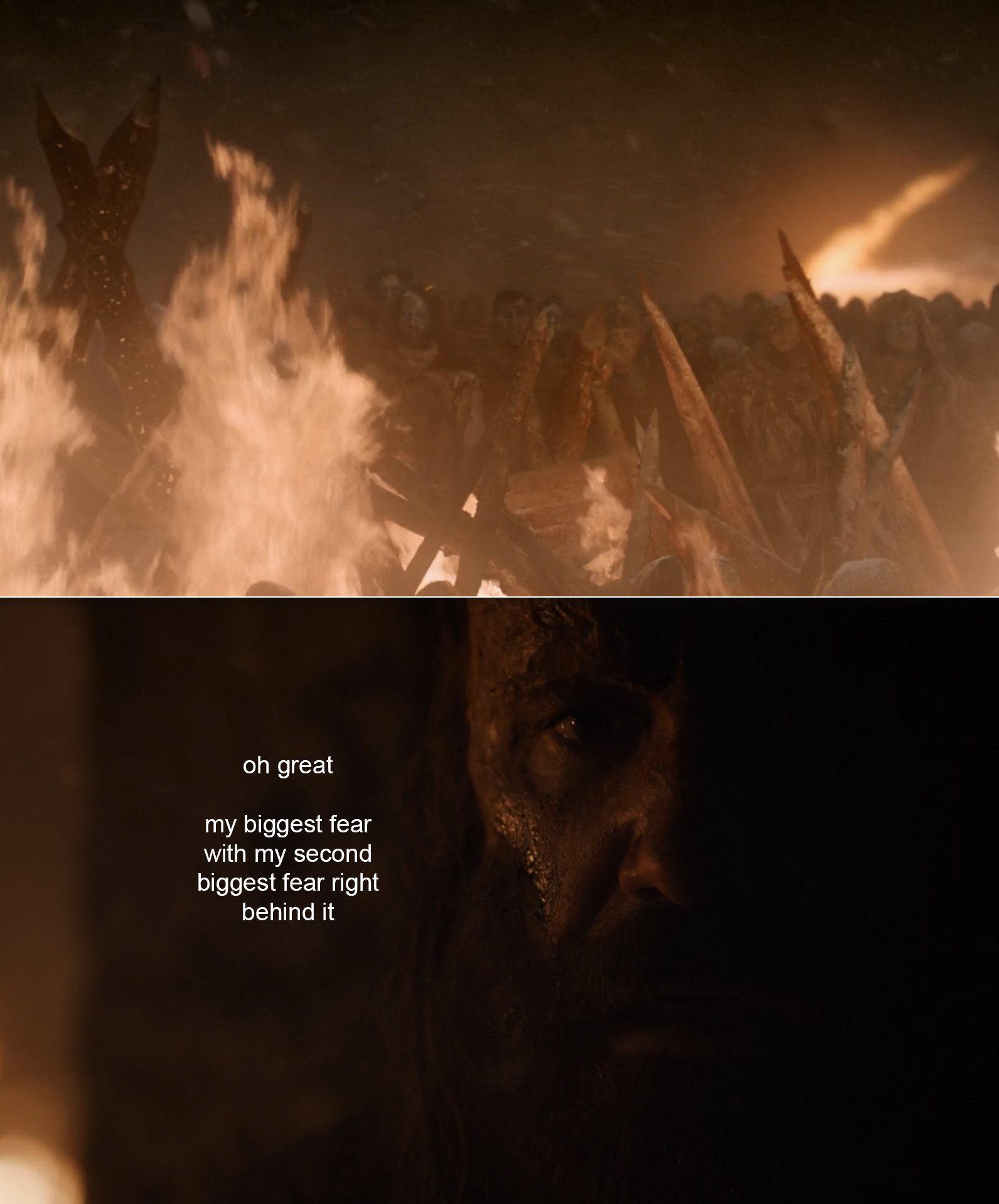 53. "What a terrifying thought." At least Tyrion can still be funny in the face of certain doom.
54. Let's not plan a coup while the army of the dead is at the gate.
55. Feels like a lot of people are apologizing to Bran these days.
56. THERE HE IS.
57. Bran, haven't we learned not to warg too close to the Night King?
58. Those poor ravens.
59. Sacrifical zombies. That's not good.
60. They're about to World War Z this thing, aren't they?
61. Okay I see, we can tell it's Viserion because of the holes in his wings.
62. That should save me a few unnecessary heart attacks.
63. Yep, they're World War Z–ing it.
64. Don't we have some burning oil or something? That's like, medieval castle defense 101.
65. They have breached this thing much faster than expected.
66. YES BRIENNE.
67. FUCKING BERSERKER. MVP! MVP!
68. C'mon Hound. You got this, buddy.
69. Yoooooo Arya is kicking ASS.
70. Oh THEY have a giant? A wight giant? That's not OK.
71. It may not be the Cleganebowl, but I'd watch the Hound fight that giant for sure.
72. LYANNA NO!
73. LYANNA YES!
74. Girl died the way she lived: as a total fucking badass.
75. Well, the Night King's even more terrifying than expected in a dragon fight.
76. How'd all these wights get in the library? Very respectful of them to be so quiet, though.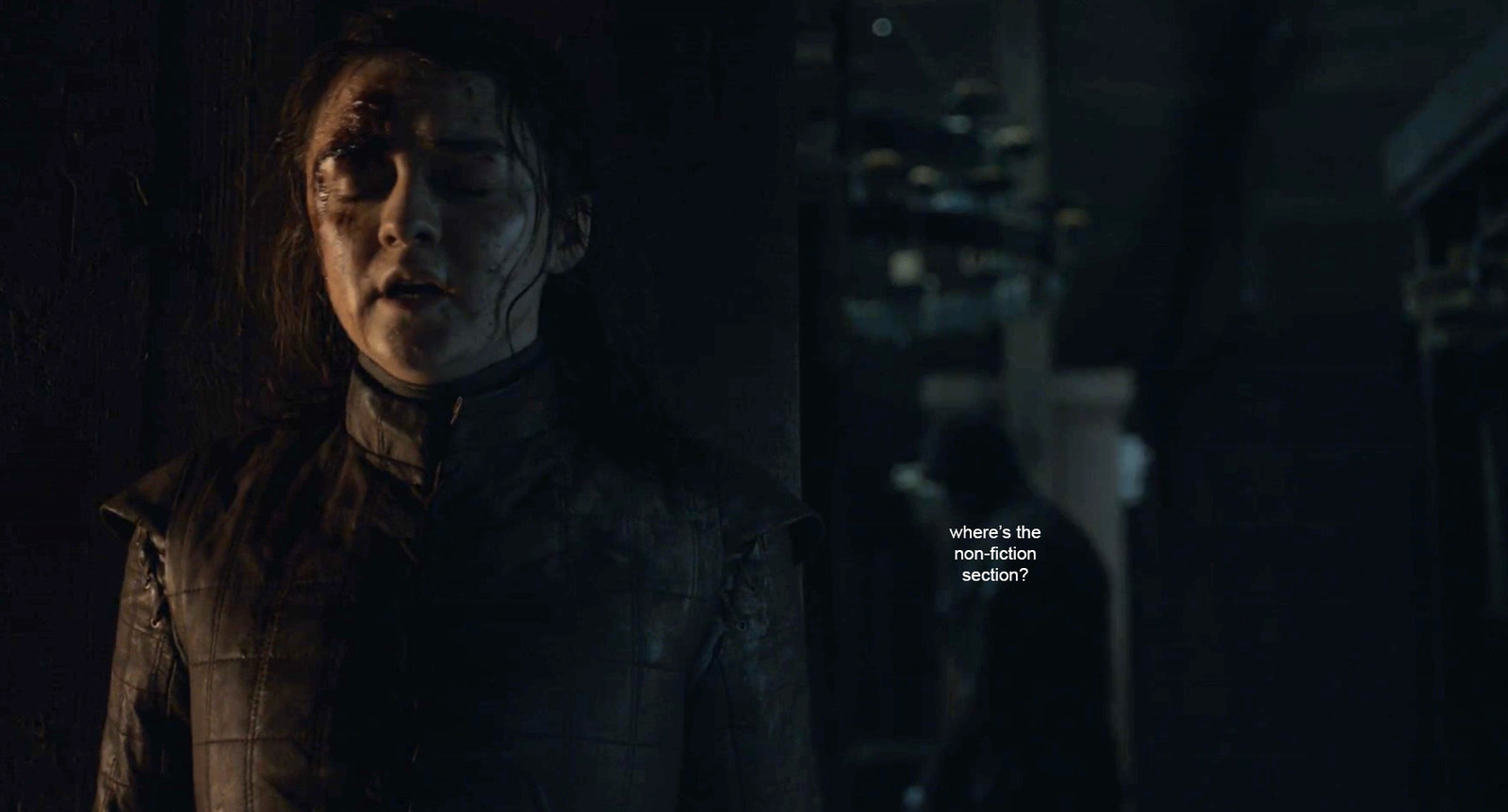 77. I've heard of "so quiet you can hear a pin drop" but "so quiet you can hear blood drop" is new.
78. OH SHIT. Yeah, not gonna lie, that last zombie girl surprised me.
79. At least Arya's got home field advantage here.
80. Bet everyone in the crypts are like, "This is some bullshit."
81. "Oh yeah, the crypts are so safe, look how safe these crypts are, so glad we're down here in the very safe crypts."
82. This thing really turned from Lord of the Rings to Metal Gear Solid real fast. Lotta sneaking around going on here. Somebody get them a cardboard box.
83. Bet Arya feels bad for having Beric on her kill list now.
84. Damn. Beric.
85. And that's why you want a tank on your team.
86. "Not today." THE GOOD CHILLS ARE BACK AGAIN.
87. Oh, this does not look good for Theon.
88. DRAGONFIIIIIIIIIIGHT!
89. GET HIM BY THE NECK, RHAEGAL.
90. JON YOU COULD BE MORE HELPFUL.
91. Oh no, is Rhaegal OK?
92. Burn the fuck out of him, Dany.
93. Well, that was too easy; clearly dragon fire doesn't work.
94. Yep.
95. Girl, you better FLY AWAY NOW VERY FAST.
96. GO GO GO GO GO GO.
97. Jon, go stab.
98. OH GOD NO.
99. STAB NOW.
100. NOW NOW NOW NOW NOW
101. FASTER YOU SLOW-ASS HALF-STARK BASTARD.
102. Oh fuuuuuuuuuuuuuuuuck.
103. Well guys, what did you think was going to happen?
104. Burn the damn bodies. Zombie 101.
105. Oh no.
106. Oh my god, Twitter was right.
107. The fucking crypts.
108. THE CRYPTS.
109. Wow precision shot from Drogon. Good work Drogon.
110. NO, DROGON!
111. SHAKE THEM OFF, DROGON! IN THE IMMORTAL WORDS OF TAYLOR SWIFT, SHAKE IT OFF!
112. Oh my god Jorah.
113. OK, so Jorah's alive, Sam's barely alive, Grey Worm's killin' it, Brienne's looking OK...
114. Theon and Bran are looking less OK.
115. Sansa and Tyrion found a good hiding spot.
116. NO STAY IN YOUR SPOT.
117. Aw I kinda love them.
118. Oh great, Viserion's still kicking.
119. Jaime's still going, as is Gendry.
120. Things are grim but overall our faves are intact, guys.
121. I have a sneaking suspicion this is going to end on one hell of a cliffhanger.
122. BRAN WARG INTO SOMETHING USEFUL.
123. Tormund and Pod are alive! Barely!
124. DAMN Theon! One-man army.
125. Aw, Theon's a good man.
126. Bye Theon. Good effort.
127. Dammit, Jorah too.
128. Warg into the Night King, Bran. Last-ditch effort. Really Leeroy Jenkins this motherfucker.
129. OH FUCK ARYA.
130. HOLY FUCKING SHIT YES!!!
131. FUCKING CLUTCH.
132. I AM LITERALLY SCREAMING.
133. TINY ASSASSIN FOR THE WIN!
134. SHE SHUT THOSE BLUE EYES THE FUCK CLOSED!
135. Oh my god.
137. And that's why you want a good rogue on your team.
138. That was the greatest thing I've ever seen.
139. I need a fucking nap.
140. And so does Melisandre.