Warning: Spoilers below!!
The internet recently reminded me of the truly outlandish plot that was the entirety of Pretty Little Liars.
For seven seasons, we were strapped into a roller coaster of mystery that, quite frankly, didn't always make sense but was extremely entertaining.
And while I still couldn't quite explain to you how the show ended, I do distinctly remember some of my favorite outfits.
Let's face it — no matter their trauma, the main squad was always looking fresh. Here are 50 of the best Pretty Little Liars' looks ranked.
50.
Spencer's introduction blazer that perfectly suits her character.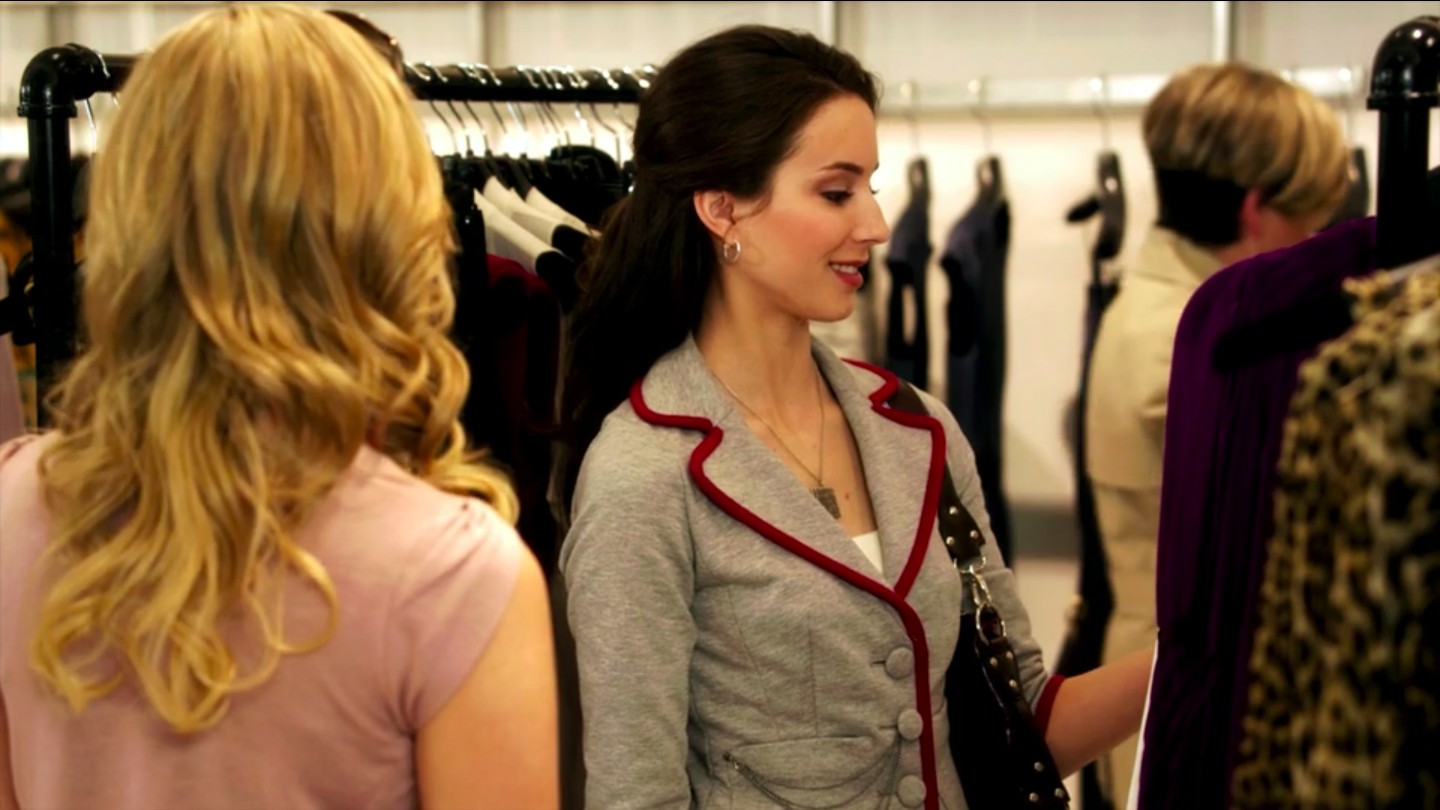 49.
Hanna and Mona's matching equestrian fits.
48.
Spencer's little detective get-up.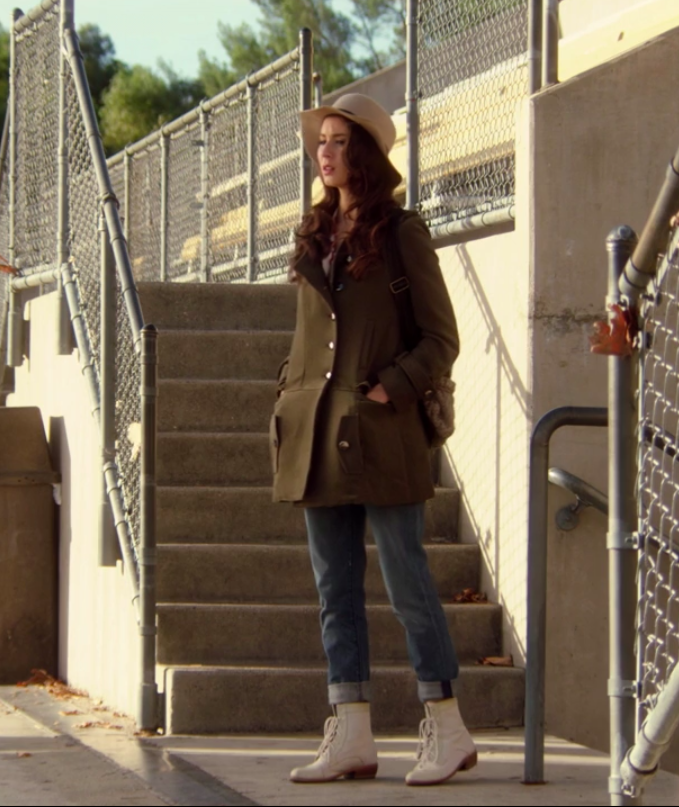 47.
Hanna and Emily's coordinated hip-hop outfits for their choreographed dance.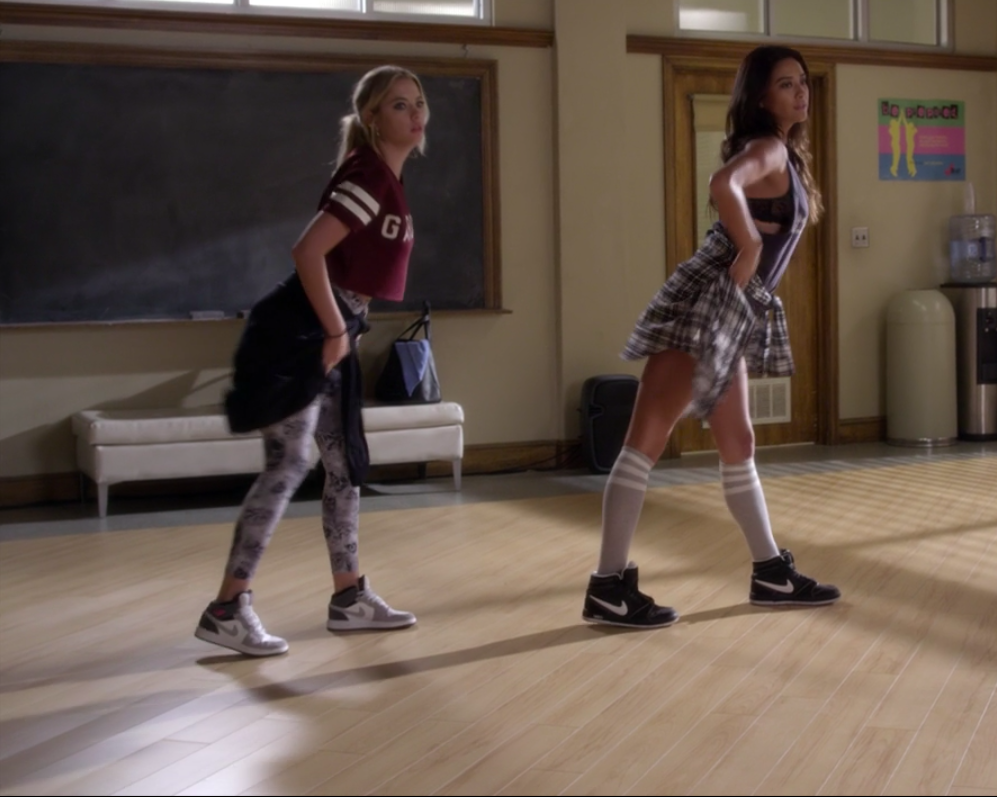 46.
The Season 2 funeral look that I have to say, Hanna won.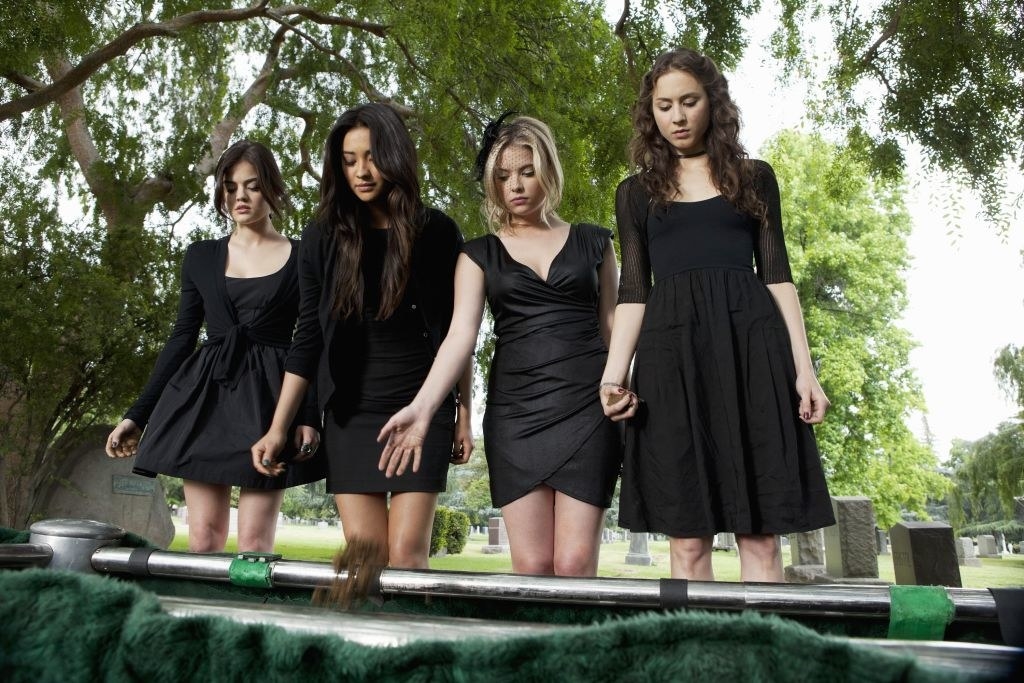 45.
Aria's cute, little color-blocked dress.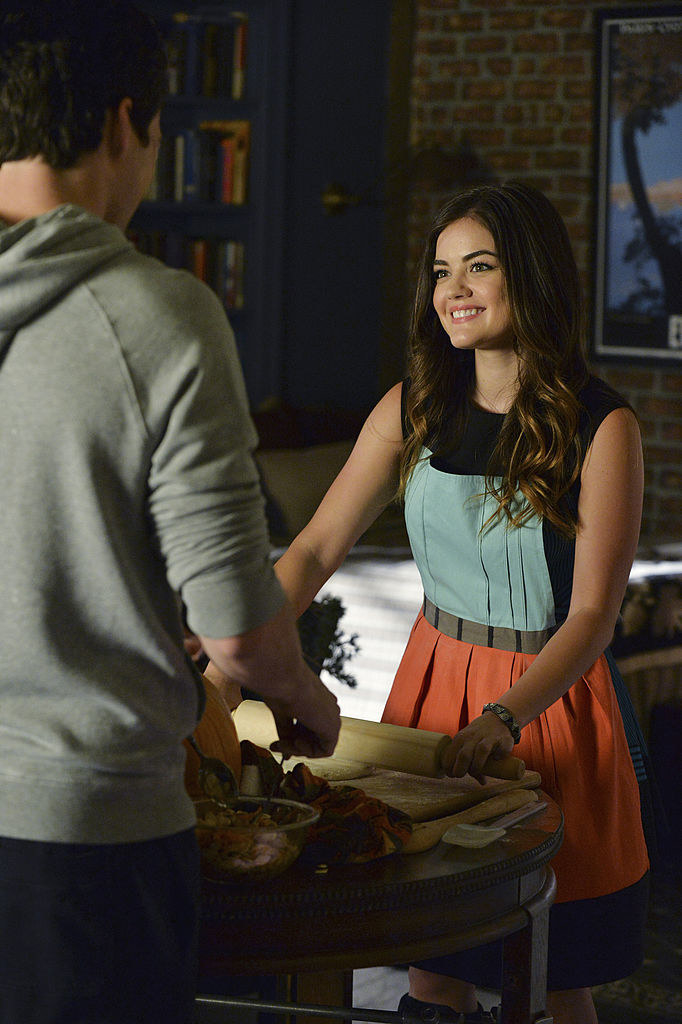 44.
This quintessential Emily look that is effortlessly cool.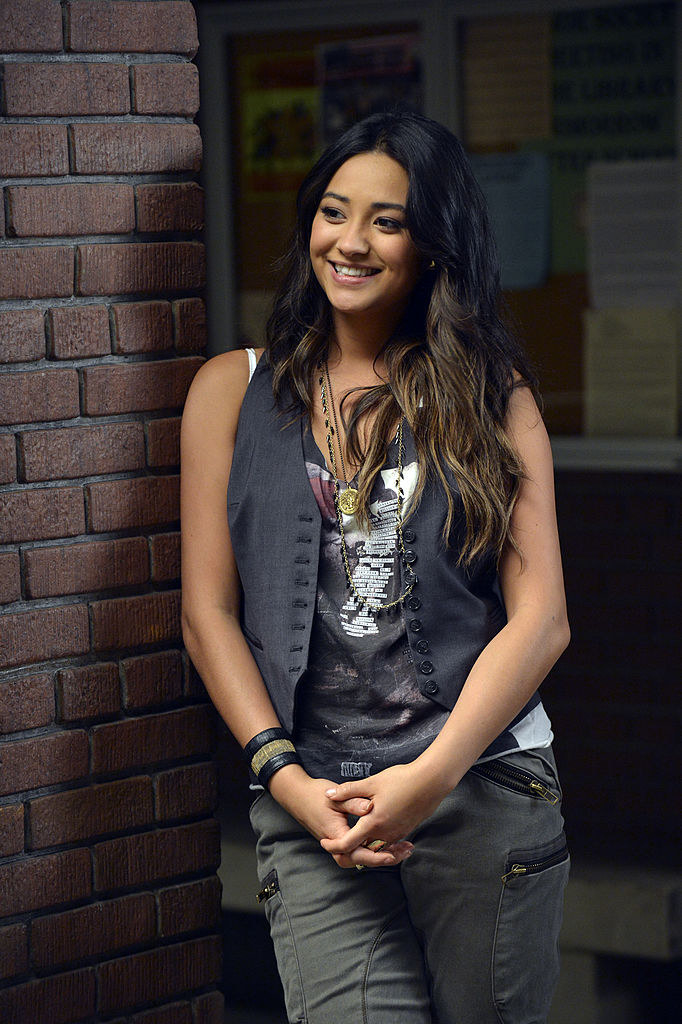 43.
Spencer's simple, but trendy sweater and loafer combo.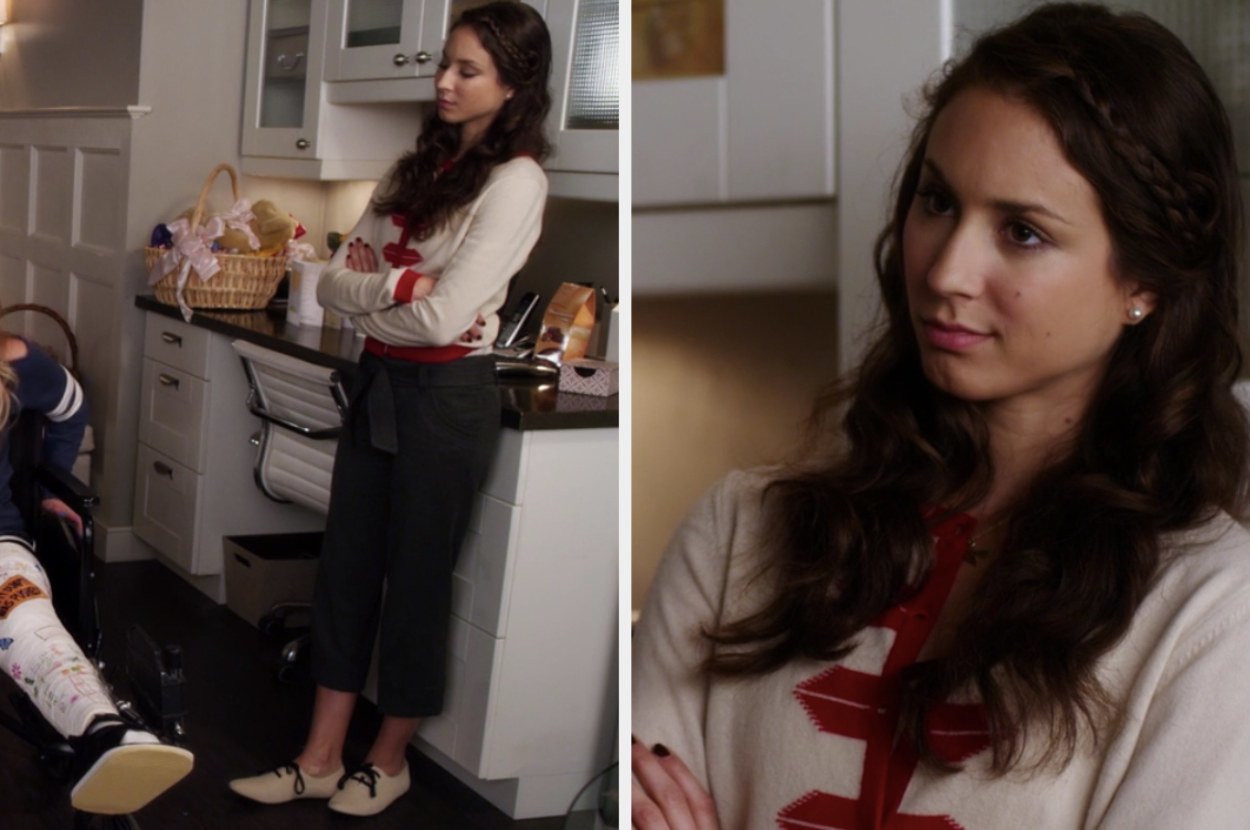 42.
Hanna's Marilyn Monroe Halloween costume from Season 3 that she absolutely nailed.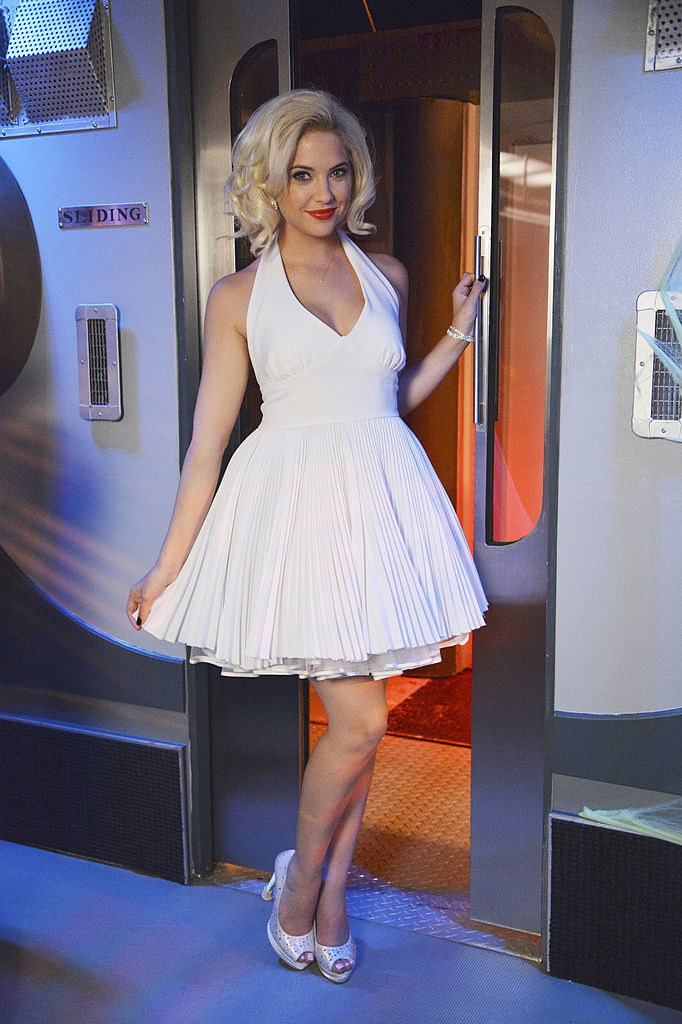 41.
Honestly, they all look great here, but Aria's brown, leather skirt and skull shirt really stand out.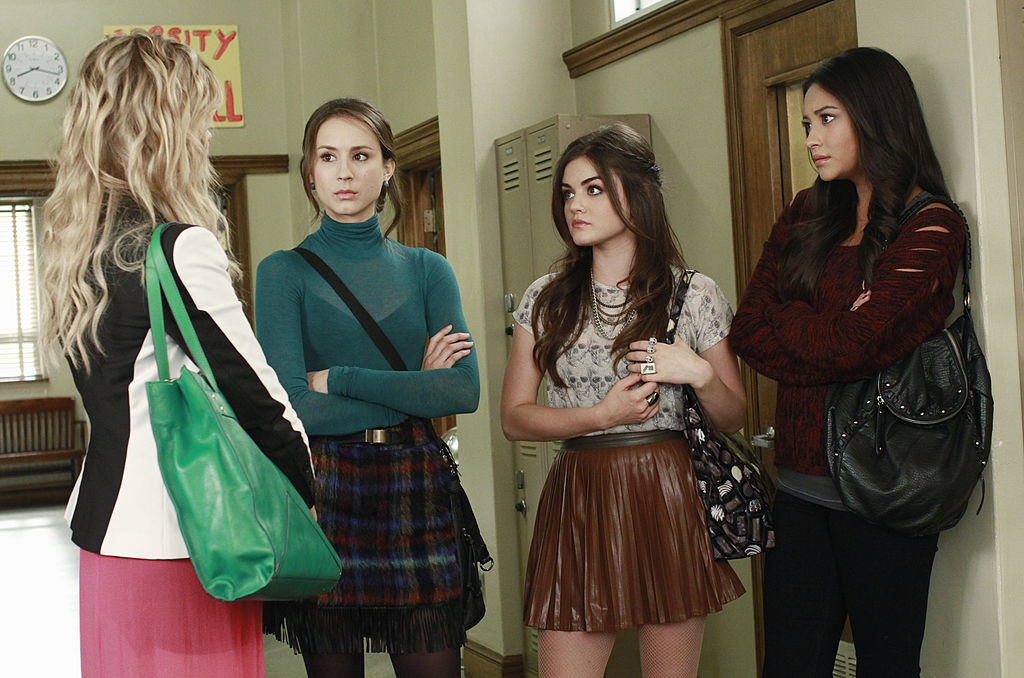 40.
This purse Hanna carries at one point that complements her dress nicely.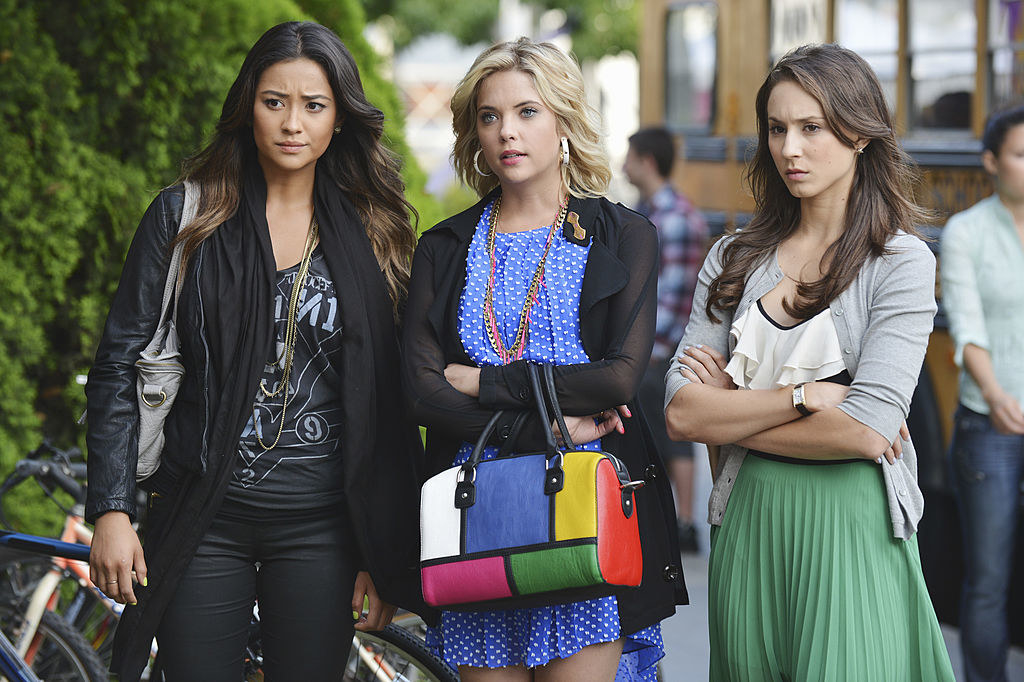 39.
Ali's "did you miss me?" look from Season 4, when we finally discovered she was still alive.
38.
Aria's very colorful pink romper and yellow, leather jacket.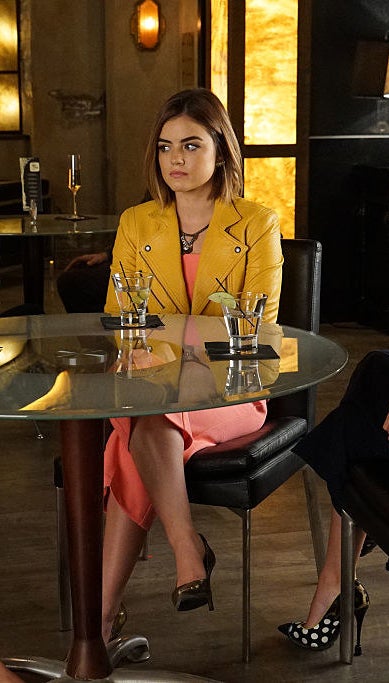 37.
Aria and Hanna's fashion show looks from Season 2.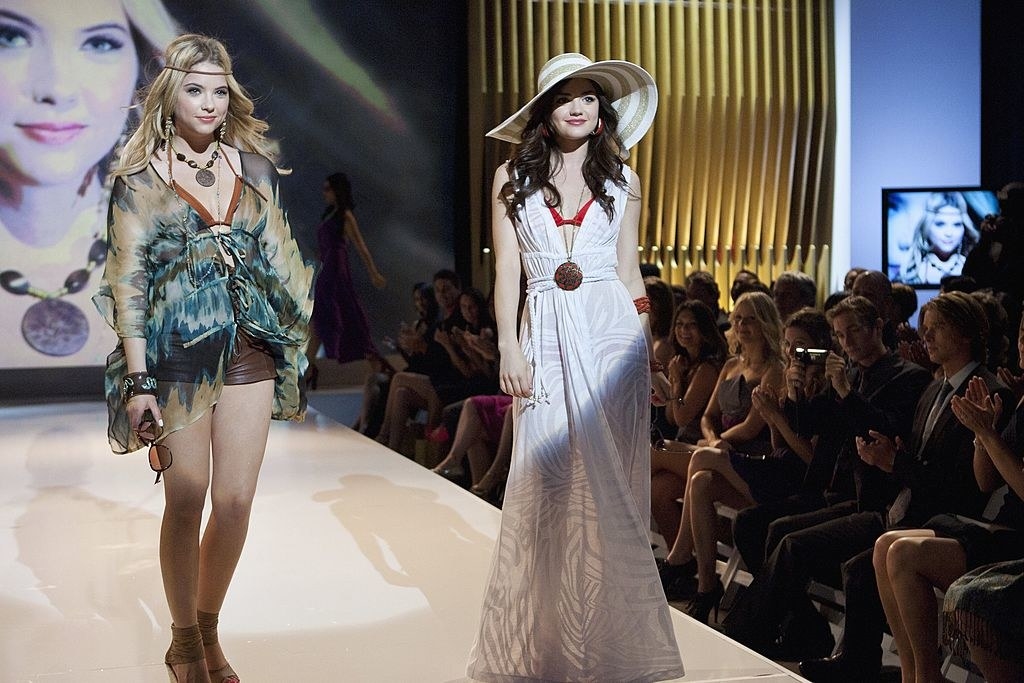 36.
This iconic Emily look, which is how I see her in my mind.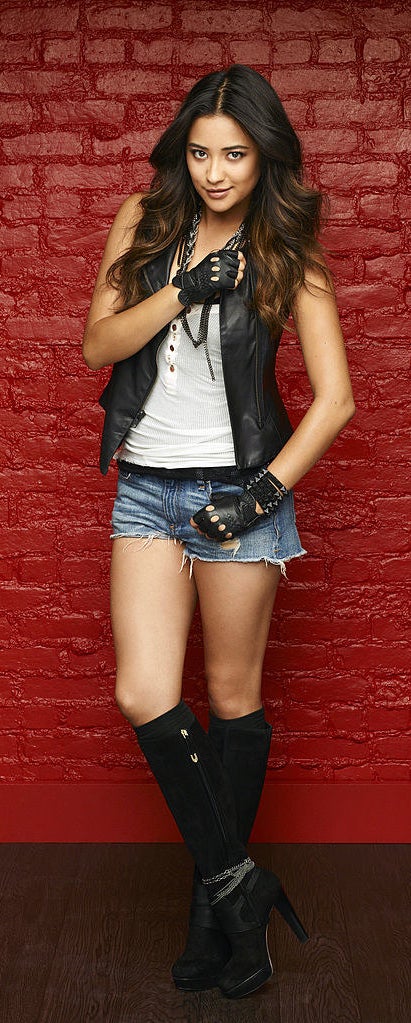 35.
Hanna's checkered miniskirt and dramatic purple coat.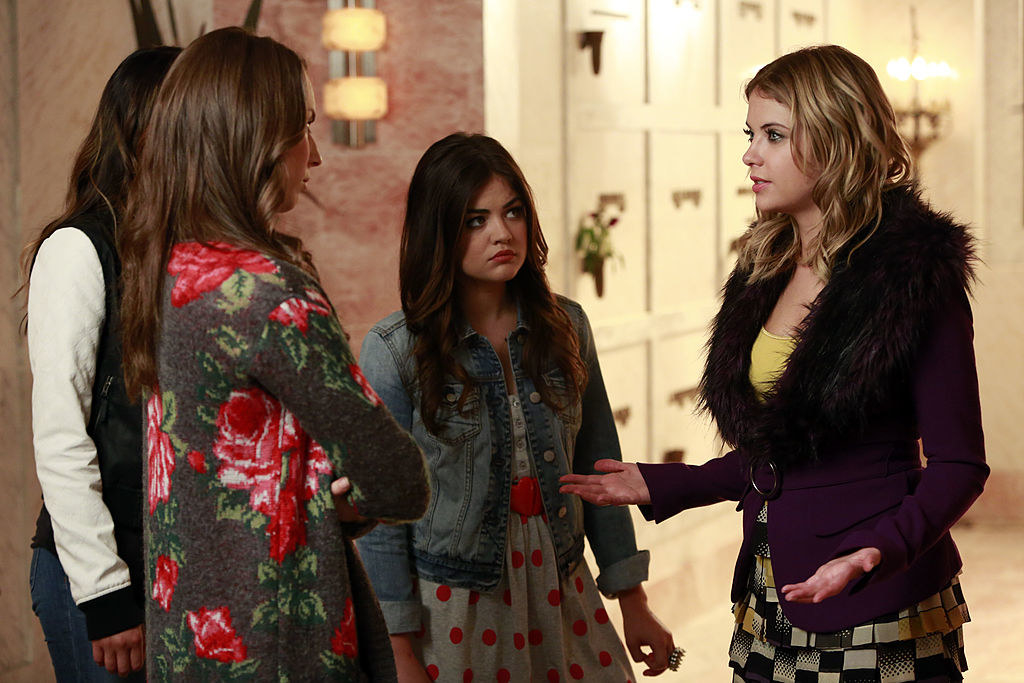 34.
This chic Aria look from Season 7.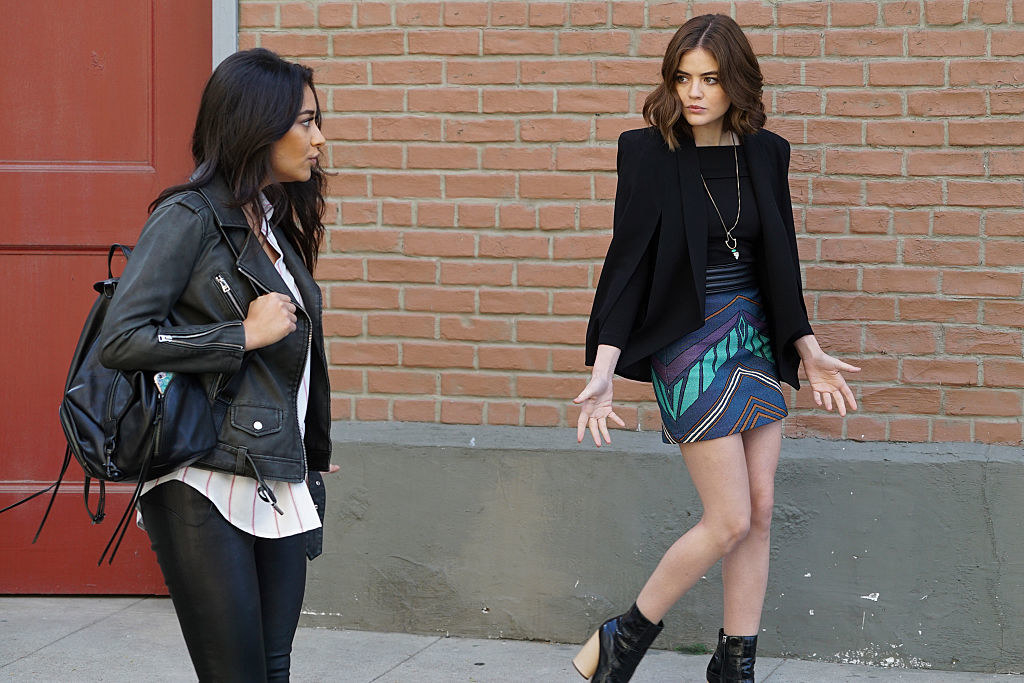 33.
Another funeral look that, once again, Hanna nailed.
32.
Aria's mix-n-match patterned look that somehow works really well.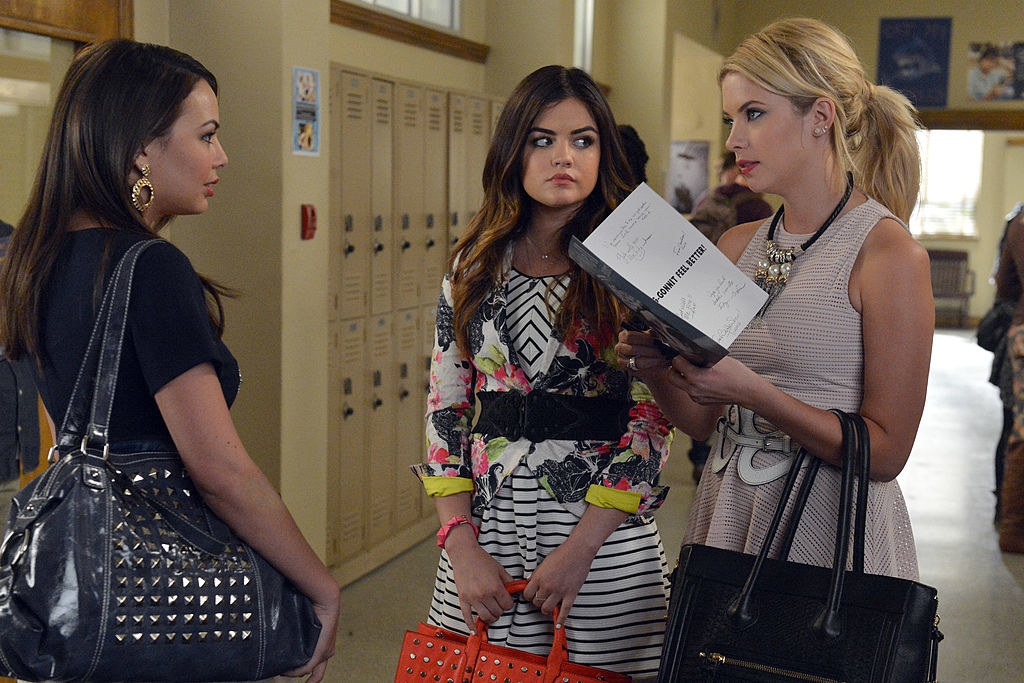 31.
This out-of-character blue romper that Emily is rockin' with the brown boots.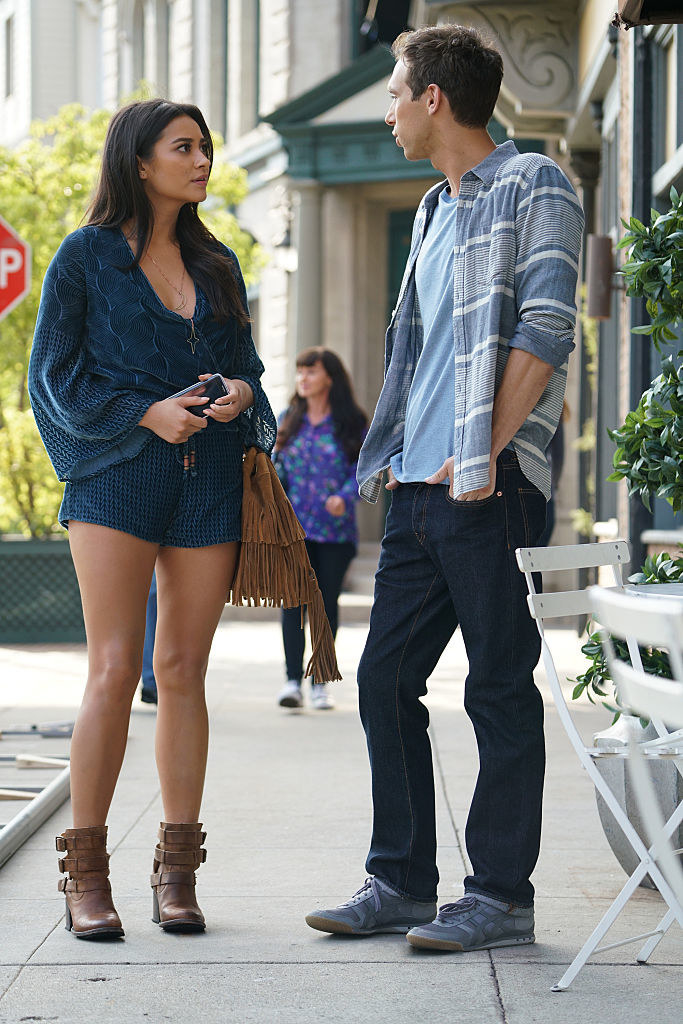 30.
Hanna and Aria's homecoming looks from Season 1.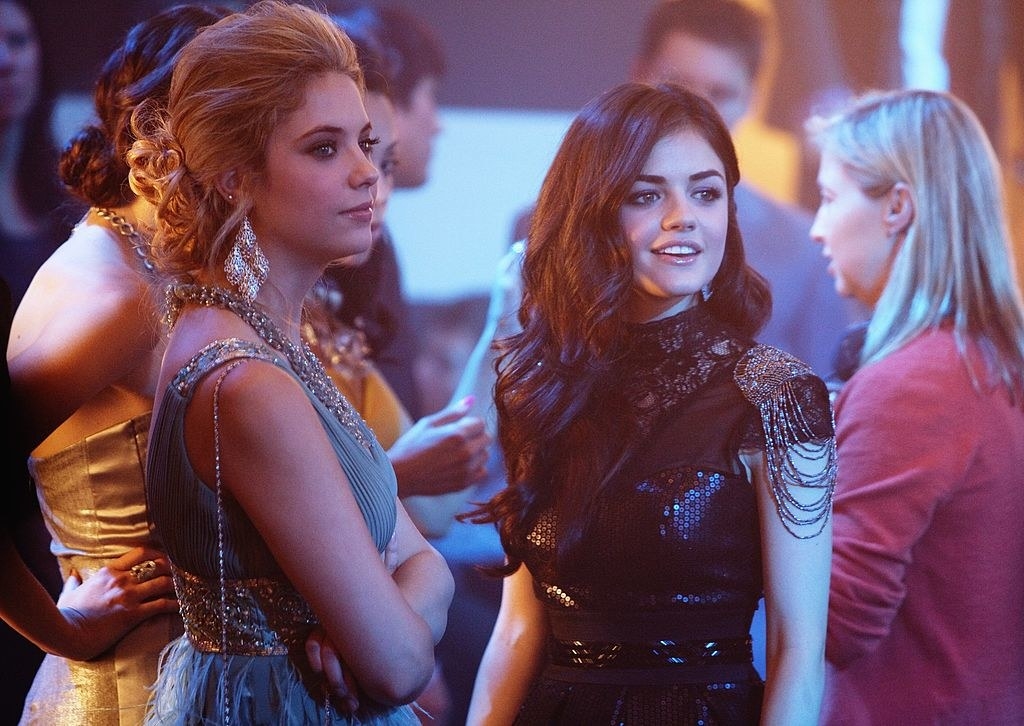 29.
This perfect, preppy Spencer ensemble that I only wish I could pull off.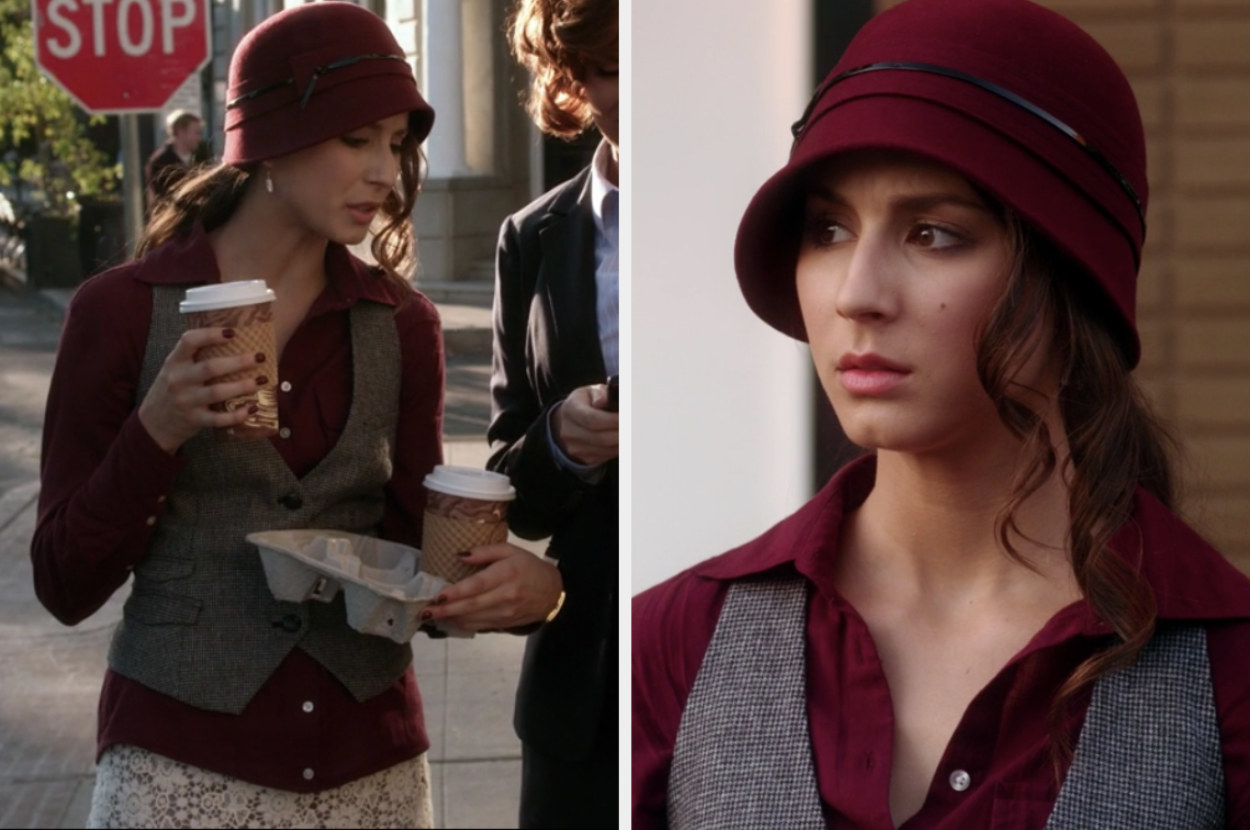 28.
This Aria high-low skirt + suspenders that are perfectly paired with the black heels.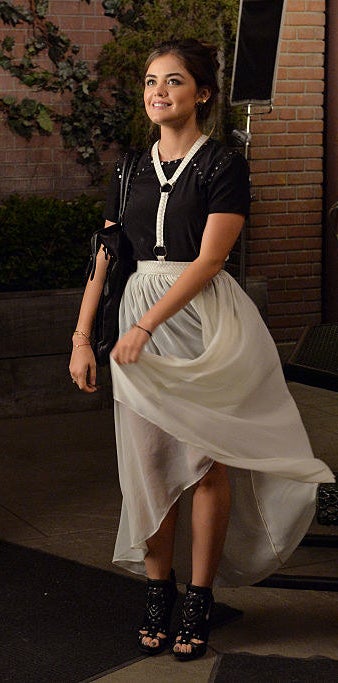 27.
Spencer's sexy pirate-looking ensemble for the Season 2 fashion show.
26.
And then Emily's fashion show look because it's incredible.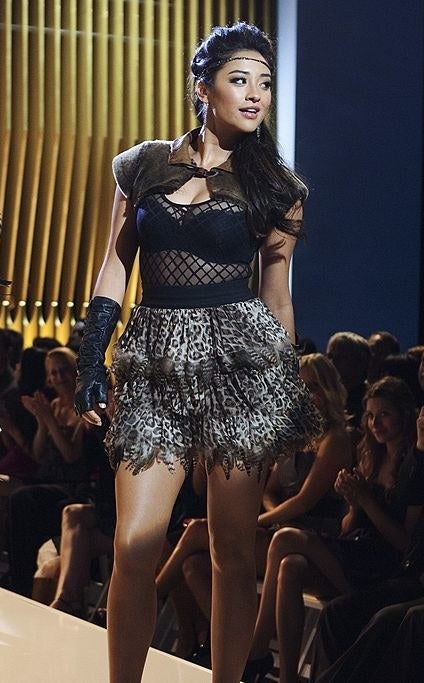 25.
This preppy, but edgy Hanna look from Season 3.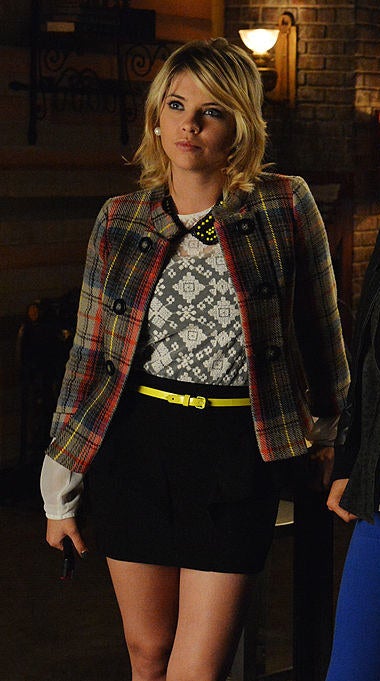 24.
This Spencer look from Season 2 that I think might be one of her best ever.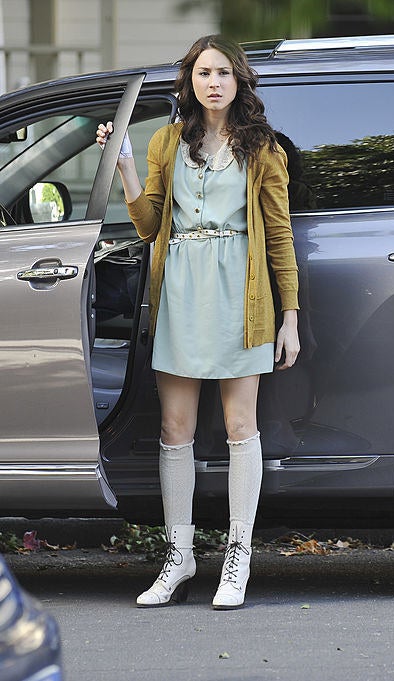 23.
How could we ever forget Aria's metallic, blue skirt and sleeveless button-down?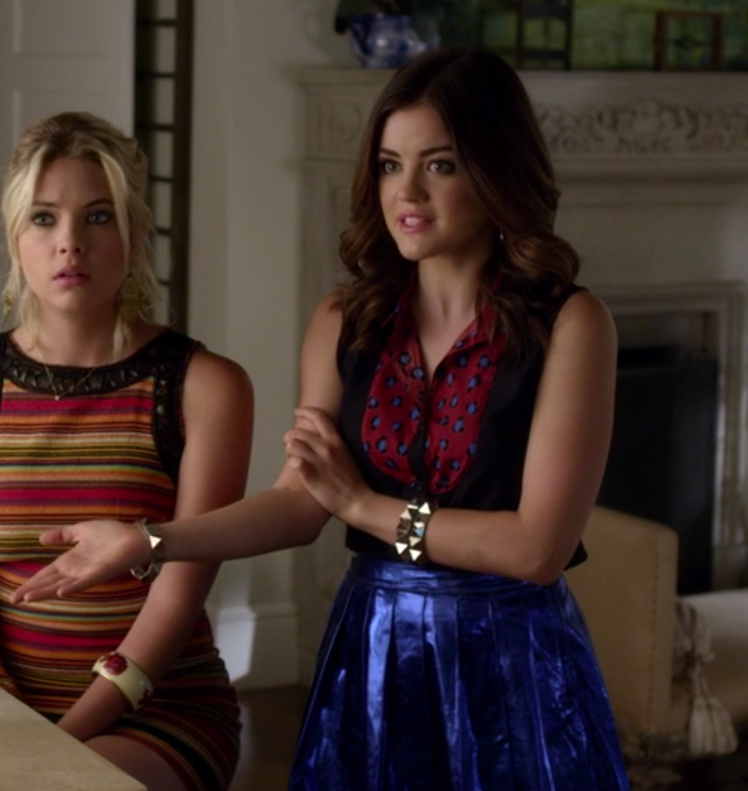 22.
These iconic masquerade gowns, but especially Hanna's corset and flower crown combination.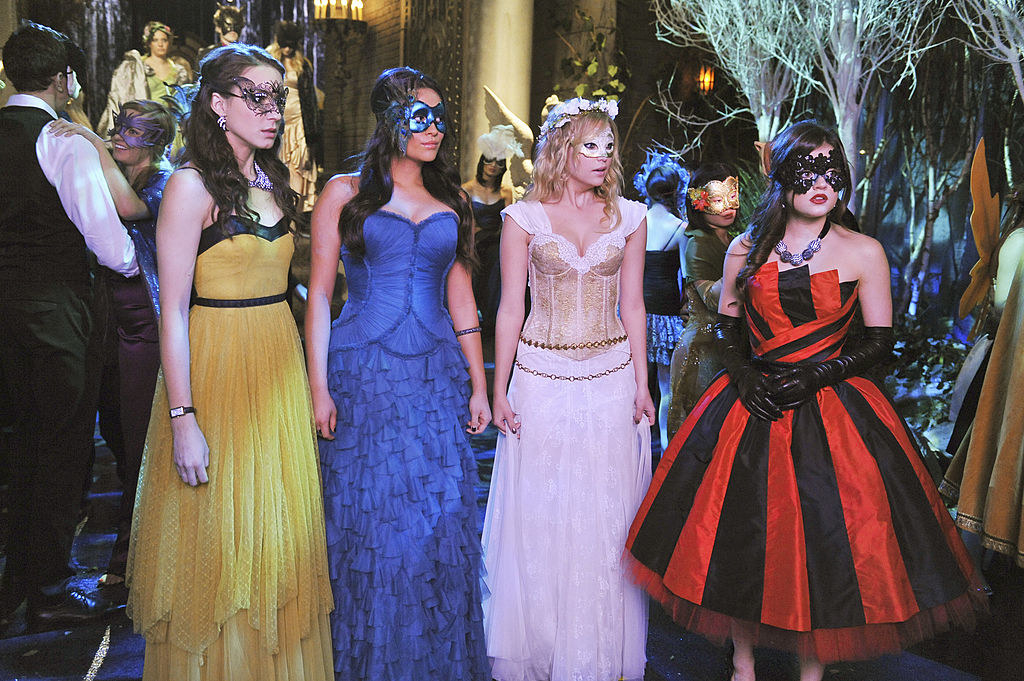 21.
One of the few exceptionally stylish summer outfits that Hanna wears on the show.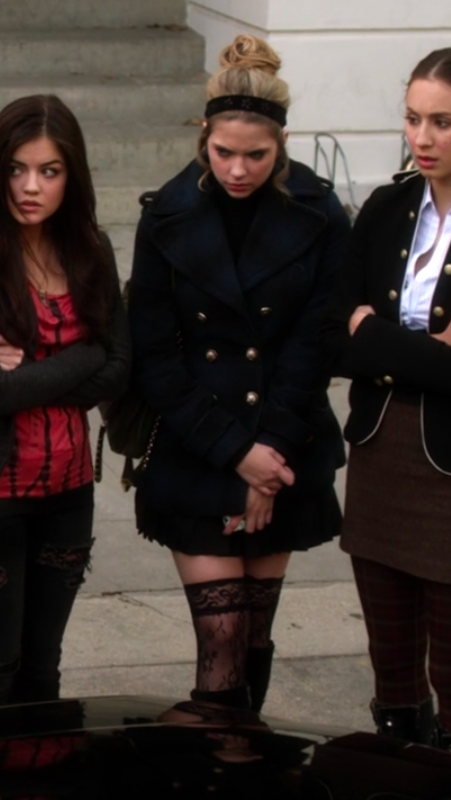 20.
Spencer's brown leather trench coat/vest paired with a button-down and tie.
19.
Mona's scary Christmas costume from Season 5.
18.
Aria's officiant outfit at her parent's wedding, with her incredible gold heels.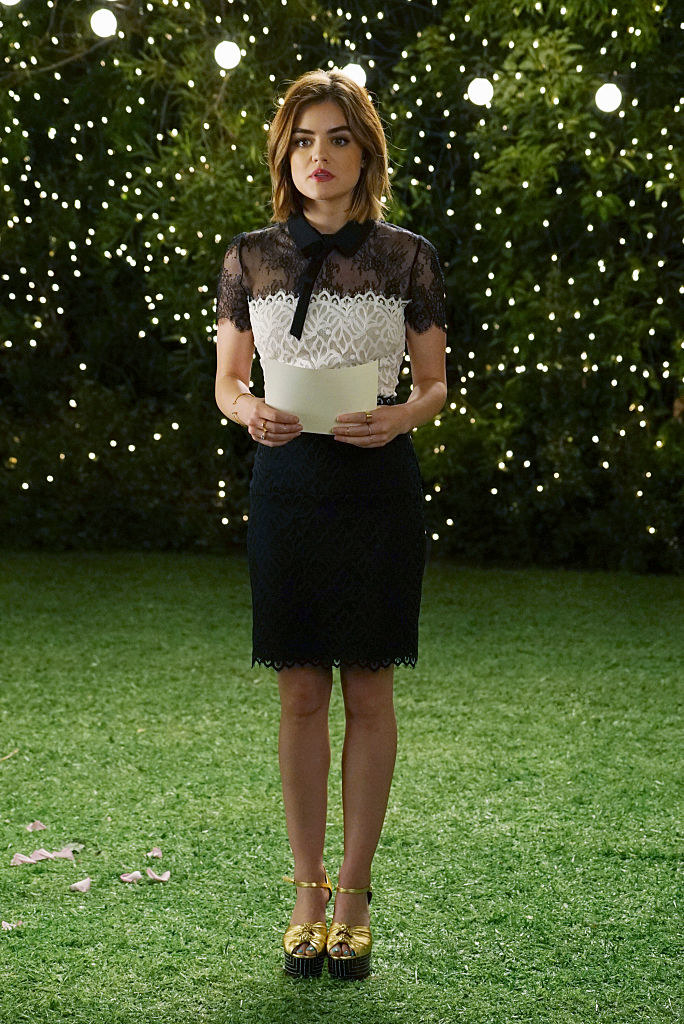 17.
Paige's hot Christmas tux from Season 5.
16.
All of their outfits in this scene, but especially Hanna's because it looks extra cool.
15.
This little striped dress and belt moment for Aria.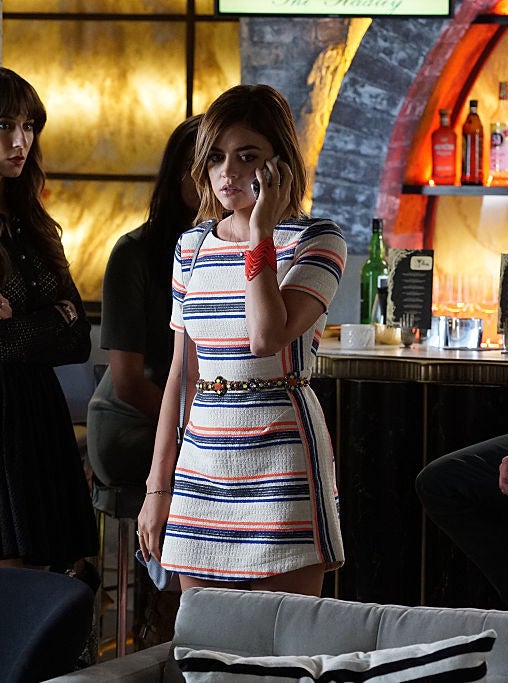 14.
Hanna's very grownup-looking pant and blazer look from Season 5.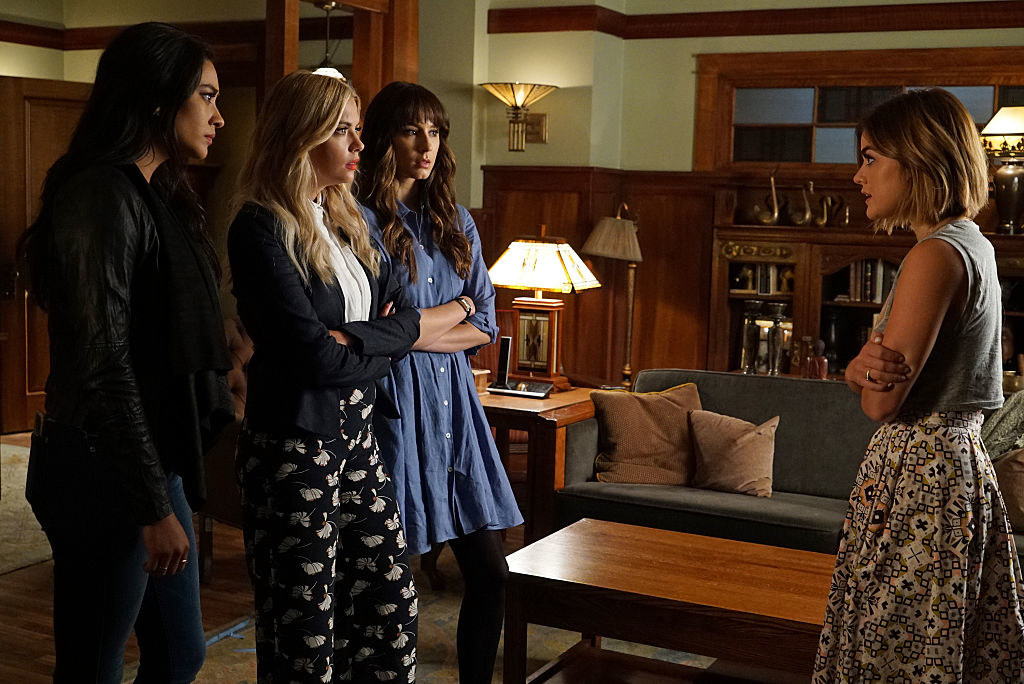 13.
This simple, but cute skirt/leather jacket pairing for the perfect Aria look that says, "I'm tiny but mighty."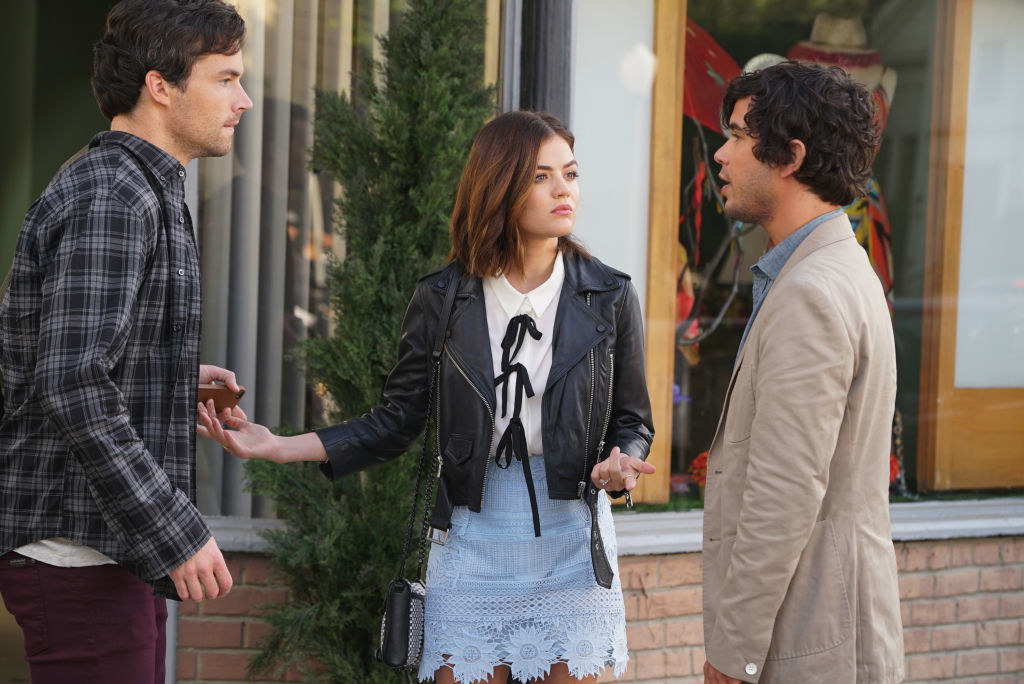 12.
Hanna's simple, but sexy black skirt and crop top at Aria's parents' wedding.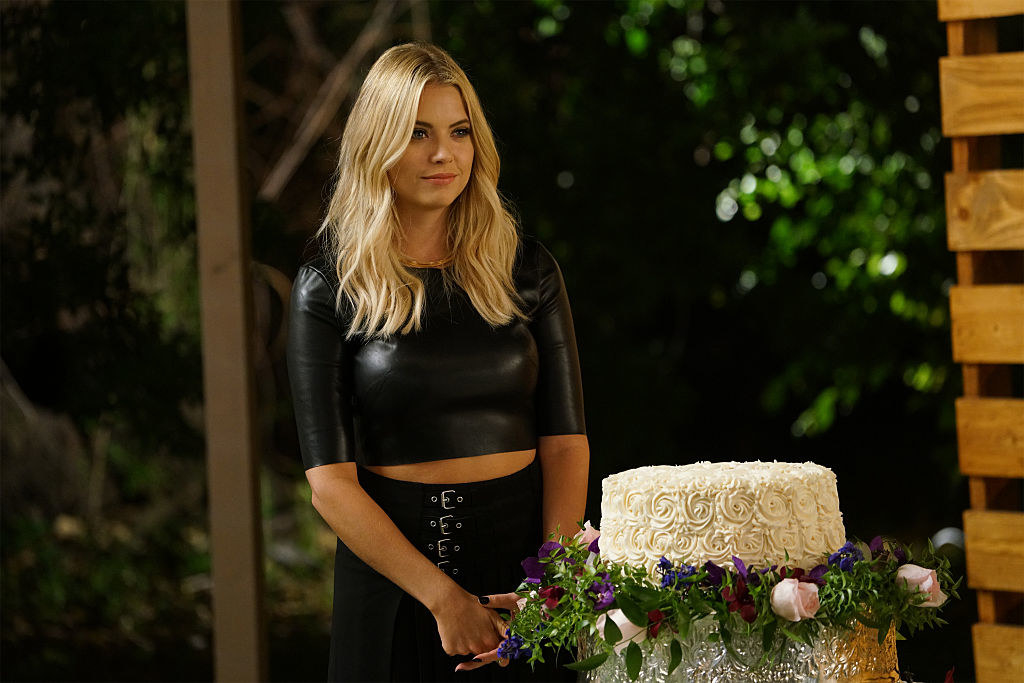 11.
Obviously, all four of the dresses from the bridal fashion show.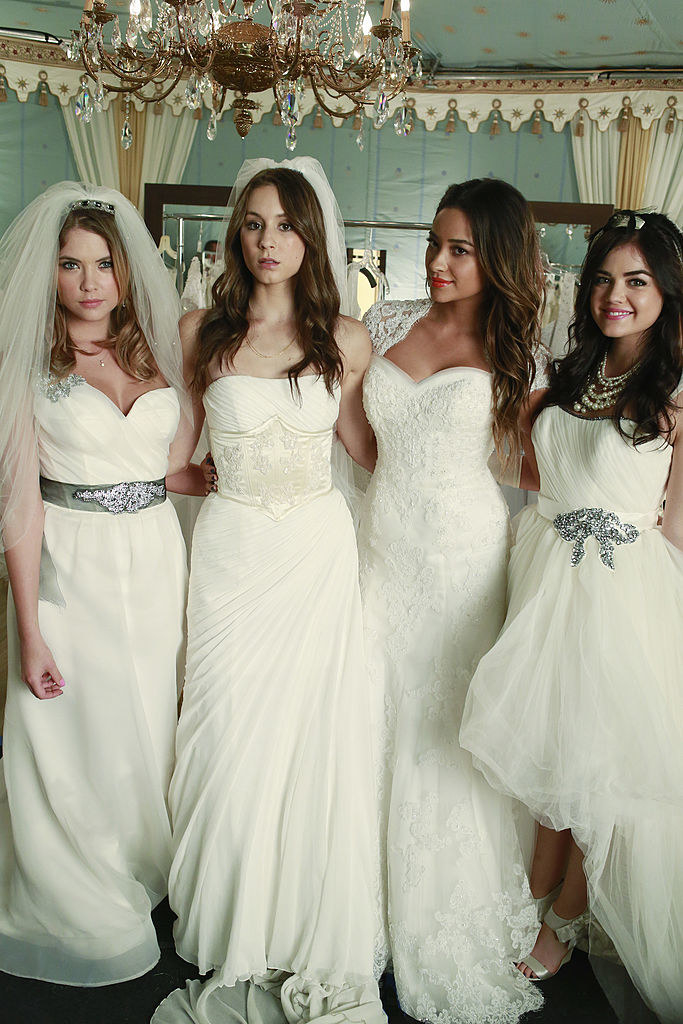 10.
Ali's very sexy and elegant film noir look.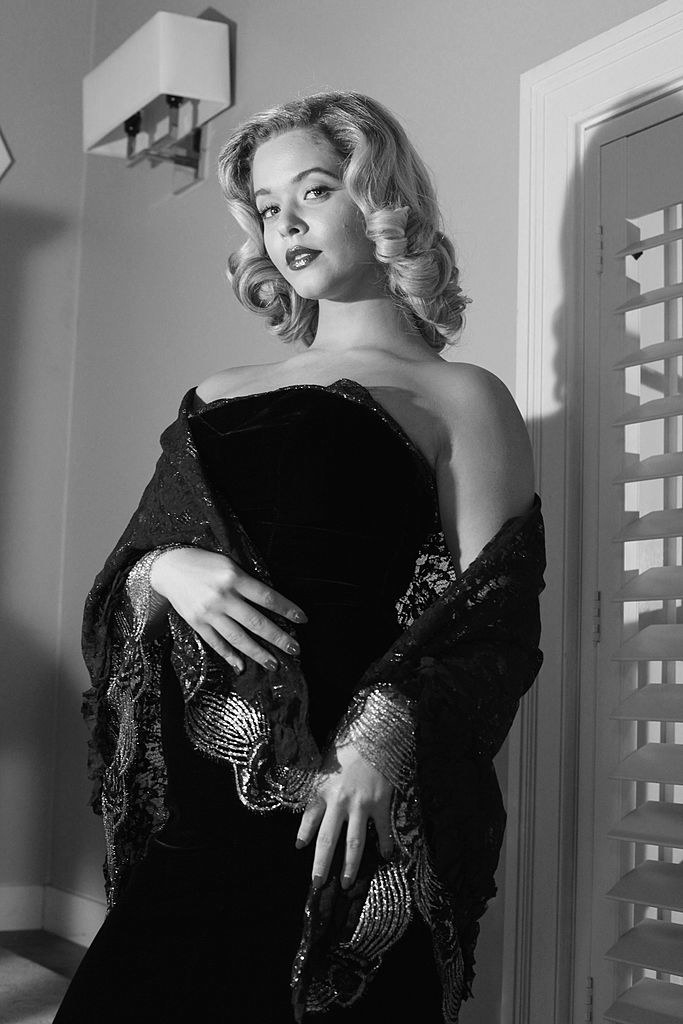 9.
This perfect Aria fit from her blazer, to her leopard skirt, to her shoes, to her salmon bag.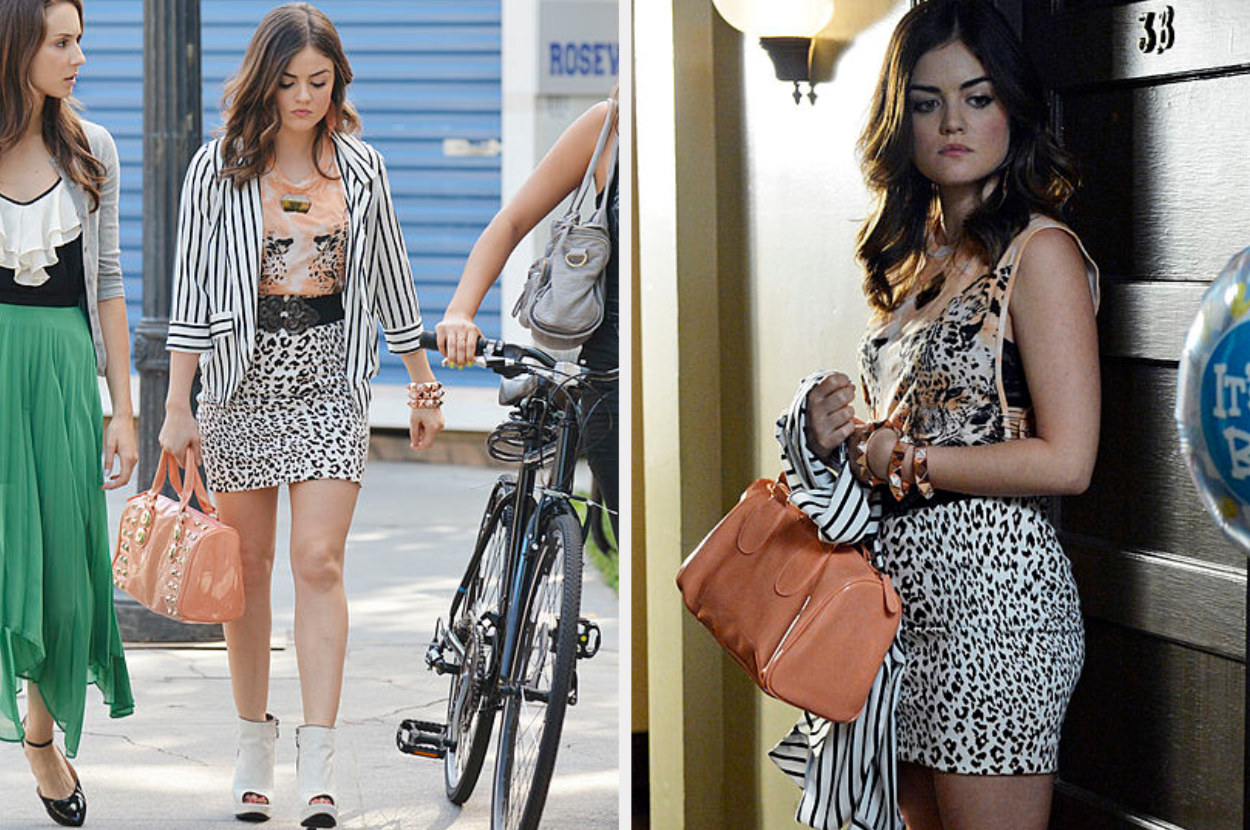 8.
The squad's prom looks from Season 5 before pre-dollhouse chaos.
7.
Ali's Christmas ball gown that is perfectly paired with the choker.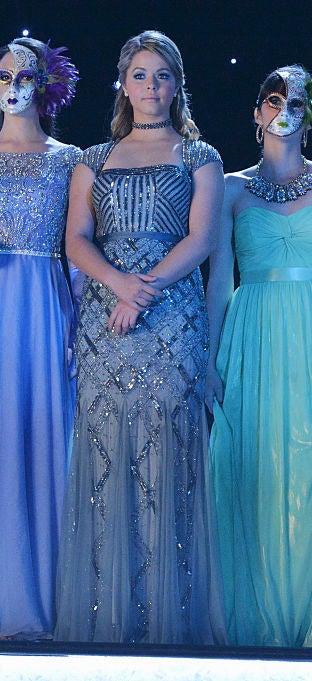 6.
And then Ali's yellow prom moment from Season 6 that positively glows.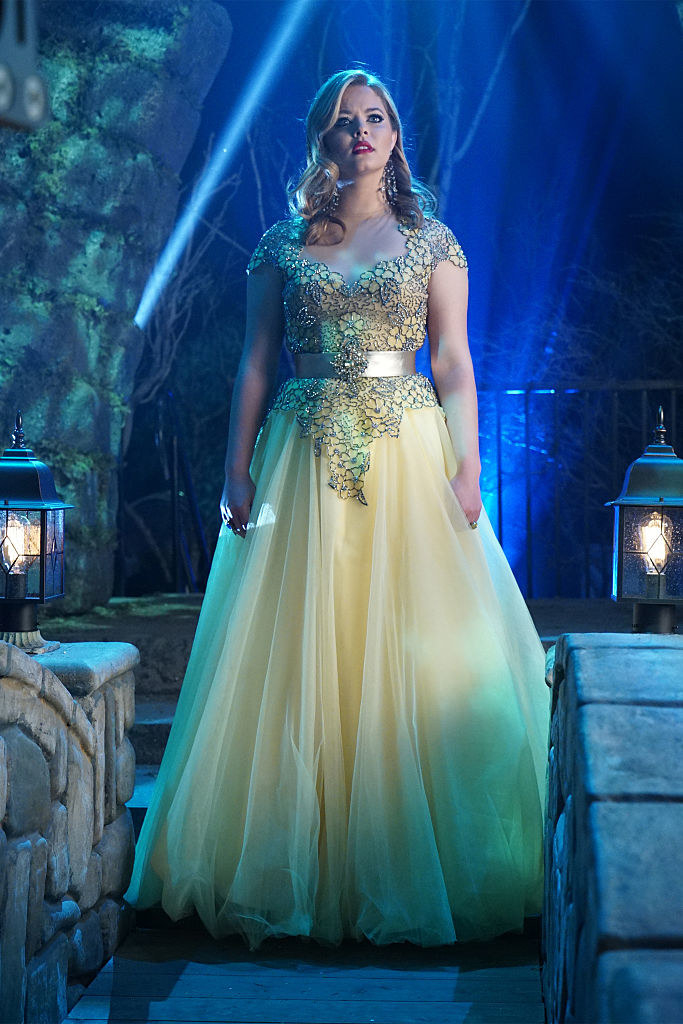 5.
This absolutely iconic Emily Halloween costume from Season 3.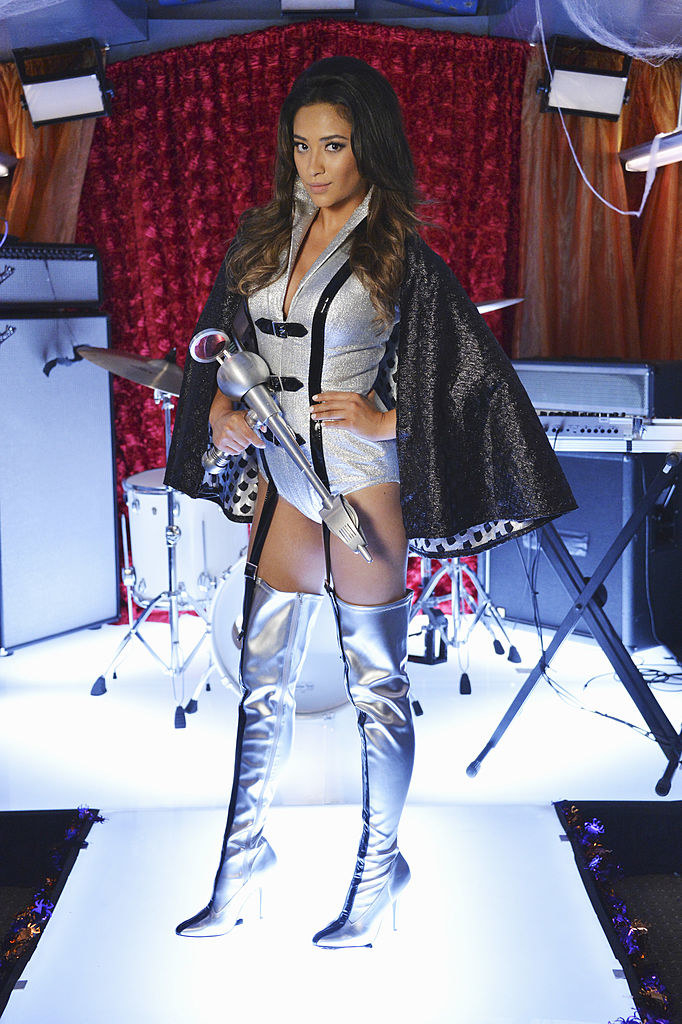 4.
The main girls' prom dresses from Season 6 (minus Aria's because hers was nothing to write home about).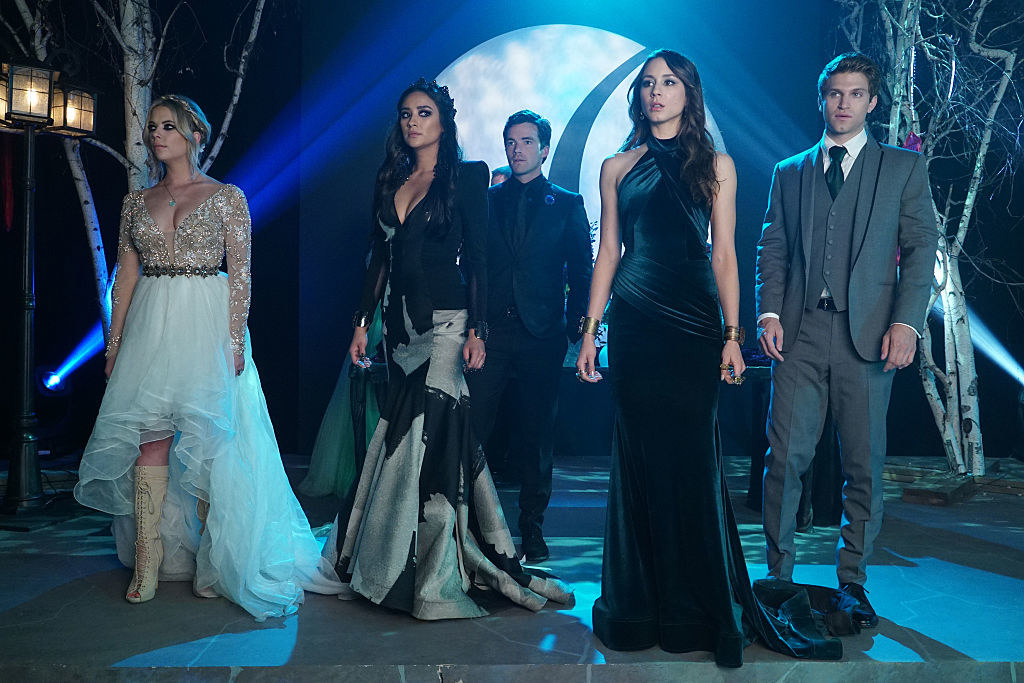 3.
All four girls' dresses in the Season 5 Christmas episode.
2.
This comic book dress and bright yellow purse that might be the GOAT of Aria outfits.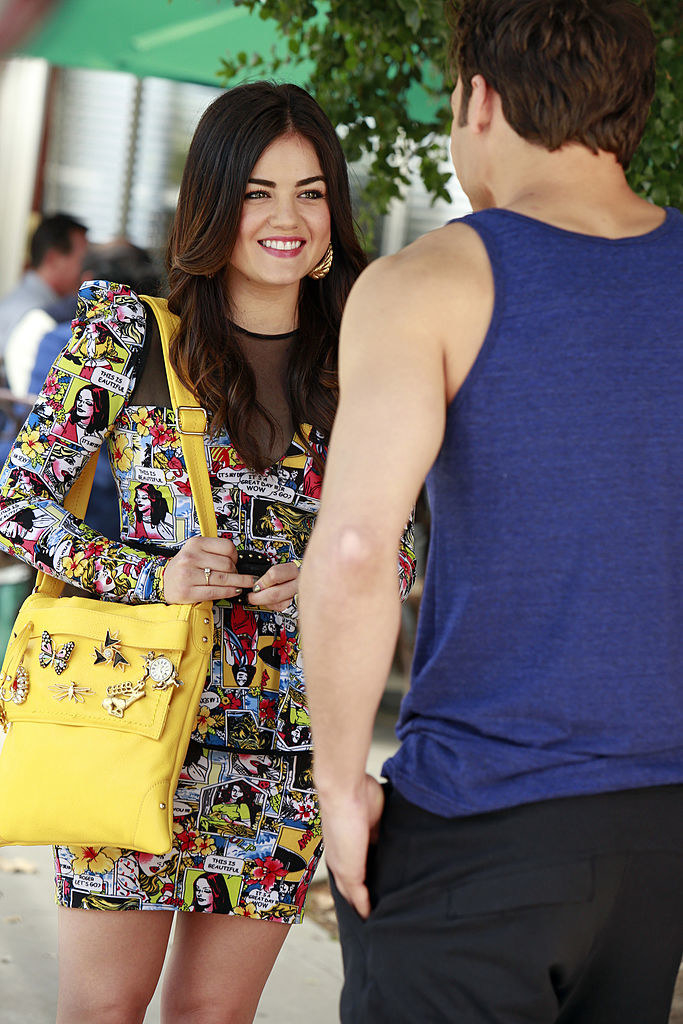 1.
And finally, hands-down their greatest look on the show was their Edwardian-era Halloween costumes in Season 4.
What are your favorite looks from Pretty Little Liars? Let us know in the comments below.