Office don't: Nasty Gal shorts.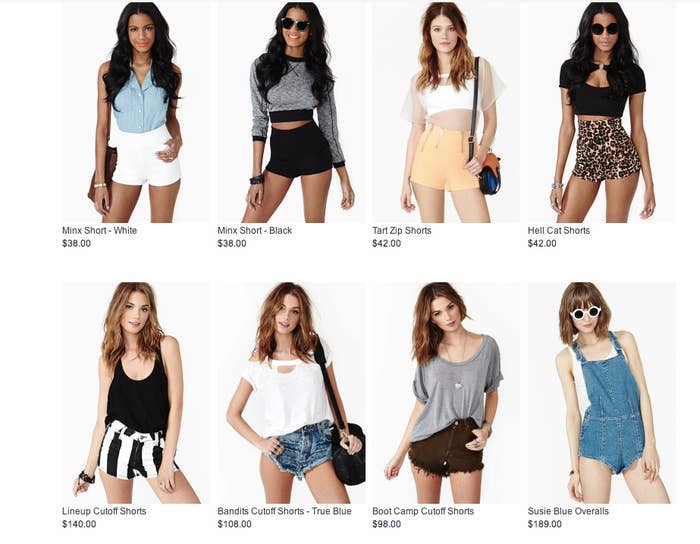 As Slate's Katherine Goldstein points out, dressing for your internship or first job comes with certain rules. If you're a woman, these rules include not dressing like you're going to a nightclub, for the most part. You didn't come to work to find sex partners, you went there to sit at a chair and stare at a screen. Don't fight it, just accept it. This means not wearing crop tops or purposefully see-through things or shorts from Nasty Gal. You do not want to look like you're stopping by the office on your way to Coachella. You also don't want to look like work was merely a final destination on your "walk of shame" (or "fame" depending on how you feel about whoever you just slept with). Your clothes and grooming should suggest that you take your job more seriously than whatever or whoever you plan on doing after work. But Goldstein's rules are overly simplistic: dressing for work is about more than not showing too much skin or your underwear or "saving the glittery platform sandals for another occasion, like pole dancing class." Because in some cases, glittery platform sandals might be just fine, and looking modest is the easy part. Goldstein fails to mention that men should pay attention to how they dress, too, because they can just as easily dress inappropriately as women. Also, finding a work-appropriate wardrobe can be much more nuanced than she lets on.
The truth is — and this took some adjusting to for me, personally — that if you're pursuing a career that will require you to spend inordinate amounts of time in offices (get excited, guys) you're best off gussying up a little bit, and putting your college costume of jorts, tank tops, and hoodies in the back of your dresser drawers. It's a good idea to budget some money for a blouse or two and — yes — a pair of sensible, closed-toe shoes. Save your flip-flops for the weekend — you know they're gross.
If you're going to work in a corporate office, your Monday-to-Friday dressing path is more clear: suits and button-front shirts, kitten heels or sensible pumps or closed-toe flats, and stockings if the office is business formal and not business casual and the other women in the office wear them. (If you have to wear nude pantyhose, don't let them get you down too much — K-Mid wears them all the time and Anna Dello Russo approves of hers so it's all good.)
If you're a dude, it's basically the same: suits, button-front shirts, slacks, sensible shoes, and SOCKS. Please, wear socks. It might seem weird for me to warn about socks, but everyone knows socklessness is the biggest man fad right now, and sadly, in a corporate environment, even if your feet spend most of their day under a conference table, you need to wear socks. The office is not the time for you experiment with being an ankle slut.
The longer you work at a corporate office — if it's business casual — the more you can start to loosen up. Do your superiors only wear suits only to certain meetings? You can probably get away with that, too. Have you been working there for a year and never indulged in khakis on casual Friday? Live a little and break yours out. Iron them if you're feeling fancy. But the conservative nature of your clothes should never change: this is not the time for you dudes to strut in wearing tight deep V-neck tees or cargo shorts or tattoo prints; and this is not the time for you ladies to show up wearing spaghetti strap dresses. Ann Taylor and Brooks Brothers will probably always be friends to those working in corporate offices. But don't despair — those stores are borderline cool now.
Office do: Ann Taylor blouses.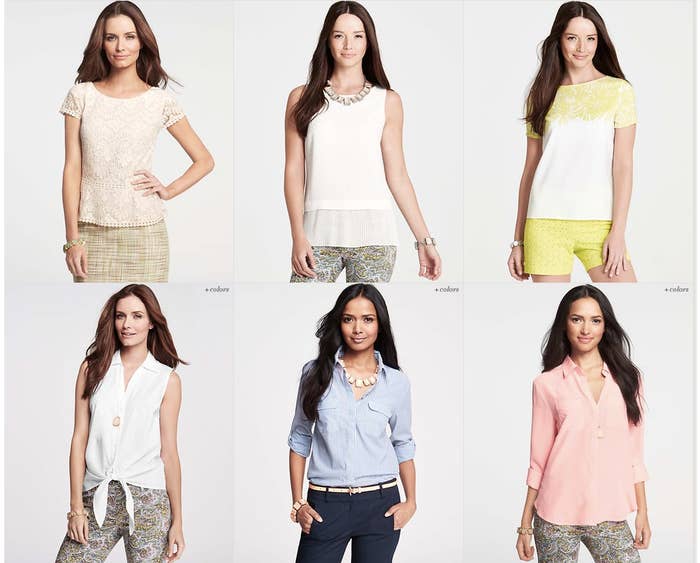 Things get murkier if you're working in a more creative field, like graphic design or publishing. The great thing about jobs like this, which I've had the pleasure of holding for the duration of my post-college life, is that you have more freedom to wear what you want. But even though there are "no rules" — and employee handbooks dress code notes are cast aside like physical newspapers — you'll be expected to abide by certain unspoken rules, which is how people get themselves into trouble.
I'd advise entry-level employees and interns not to dress TOO casually for a little while in the beginning. Ease into more more casual days so that you look serious about what you do. What's so amazing about casual offices is that if you don't feel fancy one day, you can roll in wearing jeans and a tee and the company hoodie and it's fine — no one looks twice at you. When I have these days I'm likely to still do my makeup and wear some sparkly jewelry because those things always seem to pull an outfit together. It's all part of my quest to dress like Rihanna without actually dressing like Rihanna, you see. But more importantly, it's never bad to look like you tried. Consistently put-together employees possess an air of impressiveness and purpose that jeans and a tee-shirt day in, day out, will never give you. So get some blouses. They're always incredibly overpriced, I know, but just do it. They're automatically slightly dressy and never go out of style.
People in casual offices also have to think about what's appropriate attire for what they're doing. If you work in a magazine's fashion department, and wear leather shorts of a reasonable length to work one day, people are more likely to look at you and think, "Oh, fashion people," and continue on to the Nespresso machine without thinking twice about your silly ensemble. If you're in the politics department and roll into work wearing leather shorts the very same day you're supposed to interview a politician at some stuffy daytime luncheon, your coworkers are more likely to wonder what you smoked before work. (Also a good rule: don't get high before work.) You will have to dress like you're going to temple much more often than the fashion team if you want to be taken seriously. Just accept it.
Men in casual offices will want to leave their mid-thigh leather shorts and crop tops home at all times, of this I'm certain. A tucked in button-front shirt, a nice pair of dark jeans that aren't distressed or sandblasted, khakis, and a solid loafer or perhaps a boat shoe should be in your wardrobe's inner circle. No jerseys, no tattoo prints, no running shoes or those creepy barefoot toe shoes — and nothing people would associate with #fistpump.
And finally, I would advise interns and entry-level people not to go to work wearing anything blatantly, absurdly expensive. If you happen to be 21 and entering the workforce, you should probably leave your Chanel and Celine bags and Proenza dresses at home. There are exceptions to this rule of course — if you're working at Vogue where everyone comes to work wearing Louboutins and full runway Prada every day, your Chanel bags and Oscar de la Renta brooches will fit right in. But many people outside of Vogue associate wealth with entitlement and entitlement with poor work ethics, which is why I suggest playing down your designer collection at the office for at least a little while. Once everyone loves you and sees how hard you work for your meager salary, they won't care what kind of handbag you carry. But don't give them reasons to doubt you when you start.
So: if you can afford to have some fun with your clothes, go for it. Don't look like a hot mess. Don't look like a slob. If you look in the mirror and think, "I'm fit for a rave!" go back to your closet and change. It's that simple, really.
Just remember that once you're wildly successful in a few years — a Big Deal, you know — people will care less if you look a little silly. And if you're REALLY wedded to looking ridiculous and wearing crop tops on a regular basis, just work in fashion and be really incredibly weird from the get-go so that people know it's Who You Are. After you've rolled into work wearing paint-splattered leather overalls a few times to show people that your eccentricity really means business, people will overlook whatever you wear. And just think, "Oh, there she goes again." From then on, looking base level cool will excuse your every faux pas.
Office don't: pantsless carrying of ostentatious Chanel bags.