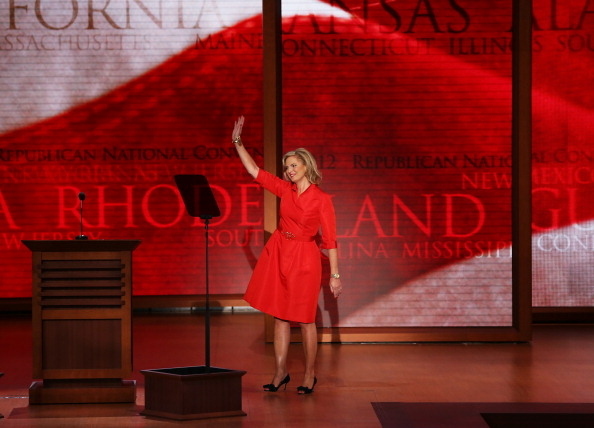 Tuesday morning Ann Romney said she didn't know what she was going to wear later to deliver her RNC speech.
"The verdict is still out on what I'm going to wear, which is amazing," she told the Wall Street Journal. The remark fit with her style on the campaign trail so far: she always looks put-together but her outfits retain a flavor of being casually assembled in the morning without the help of a stylist. Like the clothes of average people. But her look tonight — a crisp, bright tomato red dress by Oscar de la Renta* paired with perfectly matched lipstick and coordinating gold jewelry — looked impossibly polished. She looked fabulous, but hyper-perfected in a way that many of her previous outfits haven't been. It was just the kind of look that defined, style-wise, Michelle Obama's predecessors.
Before Michelle Obama, the de facto fancy outfit for a first lady, Hillary Clinton and Laura Bush included, was an A-line Oscar de la Renta dress. One reason Michelle Obama received so much attention for her clothes from such an early stage of her husband's presidential campaign is that she bucked this trend in so many ways. She's never worn Oscar de la Renta publicly, instead favoring H&M and J. Crew dresses at the opposite end of the price spectrum. She loves clothes by lesser known designers, like Jason Wu (whose business her famous patronage has given a huge boost). And you never really know if she'll show up in an asymmetrical cardigan by a Japanese designer, a crisp Alexander McQueen blouse, or a J. Crew sweater set. Michelle's clothes are unpredictable enough to be wildly celebrated by the fashion world, yet for the most part safe enough to serve her just fine as first lady. Here, in the most unlikely of offices, was a true fashion cheerleader.
Ann Romney's wardrobe tends to benefit from the same down-to-earth spontaneity that governs Michelle Obama's clothing choices. While she plays it relatively safe in three-quarter sleeve jackets and long-sleeved blouses, she mixes prints, has fun with statement necklaces, and throws on a pair of jeans from time to time.
Ann's tomato RNC outfit was perfect, if not terribly interesting as a piece of fashion, and failed to embody the spontaneous spirit her wardrobe and even rhetoric is known for. Her look was much more Laura Bush than Michelle Obama — almost painfully aware of how political wives can mess up the clothing thing from time to time. One of Ann's most controversial moments on the campaign trail may have been when she wore a $990 designer tee-shirt with a bird on it for a television appearance. Michelle Obama has faced her fare share of wardrobe criticism as well, for wearing what some thought was an aesthetically displeasing cardigan on election night in '08, and for wearing a British label (Alexander McQueen) to a state dinner honoring China.
Ann's outfit Tuesday night doesn't seem likely to garner that kind of criticism. At most, she might be faulted for wearing expensive things. But the labels of her clothes, jewelry, and shoes aren't readily apparent, and the left-wing fashion industry isn't likely to send around press releases to announce that Ann wore a certain label's stuff, making the entire cost of her outfit more difficult to calculate. Her outfit was about as safe as giving a speech about "love." It was the sort of bland, sort of not bland sartorial equivalent of her enthusiastic delivery of the phrase, "I love you, women!" No one would disagree, but it's hardly personal.
*This post has been updated to include the designer of Ann's dress, Oscar de la Renta.