First Nations man Clinton Pryor, 27, has described his meeting with Malcolm Turnbull as "rude" and "disappointing" after he finally met with the prime minister after walking 6,000 kilometres across Australia.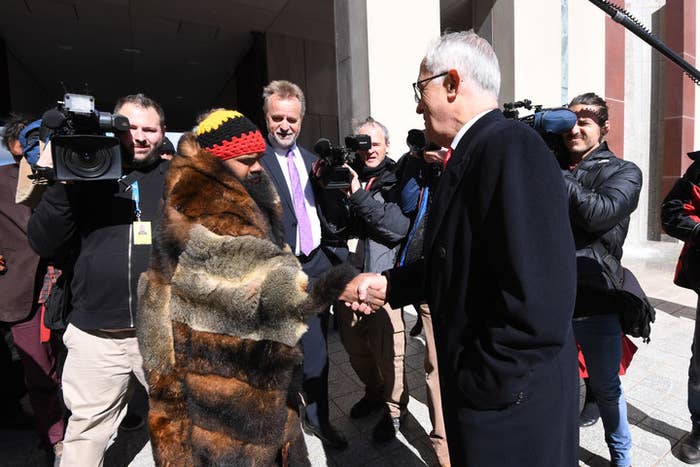 The pair met at the back entrance of the Prime Minister's Office, inside Parliament, on Monday. Indigenous affairs minister Nigel Scullion was also in attendance. But in a statement released on his official Facebook page, Pryor says the meeting was disrespectful, and he turned his back and walked away.
"It was a rude meeting," Pryor told BuzzFeed News after the meeting. "He was talking back to us, and it sounded like it was a debate. Like it was on their terms.
"I was disappointed."
Pryor said Turnbull debated him on the merits of the cashless welfare card, which Pryor says is discriminatory.
"(Turnbull) was saying the cashless card is a good thing, he was saying it's all about protecting the children," Pryor told Buzzfeed News.

"I was saying 'no, no - it's an act of racial discrimination towards our people. You can't just blame blackfellas. It's like going back to the ration days'."
Turnbull announced on Friday that the card, which quarantines 80 percent of a person's welfare payment to be used on necessities, will be rolled out to the Goldfields region of Western Australia, the third site in the country following trials in Kununurra, in the north of the state, and Ceduna in South Australia.

All trial sites have high Indigenous populations.
A spokesperson from the Prime Minister's Office said in a statement that Turnbull was "interested to hear their perspective, but respectfully disagreed with several of the matters raised".
"The Turnbull government will always take decisions in the best interest of children, and we make no apologies for working with the Shires in the Goldfields to put in place the cashless debit card," the spokesperson said.
A year ago, Pryor decided he was going to walk across the country to take the plight of his people to the nation's politicians, to a place where the policies that directly impact Aboriginal people are devised, often far removed from the people it affects.

He gave up the lease on his Perth home, put his belongings in storage and took a year's leave from his job, before setting off for Canberra.
Pryor says he has grown spiritually with every step of his journey, through the desert country of Western Australia, to the red dust of Mutitjulu, in the shadow of the Uluru, to the cemented streets of Sydney and the final leg - the roundabouts of Canberra.
His people now call him "The Spirit Walker".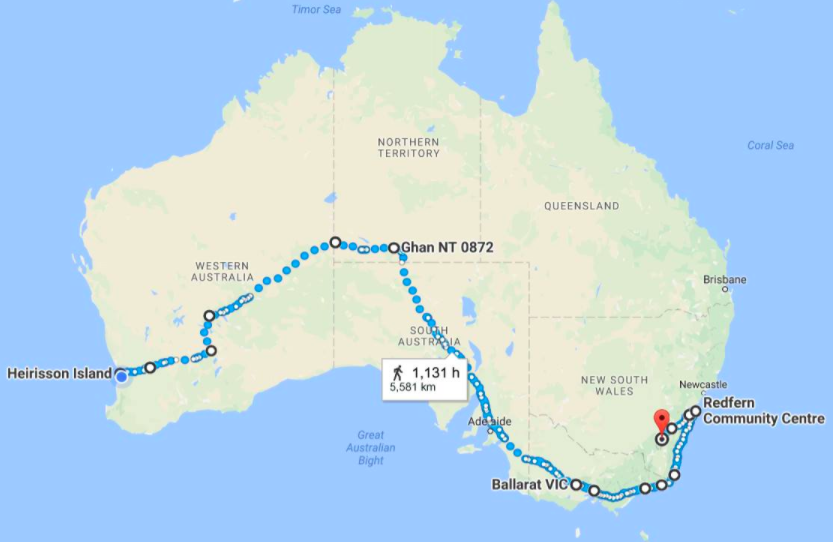 On Sunday, he finally made it into the nation's capital, flanked by a convoy of his supporters. He describes it as "emotional".
"I was really proud and happy to finally make it to the end of the journey and to do something amazing for our people, and for my ancestors," Pryor told BuzzFeed News.

Within days, Pryor met with MPs from all sides of parliament down at the Aboriginal Tent Embassy, set up by legends of Aboriginal activism in 1972. He also had a private meeting with the governor-general Sir Peter Cosgrove, and Labor leader Bill Shorten, who met him outside Parliament House.

He had earlier finalised a statement of demands, made in consultation with elders, calling on the parliament to begin and adequately fund treaty negotiations, and acknowledge Aboriginal sovereignty.

He also called on the abolition of the hand-picked government advisory body the Indigenous Advisory Council, in favour of a representative First Nations body, and to support homelands communities which are under threat of losing funding in favor of larger centers, and in some cases, have already been closed down.

The list of demands also calls for an end of the NT intervention, a suite of legislation passed in 2007 and continued by successive Labor and Coalition governments. The intervention was passed with only one day of consultation with Aboriginal community members, and involved a blanket income management scheme, porn and grog bans and the seizure of Aboriginal townships for five years, amongst other measures. It has been continually condemned at the United Nations.
Pryor also called for the government to halt its expansion of the cashless welfare card.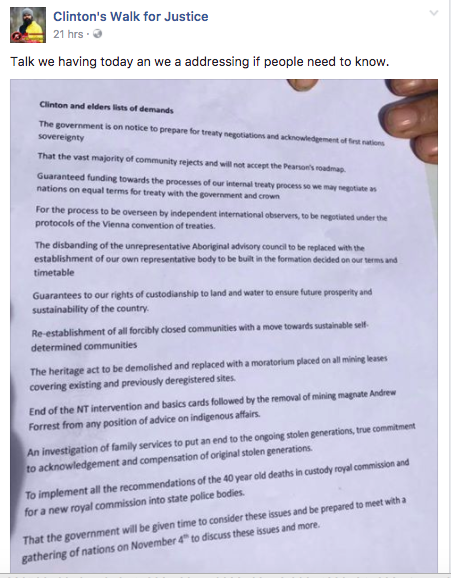 But while some politicians have said they were listening, a Facebook post by Shorten has angered some of his supporters, including Pryor, with many leaving comments.
After meeting with Pryor on Tuesday, Shorten claimed Pryor had spoken of his pain that Aboriginal and Torres Strait Islander people were not recognised in the nation's founding document - the constitution.
"I heard that Clinton and many others feel deeply hurt that our constitution still doesn't recognise the first Australians. I heard that he wants a radical rethink of how first Australians are part of decisions about their futures and their land," Shorten said.
But Pryor is not supportive of constitutional recognition.

"We told (Shorten) we don't support Recognise, we don't support reconciliation. We support a treaty which must be viewed by international countries," Pryor told BuzzFeed News.

"It felt like he was saying we were for Recognise, like he was pushing his own agenda.

"My people will be really angry and disappointed that I've walked all this way and the demands have fallen on deaf ears."

Recognise was the government-funded campaign devised to sign-up support for recognising Aboriginal and Torres Strait Islander people in the constitution. It has been met with cynicism and division amongst Aboriginal communities.

Minimalist recognition, through recognising Indigenous people in the preamble of the constitution, or removing the race power, which allows governments to make laws for and against Aboriginal people and other minority groups, was rejected at a meeting of community members at Uluru earlier this year.

There are now widespread calls for a treaty process. Australia is one of the only developed nations in the world to have not signed a treaty with Indigenous people.

Pryor says that he will now return home to rest with his partner after a mammoth journey. He says he hopes politicians will do the right thing for his people.

"We didn't want to make any deals. We only wanted to address these demands on behalf of our people and start the process," Pryor says.

But after thousands and thousands of steps across Australia's diverse landscape, he says it is only beginning. There are many steps to go.

"This is the first step and its up to (politicians) to do the right thing. Hopefully they can get serious about this," he says.