It is time for the political elite to show leadership on having a constitutionally-entrenched black voice in parliament, according to an Uluru delegate.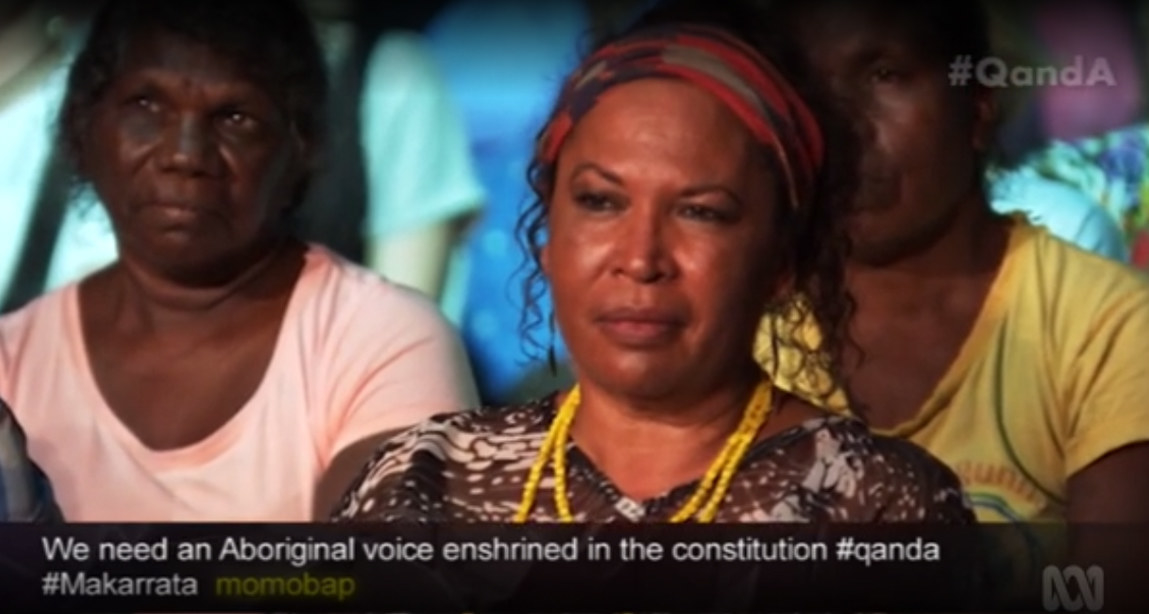 Co-chair of the Uluru Statement Working Group Suzanne Thompson used the ABC's Q&A broadcast from the Garma Festival on Saturday (replayed on Monday) to question indigenous affairs minister Nigel Scullion about what she sees as fear exhibited by politicians on the issue.
The Uluru Statement From The Heart was released in May, following consultations with community members around the country by Aboriginal members of the Referendum Council.

The statement called on an Indigenous voice in parliament, to be put before the Australian people through a referendum required to amend the constitution.
It also called for a Makarrata commission, which would oversee a treaty-making process as well as allow space for truth-telling.
A report released by the Referendum Council, a 14-member body with both Indigenous and non-Indigenous representatives, that was tasked with deciding the next step forward for the decade-long road to constitutional reform, recently backed the sentiment of the statement.

Makarrata is a Yolngu word for coming together after a conflict, and has been used to describe a process of treaty since it was proposed, and then scuttled, in the 1980s.
The Referendum Council recommended a Makarrata process being held outside of any constitutional reform process. The proposal for a voice to Parliament would go to a referendum.

The Garma Festival, held over the weekend in northeast Arnhem Land, counted prime minister Malcolm Turnbull and opposition leader Bill Shorten among its attendees. It was expected they would outline their responses to the report.

But the statements from both leaders were met with scepticism, particularly towards Turnbull, who did not make a commitment, but instead said the proposals would be "seriously considered".

Turnbull's statement was "extremely disappointing" to Thompson, as well as other Aboriginal attendees at Garma.
On Saturday night, Thompson asked a question formulated by the Uluru Statement Working Group, asking "what is there to be fearful of", in giving First Nations people "a voice about our affairs and our future destiny".

In response, Scullion said, "it's not mischief, it's just not where people are at at the moment".

"We need to, in a careful way, ensure that we consider this process properly, and I think it's quite a legitimate response, and I think it's really important because there's so many ways this could get off the rails, and not many ways it could stay on," Scullion said.

Thompson told BuzzFeed News she was cynical about Scullion's statement.
"There was a double-edged sword in his response," she said. "In my ideal world, I would have liked a more human response — that they are afraid of us being able to control our own destiny.

"But for me, it was more about the Australian public getting the opportunity to hear a response."

Q&A panellist Peter Yu, Yawuru Man from Broome, questioned whether the reluctance by politicians to accept the issue was a question of conservatism in the Australian public, or a "question of mistrust between the political elite and the broader community".

"There may well be fatigue in the Australian community, and the community might well respond very constructively and positively if there was a sense of unity of purpose for the developing maturation of the nation," he said.
"Because it is in the national interest that we do take a stand."

Thompson agrees, and says that ultimately it is not up to politicians but the general public.

"We don't have relationships with politicians," she said. "But as Australian citizens we have relationships with each other."
She says it is also about educating Aboriginal communities across the country about the proposal, and "putting meat on the bones" of the proposed voice.

"That's a whole other piece of work in itself, and it more than likely will happen after the referendum. It's about crafting the referendum question now, but of course we have to have some meat on the bones around what we're proposing."
Looks like there are no comments yet.
Be the first to comment!