1.
A set of packing cubes that allow you to separate your pieces, creating more space in your suitcase for all your stylish must-haves. No more guessing games or cramming — you'll have everything organized and easy to find.

Promising review: "I absolutely love these. I've actually purchased a few different sets in various colors. They help organize the suitcase better and save a ton of space. It was so much easier to pack and combine outfits into separate bags. I had a bag set up for each day of my vacation and everything I needed was in there. I was all set. No searching or digging around my suitcases. Just a little planning before we left and everything went smoothly using these bags." —Owl Lady
Get a set of eight from Amazon for $17.99+ (available in 33 styles).
2.
And a pack of vacuum storage bags if you're traveling with a large family or going to a colder climate and need to pack bulkier clothes. Just make sure you bring the included pump so you can also use these bags to separately store dirty laundry.
My former colleague Jasmin Sandal is a fan: "I swear by these bad boys not only for general storage purposes, but also if I know I'm going to be traveling for an extended period of time. As someone who tends to pack for every eventuality (who doesn't like to be prepared?!), I have learned that it's better to travel with them than without — especially since it's more or less a guarantee that my clothes are gonna take up a ~substantial~ amount of room in my suitcase. And if I can use something that's gonna shrink the size of my bulky hoodies and/or big tees in order for me to create more space, I'm sure as heck gonna do it. Plus, the satisfaction is indeed guaranteed because when you see those chunky layers flatten into a pancake...it's just *chef's kiss*."
Promising review: "I've used these bags before and they are so helpful. Even used the medium one for travel and I have tons of extra suitcase room. The clothes don't come out wrinkled at all as long as you fold them nicely before placing in the bag, then the air sucks out keeping them safe and sound and very compact. Arrived on time, would use this seller again." —Susie Kochsmeier
Get a six-pack from Amazon for $10.99+ (available in four sizes, as well as other multipacks).
3.
An ingenious 3-in-1 foldable magnetic wireless charger the size of a tiny makeup compact, meaning it won't hog up valuable space in your bag. But don't let its cute size fool you! This little guy packs a punch by charging your iPhone, Apple Watch, and AirPods all at the same time.

Promising review: "I use this product to charge my iPhone 13, AirPods, and Apple Watch. Prior to this 3-in-1 compact purchase, I have purchased three different kinds of 3-in-1 chargers — I frequently travel between school and home with carry-on bags on airlines and all of the previous stand version chargers doesn't fit well in my bags or I am always worried I would break. This is compact and folds so well that I can fit in my carry-on or in any zipper pockets without having to worry about breaking anything. Charger works really well and it is the best compact one you can find in market. Love it and been using it for two months now and no issues!!" —Sbreddy

Get it from Amazon for $33.99+ (available in nine colors).
4.
A super lightweight Trtl pillow that can be attached to the outside of your backpack or luggage, and it's way less bulky than those U-shaped pillows you have to awkwardly lug around. It's designed to help keep your head upright, reducing the risk of neck aches and allowing you arrive at your destination feeling refreshed and relaxed. 
It weighs less than half a pound and is machine-washable!
Promising review: "Been traveling on airplanes for decades and don't know HOW I survived without this little gem! It does exactly what it says. It's easy to carry, easy to use, and oh SO comfortable to wear. I could not recommend this more! 👍" —Metou
Get it from Amazon for $59.99 (available in five colors).

5.
A bestselling and super affordable pair of flexible ballet flats that are lightweight and easily tuck into your luggage, taking up little to no space and leaving more room for snacks and souvenirs. Plus, reviewers say they're super comfy so you can wear them in the airport or out on the town while exploring a new city.
Prime members: You can try before you buy!
Promising review: "I normally cannot wear flats because they give me terrible blisters on the back of my feet. These didn't! Bought these in nude for a city vacation with a lot of walking, but where sandals aren't necessarily worn, and these were perfect! They obviously don't have the support of sneakers, but I am so happy to finally have a cheap pair of flats that don't give me blisters. I did break them in with thin socks on around my house before wearing them out and when possible, I wear them with little sock liners. Also — I was able to fold these in half and fit them in a semi-small purse to change into to dance at a wedding! Score!" —Kate

Get them from Amazon for $23.70+ (available in women's sizes 5–15, including wide sizes, and 33 styles). 
6.
A 2-in-1 hair tool so you can rock sleek straight hair on Monday and bouncy bombshell curls on Tuesday — all without having to lug around two separate tools. Say goodbye to sacrificing fabulous hair for the sake of travel convenience.
It's also dual-voltage, so all you'll need is a plug adapter if you're traveling internationally. 
Promising review: "Don't be fooled by the tiny price or size, this little baby is serious. If you are looking for a small travel option rather than lugging your big straightener and giant curling iron around the world, than I think you'll love this. It performs really well, turning my frizzy wavy hair into a smooth and sleek style. The curling iron option also creates shiny, silky lasting curls! It's easy to transition between both. I also like the grippy handle and the fact that the curling iron clip is a different color than the straightening bars because that helps me see how I should be maneuvering it around. The voltage goes up to 240m, so you are good using it internationally without a converter (but you will need an adapter just to fit it into various foreign outlets). At this price, definitely give it a try and flaunt your tresses abroad." —Christine
Get it from Amazon for $59.95 (available in black or white). 
7.
And a collapsible hair diffuser you can attach to your hotel room's hair dryer to maintain your perfect 'do no matter where you travel. It won't take up too much space like the big bulky plastic ones, leaving more room for the cute pair of shoes you just bought.

The Curly Co. is a small biz that was founded by Pavaune Pearson in 2015 with the goal of creating products that make caring for curly hair easier!
Promising review: "So glad I bought this collapsible diffuser! It flattens out well and easily slides into tiny spaces in my suitcase, it's sturdy enough that it doesn't collapse while being used, and it fits snugly around oval and round-shaped hairdryer ends. It's my new go-to for on the road and quickly gives my wavy hair great results! No more shoving a giant hairdryer plus its hard plastic diffuser into an overpacked suitcase. No more having to leave stuff home or bring an extra bag (less cha-ching for airline fees). It's my new best travel buddy. Highly recommend!" —Amazon Customer
Get it from Amazon for $16.99. 
8.
A small but mighty portable water flosser that'll ensure your gum health is still up to par while on your getaway. This device is about as big as your hand and can go 30 days before having to be recharged. Now you'll have plenty of free room to stock up on Disneyland plushies.

It comes with four flossing tips and has three cleaning modes, along with an included travel pouch.
Promising reviews: "This is the water flosser I have been waiting for! I travel weekly for work all over the country and not only does it work well, it's super compact. No more bulky ones taking up a lot of space in my suitcase. Bravo to whoever designed it!" —V. Oswald
"I enjoy traveling, but always hated the amount of space and weight used to carry other flossers, especially when travel restrictions limited me to a small bag and only 33 pounds total for all. This device is PERFECT! So compact, and even the nozzle slides into it so it won't get lost. There's a small bag to hold everything (they provide other nozzles). I tested it out, and the pressure is fine. Love that I can charge it using a USB port! Looking forward to my next trip!" —B. Murray
Get it from Amazon for $34.99.
9.
And a pack of gentle 2-in-1 flossing toothbrushes, because a single product that does the job of two is just *chef's kiss*. This toothbrush has special bristles that clean in between your teeth, so it won't just save space in your toiletries bag; it'll also save you time during your morning routine.

Mouthwatchers is a small biz founded by Ronald Plotka, DDS. Their toothbrushes are made with silver-infused bristles to eliminate 99% of bacteria, and the dual-layered design helps the brush reach those deep areas where 95% of cavities form. 
Promising review: "Let me preface this by saying, I hate flossing! I could never get through my entire mouth without setting off my gag reflex at least twice, and even then it never got fully cleaned. My gums are also extremely sensitive and bleed easily. To combat this, I have tried every toothbrush imaginable to get me a good clean with minimal bleeding; regular ones, electric, three-sided, 10,000 bristles — nearly everything besides a robot that will brush my teeth for me. I found these on BuzzFeed and immediately ordered them. I am so impressed with the way they clean, my teeth and gums feel so damn clean and my gums aren't even swollen, or bleeding. It's like being fresh from the dentist! These are certainly a toothbrush that I will purchase again and again!" —Katelyn

Get a pack of four from Amazon for $14.45.

10.
An essential floppy hat that can keep up with your adventurous spirit. Not only does it provide the perfect amount of shade for all your excursions, but it's also made with breathable mesh material so you won't have to worry about overheating. And the best part: You can easily fold it up and bring it wherever your journey takes you.

Psst: Many reviewers say it keeps its shape, even after being folded into a suitcase!
Promising review: "I bought this hat for a recent trip to the Grand Canyon, Bryce Canyon, and Zion National Parks. It was extremely hot and sunny most of the trip, and this hat was a lifesaver while hiking in areas with little shade. It didn't stain from sweat, kept sun out of my eyes, and prevented my face from sunburning, and didn't soak through when a sudden downpour hit at the Grand Canyon. I folded it down flat to store in my suitcase and it popped right back up without wrinkles or creases. Very pleased." —M. Ullman
Get it from Amazon for $14.98+ (available in black and beige). 
11.
A foldable water bottle designed to take up barely any space in your personal bag when flying, which will have you feeling light and free while on the go. Plus, you won't have to keep buying $15 water bottles every time you're thirsty, which is also a win.
Plus, it's lead-, latex-, and BPA-free, dishwasher safe, and can be used for hot or cold drinks.
Promising review: "Bought this water bottle for a trip to Disney world. At home I always have my 40-ounce water bottle nearby. I was worried about walking around the park and not having quick access to water on those hot park days. We only brought a fanny pack in and didn't have room for something big. This was perfect! Was able to fill up with water, wasn't too overbearing to hold and super easy to fold up and throw in the bag when not in use. My only regret is I didn't buy two!" —E. Alarcon

Get it from Amazon for $9.99+ (available in 14 colors and three sizes).
12.
And a practical and beautiful Stojo collapsible travel cup, which reduces to the size of a 2-inch disk that you can toss in your bag for safekeeping.

It even comes with a straw, can hold both hot and cold liquids, and is dishwasher- and microwave-safe. 
Stojo is a small biz aiming to eliminate single-use plastics with their portable and reusable products. 

Promising review: "I have bought many coffee mugs over the years for travel or even driving around. This one has the ability to collapse, which makes it so wonderful to travel with and not have to have as much room. It collapses very easily and is also just as easy to set up for drinking. I have used it in the microwave, but have only hand-washed it so far. No issues, even after a trip I took visiting national parks recently." —Mark C. Stevens
Get it from Amazon for $14.95+ (available in four sizes and 24 colors). 
13.
Tide sink packets so you don't pack your entire wardrobe just to make sure you have clean clothes for your trip. These little packs allow you to hand-wash your clothes in the hotel sink, giving you the chance to rewear outfits and save space in your suitcase. And don't worry, they are well sealed to limit the chances of leaks!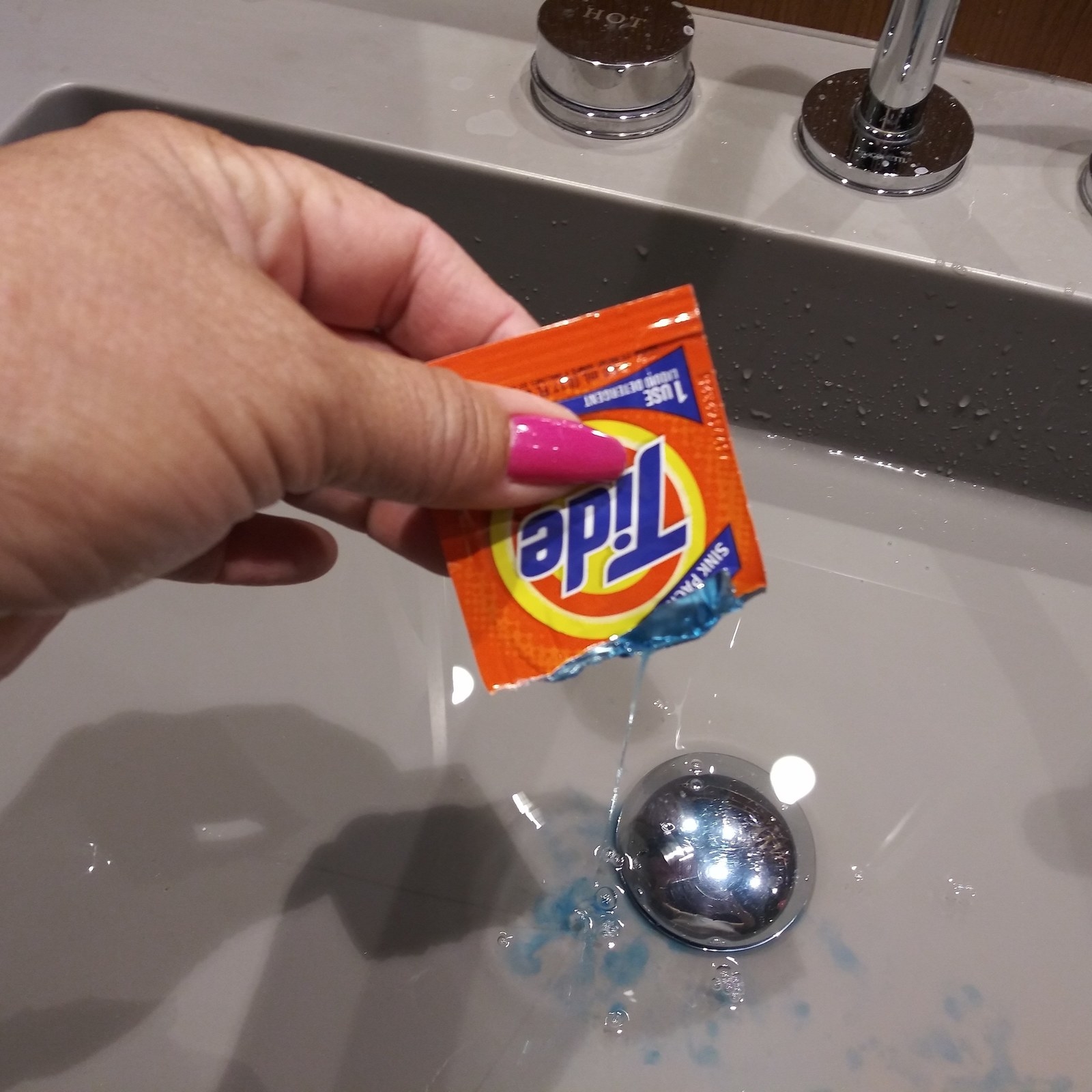 Promising reviews: "Great product. Used it to wash some clothes while traveling for a week and half. Did a great job and allowed me to pack less. Will be purchasing again for a two-week trip coming up." —April M.
"Some in our party were forced to check their carry-on bags due to lack of space on the plane. Our connecting flight then got canceled and we ended up on a different plane…some of the bags didn't make it and these Tide sink packs SAVED US! We were able to keep a rotation of things clean while we waited for our bags. I was ASTONISHED at how much sweat and grime came out of my clothes after a long, hot day of travel! Won't travel without them ever again." —Kristin St. Martin
Get a three-pack from Amazon for $6.64 (available six different sizes and packs).