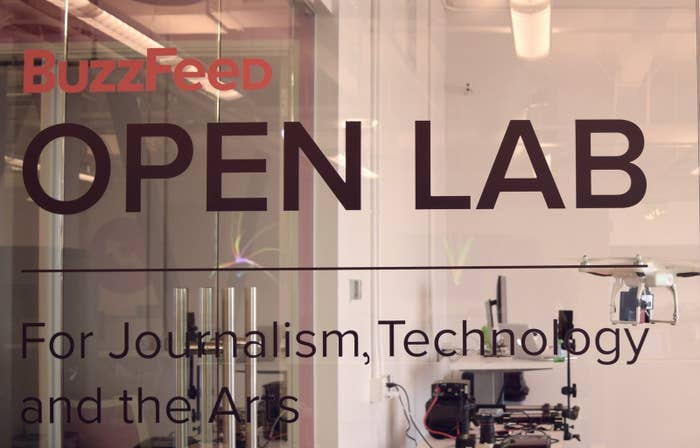 BuzzFeed is an experimental place. At our core, we care about data science and technology, and we care about telling stories and learning how people share stories with each other. The Open Lab is BuzzFeed's R&D arm, or, as I put it to SF Gate, "This is everyone's R&D department." Everything we create in the lab will be open source. In the Open Lab, we're experimenting with new ways to gather information and tell stories. And everything we make is open source.
Ben Kreimer has been in the lab since June, perfecting a low-cost 360-degree camera rig mounted to a Phantom drone, so we can shoot videos like this tour of our lab — view it on a mobile device to take advantage of YouTube's 360-degree video support.
Our Eyebeam fellow, the Saito Group, moved their projectors into the lab last week. They've got some fantastic crowd-reading work on the horizon.
Ainsley Sutherland will be working on a tool kit for experimental virtual reality interfaces, Westley Hennigh will be applying his programming skills to gamify Congress, and our GE Fellow Christine Sunu, who stopped by the office last week wearing a brooch that lights up whenever someone mentions her (or cats) on Twitter, will be building plush toys that gauge your stress level. And I will be exploring collaborative mapping tools and audience engagement.
Everyone has a project to work on over the coming year, but we'll also be looking for creative ways to test out the tools we're building in collaboration with BuzzFeed's newsroom and other newsrooms and storytellers around the city. We're all excited to look at new ways to talk about digital privacy rights and air quality.
We have the incredible luxury of a powerhouse advisory group, which includes Buzzfeed CEO and founder Jonah Peretti; our publisher, Dao Nguyen; Andreessen Horowitz partner Chris Dixon; former Wired editor-in-chief Chris Anderson, who is now CEO of drone startup 3D Robotics; and artist-engineer Natalie Jeremijenko; Catherine Bracy (civic technologist and Managing Director of the TechEquity Collaborative); T Jason Anderson (Associate Professor of Architecture at California College of the Arts, founder of studioAnomalous).
I'm really excited to launch the lab, figure out how we can use the lab to make some positive contributions to the local community, and deploy the crazy and wonderful stuff we've got brewing in the service of great reporting and a bit of LOL WTF.
Wish you'd known you could be a BuzzFeed Open Lab fellow? Sign up for our newsletter and we'll make sure you hear about it when we post our next call for fellows.