1.
A coffee table with a pet bed area right below! Throw in your pet's favorite blanket over the soft mattress included and you'll find them hanging out there all day long.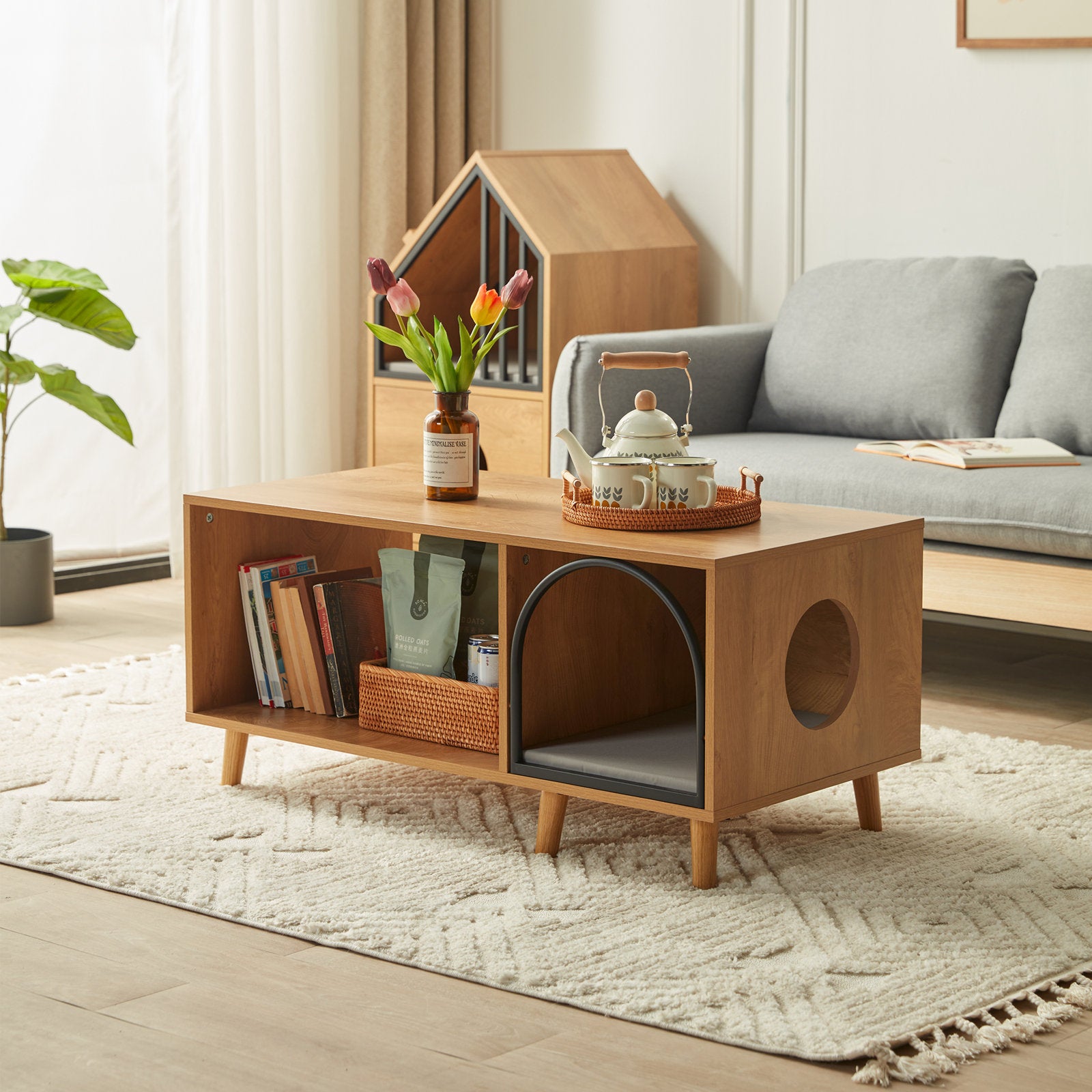 Promising review: "This is modern mid-century coffee table has a wonderful design and offers a hiding spot for your cat! My cat took to it right away and loves sleeping on the soft mattress hidden inside the coffee table. The wood is quite heavy and sturdy. The assembly was fairly easy, with the step by step instructions it took about 20 minutes. I highly recommend this coffee table for cat lovers : ))" —Julie

Get it from Wayfair for $117.99 (originally $129.99).
2.
A cute waterproof feeding mat to keep the mess in one designated area and ensure it's an easy cleanup, too. These mats come in tons of cool pattern options (not including the over-used paw prints!), and are made of eco-friendly and recyclable materials.
Nalalas is a woman-owned small business founded by Lindsey Travis and inspired by her pup Nala. They offer a beautiful collection of affordable pet products that can be easily curated into homes.

Promising reviews: "This product is cute and works well! It's contains the water my dog slops all over from her bowl. 10/10 recommend. It holds my dogs lifted bowls and has room to spare." —Erynn

"I love this! It stays in place keeping my dogs food bowls where I put them! And it's stylish so it looks so nice and pretty, not something I want to hide!" —Cow print watch band
Get it from Amazon for $24.99 (also available in 11 styles). 
3.
A bone-shaped dog toy basket that will ~stylishly~ keep your pup's things in order and out of the way. Maybe you can train them to put it back themselves, too? 
Promising reviews: "So cute and much bigger than we thought it was going to be but it worked out because our spoiled dog has tons of space for his toys now." —Shayra
"I've had this for three years now and it looks brand new despite my dog digging in it, climbing in and out of it. I love this toy bin and highly recommend!" —Cartoongirl47
Get it from Amazon for $38.99+ (available in three sizes and four colors).
4.
An elevated pet bed with a removable cover for easy washing... because we all know it'll need a deep clean every now and then. It looks like a classy, mini velvet couch that you'll probably want for yourself in human size.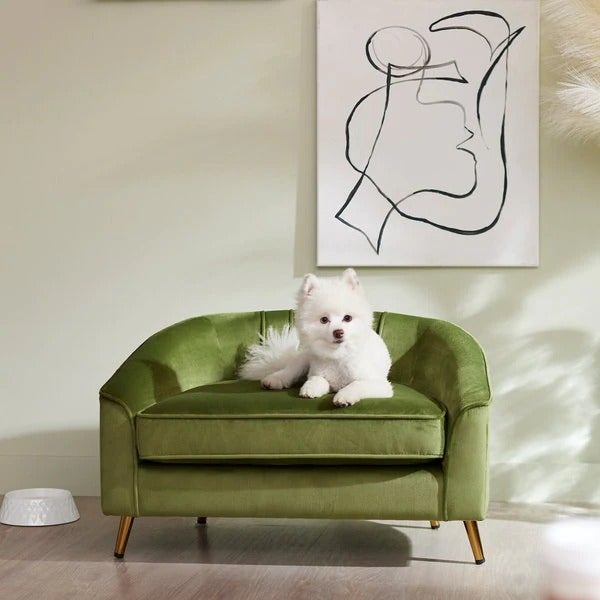 Get it from Chewy for $179.99+ (available in three colors). 

5.
A stylish food bowl set that'll fit in perfectly with your mid-century decor. You know those generic stainless steel bowls? Yeah, those are a thing of the past.

Promising reviews: "I love this product! It is well made, easy to set up, and has quite a few colors to pick from. The bowls are super quick to clean up and overall look nice sitting out. Overall a wonderful set and worth having for your pets!" —Ed 

"These bowls are so well made and easy to clean! I love that they have wooden holder to keep the bowls in place! great price and great quality!" —mr_murphy
Get it from Amazon for $29.99 (available in three sizes and nine colors).
6.
Or a stylish *app-controlled* automatic pet feeder for pets with a strict schedule, and pet owners who still want a feeder that isn't a corner-stealing eyesore. It allows you to schedule your pet's meals for up to 10 meals and 20 portions a day — which basically is just peace of mind that your pet is covered even when you're not home.
It comes with a removable stainless steel bowl for easy cleaning *and* sends you real-time low food alerts!
Nooie is a family-owned small business that provides stylish smart home gadgets including indoor and outdoor cameras, smart plugs, and more — all with neutral, ceramic-like finishes.

Promising reviews: "10/10⭐️ This feeder is primarily used for his lunchtime feedings/when I'm not home in time to provide him his wet food. Really easy to setup and I love that I can control the portion size and designate a specific time to feed him in replacement of me asking a friend to feed him on days I'm unable to! The kibble placed inside is Ziwi Peak Air dried food so I was slightly skeptical about whether or not it would clog since they're in the shape of a square but NO clogging AT ALL!" —Stephanie
"This feeder not only fixed my cats tendency to destroy my house as a means of getting fed, but now I don't have to pay someone to stay with them when I go away for the weekend. 100% worth it. It looks cute and I can control it with my phone." —Sarah mayers
Get it from Amazon for $79.99.
7.
A quiet swan fountain if your cat is the type who prefers drinking from the faucet rather than their designated water bowl. This is by far the best compromise!
Promising review: "One of my cats has a health condition that makes it essential for her to drink as much water as possible, so I decided to try this fountain since it mimics the sink faucet more than the others I have. As soon as I turned it on, she came running, and she's loving it. It's small and plastic, so it's lightweight but probably easier to break than the metal one I have. It's very quiet, and the other cat (who doesn't seem to care about running water) has no problem drinking from the bowl portion. It was easy to assemble and seems easy to clean." —Bonnie A. Franz
Get it from Amazon for $33.31.
8.
A cool, high-quality cow print dog bed you won't have to hide when guests come over. Not only is it cute, but it's also comfy for your dog. And BTW, it's available in *extra* large sizes for bigger dogs, too.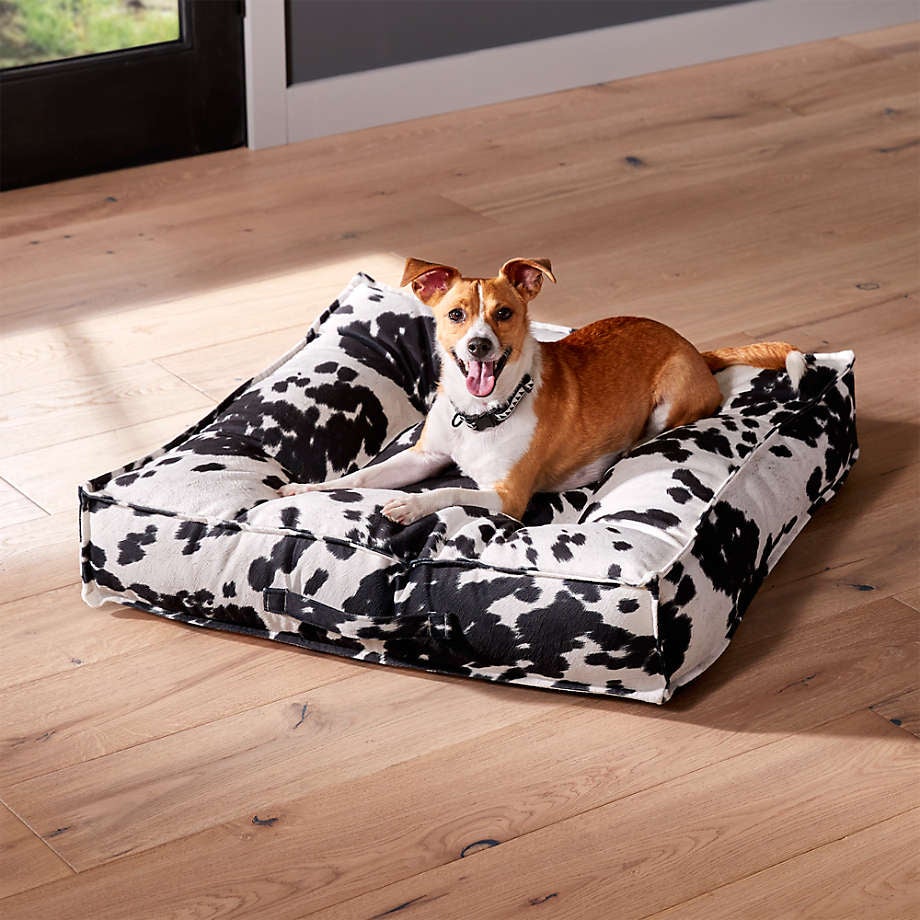 Get it from Crate and Barrel for $145 (available in three sizes and three colors).

9.
A cozy fleece window perch that just *looks* like it was made for your home. It's comfortable and warm, too, so if you can't find your cat, they're probably soaking up the sun while laying on this guy. 
This perch is pretty sturdy and can hold up up to 40 pounds! 
Promising review: "I love this product. I actually have three of them. Since I have five cats they use these constantly. They love to sunbathe in the warm sun on them and they are very sturdy because I have one cat that is 20 pounds. The cover removes easily, and you could throw it in the wash...I love these and would get more if I had other windows to put them in." —maryellyn Vitiello
Get it from Amazon for $29.99 (available as heated or unheated).
10.
A couch cover to protect the furniture that your pets, kids, or messy significant others love laying on. To be fair, where else are they gonna lounge?! This cover will make sure everyone is comfortable and happy.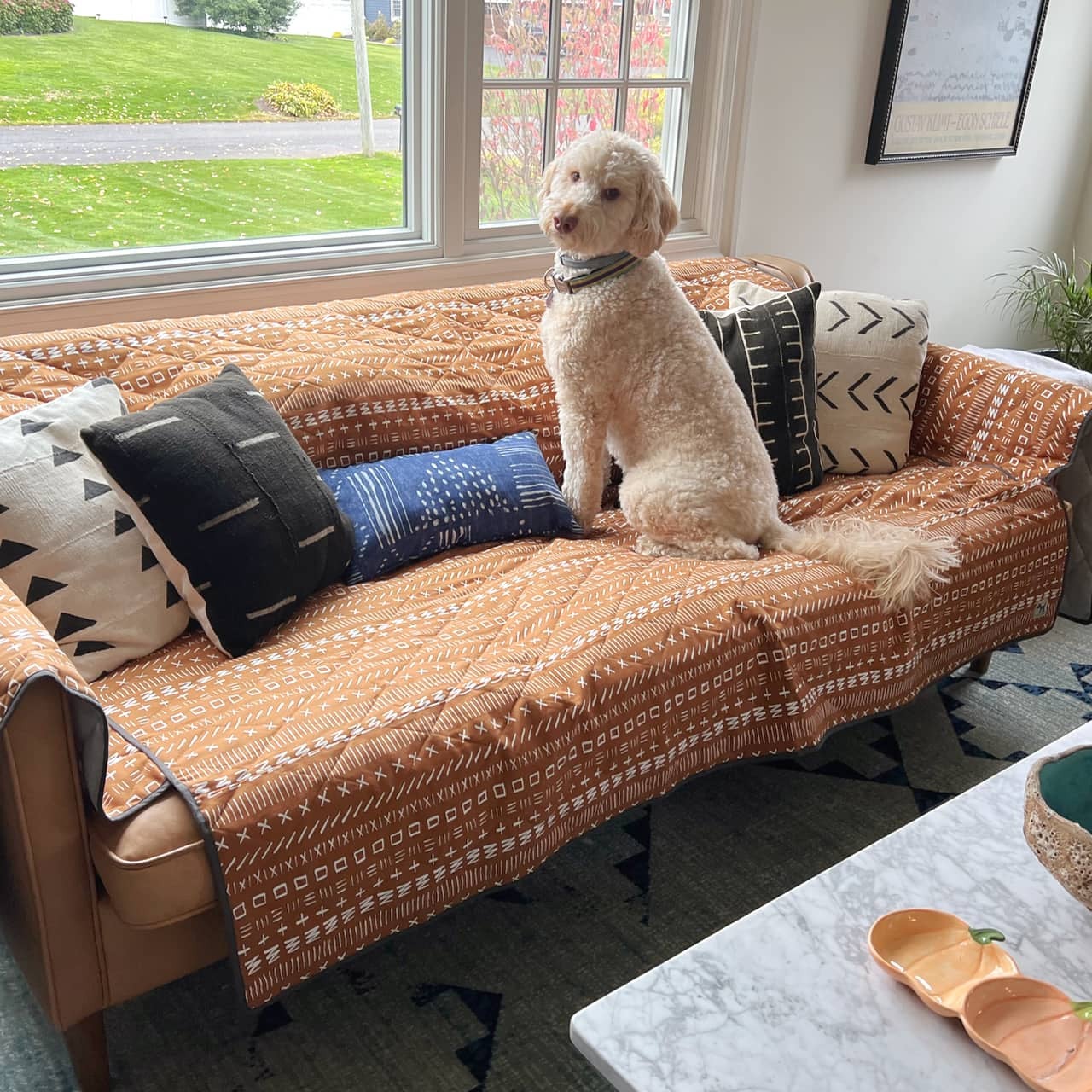 Molly Mutt is a woman-owned small business based in San Francisco.
Promising reviews: "I hate getting on a couch full of dog hair so my favorite product is our Molly Mutt  couch cover! The dogs can have free reign now and when I'm ready to sit down and relax, I can move the cover and enjoy a hair-free couch." —summitatthesummit, Molly Mutt customer
"Beautiful! So this is certainly a particularly good find for me (it's the same copper color as my new sofa!) but it also seems really well made. The underside has little plastic dots to help it stay put in addition to the cushion anchors." —JenMichigan, Chewy customer
Get it from Chewy for $129+ (available in two sizes and in rust orange, green, navy, and tan) or straight from Molly Mutt $129+ (available in three sizes and 14 colors/patterns).
11.
Or a more simple fluffy seat protector that's still *very* cute, but will also work for anyone who wants something that looks (and feels!) just like another throw blanket. It features an L-shape design to ensure it's on sectional couches, too!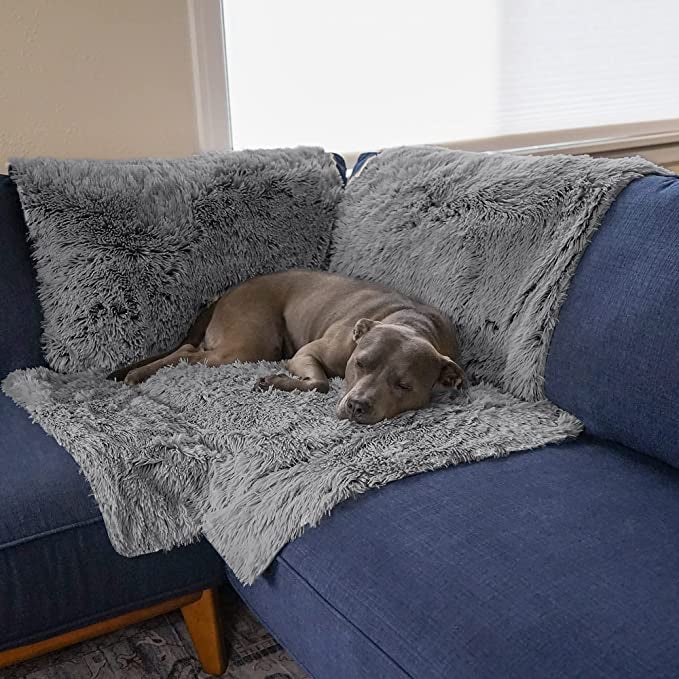 AND it's waterproof!
Promising review: "We gave our older dog her own spot on the couch with this - she loves it! And now she stays off the rest of the couch, and our new couch is now stain-free." —M. Russell
Get it from Amazon for $44.99+ (available in three colors). 

12.
A chic pet treat canister you wont be ashamed to have sitting on your kitchen counter. It features an airtight bamboo lid to keep treats fresh, and you can even customize it with your pet's name for a little extra!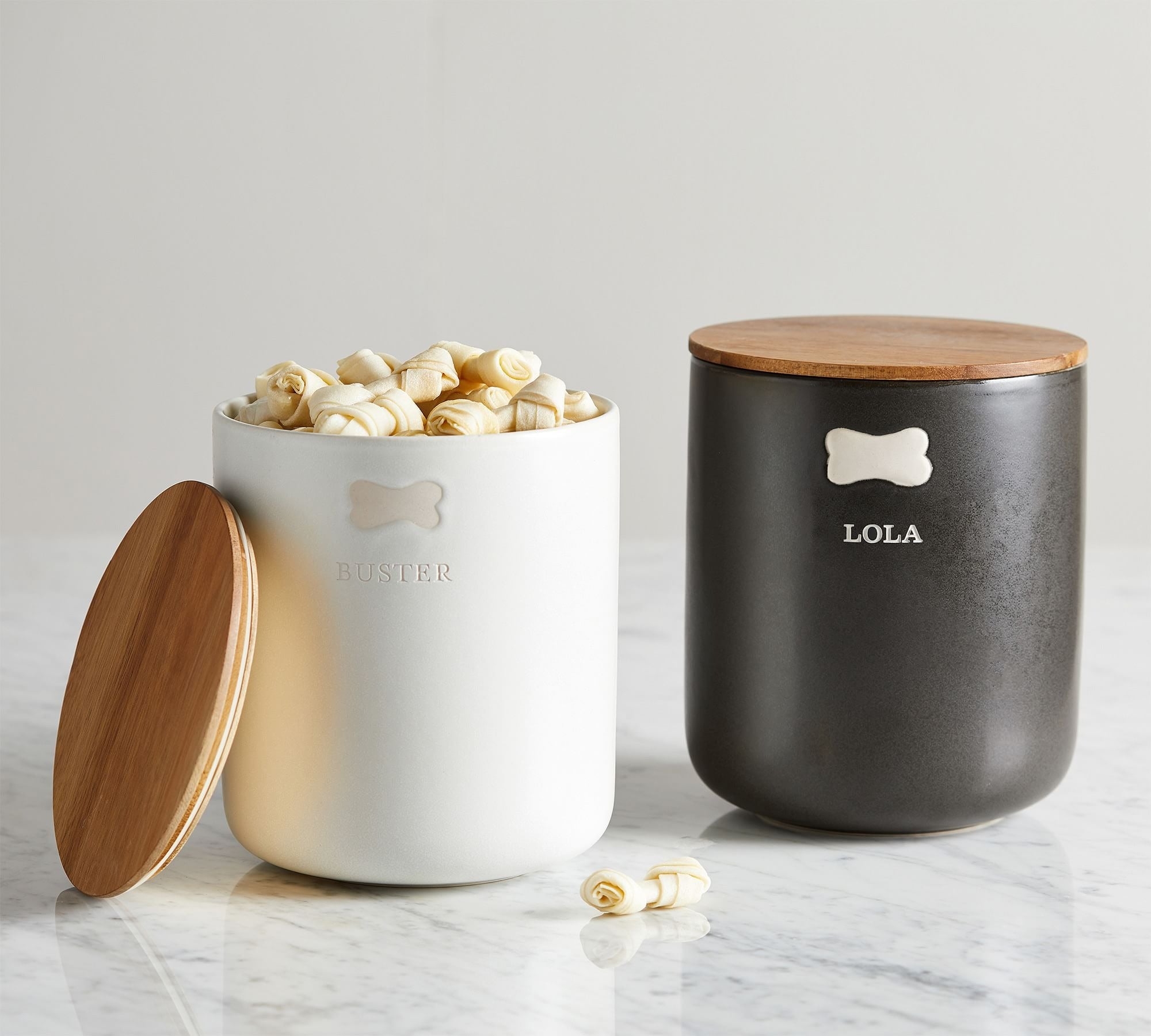 Get it from Pottery Barn for $31+ (available in black and white). 

13.
A Fable dog crate because it blends in perfectly as a side table. Add some plants on top for the ultimate doggo home that doubles as useful decor!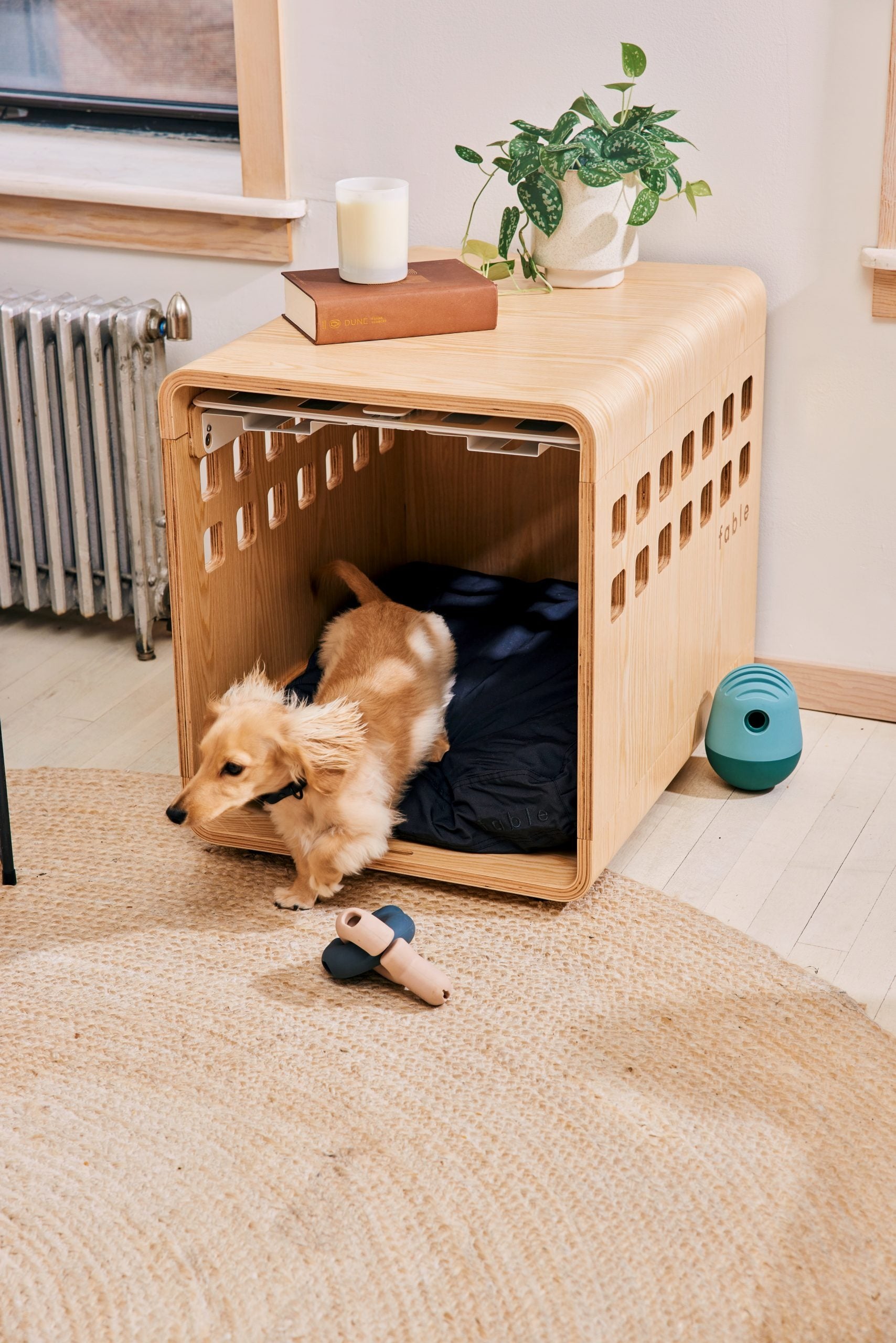 Fable is a NYC-based, family-owned small business that creates pet gear made to solve problems. 

Promising review: "We have been searching for the right crate for our 3-year-old cattle dog mix. One that he would feel safe in, and one that would serve as a durable, part of our home organically. The fable crate is sturdy, and looks beautiful in our home - and the best part - our dog loves it!" —Mia J.
Get it from Fable for $395 (also available as a bed and crate bundle). 

14.
OR a wood kennel cover that allows you to really maximize the space in your home. This will turn that ugly kennel in the corner into a gorge functional piece of furniture.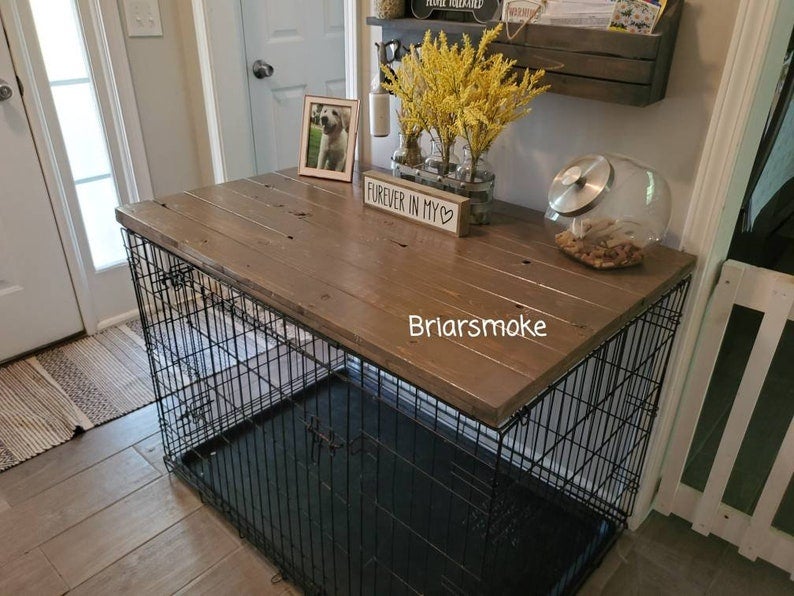 My Farmhouse Essential / Etsy
My Farmhouse Essential is a small business based in Gainesville, Georgia. They create tons of handmade woodwork home decor!
Promising reviews: "Fits the crate perfectly, doesn't slide around but easy to move when needed. It changes the entire dynamic of the room. Previously I had a metal crate sticking out like a sore thumb. Now I have a beautiful piece of furniture at a very small cost. It also arrived quickly. Very pleased with it and I've ordered a second one for a smaller crate." —Alicia Staton
"Buy this if you want to create additional storage or surface area for a studio apartment if you have a dog! High quality and a lot of options to choose from." —Elena
Get it from My Farmhouse Essential on Etsy for $37.99+ (available in six sizes and 11 wood finishes).