1.
A veggie chopper, slicer, and spiralizer since chopping by hand takes waaay too much time. With this kitchen gadget, you can quickly and easily chop up multiple fruits, veggies, and even ice in a flash.
It comes with a small-dice blade, large-dice blade, spiral blade, and ribbon blade that are interchangeable and gives you the option to chop, slice, and julienne vegetables. Plus, you get a lid with a built-in chop and a storage container to hold the veggies.
Promising reviews: "My goodness, this gadget saves me so much time! There's several different ways to cut your fruits or veggies, and you can just pop all the components in the dishwasher after. I love this thing." —Mia
"I love this thing!!... It makes dicing things like potatoes and onions so much quicker and easier. I personally prefer to dice my tomatoes by hand, but I tried it out and it works pretty good. It's fantastic at shredding cheese too, and contains it nicely in its little drawer. Which is my favorite feature btw.... you can swap out attachments without having to stop and clean stuff in between uses. I definitely recommend this product." —Jennifer
Get it from Amazon for $39.98+ (available in five colors).
2.
An easy-to-use SodaStream to get yummy, refreshing sparkling water whenever you want it! Not only are you limiting plastic bottle use, but you're saving tons of $$$ not buying cases of LaCroix every month 😅
The SodaStream also comes with a 60-liter Co2 cylinder and a one-liter BPA-free reusable carbonating bottle! Reviewers suggest also buying two CO2 cartridges and trying various natural fruit flavors to spice things up!
Promising review: "We are longtime Sodastream users...[it's an] absolute dream...easy to use, consistent, efficient. As good as the manual carbonator was this is even better. Just push the filled Sodastream bottle onto the One Touch, you don't even have to screw it in, hit the start button twice and in about 10 seconds you have a liter of fresh carbonated water. Can't emphasize enough how simple this is. We drink four or more liters of seltzer a day in the summer so this machine has gotten a fair bit of use since we set it up...100% reliable to date." —Tom Wolski
Get it from Amazon for $124.50+ (available in black and white). 
Check out BuzzFeed editor Abby Kass's full SodaStream review.
3.
A rapid egg cooker for quick eggs in tons of different styles: hard/medium/soft boiled, poached, scrambled — you name it! This gadget does it all EGGcellently.

It also features an auto-shutoff function! It can boil up to six eggs at a time, poach up to two eggs at a time, or make an omelet! There's a poaching tray, omelet tray, a six-egg holder tray, a measuring cup, a recipe book, and access to a recipe database. All nonelectric parts are dishwasher-safe!
BuzzFeed's own Samantha Wieder absolutely loves this egg cooker:
"I love cooking, I really do, but there are two very inconvenient times that my cooking laziness strikes, and that is first thing in the morning when I wake up, and at the end of the day when it's time for dinner. Thankfully, in the morning, I now have this rapid egg cooker which allows me to make soft-, medium-, or hard-boiled eggs, poached eggs, or an omelet, all without having to stand over the stove.
It's also a great way to whip up a high-protein snack during the day when you're busy with work, school, or just in the middle of a very important Netflix binge. The egg maker will let out a sound when your eggs are cooked, and then, all you have to do is enjoy them!"
Promising review: "I didn't believe the hype until I bought it for myself. My boiled eggs come out perfect EVERY TIME. Trust me, this is not one of those kitchen products you buy to make life easier that just ends up sitting on top of the cabinet collecting dust. If you are a deviled egg/hard boiled egg/omelet lover, YOU NEED THIS." —M. Brown
Get it from Amazon for $18.99+ (available in eight styles and eight colors).
4.
A bottle off Truff's truffle-infused hot sauce if you're someone who loves to add spice to your meals, but is in dire need of a tasty new flavor. Truff hot sauce comes in three different levels of hotness — all deliciously flavored with truffle — but what better way to try it out than with the OG?
Promising review: "Soooo good! If you like truffles, this is the hot sauce for you...The flavor is sweet and earthy with just a bit of spice (the black one is very mild and the hotter one is more like low medium heat). I'm eating it on everything! One of my favorite simple things to have it on is rice with just a little bit of butter and Truff. Unbelievably good!! The only problem is that I'll run out of it soon!" —L.
"Made some pulled pork and slapped this on it. Great taste and not overpowering with heat. Kicks in fast and smoothly blends with the food. Be smart and cop this!" —CHiP
Get it from Amazon for $14.97 (available in hot, hotter, hot/hotter combo, and also as a Variety set for $69.99!).

5.
OR the forever favorite Mike's Hot Honey for those who prefer a sweet and spicy mix. Reviewers say once you try it, there's no stopping. Pizza, hot wings, and even cocktails won't be the same without it!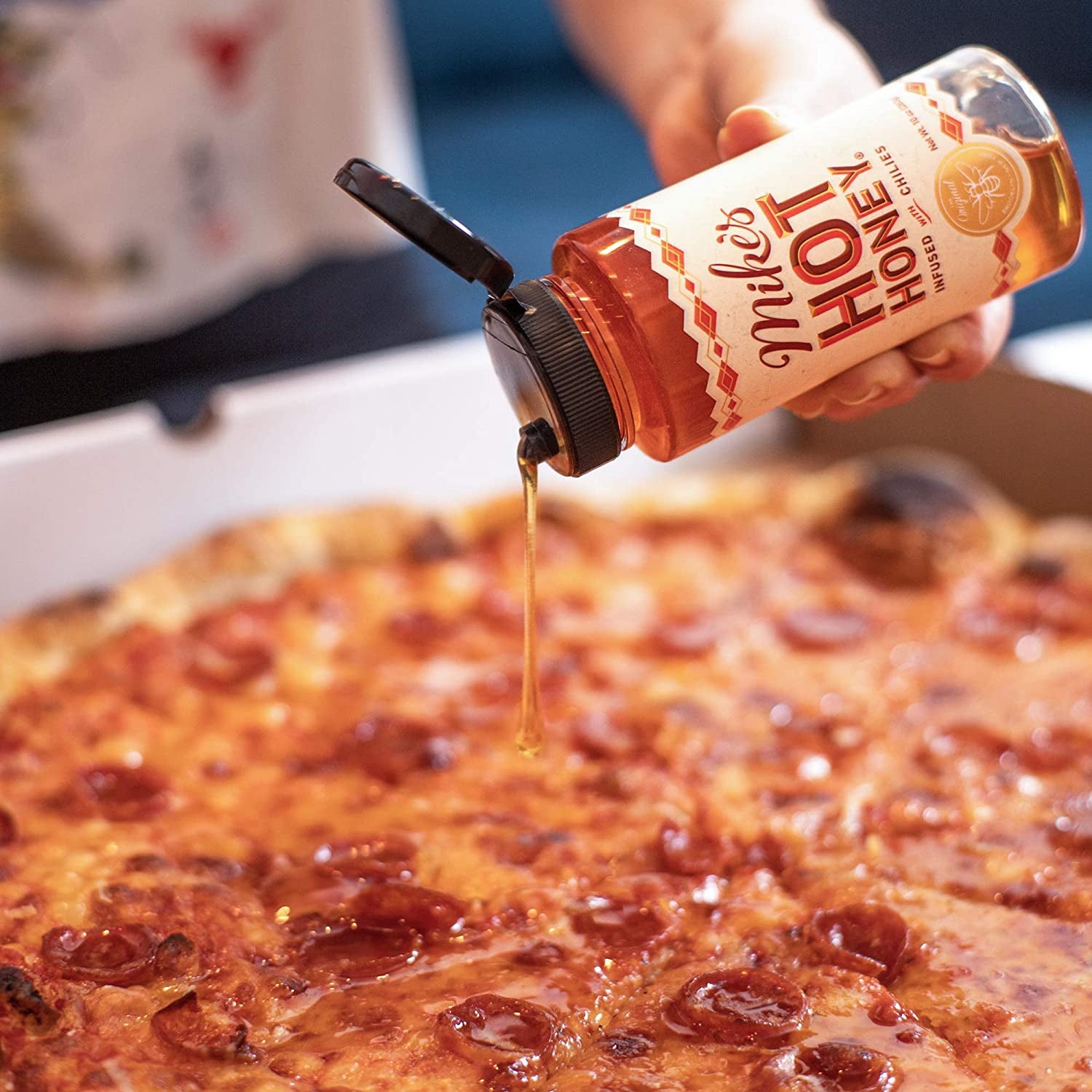 Promising review: "Delicious. You can put Mike's Hot Honey on almost anything. I prefer to keep it simple by drizzling it over baked Pillsbury refrigerated biscuits. It's nice and sweet with a little kick. If you like spicy, you'll love this." —Billy H.

"Is Mike's Hot Honey pretty expensive? Yes, yes it is. Is it worth it? ALSO YES! I put this on everything. Macaroni, pizza, bread, meat, you name it! The flavor is absolutely incredible. 10/10." —Ryan C.
Get it from Amazon for $13.49+ (available in three different flavors, four sizes and in multi-packs).
6.
A 12-piece ceramic, nonstick Caraway cookware set that'll give your kitchen a ✨pop✨ of color with topnotch quality to match. The sauté pan alone is 100% worth the investment because of how many things you can use it for! Bonus points: This bestselling set is oven-safe, has nontoxic coating, AND is easy to store (a lid holder and pan rack are included!).

I own the cream-colored sauté pan from this set, and OMG, the hype is absolutely real. This cookware is gorge in person, but I love that it's actually non-stick! It's so easy to cook on, it's easy to clean, and it's cute enough to leave on top of the stove for all (i.e. me) to see. I'd say it's definitely worth the investment! 
Learn more about this cookware set in our full Caraway Pan Set review!
This set includes a 10.5" frying pan, 3-qt. saucepan and lid, 6.5-qt. Dutch oven and lid, 4.5-qt. sauté pan and lid, four modular magnetic pan racks, and a canvas lid holder with hooks.
Get the 12-piece set from Amazon for $395 (available in six colors) or straight from Caraway for $395 (originally $545; available in 10 colors).
You can also shop the pots and pans individually on Amazon or Caraway starting at $85.
7.
A chic and compact Beast Blender just as useful as it is stylish. The ribbed design helps things blend faster and more smoothly. And bonus points for the matching to-go drinking lid and carrying cap that's included!
Promising reviews: "I'm not a person who typically writes reviews but I love this blender. It was exactly what we needed! It blends everything that our old blender struggled with. Smoothies have become so much easier and it looks so sleek. The controls are intuitive and the to-go container is so convenient! Highly recommend!" —Steph B.
"There are so many things to love about this blender! Its sleek design, quiet motor, and overall look makes you proud to place it on your kitchen countertop. The most impressive part of the Beast is its blending power. The one minute interval program is the perfect length of time to ensure all of your ingredients are fully blended, no need to shake the bottle or re-blend multiple times! Each time I've used the Beast I've gotten smooth, creamy smoothies that taste amazing. Highly recommend this to anyone looking for the perfect blender!" —Allison K.
Get it from Amazon for $165 (available in two colors). 
Check out BuzzFeed's full review of the Beast Blender for more details.
8.
A terracotta bear that'll help maintain the moisture of your brown sugar, therefore keeping it fresh longer. It also works for fresh cookies, cakes, and marshmallows too! Simply soak it in water for 20 minutes and plop it into the sugar bag or baked good container.
BTW, you can also use the terracotta bear to keep things like chips and crackers nice and crispy — just use it dry!
Promising reviews: "This is truly everything it's hyped up to be. My husband placed it in an opened bag of hardened brown sugar to see what would happen. It took only 24 hours and when we opened the bag the next day, voilà! It was completely soft. Very nice product that does what it's designed to do and for a small price." —jsaves69
"[It's a] miracle bear! My brown sugar became as hard as concrete in the airtight container that we store it in. I heard that terracotta helped with keeping brown sugar soft over time and I decided to give it a shot. I definitely do not regret getting this little bear! I soaked it for 20 minutes and then pat it dry before I put in the container. I actually forgot about it for two days and...when I checked, the brown sugar was restored back to its soft and beautiful self! I highly recommend buying this bear. You won't be disappointed! 🐻❤️" —KL
Get it from Amazon for $6.36.
9.
A set of beeswax food wraps made from fully biodegradable organic cotton, jojoba oil, and tree resin. It'll keep your food fresh and lasts WAY longer than foil.
Bee's Wrap is a woman-founded business that's been handcrafting their eco-friendly product in Middlebury, Vermont, since 2012. The company works closely with a number of environmentally conscious groups including 1% for the Planet, The Bee Cause, The Rozalia Project, and National Geographic.
Promising review: "This product totally lives up to the hype. I feel like I'm doing something positive for the environment by using it, and it works really well so far! I'll likely buy more." —Rachel A.
 "Can't recommend these beeswax wraps enough. The antimicrobial aspect of the beeswax keeps fruits and vegetables super fresh for much longer than plastic bags. They keep bread soft and fresh for much longer than Ziplocs. They are so much better for the environment, and they can be reused for months. We have been using our set for almost two years and they are still as good as new. No waste! Just make sure to wash them with cool water, as warm/hot water will melt the wax." —Publisher
Get a pack of three from Amazon for $15.49 (available in four colors).
10.
An Angry Mama microwave cleaner that'll make it waaay easier to clean your microwave (so no more excuses!). Just add in water and vinegar, then put it in the microwave for 5-8 minutes. When it's done, just wipe clean! 
Promising review: "I would give this product more stars if I could. I am a busy mom and my microwave often gets pushed to the end of my never ending to do list. So much so that I would have been too embarrassed to show anyone how gross it had gotten. I finally ordered this with the hope that it would at least help make the job a little bit easier. I was AMAZED! Seriously, the hardest part of the entire experience was trying to get the little mama's head off to fill it and that only took a minute to figure out. I followed the directions carefully and then used a sponge to wipe off the grease and food bits. My microwave looks brand new. I will probably use a microfiber cloth next time though because the sponge pushed the mess around and wasn't needed to scrub at all... If you dread cleaning your microwave order this, I'm telling you it really does work wonders!" —MJ
Get it from Amazon for $6.99 (available in four colors).
11.
An ~app-controlled~ touchscreen air fryer for make quick and delicious meals! With the help of five cooking presets, this Cosori air fryer can help even the worst of cooks make something great. Reviewers rave about making everything from french fries to whole steaks (and some yummy reheated meals in between).
Promising review: "I'm obsessed with it. This Cosori airfryer is incredibly easy to operate and clean. The design is sleek and appealing (I leave it out on my counter). And the results have greatly exceeded my expectations. I'm hooked and I think for the foreseeable future I will be using this almost every day. Here's just a few examples of what I've made so far:- Brussels sprouts: the results of cooking these at home in a normal gas oven have always sucked. While not quite restaurant quality (restaurants use oil fryers) the Cosori comes incredibly close and shaves about 10 min of cooking time.
- Reheating french fries: This alone was worth the purchase. They were crispy and just as delicious from the night before.
- Reheating steak that I cooked to a rare temp the night before on the pan: no complaints and super easy to clean afterwards.
- Bacon: Way faster, way cleaner (and can easily save the bacon fat) and turned out perfect.
I'm so excited to experiment more with this awesome machine. 5/5" —Nolan S.
Get it from Amazon for $99.99.
12.
And reusable air fryer liners to make cleanup a breeze. Because these babies are made of silicone, you'll get years of use!
Promising review: "I was pleasantly surprised at how much easier clean up is with these silicone mats. I've used them several times in my air fryer and they solved the problem of food sticking and made clean up afterwards a breeze. I still spray them with olive oil with whatever food I'm cooking and wash with soapy water when done. I liked them better than the aluminum foil I was using due to holes in them that allow air to circulate and to non stick. The silicone has no odor that I could detect. Quality material. Food gets browned and crispy. They fit perfectly in my Cosori air fryer." —Diane Lareau 
Get a pack of three from Amazon for $10.17+ (available in eight sizes, including two round options).