1.
A bold "As It Was" print inspired by...you guessed it...Harry Styles and the first single on Harry's House. This fun pop art-esque print is sure to be a compliment magnet, so throw it in the living room for all to see!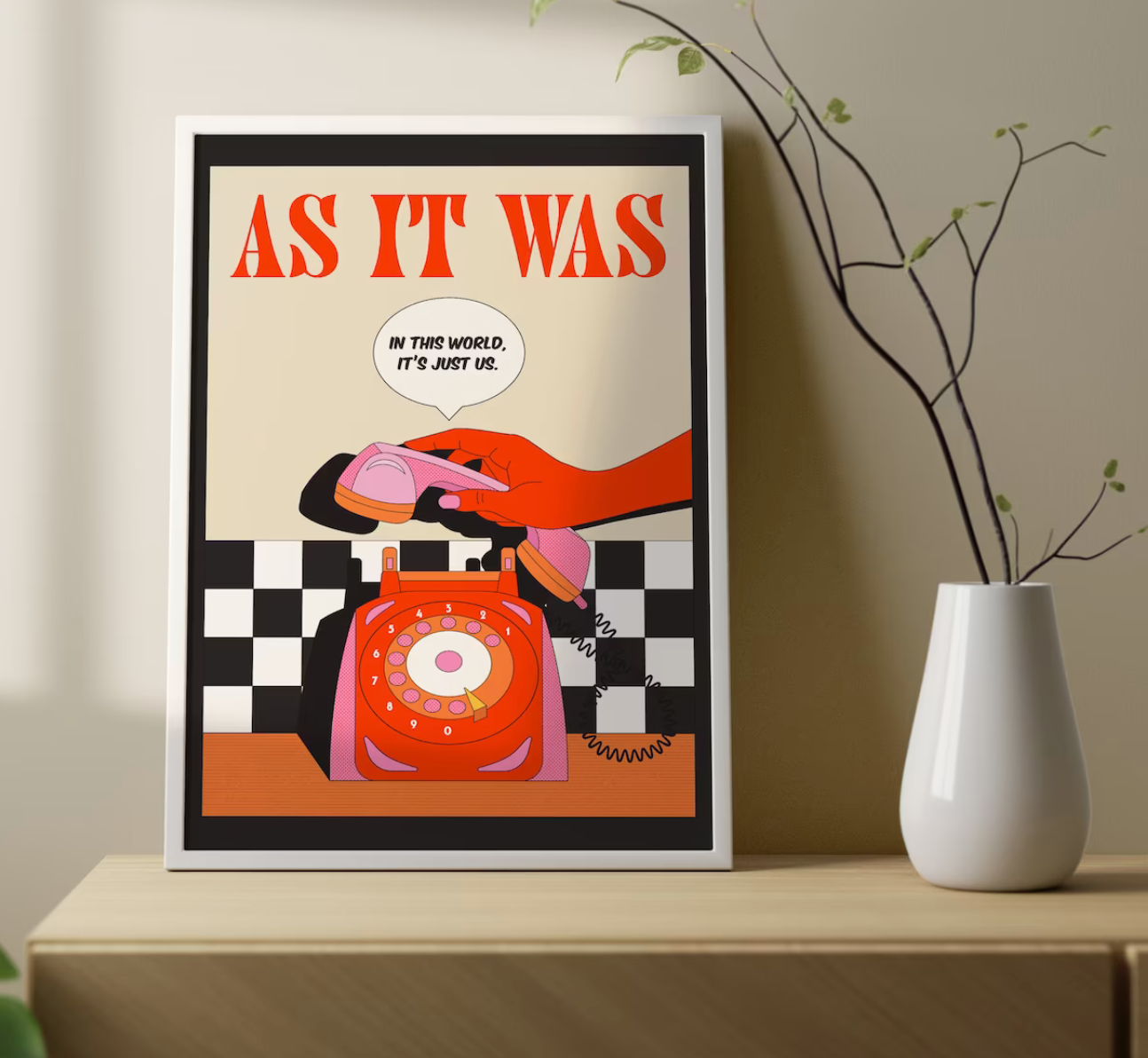 The Whimsy Committee/Etsy
The Whimsy Committee is a Virginia-based Etsy shop established in 2022 that specializes in pop culture-themed art and apparel. 

Promising review: "Absolutely obsessed with this print — saw it on TikTok and rushed to Etsy so fast. The quality of the print is amazing too — can't wait to frame it and hang it up! Thank you!" —Katie

Get it from The Whimsy Committee on Etsy for $21+ (available in four sizes). 
2.
A pair of LED stained glass bulbs to fill a room with colorful and inviting lighting. Be prepared for tons of "where did you get that!?" questions. 
Promising review: "I love these bulbs. They make any room all warm and cozy. Also a fantastic night-light for the little ones. :) Get you some!" —Amazon Customer
Get them from Amazon for $19.98 (available in six styles).
3.
A unique self-watering planter where the self-water feature blends perfectly with the classic terra-cotta pot, meaning there's no bulky bottom or ugly extra pieces you have to stare at. The sleek design of the pot is great and being worry-free about watering your plant is even better!
Simply fill the detachable glass container with water, place the planter inside, and the pot and the plants will absorb water when needed!
Promising review: "I was skeptical about the self-watering pot because I heard about overwatering. But this pot is amazing. The life changer for my monstera and propagated pothos. Super pretty and easy to maintain." —Jihye Kim
Get it from Amazon for $18.99+ (available in three sizes).
4.
A set of ~gorgeous~ stemless rainbow wineglasses perfect for entertaining guests at your parties or nights in with your besties. The color assortment is so unique!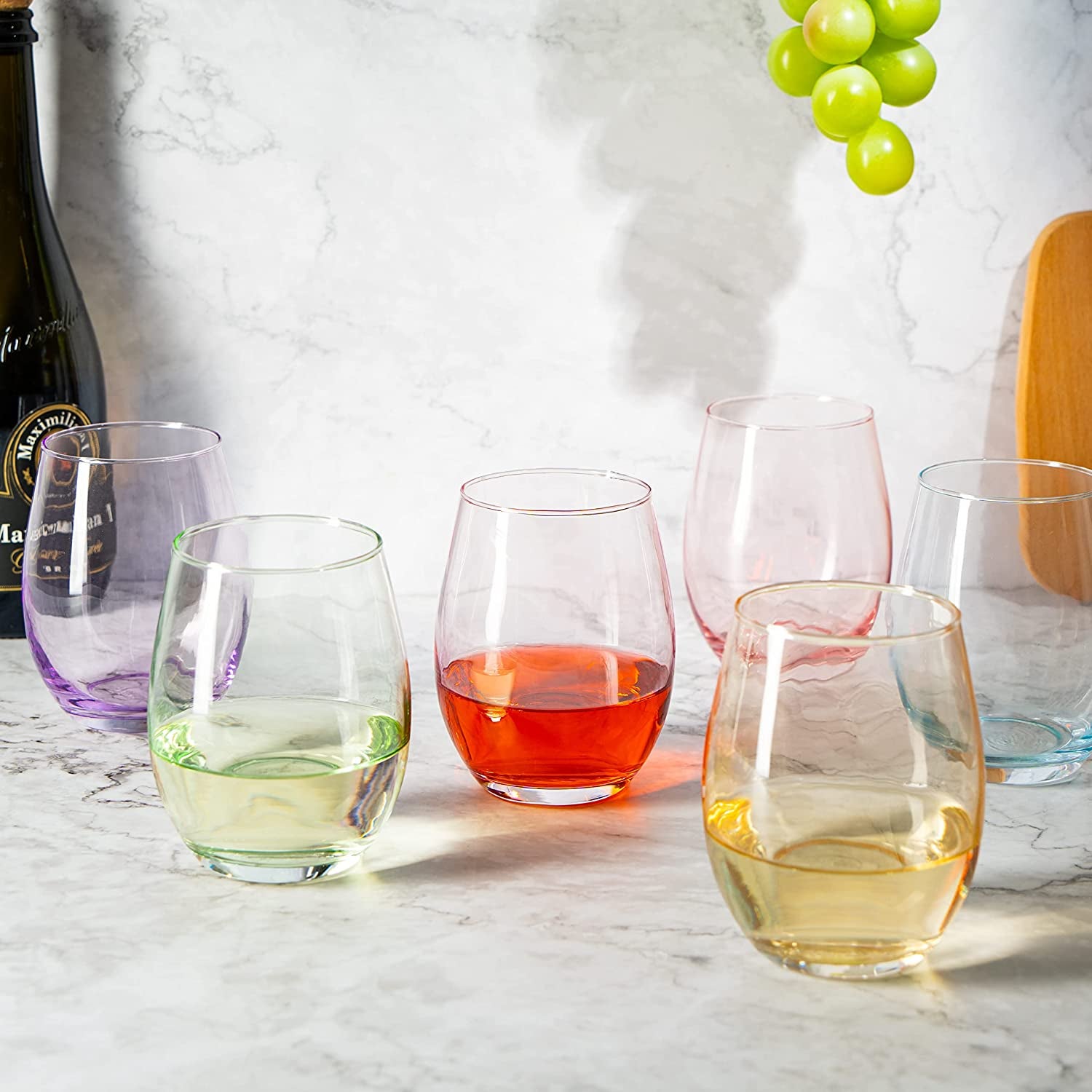 Promising reviews: "These glasses are beautiful and well made. I love the colors of these glasses. They are not too pigmented. The shape is nice and I believe they are a good fit for both red and white wines. I'm very pleased with this purchase." —Amazon Customer
"These glasses are beautiful. They're very pretty colors and look so elegant! I'm excited to display them on my bar cart!!" —Elizabeth
Get a set of six from Amazon for $29.99. 

5.
A pack of silicone hooks for your AirPods because these things are too dang valuable to lose (again). They're also a great help if the shape of AirPods don't quite fit your ears, and you're always readjusting them.
These also work great for wired EarPods!
Promising review:s "Do not hesitate to buy these. My AirPod Pros were constantly falling out my ears and it was so annoying. These anti-slip ear hooks are a life saver. Do not hesitate to buy them, because it works. They help my AirPods stay in place, and I don't have to worry about losing them anymore. The pack includes three pairs of replacements hooks, and a cute little carry pouch." —Simone
"Finally, something that actually makes my AirPod Pros stay in! I was hesitant to try at first seeing as they're made of a silicone material. But they fit and my AirPods stay comfortably in my ears. I danced, I ran, I jumped, I talked, and they still stayed in. I love that they come with three pairs so there's plenty of backups. Great product and a great price!" —Chad Johnson
Get a pack of three from Amazon for $13.95 (available for AirPod 3s and AirPod Pros).
6.
A extendable selfie stick and tripod that even comes with its own remote! Reviewers say it's super lightweight, making it even more portable. 

Promising review: "I purchased this selfie stick to take on a tour to Europe. It is lightweight, small enough to fit in a deep pocket, and easily paired to my phone via Bluetooth. I was able to take many amazing group photos holding the expandable stick and with the tripod with the tiny remote control. It was a hit!" —SavvyShopperNY
Get it from Amazon for $27.86 (available in five colors). 
7.
A sunset projection lamp for gorgeous end-of-day vibes whenever you want them. This lamp can rotate 180 degrees, and provides a light that can go as big or as little as you'd like depending on its position. How can you not see the joy in that?

Promising review: "This lamp really exceeded my expectations. I bought it on a whim and honestly wasn't expecting that much, but I'm really happy with it. Feels like it's made of durable, quality material and emits a strong light (but it's not too bright. I use it in the evenings when I'm trying to wind down before bed and it's bright enough to light up my room without feeling like it's going to mess up my sleep cycles). Highly recommend — really does feel like you're watching a lovely sunset :)" —Amazon customer
Get it from Amazon $20.99+ (available in two colors).
8.
The famous Alleyoop Pen Pal because it works as a multicolor, multifunctional 4-in-1 makeup pen that'll definitely help shrink your makeup bag (and the time you spend going through it). With one click you'll have eyeliner, lip liner, highlighter, AND an eyebrow pencil in the palm of your hand. Genius!
It's vegan, cruelty- and paraben-free, and the packaging is recyclable!
Alleyoop is a woman-owned small biz that takes "beauty efficiency" to a new level. Most of their products are compact and have multiple functions!
Promising review: "This 4-in-1 touchup pen has been such a lifesaver! It is super compact and convenient for on-the-go. I always make sure to have it in my purse before I head out the door. The colors are pigmented, creamy, and glide on the skin easily. Each color is perfect for what I need. I'm obsessed!" —ana
Get it from Alleyoop for $25 (available in three shades).
9.
A pair of super fun puffy slippers from Baggu to ensure their feet stay as warm as possible. These slippers are fleece-lined (!!) and lightweight — the perfect house slipper combo if ya ask me.
10.
A beloved Click & Carry grocery bag carrier so you can lift bulky, heavy bags with ease. This baby can lift up to 80 pounds while resting comfortably on your shoulder. This means you'll only need to make *one* trip bringing groceries in from the car. Yes, please!

Promising review: "TikTok made me buy it. This is great when you have a few bags and a box — for example, if you balance the bags, you can throw it over your shoulder and walk inside and have two free hands to carry the box, which is great. Product seems well built, and is comfortable on your shoulder or hand because of the padding." —Hung

Get it from Amazon for $13.99 (available in five colors). 
11.
A set of airtight glass meal prep containers that are microwave- and oven-safe and have leakproof lids! These bad boys will save you time and each container even has three compartments for easy food separation.
This set comes with to-go sauce cups, too!
Promising review: "Amazing! Best bento-style lunch container I have found so far! Easy to clean and lunch can be reheated in the oven (or microwave)! The glass is nice and thick, and if you are clumsy, no worries, hasn't broken yet even though I drop it all the time! Nice deep sections allow for a LOT of food!" —Danielle
Get a three-pack from Amazon for $27.95 (available in three-, four-, and five-packs).
12.
A set of wireless waterproof Bluetooth earbuds with adjustable silicone tips so they'll fit perfectly without constantly falling out no matter who's wearing them. The buzz on these babies is that not only are they affordable, but they are *super* comfortable, too — just take a look at 185,000+ 5-star reviews!
These come with a wireless charging case that provides up to 14 hours of charge (with the earbuds able to play for 4+ hours with each full charge). The earbuds are also sweatproof and waterproof so you can use them during workouts or runs, (even in the shower!), and have a built-in mic so you can chat on the phone.
Promising review2: "Professional dog walker here. I've had these for a week and I am extremely pleased with this impulse buy. The sound quality is good. Great for the price. I like how you can use either separately if you've synced properly. I didn't read the description very well before I ordered, just reviews, and was surprised they are waterproof, and come with a cordless charging box. The box is awesome, too." —Jimpame2
"[These earbuds] looked cool, were in my price range, and had received a lot of great reviews so I bought them. I'm embarrassed to say that I didn't really read much about them before I purchased them. Just another one of my many impulse buys. LOL! When I received the buds and started reading about them I was floored. They're WATERPROOF! That's great!...The carrying case is very solid and it needs to be because its' also the charger for the ear buds. You DO have to keep the case charged with a USB but when you need the buds charged you simply place them back in the case and whamo. Way cool! I've not had any problems with the buds moving around or falling out of my ears. Just follow their advice on sizing. Also, way cool! But the best feature is THEY SOUND AWESOME! I'm not an expert on stereo or sound equipment but I know what I like and I LOVE these. Buy them! You won't be sorry."  —Trader by the Sea
Get it from Amazon $29.99 (available in six colors).