We hope you love the products we recommend! All of them were independently selected by our editors. Some may have been sent as samples, but all opinions and reviews are our own. Just so you know, BuzzFeed may collect a share of sales or other compensation from the links on this page if you decide to shop from them. Oh, and FYI — prices are accurate and items in stock as of time of publication.
1.
A super affordable sunset lamp so you can feel sun-dappled even if your apartment faces north, in the dead of winter, or even on a cloudy day when your mood could use a boost.
Promising review: "I was kind of nervous about this purchase since there weren't too many reviews. It. Is. PERFECT! And exactly what I was looking for. The light is super bright and the colors show up perfectly (this is against my light lavender wall for reference). I set it up about six feet from the wall, and this is how it looks when projected from that length. You can also move it closer to the wall and angle the projection head up/down to get the width/brightness you're going for. There's an on/off switch to use and it plugs right into a USB outlet. I would definitely recommend this if you're looking for a light like this!" —Meghan
Get it from Amazon $17.99+ (also available in a 2-in-1 dual color version).
2.
A sunset lamp available in an array of different color varieties, including a remote-control version with 16 colors and flashing modes, or a 55-inch model that's big enough to turn your entire living room into a vibe.

Promising review: "We had a movie night in our living room with this sunset glow. Just enough light to see by and it felt like dusk. BUT my kids have this lamp out and made hand puppets on multiple occasions with this! We've had so much fun with it!" —Tell it like it is

Get it from Amazon for $18.99+ (available in six colors/varieties).
3.
A remote control sunset lamp with adjustable brightness settings and 16 different colors, making you the official ambience master for any mood that might come your way.

One CR2 battery for the remote comes with the lamp.
Promising review: "I loved everything about this lamp! The controls are easy and intuitive, its functionality is superb being able to swivel in any direction easily, it's compact but very powerful, and there are so many different modes and colors I'm never bored with it. I keep it on all day on my desk then use it for a nightlight at home. I've had to buy my kids their own because they loved it so much. It's incredibly sturdy by design, I'm not worried at all the kids will break it. I've bought other projector lamps as well and have had issues with one thing or another but now that I've found O-SOME I don't need to look any further for a quality product! Buy this lamp it's the BEST!" —Amazon Customer

Get it from Amazon for $19.98.
4.
A multicolor iridescent sunset lamp for a gorgeous, crystalline glow that I feel would imbue me with superpowers as I curled up in my bed and basked in the serene glow.

5.
An app-controlled sunset lamp causing any bad vibes to disappear the second you turn it on. This thing allows you to mix, match, and create your own custom color palette, all using your phone!

Promising review: "I don't care if you're too old for TikTok, you're not too old for the funky vibes this little thing provides. Just note that it's USB powered so you have to provide your own cube or plug into something else. When I plugged into my desktop my computer said it was taking up too much energy and shut down all the USB ports so using a cube or otherwise not plugging it into your computer is recommended. Otherwise, the vibes are immaculate. Definitely got my $30 worth of serotonin from this baby." —elise
Get it from Amazon for $26.99 (also available with remote control, manual, and in a sunflower shape).
Check out some more viral unique TikTok products here.
6.
A lil mini sunset lamp that may be small, but it comes with a magnet so you can stick it on any metal surface and watch your space become bathed in a dusky glow. On top of that, it's rechargeable, so you don't have to keep it plugged in!

Promising review: "Very well built. It has a strong magnet base that you can place it on the kitchen fridge door or anywhere that has a steel surface. And the light is just gorgeous and dreamy. And it only costs 20 dollars? I'd pay $100 for this based on the quality. So good!" —rainyafternoon

Get it from Amazon for $19.99.
7.
A sunset lamp so you don't have to wait for 5 p.m. to roll around in order to take drool-worthy artsy selfies that will completely revolutionize your grid.

Promising review: "This added such a lovely ambiance to the room. I was happy with how small it was and how much light it throws against the wall. We used it for some photography projects at first. Now we like it so much it is just mood lighting in our living room for hanging out nights with friends. This lamp adds a definite 'cool' vibe to our weekly chill-out nights." —Taj

Get it from Walmart for $16.59.
8.
A sunset lamp that's truly so realistic you'll schedule your naps so you can have the pleasure of falling asleep to its calming rays.

Promising review: "SO PRETTY! This light has a perfect orange glow, not yellow so it doesn't strain your eyes. You can move it around for a bigger area or smaller, I turned it into my main living room light! Attached picture is in the same room as the light! Beautiful tones." —Emmy Prebb

Get it from Amazon for $19.99.
Check out more soothing products to help get you through another day.
9.
An astronaut sunset lamp that's out of this world cool — not only does it project an intensely beautiful light onto your wall, but you can turn it on and off with a lil tap on the head.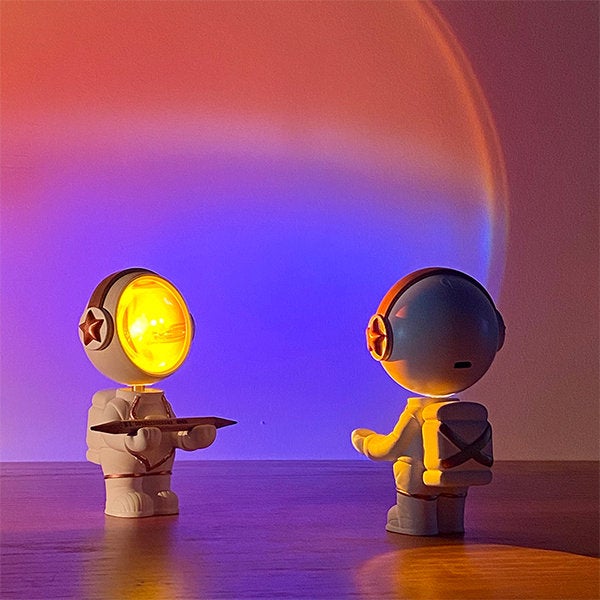 Promising review: "The lamp itself is super cute! I love the vibrant orange and blue it projects (in the photos it looks a bit dull but it's very bright in person). I like how the lamp is very sturdy and hefty (it holds more a than pencil, it can actually even hold my phone haha). Overall love the product (my cat loves to look at the light projects)." —Nicole C.

Get it from Apollo Box for $49.69 (available in two colors).
10.
An app- and remote-controlled adjustable sunset lamp turning your life into the coolest movie ever, thus fueling your main character syndrome to heights never seen before. 

The remote requires two AAA batteries, not included.
Promising review: "I literally spent weeks searching for a sunset lamp because almost every single one had reviews saying how the light was dim, remote doesn't work, the neck is broken, etc. so I was extra cautious on which one to buy. I came across this one and although it is a little more than what I had planned to spend, it was definitely worth it. I've had no trouble with the remote whatsoever (it requires two AAA batteries that don't come with it). There was literally no set up at all, the lamp is already assembled. So I highly recommend this!" —Victoria
Get it from Amazon for $22.99 (also available with separate remote and app control).
11.
A sunset lamp with multicolor or single color capabilities, so you can have the world's most unique rainbow just chilling in your bedroom, ready to boost your serotonin at a moment's notice.

The remote control for this lamp requires two AAA batteries, not included.
Promising review: "The greatest vibes and the most perfect sunset lamp! 🌞 I ordered this product not sure if the company/lamp was legitimate because it has several light settings — and I was blown away with the product and vibrancy of the colors!! Such a great purchase and I will MOST definitely be buying from them again! Thank y'all so much!!" —Tanner

Get it from Amazon for $17.79.
Your new sunset lamp fighting all the bad vibes in your room:
Reviews have been edited for length and/or clarity.