The New Horror Movie "The Nun" Had An Ad So Frightening, YouTube Had To Pull It
Um, I'll be having NUN of that. *Bu-Dum-Tss*
Look, as a horror fanatic, I love a well-executed, warranted jump scare just as much as the next person.
BUT, the jump scare marketing around the film went a little too far this week, causing Twitter user bbydvas to tweet out a warning in reference to an ad they'd seen circulating around YouTube for the upcoming film.
The warning quickly went viral, racking up over 145k likes in 24 hours, making it very clear this user was not alone in their experience with the ad.
So, out of morbid curiosity, I tracked the ad down to watch it. WARNING: Do not turn your volume up unless you hate having the ability to hear clearly.
The design of the ad makes it too short to skip, and also tricks people into thinking their volume is broken, which makes them CRANK it up, only to be greeted with a SCREAMING NIGHTMARE NUN.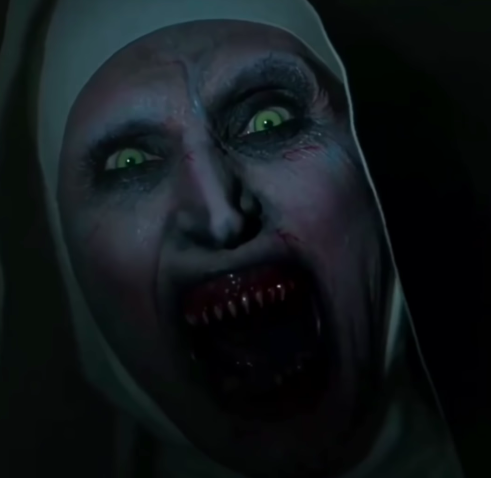 This was literally my face watching the clip, fully expecting the scare, in a well-lit and crowded office:
While the clip by itself in this isolated setting isn't TOO bad, I will freely admit I would've been pretty freakin' scared if it played as an un-skippable ad before, say, a friendly make-up tutorial.
Especially if I had on headphones. Especially at night.
And while those with anxiety didn't appreciate a terrifying, un-skippable ad, they DID appreciate being warned.
The good news is that, given the quick backlash, YouTube has responded, stating that the ad will no longer run before videos since it violated their "shocking content policy."
The Nun hits theaters Sept. 7th, 2018 but, until then, catch me reacting to every slightly suspicious YouTube ad like: