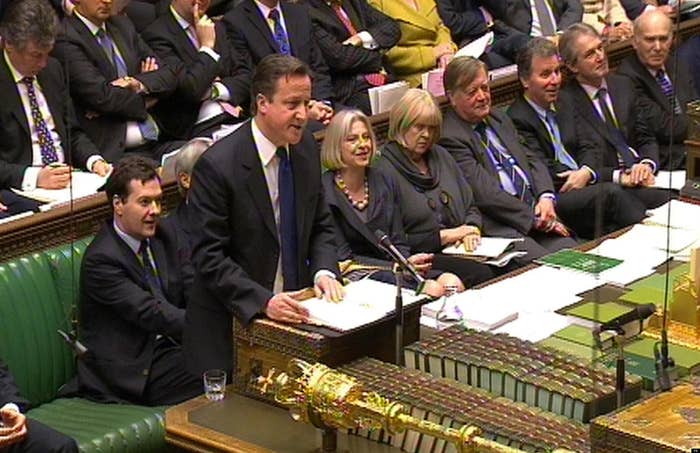 After some X-rated anonymous briefings from No10 regarding Ed Miliband's decision not to support the Prime Minister over Syria last week, the pundits predicted a spiky Prime Minister's Questions. It didn't come to pass.
Neither leader attempted to land a blow, with the exception of David Cameron's sign-off, when he claimed "it was not necessary to divide the Commons on a vote leading to another vote."
There was a certain hiss to the way he delivered these words (much like his previous statement that Miliband's behaviour is "a matter for his own conscience"), but this was as testy as it got.
Why? Foreign policy is usually a matter where consensus is quickly reached, but there's also a huge amount of uncertainty over how the situation will develop in coming months.
Perhaps that's why the discussion seemed rather mundane. If you were being daring, you might even describe it as "constructive". Miliband asked the Prime Minister to get other countries to match the UK's aid commitment to Syria. Cameron said he'd do this. Both leaders found common ground on the need to find agreement between the countries backing the rebels and the countries backing the Syrian government.
Miliband (and later Jack Straw) pressed the need for greater diplomacy with Iran. It's not hard to see why. The new president looks like the kind of man with whom we can work:
Indeed, he comes across as a genuine liberal:
But it's not that simple. The fear persists that like previous men in his role, he is little more than a puppet for the religious elite. As David Cameron told Jeremy Corbyn MP:
If you are trying to build a relationship with someone it depends on the actions they take.Given that the Iranian government was complicit in the complete smashing of our embassy and residence in Tehran, we will want to see some actions so we can build that sort of relationship.I have reached out by writing to president Rouhani congratulating him on his accession to power and wanting to discuss these issues.But I said, if we believe there's just some magical key to the Syrian conflict by suddenly adopting a totally different posture towards Iran, I don't think we will be making a very good decision.
And there's a great deal more going on beneath the civilised show we saw today in the debating chamber. Privately, Cameron and his aides are utterly furious with Miliband. What actually happened last week was for days a matter of confusion. It's only as the dust settles that we're beginning to see a clearer picture. And we can see that we've somehow removed the option of military intervention despite the fact both parties want it to be available, and the public is still making its mind up. Parliament: your one-stop shop for everything no one wants.
Both leaders made errors. Cameron was too intemperate. The Joint Intelligence Committee report he presented was threadbare in comparison with the US evidence. And it was poor of him not to foresee the possibility of losing the vote and failing to whip his backbenchers better. But Miliband lost his nerve too quickly. No doubt Cameron's haste didn't help, but he must shoulder some blame. To quote Mary Riddell in the Telegraph:
On Thursday morning, hours before the debate began, the Miliband camp heard that the Tories were telling journalists that the motion would, "in principle", back military action.And so the leadership whipped MPs to vote against it, to the dismay of many. "A bit of briefing should not be enough to alter the strategic direction of the country," says one leading figure who finally voted "with heavy heart" against a proposal which Labour still expected the Government to win.
The trouble is that it's upset senior Labour figures who wanted the option of intervention on the table as much as it has the Tories. This week Miliband announced he'd only ever support military action if al-Qaeda procured large amounts of chemical weapons or national security was at stake: the notion that Britain wouldn't intervene in case of humanitarian catastrophe (not that there isn't a case for describing Syria as such right now) is anathema to a greater section of the party than the most hawkish elements of the Blairite wing.
Meanwhile, foreign leaders meet at the UN today to see what can be done about the refugee crisis, as the UNHCR warns of the biggest refugee crisis in history. Barack Obama is buoyed by Congress seeming to go his way. Now the question is whether regime change ought to be part of the goals. For Russia's part, President Putin warns that strikes without UN support would be considered aggression, but not longer excludes the use of force entirely. As the host of the summit, he will want to look magnanimous.
We hope the talks progress well. This is what's at stake.
This post was created by a member of BuzzFeed Community, where anyone can post awesome lists and creations.
Learn more
or
post your buzz!