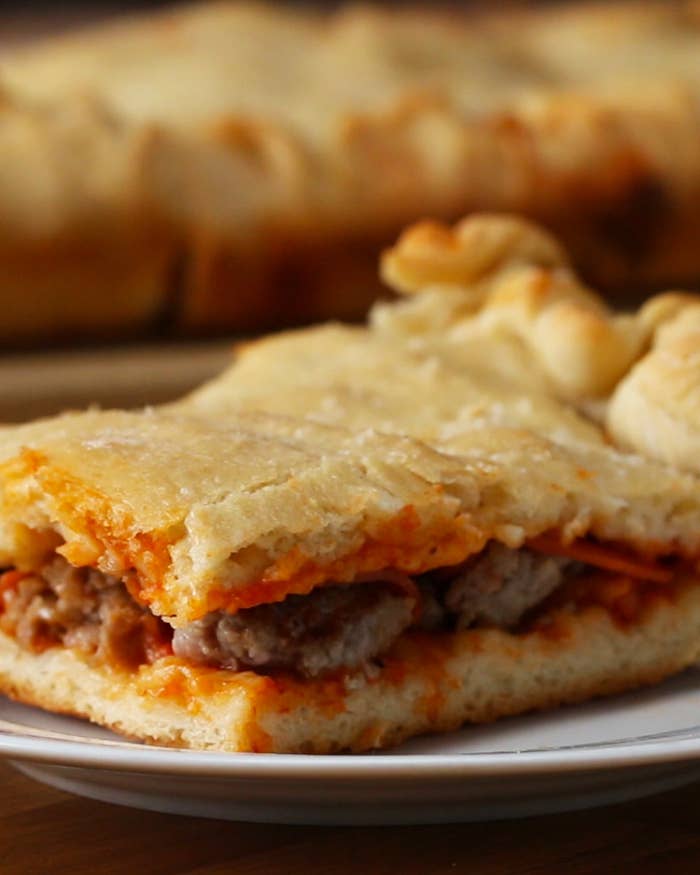 Ingredients:
for 8 servings
nonstick cooking spray
2 lb pizza dough, rolled out, divided (905 g)
1 cup marinara sauce (260 g)
2 cups shredded mozzarella cheese (200 g)
TOPPINGS
shredded cheddar cheese
shredded parmesan cheese
pepperoni
sausage, cooked
bell pepper, sliced
mushroom, sliced
black olive, sliced
ham, chopped
pineapple, sliced
olive oil, for brushing
1 teaspoon salt
Preparation:
1. Grease a baking sheet with nonstick spray and lay out half of the pizza dough on the pan, stretching it to make sure the dough reaches the edges.
2. Pour the marinara sauce over the dough and spread evenly with a spoon, leaving about an inch (2 cm) at the edges.
3. Top evenly with the mozzarella.
4. On the first vertical quarter of the pan, sprinkle the cheddar and Parmesan.
5. On the second quarter, add the pepperoni and sausage.
6. In the third quarter, add the bell peppers, mushrooms, and olives.
7. On the last quarter, add the ham and pineapple.
8. Preheat the oven to 350°F (180°C).
9. Place the remaining dough over the topped pizza. Fold the bottom edge of dough over the top edge and pinch to seal the edges.
10. Brush the top with olive oil and sprinkle with salt.
11. Use a paring knife to cut 2 vents on top of the pizza.
12. Bake for 40 minutes, or until golden brown.
13. Slice and serve.
14. Enjoy!