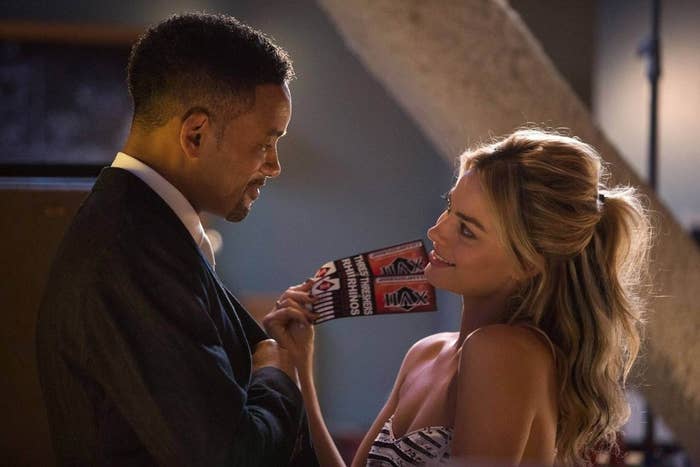 No profession gets more flatteringly upsold on screen than that of the con artist. There's every possibility that the life of an actual career grifter is one of clammy desperation and sociopathic predation, built on bilking money out of the most vulnerable. But in the movies (and on shows like White Collar), scammers frequently look glorious, swanning through the lobbies of high-end hotels and swank casinos in sleek designer wear, wheeling and dealing to rob only the deserving — the cruel, the greedy, the arrogant, the criminal, and the corporations covered by insurance. There's honor among thieves, a community, a shared lingo. On screen, conning gets to be a craft, or more accurately, a magic trick in which the audience gets to witness the setup but still be surprised by the payoff when it turns out there's another layer to the con we never saw coming.
Focus, the new film starring Will Smith and Margot Robbie and written and directed by Glenn Ficarra and John Requa (Crazy, Stupid, Love.), takes place in that rarified realm of high-thread-count sheets and last-minute twists. It tips its hat to Out of Sight, the lighter-than-air likes of Ocean's Eleven, The Sting, and Trouble in Paradise, and the spies-turned-corporate-moles in Duplicity. Focus, which hits theaters on Feb. 27, doesn't work as well as any of them, but it's still a perfectly pretty meringue of a movie that offers a nice showcase for Smith's movie star allure and a better one of Robbie, who more than keeps up with her more famous romantic lead, even when her character doesn't.
The action starts in New York, where the experienced Nicky (Will Smith) takes newbie Jess (Margot Robbie) under his wing, then heads to New Orleans for some Super Bowl-adjacent scams, at which point Nicky dumps his protégé after they become involved. Three years later, we pick up in a plush slice of Buenos Aires, where there's a race car team owner named Garriga (Rodrigo Santoro), a proprietary fuel burn algorithm, and the reuniting of the former lovers and colleagues, who aren't sure if they trust each other anymore.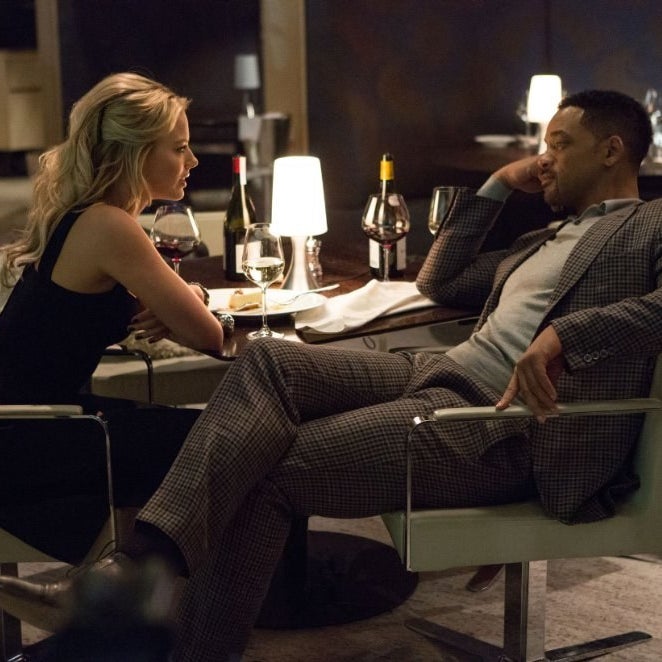 Focus, in its steathily soft heart, is a romance first and foremost, something it can't pull off as deftly as its protagonist can his latest sting. Smith and Robbie have chemistry, but never generate heat — their relationship is most convincing when the two are playfully bantering like a teacher and his favorite pupil, before they fall into bed together and the camera modestly cuts away. The 22-year age difference between the two actors isn't as glaring in practice as it sounds, because Smith apparently stopped aging a few decades ago and Robbie's got a grown-up air. Still, their characters never get to be equals. Jess is a lightweight, while Nicky's the emotionally distant schemer, and the former's femme fatale potential never materializes — the story ultimately becomes one of getting the girl, not who will betray who. No matter! The scenes between the two in a variety of fancy restaurants around the world are delightful, and Robbie brings a vibrant openness to Jess that may not be a great quality when it comes to deception, but is certainly charming on screen.
The secret promise of these sorts of stylized con stories isn't the crime so much as the luxury — these characters love the finer things, but they come from a completely different world. Their schemes give them access not just to money, but to the general opulence the assholes from whom they're stealing never really appreciate. Nicky's a third-generation grifter from Harlem, and Jess is a dyslexic foster kid who declares herself lucky to not be a hooker. But they make such good rich people. Whether it's Nicky lying his way into a five-star restaurant by pretending to be a famous chef or Jess taking in the air from the balcony of a New Orleans hotel on an elegant side street, they seem to appreciate these things better than the characters for whom they come easily.
The big cons in Focus are generally insane — there's one involving subliminal messaging that's laugh-out-loud implausible — but they're just a means to an end, and that end is Nicky and Jess hanging out in a luxury suite at the Super Bowl, sipping wine in an airy Buenos Aires courtyard, and mingling at a party filled with Formula One higher-ups. They have such good taste and they look so fantastic in those clothes — too fantastic to have to work their way there, which is a sucker bet, despite a monologue from the scene-stealing Gerald McRaney about the "lazy Sunday softness to your generation." Why work for some of these things when you can just take them from the undeserving, the unappreciative, the careless? When they're framed that way, and look this lush, cons seem to make sense. Maybe there is an art to them, after all.