If you tuned into last night's Season 26 premiere of The Simpsons, "Clown in the Dumps," you were treated to an opening sequence that featured Homer as a floating tentacled head, a seriously deformed Lisa, and Bart as a flailing blob groaning, "Don't...don't have cow, man!"
That's what happened when the long-running Fox animated comedy turned its couch gag over to guest animator Don Hertzfeldt, an indie filmmaker known for his amazing and amazingly strange work with hand-drawn animation.
The 38-year-old Hertzfeldt is actually an Oscar nominee, thanks to his hilarious 2000 short Rejected (below with commentary), which told the fictional story of how he was commissioned to make animated sequences for TV networks and commercials, only to have them all rejected, leading to his breakdown.
His Simpsons couch gag bears plenty of similarities to Rejected, including an implicit critique of the show he's been commissioned to work for. In the futuristic date of "Septembar 36.4, 10,535," when apparently the world's been taken over by "the dark lord of the twin moons," The Simpsons is still chugging along in barely recognizable form, its characters mutated forms of the originals, droning out catchphrases while text on the side notes: "CONNECTING TO NEURAL NETWARK... AMUSEMENT IS CONTROL."
But Hertzfeldt is a longtime fan of The Simpsons as well. On Twitter, he posted a photo of himself in a Bartman shirt from 1990.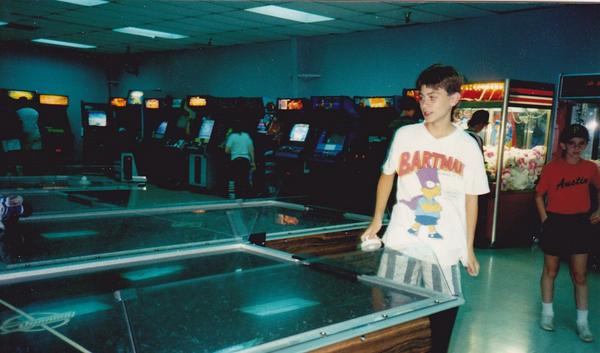 For more of Hertzfeldt's unique films, check out his YouTube channel. His most recent work is a trilogy of tragicomic shorts about a terminally ill stick figure named Bill that he combined into an incredibly sad and funny feature titled It's Such a Beautiful Day. You can watch the first part, Everything Will Be OK, below.
The Simpsons airs Sundays at 8 p.m. on Fox.