Salma Hayek Eats A Monster's Heart In The World's Darkest Fairy Tale Movie
Hayek gets gory and Vincent Cassel gets randy in sumptuous fairy tale film Tale of Tales. Another Cannes premiere, Our Little Sister, aims for more grounded family drama.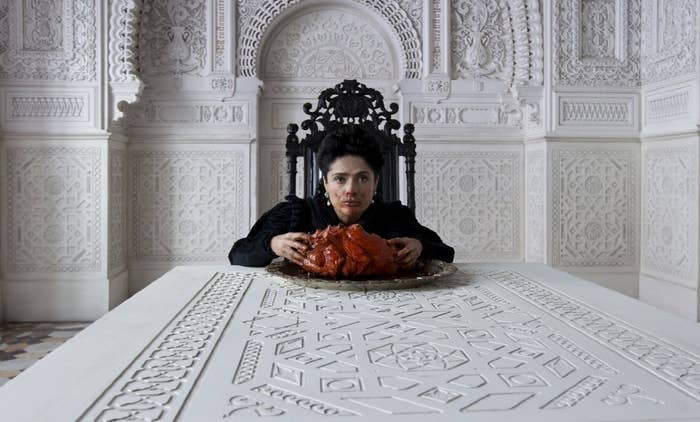 Of all the darkly evocative images that fill Matteo Garrone's Tale of Tales, the one that lingers longest is of Salma Hayek sitting at a banquet table, devouring a sea monster's heart. She does so thoughtfully, with determination if not enjoyment, alone in an ornate white room — the better to see that blood with, my dear. That piece of meat represents a bargain she's made. She's the queen, and the strange meal has come at a high price — the life of the king (John C. Reilly) — that was willingly paid because she's been promised it will lead to a child.
It's the kind of deal that usually comes back to bite you in fairy tales, in which a careful-what-you-wish-for lesson tends to accompany most instances of magical fulfillment. But Tale of Tales, which just had its premiere at the Cannes Film Festival and doesn't yet have U.S. distribution, draws from the Pentamerone, a set of stories that are older and less familiar than the versions the Brothers Grimm would later publish — they're tales that don't always come around to the expected morals.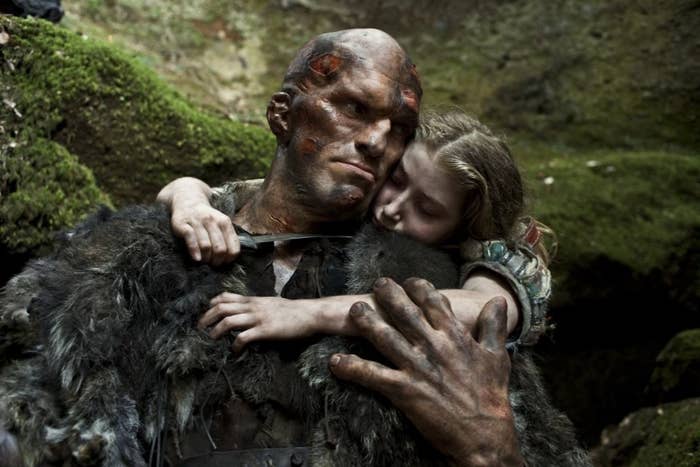 The queen, for instance, gets her child, a beloved son with albino-white hair, but then has to contend with the identical twin born to a servant girl who helped with the conception spell. In another castle, a lascivious king (Vincent Cassel) falls for a woman based on the loveliness of her singing, not realizing that she is actually one of two dye-stained spinster sisters (Hayley Carmichael and Shirley Henderson) who most decidedly are not the nubile beauty of his imagination. A third king (Toby Jones) adopts an unusual pet, and following its death, comes up with a plan to keep his impatient daughter (Bebe Cave) from marrying and leaving home — a plan that backfires spectacularly.
Garrone, whose last two films took on organized crime (Gomorrah) and reality TV obsession (Reality), has ventured into considerably more fanciful territory for Tale of Tales, which intercuts its three stories but only occasionally lets them touch. He's created such a lush world, with cinematographer Peter Suschitzky and composer Alexandre Desplat, that it takes a while to settle into the fact that there's little underneath its strange, stunning surfaces. An ogre makes off with a princess, a mother chases her son through a stone maze, a witch nurses a weeping woman at her breast, two brothers hide beneath the water like merfolk. Sometimes uniting themes threaten to emerge, about arrogance, or controlling parents, or vanity, but they never really do, and in the end, the tales are really just three separate, phantasmagoric ones, pretty, but never fitting together as a greater whole.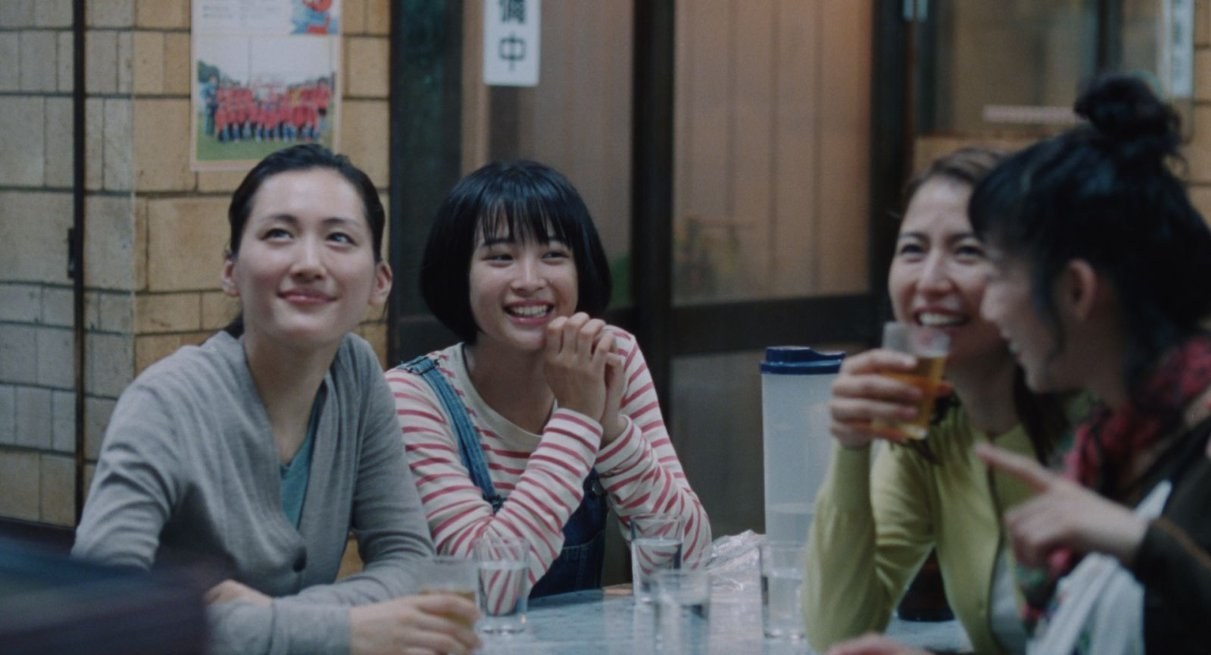 There's no trace of the fantastic in the perfectly pleasant family drama Our Little Sister. Instead, this movie, which was picked up by Sony Pictures Classics for a U.S. release just after its Cannes premiere, grounds itself firmly in cozy domestic details. Like most films from Japanese director Hirokazu Koreeda (Nobody Knows and the wonderful Still Walking), it's resolutely understated, though it has a sentimental streak that sometimes makes it a little too sticky sweet. Based on a manga by Akimi Yoshida, Our Little Sister tells the story of the three Koda sisters, who range in age from their late teens to late twenties, and who impulsively invite the half-sister they've only just met to live with them in their rambling family home in the picturesque seaside city of Kamakura.
Suzu (Suzu Hirose) is a 15-year-old who's serious beyond her years after caring for her dying father when her frivolous stepmother passed on the responsibility. But she slowly blossoms in the care of her older siblings — motherly Sachi (Haruka Ayase), fun-loving Yoshino (Masami Nagasawa), and quirky Chika (Kaho). The sisters joke about how their house is a women's dormitory, but it's really a home they've shored up themselves in the face of parental neglect, and have strengthened with rituals of homemade plum wine, shared breakfasts, and battles over borrowed items of clothing.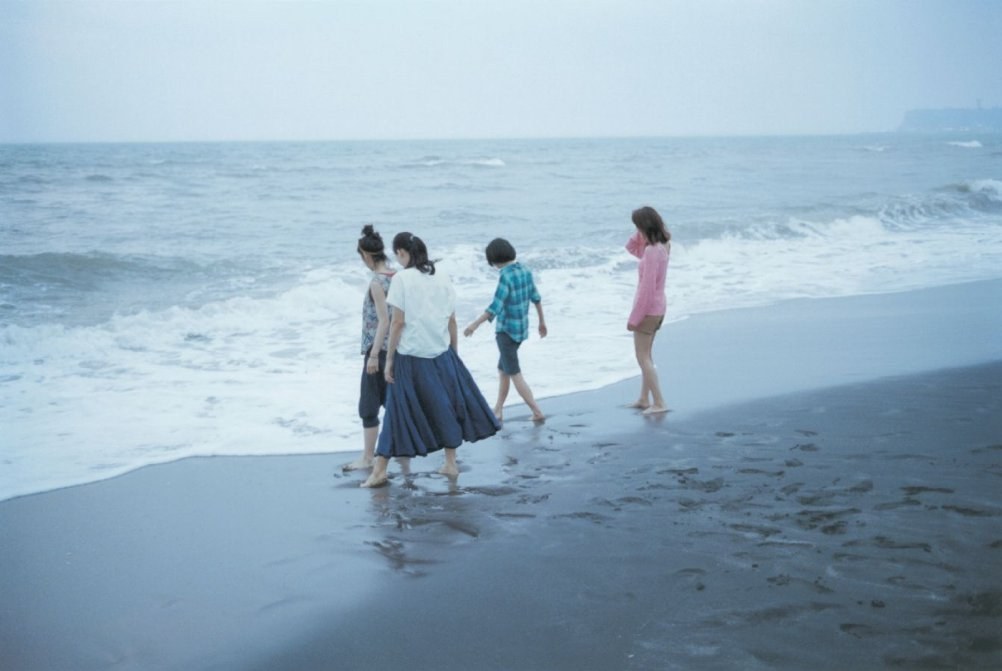 Over the course of the movie, we learn that the Kodas' mother also left Kamakura and her children when her marriage ended because her husband left her for another woman — Suzu's mother. The finest parts of Our Little Sister are when we see the cracks through which the girls' repressed anger, frustration, and grief bubble up, when we understand just how stable and strong the sisters have grown up to be, despite parents who chased their own desires rather than standing by their daughters.
The movie is gentle with this feckless older generation, including the four girls' never seen "kind but hopeless" affair-prone father — it's gentle with everyone, a generosity that's admirable but that also leaves it short on conflict and forward motion. Still, the Kodas' initial gesture of inclusion, of offering up their hard-won home and refusing to let Suzu be saddled with her parents' baggage, grows more and more breathtaking in retrospect, a quiet act of grace and love that the film provides just the right showcase for.