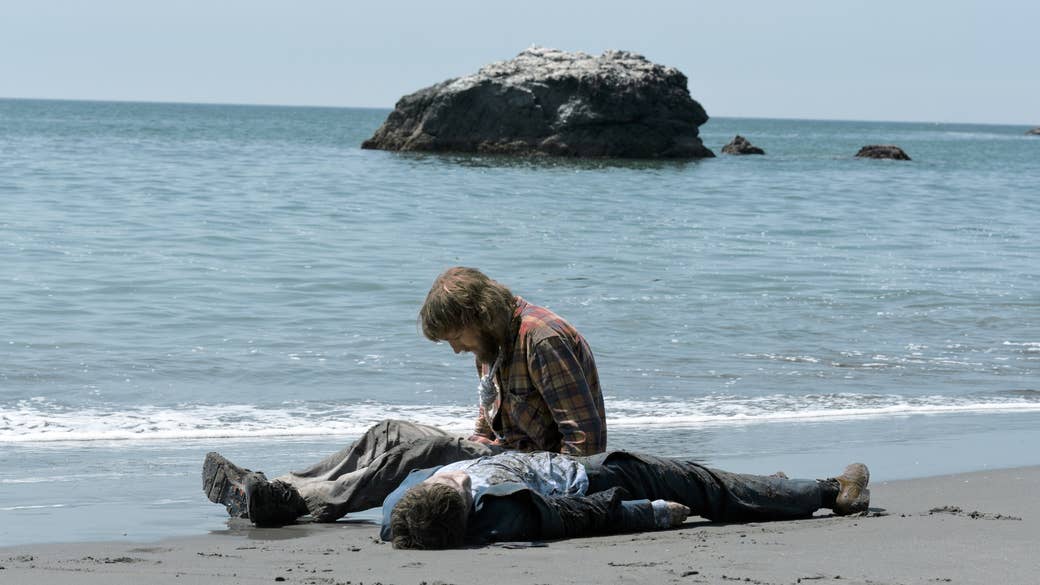 Dan Kwan and Daniel Scheinert are filmmakers and music video directors. They are not trolls.
That may feel like a strange point to have to make about a duo whose feature film debut not only screened at Sundance in January but also won the directing prize. But that's what happens when your absurdist buddy movie begins with a suicidal, shipwrecked guy (Paul Dano) riding Daniel Radcliffe's corpse back to the mainland, courtesy of the dead dude's flatulence that powers them through the water like a Jet Ski. People start to think that you're playing some sort of extended prank on the audience, and, as was widely reported, some of them walk out.
But that's what makes Swiss Army Man one of the festival's most famous and infamous screenings ever.

Some of the audience members who didn't leave the theater, however, were moved to cry — because Daniels, as the pair is professionally known, managed to make a gross-out magical realist wilderness saga that deals with themes of loneliness and depression and body shame. In their hands, Manny, which is the name the dead body offers up when it starts talking, turns into a combination life coach/multi-tool/compass/water bottle helping Dano's Hank survive, journey home, and perhaps overcome the repression that's been holding him back.
It's less about fart jokes than it is, as Kwan puts it, about "fart drama."
The first time Swiss Army Man screened, for what's traditionally a more staid crowd down in Park City, Utah, a woman rushed the stage afterward to talk to Kwan and Scheinert about what it meant to her. "She was like, 'I'm not supposed to be on stage right now, I know,'" Scheinert explained. "'But I just wanted to tell you, I have one friend, and he can fart in front of people. And I have another friend who can't, and he would be so much happier if he could.'"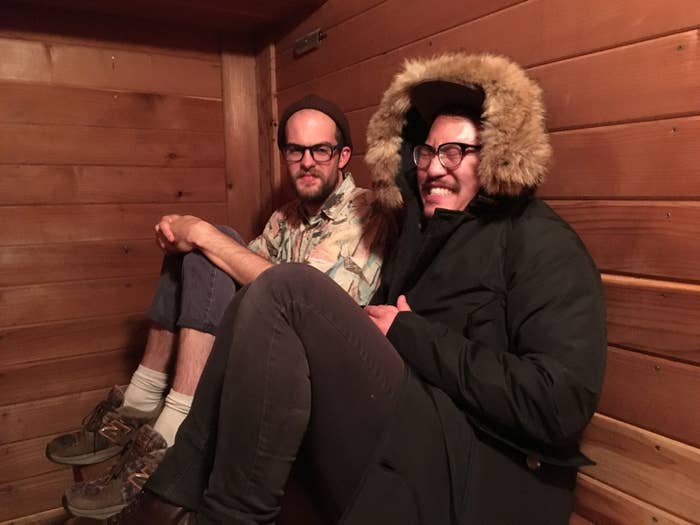 During the fest, the filmmakers shared a swank Deer Valley house with Dano, Radcliffe, their co-star Mary Elizabeth Winstead, various other producers, crew members, significant others, and a dummy version of Manny used during filming, his hand revealing the small size of Radcliffe's extremities. Kwan and Scheinert decided to do this interview in the house's sauna, initially as a joke: The racquetball court, which the house honest-to-god also contained, had terrible acoustics, and also the sound guy had been camping out in there. But like Swiss Army Man, the concept went from goof to warm, fuzzy feeling quickly, because sitting there in that wood-lined room, fully clothed and flatulence free, was the first time I hadn't felt cold since arriving in Utah.
Kwan and Scheinert, who are 28 and 27, respectively, met in an animation class at Emerson College, where they discovered they shared first name and sensibility. As Daniels, they've made shorts and music videos marked by a playfully anarchic spirit, taking high concepts to some hilariously low places. In their 2014 short "Interesting Ball," they appeared as themselves in one of several surreal plot strands, with Scheinert offering a sincere testimonial of best friendship while slowly getting sucked inside Kwan's asshole. In their music video for DJ Snake and Lil Jon's massive hit "Turn Down for What," which has over 383 million views on YouTube, standard-issue sensuality gets warped into the preposterous and the grotesque. It's partying as an infection, with Kwan and a collection of dancers wreaking havoc with body parts that acquire a life of their own.
So bodies aren't exactly a new interest. "We wanted to make them gross and celebrate them," Scheinert said of Swiss Army Man. "Celebrate them for the freedom they unleash, not the sexuality they represent." Kwan added, "It is fun to intellectualize these stupid things, but I do think it does call to attention the fact that we are just bodies — these weird, physical things that we have no control of, and we are often ashamed of, and our brains are extensions of that."
Swiss Army Man may have its fart jokes, but it's sincere in its central question: If you don't feel free to fart in front of your best friend, even if he's a dead body who may or may not be a hunger pang delusion, then how are you ever going to be comfortable opening up about anything else? Or, as Scheinert put it, "There's no heartbreak without the farts."
The movie's confounding combination of the wacky and the sincere is one he chalks up to being part of the internet generation. "It's hard to be affected anymore. It's hard to make someone laugh and even harder to make someone cry. That's important for us as filmmakers — to be able to push people into very earnest places," Scheinert said. "[But] because we're so self-conscious about being earnest, we have to bury it in something that feels like it undercuts it."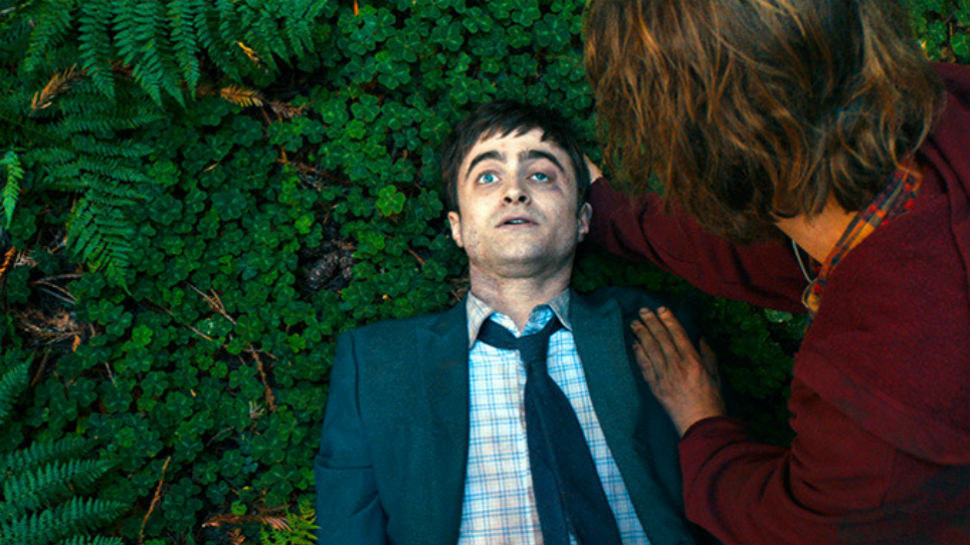 Kwan and Scheinert can be looked at as successors to David Fincher, Michel Gondry, and Spike Jonze, who established themselves as virtuosic music video mavens before going on to film careers. But, Scheinert pointed out, the types of movies those directors went on to make, the Being John Malkoviches and Eternal Sunshine of the Spotless Minds that were obvious influences on Daniels, "fell by the wayside."
"I feel like there's something of a bummer going on in the film industry that has gotten rid of the niche they used to live in, of the late '90s and early 2000s," Scheinert said. "Like, Oh, people with crazy ideas can get enough money to go for it."
Instead, people with crazy ideas go to Sundance, which has been a learning process for Daniels. "The nice thing about shorts is, you come up with a concept, you push it as far as you can go, and then you let it go," Kwan said. "With this film, we just weren't allowed to let it go, and it was really frustrating, actually. We'd have to take a step back and be like, 'This is a mess. OK, let's figure out what it all means now.'" But, he allowed, "My favorite filmmakers never really know what they're doing until the end. So that was at least a little bit encouraging."
And in the meanwhile, they've gotten two famous actors to go gleefully outside of their comfort zones in a way that certainly helped the film get picked up by A24 for a planned theatrical release this summer.
But, Scheinert said, "This isn't just like a celebrity doing a fun indie on the side. This is crazy, for everybody involved."
So, maybe a little like a prank after all? "I'm slowly realizing we accidentally pranked people twice," Kwan added. "The first prank was, we made everyone think this was a Sundance drama, starring two actors you love."
"Then they showed up, and there was so much farting. Now people keep coming, and they're expecting all these farts," Scheinert chimed in.
"Instead, they are moved by it," Kwan said. "They have some sort of emotional or philosophical experience, thinking it's going to be a fart. To me, that's the most important prank, right there: people having very low expectations of something, and just being completely blown away."