1.
A Zipuller if you live alone and really don't want to spend 30 minutes attempting to wriggle the zipper up your back like a contortionist.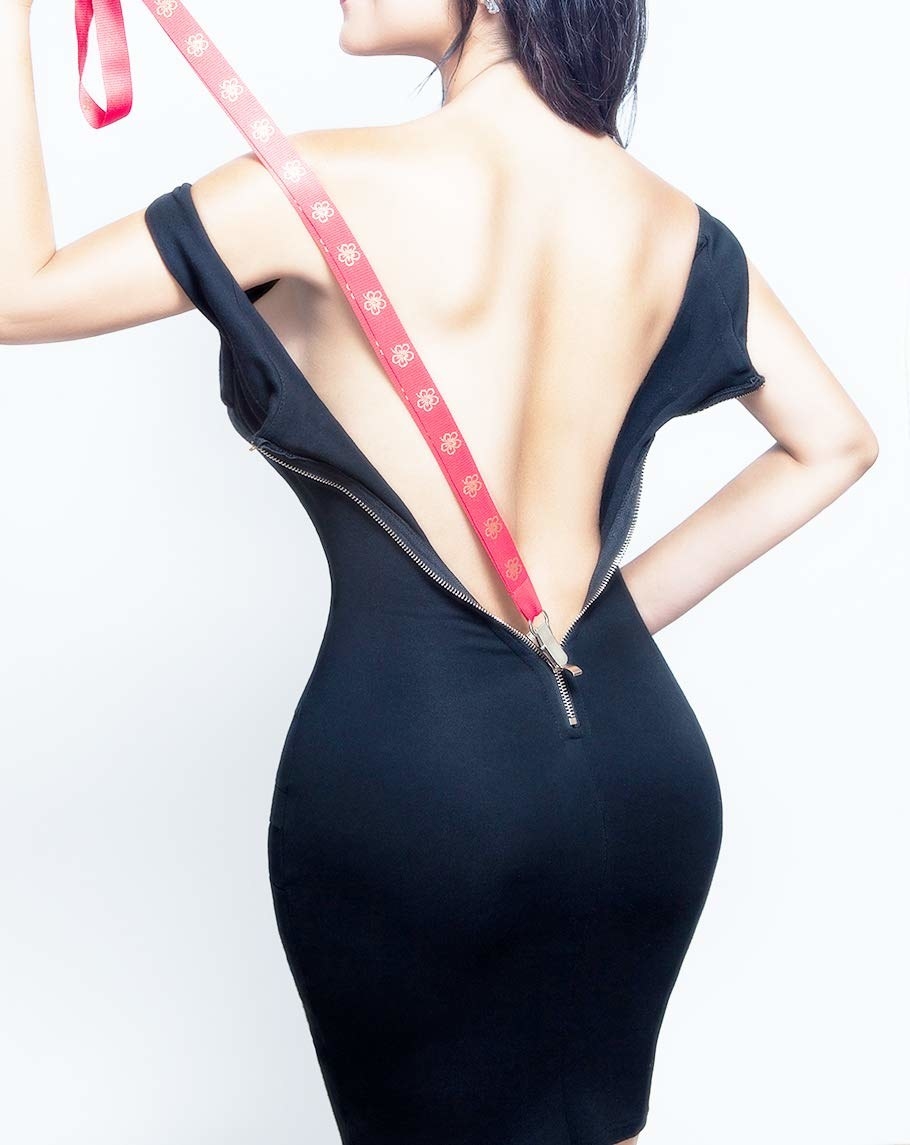 Promising review: "I was skeptical that this puller would actually work. I wear dresses Monday through Friday for work. I buy ones that have long, hidden zippers. I am breaking about one zipper every two weeks trying to zip them up by myself. It was costing me about $50 to replace the zippers. Finally, I broke down and bought this. I am so happy that I did. It takes a couple of times to get it on right, but once you get the zipper puller on the zipper, it zips right up. This is perfect! It's great for single moms like me!!!" —M. Sanders
Get it from Amazon for $14.99 (available in red, pink, and black).
2.
Bissell stain-lifting pads for tackling tough, hard-to-remove surface splatters and smears like pet pee, mud, and doody stains that may not be super new. Simply place the pad on the affected area, stomp on the pad, and then leave it for 30 minutes. Once you peel it off the floor, your stain should have magically lifted — hallelujah!
Promising review: "OMG I am SO HAPPY that they are making these again. They are the absolute best. Nothing comes close! I even called and wrote to Bissell twice when they discontinued this item asking them to bring it back. Then I bought all I could from Amazon and on eBay. Now they are back! I have an older dog who sometimes has accidents and NOTHING works as well and as easily as these. Some people say they are small but I say they are perfect! In fact, because they are relatively expensive, I cut these into small pieces and use just what I need. If you rub the pad into the carpet it will completely remove the stain. Stomp on it and leave it there. The stain will be gone. I seal the bag with a bulldog clip to keep the remaining pads moist." —kscoco

Get a pack of 20 from Amazon for $24.99. 
3.
A digital tape measure in case it's just too overwhelming for you to figure out those nitty gritty measurements that don't fall on a whole number... It'll tell you exactly the length you've measured so you can be confident and spend less time trying to decipher each little tick.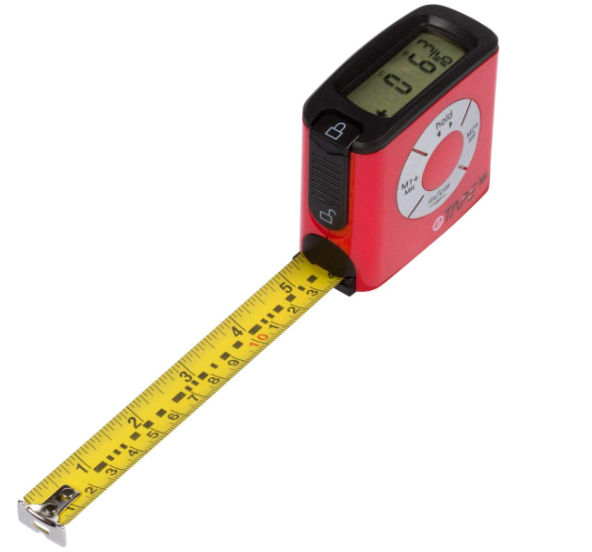 Promising review: "I'm doing home remodeling and need to take a lot of measurements. This feels a *lot* more accurate than my current tape because I'm not having to squint or crane my head around things to take a reading, bold and clear display with feet, inches, fractions. Instant conversion between units is handy. I like the centering function too — one button gives you the 'half' distance of the measurement — very useful feature for picture hanging. Every home contractor I've had over that sees this in action wants one like it." —Mark Terrano
Get it from Amazon for $39.99 (available in two styles).
4.
A 3-in-1 egg separator because we've all had those irritating moments of shell, egg yolk, or whites making their way into the bowl when they don't belong in the recipe. If anything is going to make your life easier in this post...this item is it.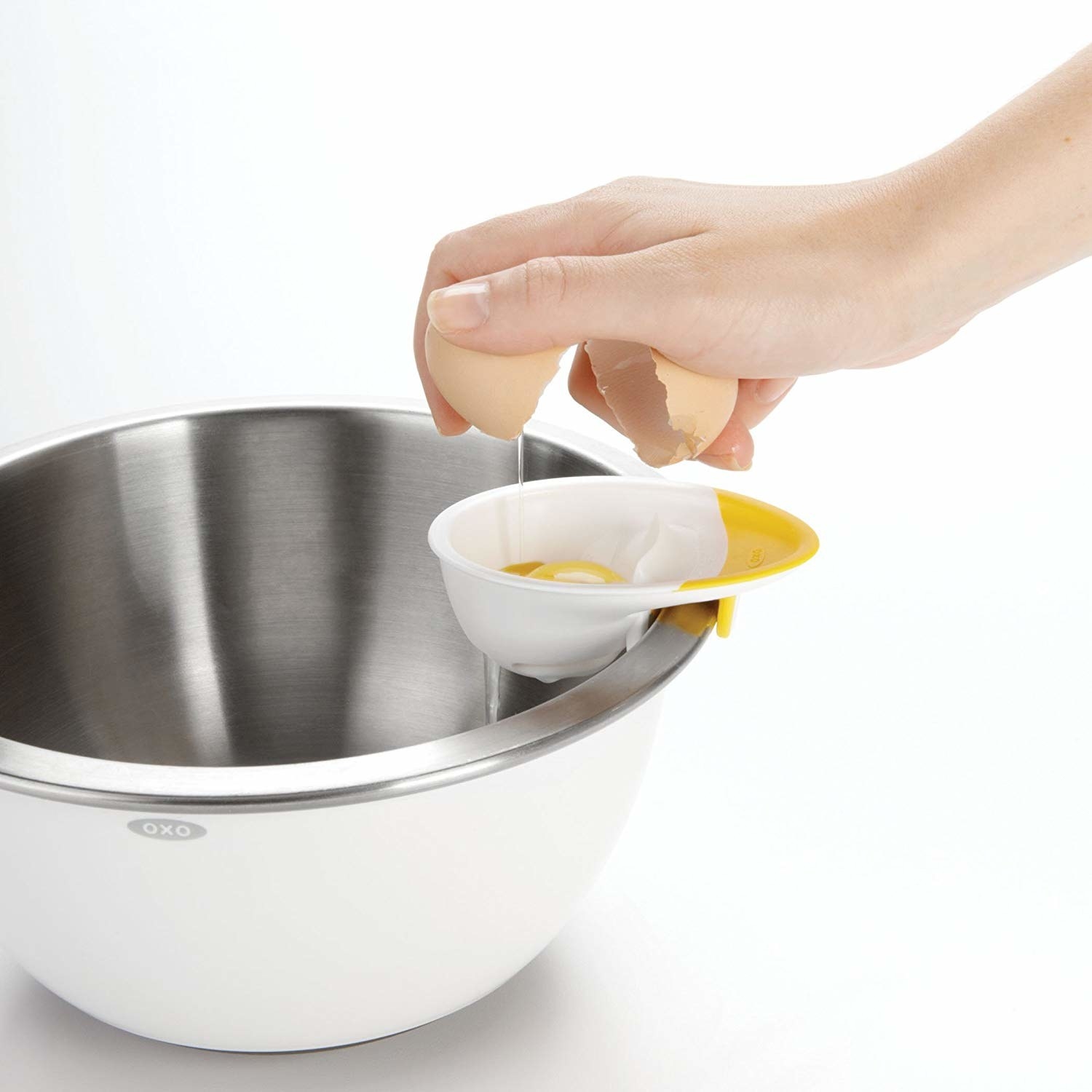 Ugh, now I'm just thinking about how much time I would have back if I had owned this years ago. Not only does it separate egg yolks from whites, but it also keeps shells from falling into the bowl and has a raised edge to help you crack the egg more easily.
Promising review: "I love this product. Just hold the separator with one hand, crack the egg on the ridge with the other, swirl the yoke until all the egg white has poured out then dump the yoke in the trash or sink. If they had these in a two- or four-egg model, I'd buy it. By far the best yoke/white separator I've owned." —Ajobe
Get it from Amazon for $7.95.
5.
An Angry Mama steamer to do your microwave cleaning sesh for you. Fill her up with vinegar, water, and lemon juice, and then pop her in the microwave to get to work. Go put your feet up while Mama cleans your microwave for you. (Ah, the life).
Once she's finished "cleaning" your microwave, you can use any leftover fluid to wipe down the microwave and take out all the leftover gunk.
Promising review: "LOVE this purchase!! My disgusting roommates destroyed our microwave; it was filthy. They would've never cleaned it since they're slobs but this purchase saved me SO much time. All the food came off very easily and it looked brand new after! Amazing, I wish I could give it 10 stars." —Marissa
Get it from Amazon for $8.59+ (available in four styles).
6.
An extendable microfiber duster set so you can access those hard to reach places that still need to get cleaned without having to whip out that clunky ladder of yours.
BTW, this includes an adjustable handle that extends from 24 to 49 inches, a regular short handle, a fluffy duster, and a bendable chenille and microfiber duster.
Promising review: "Perfect for my needs. Love the telescoping design and that it has no protruding joints that would prevent it from fitting underneath furniture with low clearance. Reaches under, behind, and around all the tight spaces I can't get to without moving heavy furniture around. The duster is also very lightweight and can handle delicate situations." —Sjay
Get it from Amazon for $15.99.
7.
An over-the-seat car trash bag in case you tend to stuff all those used napkins and empty chip bags in your door compartments. This will help keep your car spotless and perhaps help you make less of a mess of it.
The Mod Mobile is a woman-owned small business based in Winsted, Connecticut and also has matching steering wheel covers so both your trash bag and wheel can twin!
Promising review: "This fabulous litter bag has revolutionized my driving experience. I'm no longer drowning in a sea of toddler debris! Beautifully constructed and the perfect size. Thanks :)" —Jordana Wilson
Get the honeycomb one or the sunflower one from The Mod Mobile on Etsy for $20. 
8.
A Blue Apron subscription if trying to figure out your meals for the week and shopping for said ingredients is an hugeeee chore for you. This subscription will send you all the ingredients you need (so you don't have to waste any by buying your own) and the recipes to make the meals! *This is the life*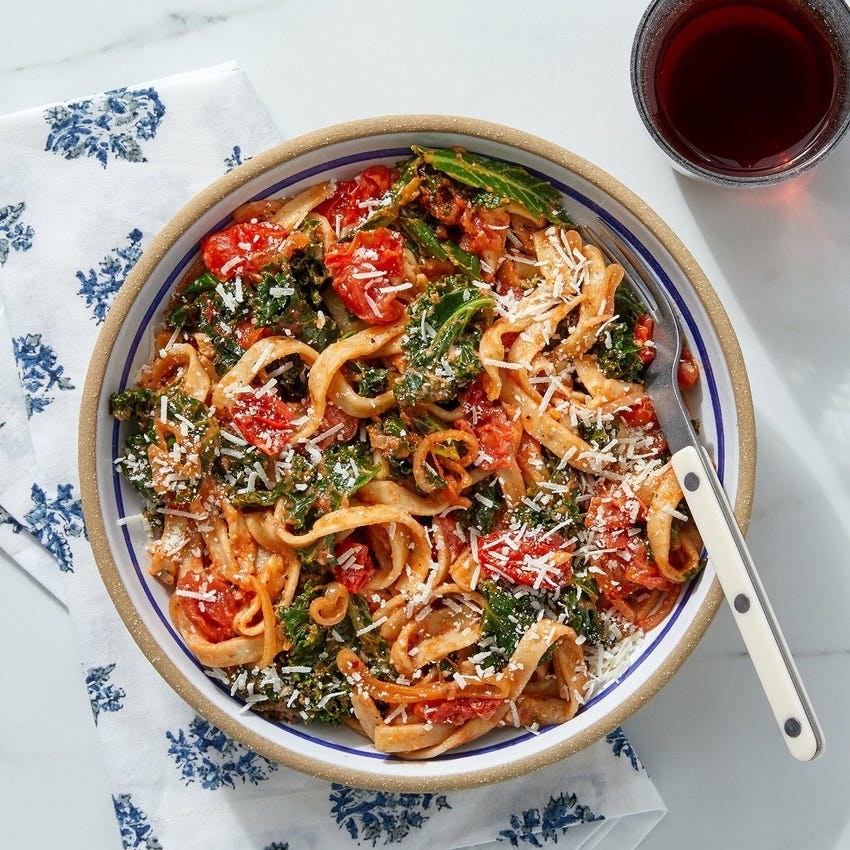 You can choose between the Signature, Vegetarian, or Wellness menus, for two to four people and with two to four recipes to suit your mood, diet, schedule, and budget, and you can adjust your servings and delivery day each week. Each recipe lets you know how long it takes to prep too, so you can plan accordingly!
Subscriptions start at $7.99 per serving. Get the recipe for the yummy-looking pasta above here.
9.
A holographic budget binder to easily organize your funds instead of panicking by the end of the week trying to figure out how much you overspent on takeout and unnecessary purchases. This will save you time and give you peace of mind knowing exactly what amounts are allotted for each of your needs.
Promising review: "I wanted to start my journey on learning how to budget! It was hard to find a ready-to-use budget planner, but this product exceeded my expectations! The shipping was very fast! Super cute and convenient. I'm very excited to start my budgeting journey!" —Chandler Young
Get it from Amazon for $15.99+ (available in 16 colors).
10.
A scrap collector you attach at the edge of your counter so you can effortlessly swipe scraps into this handy waste bin (instead of struggling over to the trash). Look at that...less time taken away from cooking that yummy recipe of yours.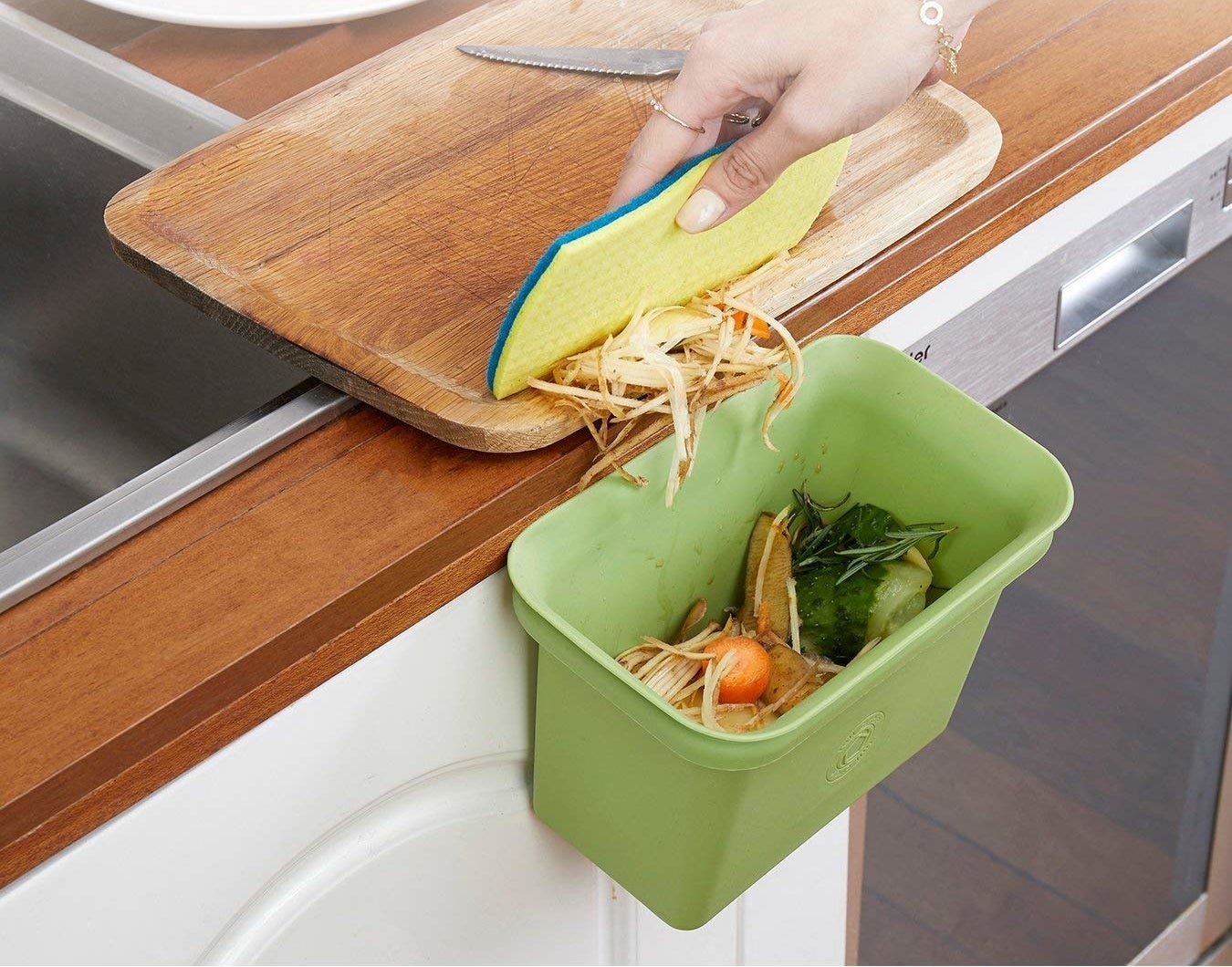 Promising review: "So useful! I use mine more as a small trash collector. I have mine next to the stove for eggshells and anything else I may want to toss quickly. Also, I line it with a plastic produce bag so that it doesn't get grimy and dirty. Not only this, but using this as a small trash can, I end up using my large kitchen trash bag as a bin for my smaller produce-bag-wrapped trash bags (and/or trash items that don't have a smell). This means my large trash can usually doesn't smell bad, since it's only ever full of smaller wrapped trash bags. Maybe it seems a little strange, but for someone who usually only cooks for one, I don't like my large trashcan to be partially full and already smell like it needs to be taken out." —Shaz
Get it from Amazon for $18.06+ (available in two colors).
11.
A magnetic key holder because it's finally time to stop losing your keys and having a mild crisis when trying to retrace your steps. Just think of all the time you can save from actually knowing where your keys are instead of tearing the house apart.
Promising review: "This is one of the most useful purchases I've ever made on Amazon. I use it every single day to hang my keys. I've had it for at least half a year now it seems. It hasn't lost any magnetism and it holds my car keys, remote start, USB, rewards/gift cards, house and work keys, etc. I'm in love." —Makenah
Get it from Amazon for $7.98.
12.
A Flush 'N Sparkle Toilet cleaning system you install in your toilet's water tank so the bowl stays clean enough where you can forgo having to scrub it yourself. These cartridges last up to three months! The bleach cleansers will make your porcelain throne sparkle and shine with each and every flush.
Promising review: "I have one of those water saver toilets. It was almost impossible to keep clean. While this cleaning system doesn't completely eliminate the problem, it helps a lot. Instead of needing to clean the bowl daily, I can clean it once a week. I liked it so much, I purchased one for my sister. One of the best features of this system is that it puts the cleaner directly into the water stream instead of into the tank. You don't have to worry about it attacking the metal parts of the tank. It was easy to install. It is real easy to install and replace the cleaning cartridge." —Mikkel
Get it from Amazon for $9.97.
13.
A bottle of Goo Gone to help remove tacky adhesive that just doesn't want to take a hike. Ever try to remove stickers from your laptop? This will take care of every last bit of sticky residue and give your arm a break from unnecessary scrubbing.
Promising review: "My 9-year-old daughter turned my house into a slime lab. No room was safe from her. I will not even try to explain what this small cute human did to her room. Words that could describe the damage this human did to our carpet and furniture don't exist in the vocabulary. Months of tears and weeks of angry faces because the new furniture was ruined. But then I discovered GooGone and our life took a turn. I cleaned a dry glue stain (hot glue gun) from my beloved bench. It removed dry slime from carpets. I suggest you buy at least three bottles, because when you start cleaning your house with it you won't be able to stop until you removed all glue stains your kids have made the last five years." —MasonK84
Get it from Amazon for $7.54.
14.
A hanger stacker so grabbing a hanger for that new dress you bought can be easy and fight-free. You know what it's like to try to tango with a jumble of twisted hangers...it's truly the fight of all fights and nobody's got time for that.
Promising review: "Very nice! Cheaper than some other models and works to secure hangers quite well! I even added a padded coat hanger to see if it would hold in place and it does. This is sturdy enough to pick up and carry around without the hangers sliding about. Very happy with this purchase!" —Parv
Get it from Amazon for $26.04 (also available in packs).