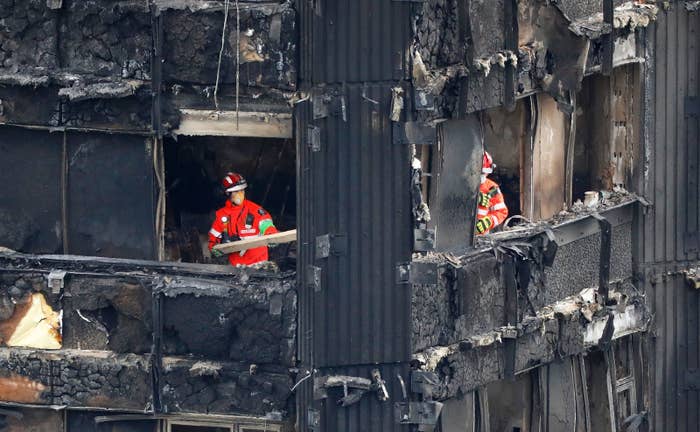 Councils across Britain have started removing cladding from tower blocks that have failed fire safety tests in the wake of the Grenfell Tower fire.
After the latest official figures put the number of high-rises in England that have failed flammability checks at 149 across 45 local authority areas, the government said it was "clearly concerned" about the scale of the threat.
A public inquiry into the Grenfell Tower fire, in which at least 80 people died, will look at why combustible cladding was put on so many tower blocks across the country.
So far 149 cladding samples tested have been found to pose a fire risk, but there are hundreds more residential high-rises that still need to be tested.
Downing Street said the government's technical experts were testing the samples as quickly as they came in – and urged local authorities to send them cladding from the buildings in their areas as a matter of the utmost urgency.
The Department for Communities and Local Government sent out advice to local authorities, fire services, and housing associations on Thursday, telling them how to keep residents safe while they wait for cladding to be removed. The suggested measures include checking for holes in walls where fire could spread, bringing in a security patrol, and contacting the local fire brigade.
The government is also working with the Department of Health and the Department for Education to ensure that samples from schools and hospitals are sent in for testing.
Theresa May on Monday morning chaired a meeting of the Grenfell Recovery Taskforce which discussed safety measures for those in buildings with cladding that has failed tests, as well as the specific situation for former residents of Grenfell Tower.
BuzzFeed News has investigated what local authorities and housing associations cross the country are doing to address flammable tower block cladding.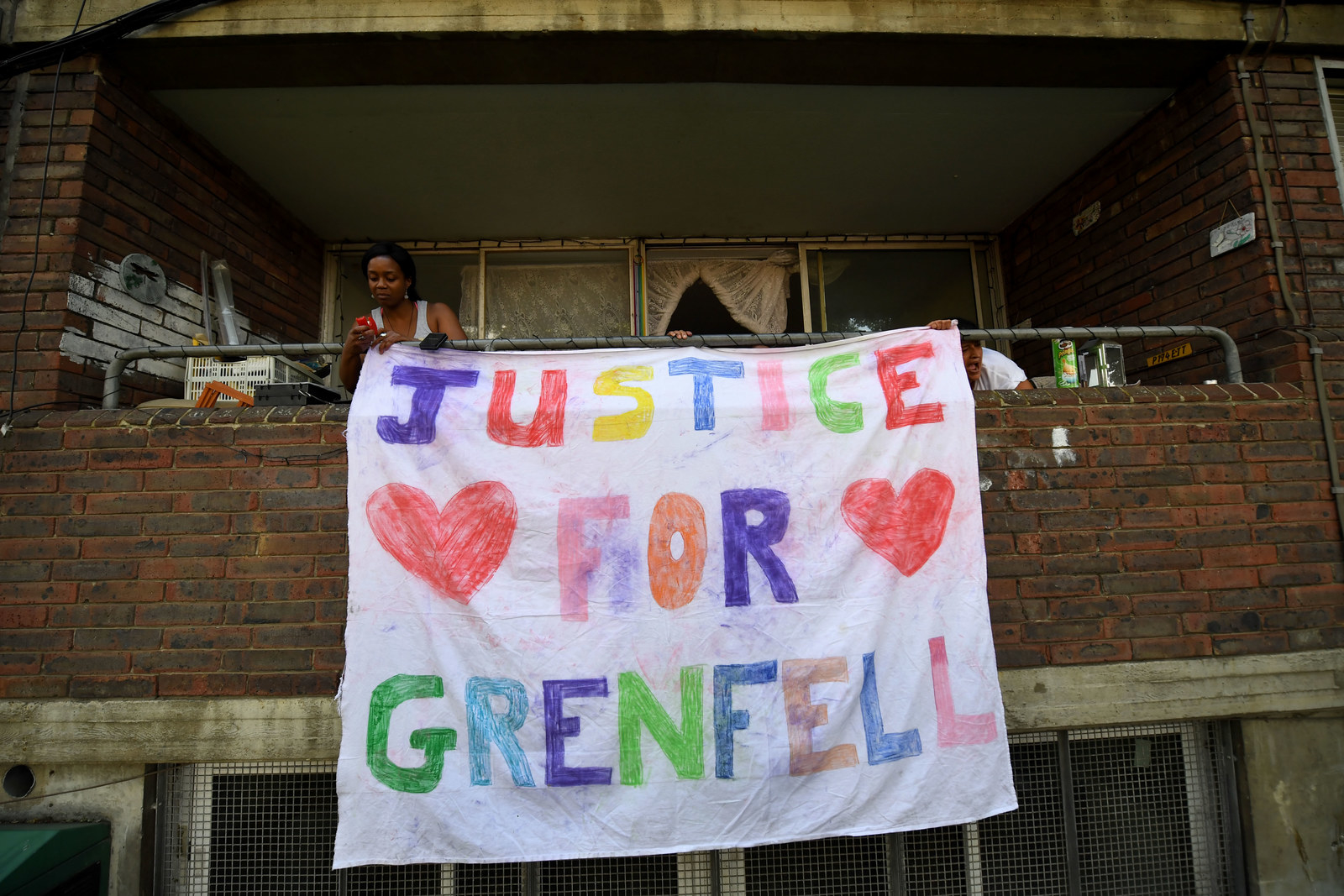 Barnet
Work is expected to start this week to remove cladding from three tower blocks on Granville Road in Barnet, north London.
Samples of the cladding failed fire safety tests on Friday, though Barnet Homes says the insulation is not combustible. Despite this, a spokesperson for Barnet Homes told BuzzFeed News contractors had just been hired to take down the cladding and "hope to get on site this week".
Until the work is complete, fire wardens will patrol the blocks 24 hours a day.
Barnet council leader Richard Cornelius said in a statement:
Although the exterior cladding panels are similar to those reportedly used at Grenfell Tower, the insulation materials behind the exterior panels are different and made from a non-combustible mineral fibre material. In addition, fire stops have been installed at each floor level and around each window. The fire stops are also made of a non-combustible material.

However, in the last day similar exterior cladding panels from buildings outside the borough have failed Government fire safety tests. While the difference in the cladding system at Granville Road mitigates the fire risk, we are not prepared to take any chances with the safety of residents and have therefore jointly taken the decision with Barnet Homes to remove the cladding on the three tower blocks as a precautionary measure.
Brent
One building's cladding failed London Fire Brigade testing, but because it is modern and has other safety features, such as sprinklers and smoke extractors, it does not need to be removed so urgently.
A spokesperson for Octavia Housing, the owner of Elizabeth House, told BuzzFeed News: "We will be removing the cladding in a controlled and managed way." The council did not say when this would happen.
Cambridge
Two high-rise buildings in the Mill Park area of Cambridge area failed cladding tests. The two towers — Gilbert House and Huxley House — are owned by BPHA housing association and were found to contain a limited amount of cladding around the top floors and around bin stores. The cladding did not pose safety risk but would be reviewed, BPHA confirmed.
Camden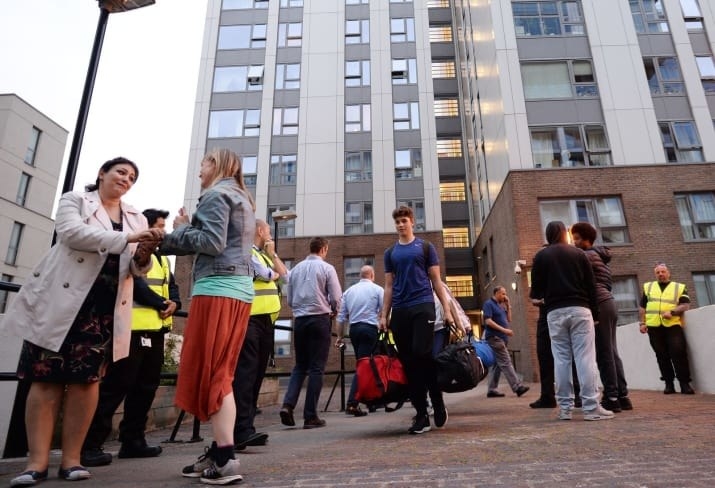 In Camden, five buildings in Chalcots Estate (Taplow, Burnham, Bray, Blashford, and Dorney) failed the government-ordered safety tests. On Friday night, residents of four of the buildings were evacuated after the fire service deemed them unsafe.
The council has now begun work to address fire safety concerns. Work on Blashford Tower, which had less issues than the other four buildings, is complete.
"Our contractors are very busy across the estate, working hard to complete fire safety works as quickly as possible to bring a swift end to the disruption. We have already started works to ensure that residents' doors are self-closing, and today will begin working to correct all of the other issues identified as a risk by the fire service," council leader Georgia Gould said in a statement.
"The urgent works at Blashford have now been completed and the Fire Services have confirmed that the building is safe. We will now continue with the other works required. We have undertaken works to ceilings, electric doors and cupboards and I am very pleased with the pace of our dedicated teams. 200 self-closing doors have been delivered and we are ready to start installing them today."
Doncaster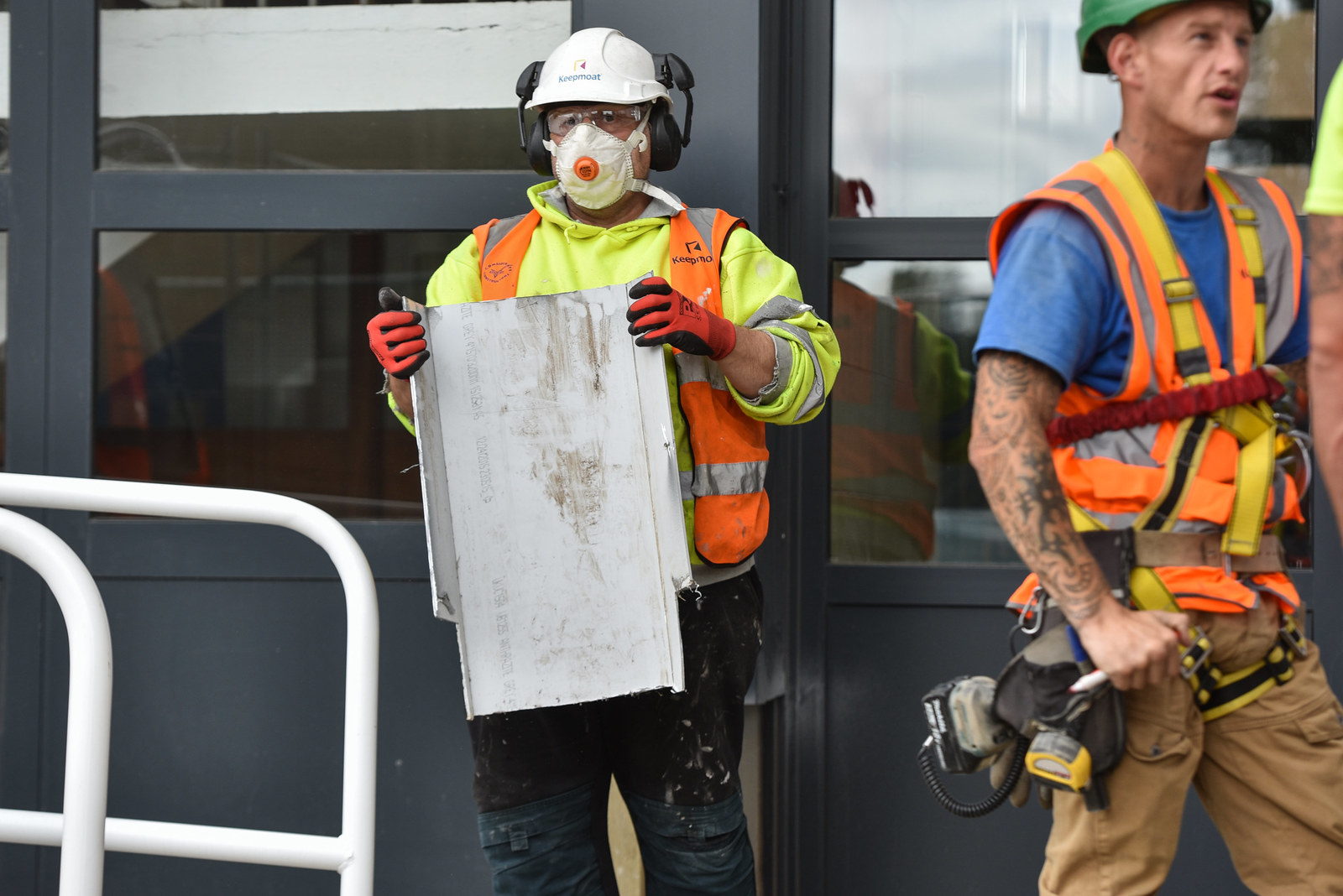 Nine high-rise buildings in Doncaster were tested and were all found to be safe. However, Silverwood House will have some "decorative capping" removed as a precaution after an assessment found it was fire-retardant but not fire-resistant — which is the best standard.
Hammersmith & Fulham
Four high-rise buildings in the borough have failed cladding tests but they have not been named.
The buildings which failed the safety tests were not owned by the council. A spokesperson for the council said they had tested their council-owned high-rises and all had been deemed safe.
Haringey
No council-owned high-rises in the borough have cladding like Grenfell and have not been sent for testing.
However, Rivers Apartments, which is owned and managed by housing association Newlon, did fail tests. The cladding on that building has been removed.
Havering
Only 1 of 14 high-rise blocks in the borough has cladding. It is not the same cladding as was on Grenfell Tower, and does not require safety testing. However, as a precaution the council has ordered safety testing anyway, and is awaiting results.
Hounslow
Clements Court is the only cladded building in the borough. The cladding failed safety tests and will be removed. "We have decided that we will take steps to remove the outer cladding from the building as soon as is practical. We are currently looking into how best and swiftly this can be done," council leader Steve Curran said in a statement.
Islington
Samples from eight council blocks on Harvist Estate and Brunswick Estate have been sent for testing. Only results for Braithwaite House had been returned as of Monday morning. Cladding there was found to be unsafe and will be removed.
Lambeth
Lambeth has sent off samples from 31 tower blocks in the borough that have some form of cladding. No results have been returned so far.
One building, Park Heights, owned and managed by Network Homes, has failed cladding safety tests and the cladding will be removed as a precaution. In a statement, Network Homes said: "The London Fire Brigade carried out a full fire safety inspection of the building on Saturday, 24 June and has confirmed that because of its multiple up to date fire safety features the building does not need to be vacated. While the building clearly has up to date safety features and is therefore very different to Grenfell Tower, the Network Homes Board has determined that the ACM panels will be removed and replaced. We are now working on a full action plan with our contractors."
Lewisham
Three tower buildings in New Cross will have cladding removed following advice from the London Fire Brigade.
The three buildings are: 1–48 Hatfield Close, 49–96 Hatfield Close and Gerrard House.
Additional fire safety measures are being introduced to the buildings as we;;, including a 24-hour fire patrol service.
Liverpool
Safety tests are being carried out at 28 social housing blocks in the city to investigate fire safety, including sprinkler systems, fire breaks, evacuation plans, and fire alarms.
15-storey Heysmoor Heights near Sefton Park has been found to have the same cladding at Grenfell Tower and the fire service have said it will be removed. The council is also asking private landlords to report back on fire safety in their buildings.
Manchester
Suspected combustible cosmetic panels were removed from a tower block in Wythenshawe's Village 135 complex on Saturday. Now work has begun to remove similar panelling from the lower buildings in the development.
The measures came after Greater Manchester Fire and Rescue Service and the Wythenshawe Community Housing Group conducted a comprehensive review of all 10 tower blocks within the Manchester suburb.
Bernard Priest, deputy leader and executive member for housing and regeneration on Manchester city council, said: "My understanding is that social landlords have started to get the results of their samples over the weekend. I think it is likely that others will discover cladding they installed had some combustible elements in it. But we have not yet been told which blocks."
Priest pointed out that Manchester has had 330 fires in high-rises over the last three years, but that they did not spread beyond the flat where they started. He added: "This would indicate that the design of the blocks, to be compartmentalised, is working, and social landlords have done a good job with fire doors, and other fire safety measures. I have not seen anything yet that makes me think residents are at risk but we cannot be complacent."
Jim Hutton, who is leading Greater Manchester Fire and Rescue Service's high-rise task force, said:
We have carried out visits to more than 180 high-rise properties in Greater Manchester to identify any immediate issues which give us cause for concern.

We will carry out a major joint inspection, alongside housing providers, of any building where the cladding has failed the Building Research Establishment tests. These inspections are detailed, taking in the region of two-and-a-half hours, and are aimed at identifying and mitigating risks. Results have now come back from 16 high-rise properties where cladding has failed, and we will have carried out these joint, detailed inspections in these buildings by the end of the day.

We expect to receive further test results in the coming days and will prioritise inspecting those buildings that fail the test.

Housing providers in any building where the cladding has failed the test have put in place significant measures to minimise the risk to residents in the event of a fire. These include evacuation plans and 24-hour security patrols in the buildings.
Newham
Three buildings in Newham — Ferrier Point, Nicholls Point, and Tanner Point — were found to have flammable cladding and will be removed.
In the meantime, 24-hour security patrols have been put in place and residents have been asked to remove any personal possessions, such as bicycles, from communal areas.
Northern Ireland
The Northern Ireland Housing Executive has confirmed that the cladding systems it has used are not the same as the one on the Grenfell Tower block.
Norwich
Although there are no high-rise social housing towers with cladding in Norwich, tests on shorter blocks (of six storeys or fewer) found cladding that would be a "current cause for concern with high-rise buildings".
The Brennan Bank building, owned by Broadland Housing, has employed a 24-hour warden until cladding is removed.
Developer Taylor Wimpey has five blocks of private apartments with the same cladding. The Eastern Daily Press reported that residents have received letters saying the insulation core of the cladding has failed "initial flammability tests".
They have been told not to park their cars beneath the building. They have also been advised not to smoke, light candles, or have barbecues on their balconies.
The fire service is working on a review of all tower blocks.
Oxfordshire
Two towers — Evenlode Tower and Windrush Tower — both in same area of city, on Blackbird Leys estate will have their cladding removed after failing the safety tests.
"It is not necessary to evacuate the towers. We're arranging for the work to begin removing the cladding to start as soon as possible, and we'll let residents know more details about all of this as soon as we have finalised them," Oxford City Council leader Bob Price said in a statement.
Portsmouth
Cladding on high-rise buildings Horatia House and Leamington House failed safety tests. Following a review by the fire service, the council made the decision to remove the cladding from the two buildings. Work to remove the cladding began last week. As an extra precaution, the council said staff would be present in the two buildings 24 hours a day for as long as necessary.
Plymouth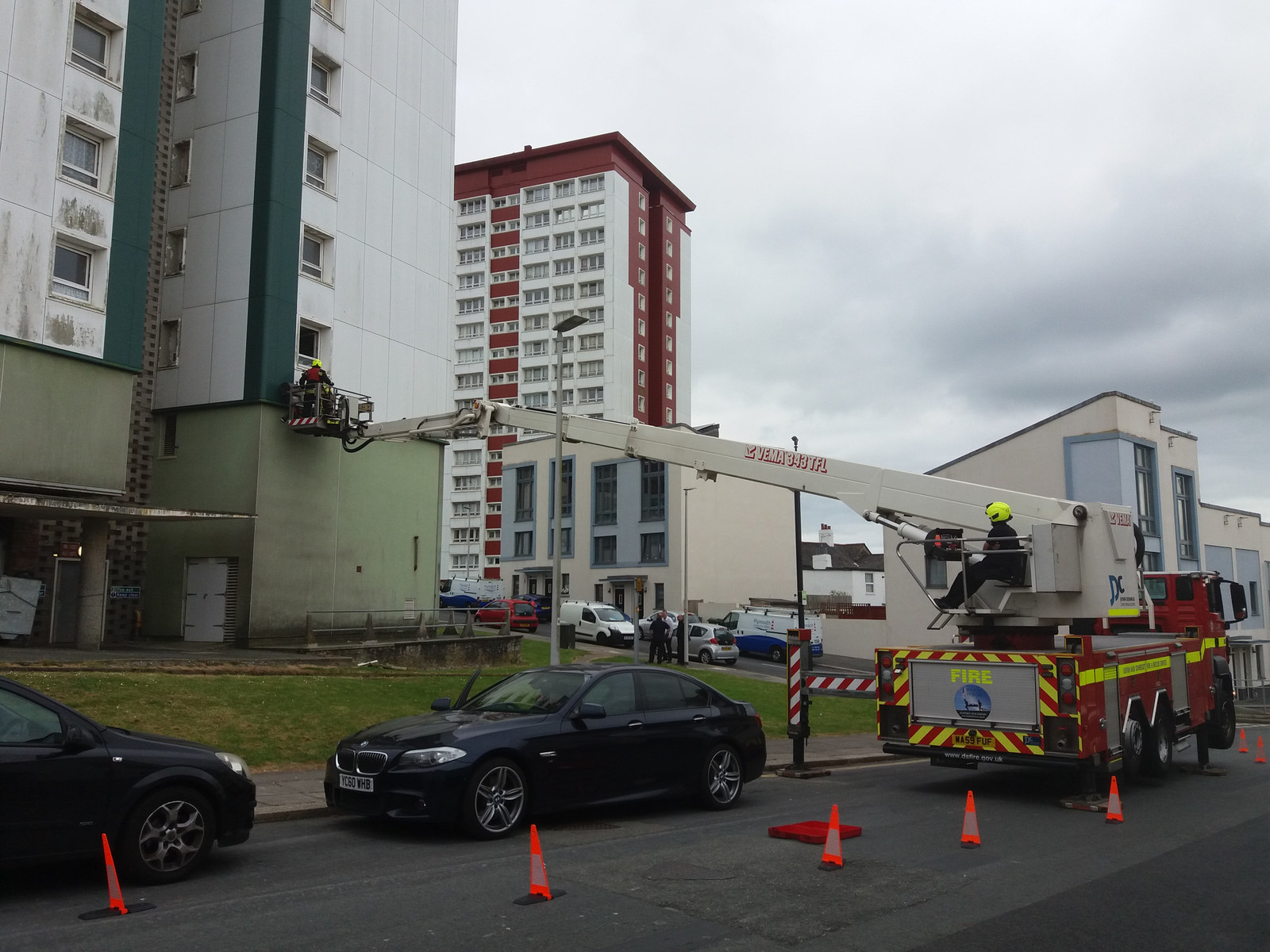 Cladding of the same kind as Grenfell's is being removed "as soon as possible" from the three Mount Wise towers in the Devonport area of the city.
Tests last week showed that Lynher, Tavy, and Tamar towers all have aluminium-coated polyethylene mounted on the outside. Until the work is complete there will be 24-hour security at the towers, and "additional fire protection" has been added to stairwells. Heat detectors and sprinklers will also be added soon.
John Clark, chief executive of Plymouth Community Homes, said: "In light of the new information and guidance we have received from Central Government, we will be removing the combustible elements of the cladding from the Mount Wise Towers as soon as possible."
Salford
Work to remove cladding on nine council tower blocks in Salford began before any test results came in. Until the removals are complete, the blocks are being given 24-hour fire marshall safety patrols.
The city mayor of Salford, Paul Dennett, said: "Government tests are underway, but it is already clear that the aluminium composite cladding on our blocks must be removed and we are pressing ahead with our plans. We take the safety of our residents very seriously and are taking immediate steps."
Pendleton Together, which manages the buildings, is also visiting residents individually to explain the situation, and is holding drop-in sessions for each block.
Sefton
Cygnet House and Wren House, both on St. James Drive in Bootle, have been failed safety tests and will have cladding removed.
Sheffield
One high-rise block in Sheffield will have its cladding removed shortly after it failed safety tests. Metal cladding was added to the 16 storey Hanover House in the city in a recent refurbishment.
Scotland
All 32 local authorities in Scotland have told the government that none of their buildings has aluminium composite cladding of the kind used on Grenfell Tower. Of these, 24 councils have also come back to confirm that no privately rented buildings have them either.
Sunderland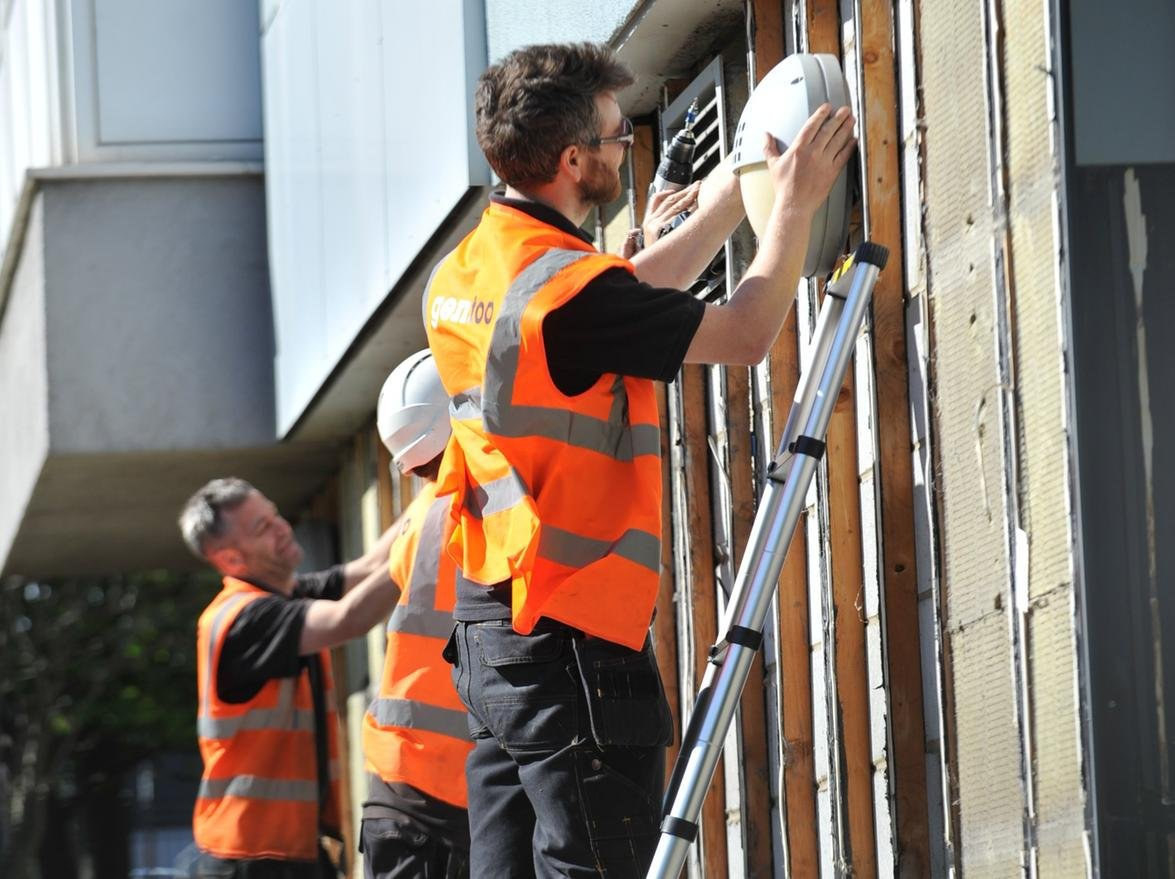 Five high-rise blocks have had cladding removed in the St Peter's area of Sunderland after tests on sample panels showed they were flammable. The towers are on Church Street, Dock Street, Zealand Square, Victor Street, and Dame Dorothy Crescent.
John Craggs, chief executive of Gentoo Group, which owns the buildings, said the panels were removed as a "precautionary measure" when they were given the highest risk score possible by the Building Research Establishment.
He said: "Customer safety is of paramount importance to us so we acted immediately and I can confirm that all of these panels have now been removed from these buildings." The work was done "in conjunction with Tyne and Wear Fire and Rescue Service".
Sutton
Two council-owned blocks (Chaucer and Balaam House) have cladding that is being tested, and results are expected this week. Sutton council says the materials used in both buildings are different to the Grenfell cladding, and that the tests are a precaution.
All eight tower blocks in Sutton are also being given "a comprehensive review of fire safety" by independent investigators.
Councillor Jayne McCoy, chair of the housing, economy, and business committee at Sutton council, said: "Sutton Housing Partnership (Sutton Council's Arms Length Management Organisation) is commissioning independent experts to undertake a comprehensive review of fire safety in the eight blocks which are between six and 16 storeys, which will be carried out promptly. We do not intend to wait for the outcome of any inquiry or new Fire Building Regulations to trigger any works required as a result of this review."
Tower Hamlets
A total of 11 high-rise buildings in Tower Hamlets have failed safety tests conducted on cladding.
The 11 buildings are owned by housing associations and the fire service has advised that residents do not need to be evacuated. In a statement the council said it "expected owners to remove the cladding and replace it."
"We are also seeking information about privately-owned residential blocks which may have ACM cladding that DCLG requires to be tested. We are not yet able to give an accurate number of these private blocks that require cladding tests," the council said.
Wales
Fire and safety tests will be carried out on high-rise buildings in Wales after ministers requested the same tests carried out in England be undertaken.
A Welsh government spokesperson said: "We are in regular contact with all residential social landlords in Wales and are urging them to have samples from relevant tower blocks tested – using the same process and facility described by the prime minister in her statement."
The spokesperson added: "We are taking steps to encourage landlords of all high-rise buildings regardless of their tenure to carry out fire safety checks and where necessary have samples of cladding tested."
Wandsworth
Two towers have cladding that failed tests after it was checked by the London Fire Brigade over the weekend and samples were sent off.
A council spokesperson told BuzzFeed News the cladding would be removed in "days rather than weeks" but would not give a specific timeframe. In the meantime residents have been told to stay put after specialist fire brigade inspectors declared that both blocks are safe.
Sprinklers will also be fitted in 100 high-rise buildings with 10 storeys or more.