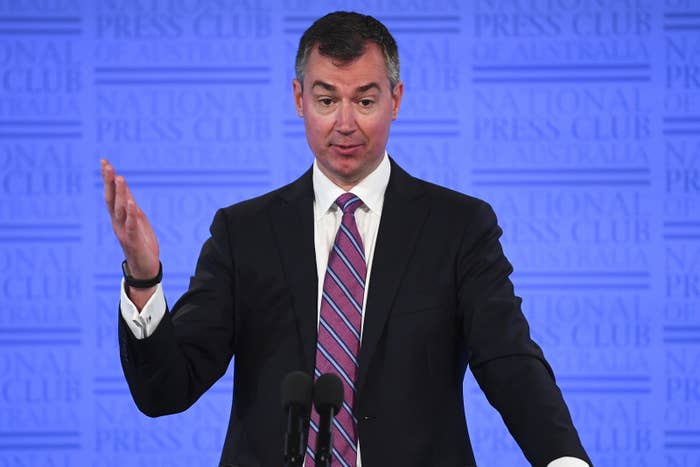 Michaelia Cash's former senior media adviser David De Garis has told the Federal Court he called a media adviser from then justice minister Michael Keenan's office to inform him about raids on the Australian Workers' Union's offices, before leaking the information to the media.

De Garis made the admission during day three of the AWU's Federal Court challenge into the legality of the Oct. 24, 2017 raids on its Sydney and Melbourne offices.
De Garis told the court that after he was informed by Cash's former chief of staff Ben Davies about the impending raids on the AWU, he called former Keenan media adviser Michael Tetlow.
"We organised to disseminate that information to the media together," De Garis said.
"I called several print journalists... Tetler was calling the TV media."
De Garis said he called The Australian, The Daily Telegraph and a Fairfax newspaper, and relayed that the raids would take place at the AWU's Sydney and Melbourne offices at approximately 4pm or 4:30pm.
BuzzFeed News last year spoke to a TV journalist who claimed they had received a phone call from Keenan's office informing them of the raids an hour or so before they took place.

"When he rang our newsroom he identified himself as [name redacted] from Michael Keenan's office," the TV journalist said.
The TV journalist told BuzzFeed News that Keenan's staff member passed on the location and time that the Australian Federal Police (AFP) search warrants were being executed on the AWU's Sydney and Melbourne offices.
A spokesperson for Keenan told BuzzFeed News in February 2018: "Neither the minister or anyone in his office informed media outlets prior to the execution of search warrants".
De Garis told the court on Wednesday that he "did not recall" telling anyone else about his intention to leak the information.

Under questioning from the AWU's barrister Herman Borenstein QC, De Garis agreed that media coverage of the raids would be damaging to opposition leader Bill Shorten.
When asked if it was part of his function as a media adviser to assist the minister politically by seeking coverage which was detrimental to her opponents, De Garis replied "yes".
De Garis said "It would have been at least part of my thinking, I am sure" that media coverage of the raid would have an impact on Shorten's reputation.
Court documents show a magistrate approved the AFP search warrants at 9:40am on Oct. 24, 2017. When police arrived around 4:30pm, a large media scrum was already gathered outside the union's offices.

Cash denied five times her office had had any involvement during a now-infamous Senate Estimates exchange on Oct. 25, 2017 before announcing later that evening that De Garis was behind the leak to the media and had resigned.
The controversial raids were executed as part of an investigation by the Turnbull government-established watchdog, the Registered Organisations Commission (ROC), into donations made by the union over a decade ago when it was led by current Labor leader Bill Shorten.

De Garis gave evidence in court on Tuesday that he "called several media outlets" in order to get "coverage" of one of the first investigations by the ROC.
When asked on Wednesday who he told of his intention to leak the information following his meeting with Davies, De Garis at first refused to answer on the grounds it could be prohibited under the Parliamentary Privileges Act.

De Garis's lawyer Jason MacLaurin argued that the public and the media should not be able to listen to De Garis' testimony. MacLaurin said it could be considered parliamentary privilege as it may have been used in preparation for parliamentary Question Time.
But Justice Mordecai Bromberg refused this request.
Justice Bromberg has granted De Garis a protection certificate, which prevents his evidence being used against him in any future proceedings in an Australian court.

The Commonwealth Director of Public Prosecutions confirmed in January that no charges would be laid for the leaks as there was little chance of a successful prosecution. The AFP subsequently dropped its investigation into the "unauthorised disclosure of government information", which carries a maximum two-year jail term.
Cash is expected to appear in the witness box on Friday. Her lawyers foreshadowed on Monday that they plan to argue that questions surrounding the conversations between the minister and her staff should be excluded from evidence.
Davies is scheduled to give evidence later this week.

The trial continues.