Here's What The Government's Marriage Plebiscite Will Look Like
A $175 million plebiscite.
by
,
Federal cabinet has signed off on plans to hold a same-sex marriage plebiscite in February 2017 and provide the "yes" and "no" campaigns with $7.5 million each in public funding.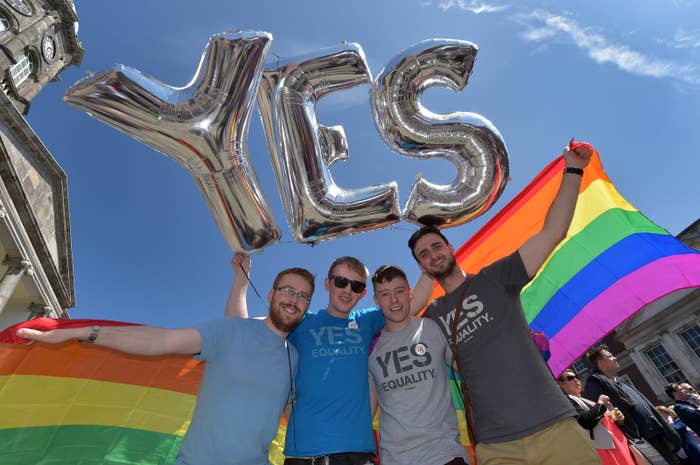 Under the Turnbull government's proposal Australia would go to the polls on February 11, 2017 and will be asked: "Do you support a change in the law to allow same-sex couples to marry?"
The decision to to include the word "change" in the question is reportedly a strategy to appease the conservative members of the Coalition.
The details still need to be signed off by the joint Coalition party room, held late Tuesday morning.
$7.5 million will be set aside for either side of the campaign, blowing the cost of the plebiscite out to at least $175 million.
The decision to provide public funding is a blow to the "yes" camp, which has campaigned for no funds to be provided to either side of the debate.
Lyle Shelton, managing director of the Australian Christian Lobby (ACL), said the amount provided was "on the low side".
The ACL has previously called for public funding to match the amount provided in the 1999 referendum on the republic, which would translate to over $11 million for each side adjusted for inflation today.
He confirmed to the ABC on Tuesday morning that the "no" camp will use the public funds to campaign against Safe Schools, roll back anti-discrimination laws and show what they think will happen if you take gender out of marriage.
"There is a side of the debate that has not yet been ventilated," Shelton said.
Commercial media, including television and radio networks, will be forced to carry advertising from both sides of the debate.
Tax deductible donations to the plebiscite campaigns will be capped at $1,500 per person, but there are concerns in the "yes" camp that because church donations are entirely tax deductible people in the "no" camp will be able to funnel money through churches.