The second group of refugees from Australia's offshore detention centres are en route to their new homes in America, as part of the controversial US people swap deal.
Fifty-eight refugees left Papua New Guinea on a Philippine Airlines flight on Tuesday bound for New York, according to the Refugee Action Coalition.
Once Stateside the men, mostly from Afghanistan and Pakistan, will be resettled in groups and as individuals across the country in locations including North Carolina, New Jersey, Pennsylvania and Georgia.
No Somalis or Iranians are included in the group of 58, as America's current executive order has banned these nationalities from travelling into the country.
Photos provided to BuzzFeed News show the men leaving a Port Moresby hotel early this morning, then in the departure lounge of the Port Moresby Airport.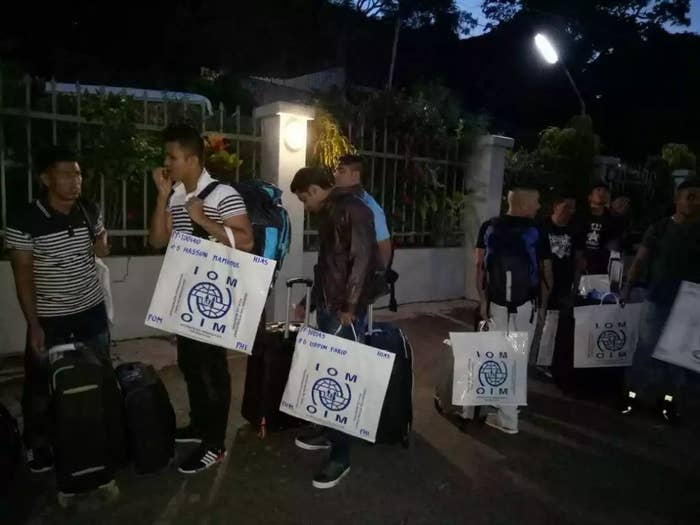 One refugee told the Refugee Action Coalition that being resettled was a bittersweet moment.

"I am very happy to be free of the hell that the Australian government made for us on Manus," the man told the RAC. "But we are sad for those who are still waiting so long. We can't stop thinking of everyone who are still on Manus. We all need freedom."
Australian prime minister Malcolm Turnbull announced in November 2016 that Australia had entered into a deal with then United States president Barack Obama to resettle 1250 refugees from Manus Island and Nauru.
But the deal created no commitment on the United States to take any refugees whatsoever, only that it considered their claims. In exchange, Australia agreed to take refugees from Central America, and so far 30 people have been resettled Down Under.
US president Donald Trump has described the people swap as a "dumb deal".
Last year 54 refugees from Manus Island and Nauru were resettled in the US, taking the total number to 112.

Tuesday's flight transported refugees from Manus Island. Another group of around 130 refugees on Nauru has been accepted for resettlement in the US and is expected to leave the island in the next few weeks.
That leaves around 1,500 refugees and asylum seekers in Australian offshore detention centres with unknown futures.
Details of the resettlement come amid suggestions that New Zealand's offer last year to welcome 150 asylum seekers from Manus Island has sparked an increase in people smuggling operations.
Intelligence officers claimed to The Australian that at least three boats had recently been intercepted, and that Sri Lankan authorities stopped two smuggling ventures bound for NZ.
Australia refuses to resettle refugees who arrive by boat in Australia, and instead follows a policy of mandatory offshore detention. Some refugees have been held on Manus Island and Nauru for more than four years.
Greens senator Nick McKim told BuzzFeed News the resettlement was great news, but that he was still concerned about the uncertainty for the hundreds of men, women and children who remain in limbo on Manus Island and Nauru.
"There's still no clarity around how many people will go to the US, and how long before they are resettled there," he said. "The whole deal has been shrouded in secrecy and it has hurt already vulnerable refugees and people seeking asylum.
"Given the ongoing lack of certainty about timeframes for the US deal, it's unconscionable for [Home Affairs minister Peter] Dutton to reject the NZ offer."