Cardinal George Pell Investigated Over Allegations Of Child Sexual Abuse
Police are investigating child abuse allegations against Australia's most senior Catholic cleric.
Victoria Police is investigating multiple complaints of sexual abuse against Cardinal George Pell that range from the 1970s to the 1990s.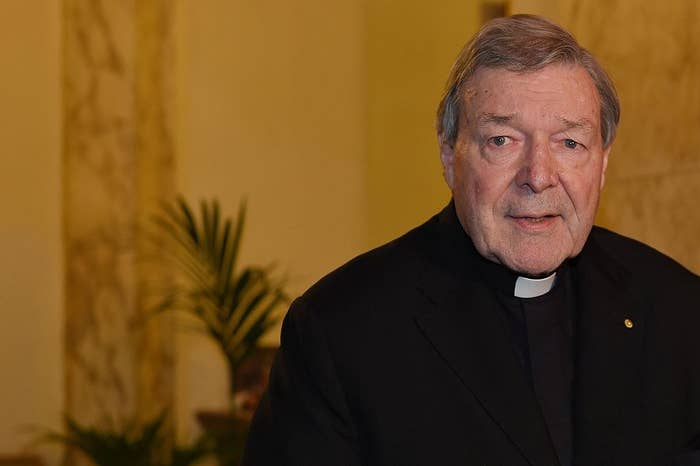 Two men allege Pell touched their genitals in a Ballarat swimming pool when they were children during the summer of 1977/78.
Lyndon Monument and Damian Dignan allege Pell touched their genitals and anuses while playing a game in Ballarat's Eureka pool on "20 or so occasions", when he was Episcopal Vicar for Education in the Ballarat diocese.
"The hand on my crotch would cover my penis and testicles and would cover my anus area. Father Pell would throw me into the air and I would dive into the water," Monument said in a statement to Victoria Police.
"He would also place his hand under the shorts and underpants that I was wearing. His fingers would touch my penis and testicles on these occasions as he rocked me up and down before he threw me in the air," Monument alleges.
Another complaint details an "odd" incident involving Pell at the Torquay Surf Club sometime between 1986 and 87.
Local businessman Les Tyack told the SANO Taskforce he witnessed a naked Pell standing in a change room for 10 minutes with three boys aged between eight and 10. He said it was a very strange situation for an adult to be full-frontal with three young boys.
"When they left, I then said to George Pell, 'I know what you're up to, piss off, get out of here, if I see you back in this club again, I'll call the police'," he told 7.30.
George Pell declined to be interviewed by 7.30 but issued a statement strongly denying the allegations, which he called "totally untrue".
"The Cardinal does not wish to cause any distress to any victim of abuse. However, claims that he has sexually abused anyone, in any place, at any time in his life are totally untrue and completely wrong," the statement from his office says.
Victoria Police's Taskforce SANO, which examines complaints from the Royal Commission into Institutional Responses to Child Sexual Abuse, is understood to have referred the Pell case to the Office of Public Prosecutions for advice.