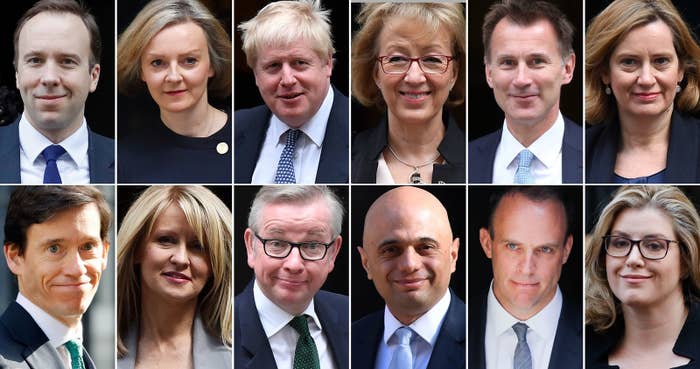 Theresa May has just weeks left in Downing Street and her potential successors are gearing up for what will be an almighty Conservative Party leadership contest.
BuzzFeed News is keeping a rolling list of the candidates to take the keys to Number 10.
Here is your definitive list of everyone who has confirmed that they're running, is considering running, or who has ruled themselves out. We will be updating it as and when new names come forward.
Definitely running: 11
Boris Johnson: Said "of course I'm going to go for it."
Esther McVey: Told TalkRadio: "I have always said quite clearly if I got enough support from my colleagues, yes I would. People have come forward and I have got that support, so I will be going forward."
Rory Stewart: Replied "yes" when asked if he'd throw his hat into the ring.
Jeremy Hunt: Announced he is running at the Halsemere festival hours after May's resignation statement.
Matt Hancock: Confirmed to the Today programme: "I'm going to run to be the next prime minister."
Dominic Raab: Unveiled his manifesto to be leader in the Mail on Sunday.
Michael Gove: Claims he is the unity candidate.
Andrea Leadsom: Told the Sunday Times she has the "experience" for the job.
Sajid Javid: "We need to restore trust, bring unity and create new opportunities across the UK."
Mark Harper: Told the Telegraph he's the "underdog".

Sam Gyimah: Told Sky News he is standing and will back a second referendum.
Considering running: 6
Steve Barclay: Declined four times to tell Sky's Sophy Ridge whether or not he'd run.

Penny Mordaunt: The Telegraph says the new defence secretary's "grit and courage ought to take her all the way to the top".

Steve Baker: Implied that if other Brexiteers vote for the withdrawal agreement in June, he will stand against them.
Graham Brady: Hasn't ruled it out, saying: "It would take an awful lot of people to persuade me."
Priti Patel: Says "it is now time for a new generation of political leaders to effectively take back control."
Jesse Norman: In a 33-tweet thread, said he would consult with Tory members and MPs before making a decision.

Not running: 15
Nicky Morgan: Has said her views on Brexit mean she can't stand: "I think my position over the last two and a half years rules me out of being party leader ever."
Tobias Ellwood: Told Ridge: "I don't have the rank, I don't have the experience. I'm not going to run."
David Lidington: Said "when you have worked as closely with the Prime Minister as I have in the last year and a bit, the Iron Throne is not too tempting."
David Davis: Said he is backing "clever and brainy" Raab.
Tom Tugendhat: "I'm not running."
Victoria Atkins: Replied "no" when asked by the Telegraph if she wants to be leader.
Jacob Rees-Mogg: Told TalkRadio he isn't running and is backing Johnson.
Johnny Mercer: Told Peston he won't run and will back Johnson.
Brandon Lewis: Confirmed he's not standing.
Ken Clarke: "I think this time I will give it a miss."
James Brokenshire: Told Channel 5 News he's not running.
Dominic Grieve: "My chances are zero."
Amber Rudd: Told the Telegraph the new leader has to be a Brexiteer and signalled she could work with Boris Johnson.
Liz Truss: Told the Sunday Telegraph she won't run.
Justine Greening: Wrote in the Observer that she won't stand.