Theresa May's New Housing Adviser Said "There Is No Such Crime" As Date Rape
Exclusive: Roger Scruton claimed sexual harassment "just means sexual advances made by the unattractive" and said date rape victims were "withdrawing consent in retrospect".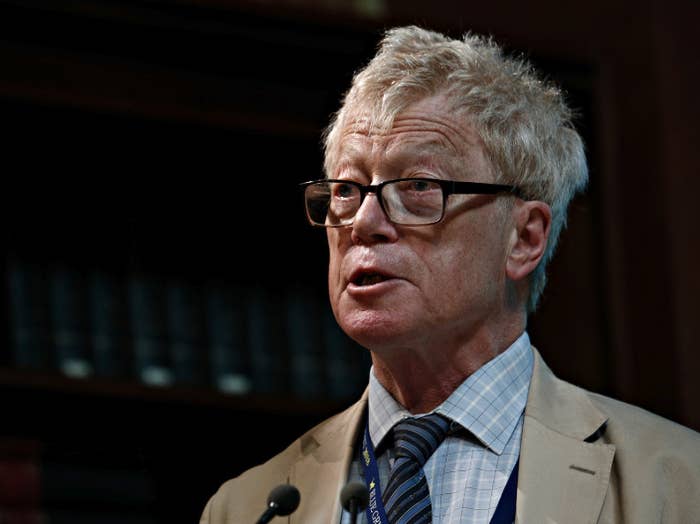 Theresa May's new housing adviser said there was "no such crime" as date rape and claimed sexual harassment "just means sexual advances made by the unattractive".
A day after revealing that Conservative philosopher Roger Scruton said homosexuality was not normal and that Islamophobia was "invented", BuzzFeed News has unearthed footage of a lecture he gave in the US in 2005 in which he said women who made date rape allegations were actually withdrawing consent in retrospect because "the whole thing went too quickly".
The prime minister is now under growing pressure from opposition parties to remove Scruton from his post as chair of the government's new buildings commission, which was announced by housing secretary James Brokenshire on Saturday.
Discussing courtship during his lecture titled "Sexual Morality for Heathens" at Rice University in Houston, Texas, in 2005, Scruton said: "Whole new crimes have come into existence, like this supposed crime of 'date rape'. What that means is — of course there is no such crime — but nevertheless, when a woman cries 'date rape' what she means is 'the whole thing went too quickly', you know, 'I was not prepared', and so consent is withdrawn as it were in retrospect."
He acknowledged during the lecture that his words were "extremely controversial".
He went on to make similar remarks about sexual harassment, which he dismissed as mere "impoliteness" and claimed was a "huge injustice" against those accused.
He told the audience: "Likewise, the charge of sexual harassment. This was never made in the past. It was called impoliteness if somebody put his hand on your knee prematurely, or if it was the wrong hand. But nowadays, of course, 'sexual harassment' just means sexual advances made by the unattractive, who are the majority, so there is a huge injustice in this."
Scruton is scheduled to give a talk on architecture at the Policy Exchange think tank next Wednesday with an introduction and vote of thanks by Brokenshire.

Labour's shadow Cabinet Office minister Jon Trickett told BuzzFeed News: "The more that emerges about Roger Scruton's deeply unpleasant and discriminatory views, the less sense it makes that the Tories ever thought he was suitable for a government position. Theresa May must step in and sack him."
Scruton and the Ministry of Housing, Communities and Local Government were approached for comment but did not respond by the time of publication.
After BuzzFeed News revealed his previous comments on Islamophobia and homosexuality on Tuesday, a government spokesperson declined to defend his appointment on the record.
Scruton did not respond to BuzzFeed News for that story either, but after it was published he said in a statement published on Twitter that he was "offended and hurt" by allegations of Islamophobia and anti-Semitism. "Nothing could be further from the truth and I wish to rebut these incorrect assertions," he said.
Conservative pundits leapt to the defence of Scruton in response to BuzzFeed News' revelations yesterday.
The commentator Toby Young said it was "depressing to see the social media cops trawl through everything Roger Scruton's ever written in the hope of finding things to be offended by".
Historian Niall Ferguson praised Scruton as "the greatest living Englishman", adding: "If only he could be prime minister." The Guido Fawkes blog tweeted: "He is a moral giant being attacked by midgets."
Update: Following publication of this article, Roger Scruton said in a statement:
"These highly selective quotes grossly misrepresent an entire lecture. I was in no way suggesting that victims of date rape are not victims of a crime and could have worded my point differently to make this clearer. I've spent my life arguing for greater respect between men and women and anyone who takes the time to read my books or listen to my lectures will realise this."
A spokesman for MHCLG said:
"Professor Sir Roger Scruton, as a long-standing public intellectual, has strong views on a number of issues.
"He received a knighthood in 2016 and advised the Coalition government on design.
"His commitment to driving quality in the built environment is well known and he has published extensively on architecture and place, which makes him an excellent candidate for the unpaid chairmanship of the Building Better, Building Beautiful commission."