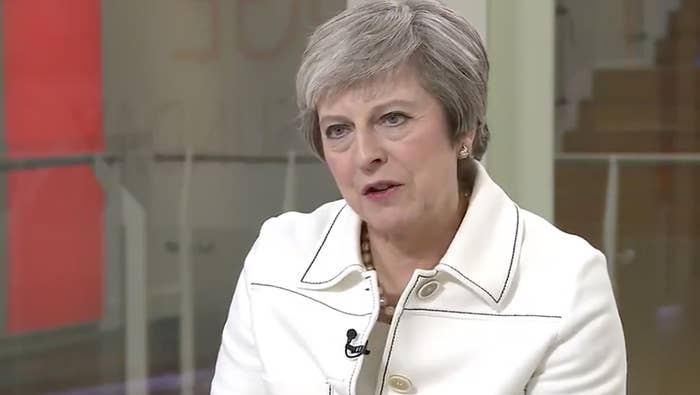 Theresa May faced down her Brexiteer critics on Sunday, warning them that ousting her could risk the UK not leaving the EU in March 2019.

The prime minister revealed she would be going back to Brussels this week to thrash out details of the future relationship with the EU, but defended her divorce deal and signalled that cabinet Brexiteers attempting to secure changes would be disappointed.

"A change of leadership at this point isn't going to make the negotiations any easier, and it's not going to change the parliamentary arithmetic," May told Sky News' Sophy Ridge. "What it will do is mean there is a risk that actually we delay the negotiations, and that's a risk that Brexit gets delayed or frustrated."
Asked whether she knew if the threshold of 48 letters required to trigger a no-confidence vote in her leadership had been reached, the PM replied: "As far as I know, no it has not".
A so-called gang of five cabinet Brexiteers made up of Andrea Leadsom, Michael Gove, Penny Mordaunt, Liam Fox, and Chris Grayling are due to meet tomorrow to discuss rewriting the divorce deal.

But May defended her withdrawal agreement and the controversial Irish backstop, suggesting the gang of five's efforts to redraft it were in vain. Instead, the ongoing negotiations would focus on fleshing out the seven-page political declaration on the future relationship.
"We can have debates in Westminster about whether this is the perfect Brexit from this viewpoint or from another viewpoint. What is important is that we deliver it," she said.

Dominic Raab, who resigned as Brexit secretary on Thursday, told the BBC's The Andrew Marr Show that May's deal was "fatally flawed" but that he would not be submitting a no-confidence letter in the prime minister.
Raab said that a no-deal Brexit would be better than the deal agreed by the PM, insisting it was "manageable".
Graham Brady, the chair of the 1922 committee of backbench Conservative MPs who will announce if the threshold for a confidence vote has been met, confirmed to BBC 5 Live's John Pienaar that the letters were not yet at 48.
He suggested some Tory MPs who publicly claimed to have sent him a latter had in fact not done so.
Earlier, Jeremy Corbyn told Sky News that a second referendum on the Brexit deal is "an option for the future but not an option for today".

The Labour leader said he had not read all 585 pages of the withdrawal agreement, but that his party would be voting against it in the House of Commons.
"All options are on the table in the future," he said.