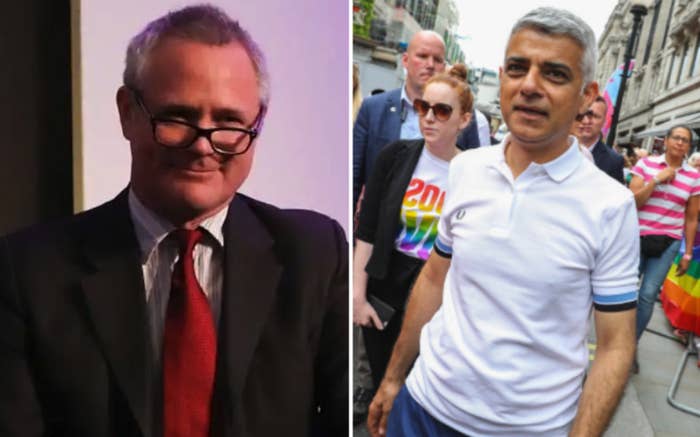 The new leader of UKIP has said that he often confuses London mayor Sadiq Khan with the 7/7 bomber Mohammad Sidique Khan, in a tweet that Labour condemned as "unacceptable racism".
Richard Braine, who replaced Gerard Batten as the leader of the anti-immigration party at the weekend, made the remark just seven weeks ago.
On June 27, Braine misspelled the London mayor's name on Twitter as "Siddique Khan". After being corrected by another Twitter user, Braine replied: "Apologies, I often confuse him with the leader of the 7/7 bombers."
Mohammad Sidique Khan was one of the terrorists responsible for killing 56 people and injuring over 700 in a series of bombings on the London Underground and on a bus in July 2005.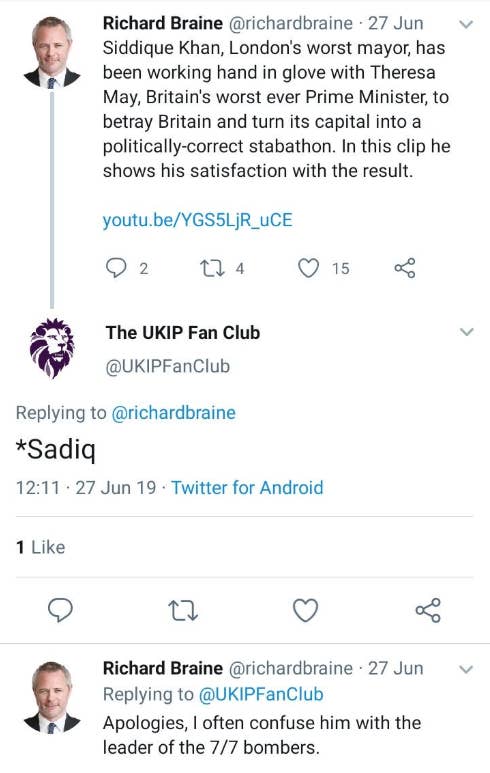 Braine has previously defended the far-right activist Tommy Robinson, saying in a interview in May: "Tommy Robinson is not a racist or an extremist, that's the media smearing him because he spoke about grooming gangs."

Robinson was prevented from joining UKIP in 2018 because he is a former member of the English Defence League.
Braine's tweet about the London mayor was condemned by the respected think tank British Future, which does work on identity and integration in the UK.
The group's director, Sunder Katwala, told BuzzFeed News: "This is casual anti-Muslim prejudice as old-school 'banter', except that quite a lot of effort seems to have gone into it. Braine seems to deliberately mis-spell the Mayor's name to make the link to the 7/7 bombers.
"This prejudiced joke suggests that Braine's problem with the Mayor of London goes beyond his being a political opponent."
Tell MAMA, the organisation which monitors anti-Muslim incidents, said: "This a clear example of anti-Muslim/Islamophobic prejudice."
A Labour source said: "This is unacceptable racism which carries unpleasant echoes of the vile dog-whistle Tory Mayoral campaign against Sadiq in 2016."
In a statement sent to BuzzFeed News via UKIP's head of press, Braine said: "It is sometimes difficult to remember how to spell words which have several diverse spelings [sic]."