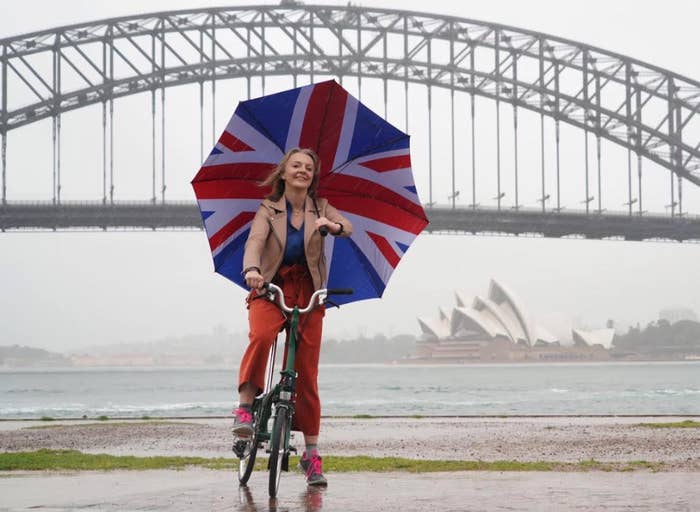 It was the photo that, for many, summed up the Brexiteers' vision of "Global Britain". The international trade secretary proudly flying the flag for the UK as it seeks new friends and frontiers ahead of leaving the EU.
Championing exports by riding a London-made Brompton bicycle in front of the iconic Sydney Harbour Bridge. In the mud, under the pouring rain.
That moment, and others like it on Liz Truss's trade tour last month, cost the taxpayer more than £2,500 to capture.
BuzzFeed News can reveal that Truss charged the taxpayer £1,483 to hire a professional photographer for her tour of Australia, New Zealand, and Japan. The public purse also coughed up a further £1,190 for Truss's "PR-related activities" on the trip. The data was released under the Freedom of Information Act.
Of course, the trip also provided an opportunity for Truss to bolster her personal brand.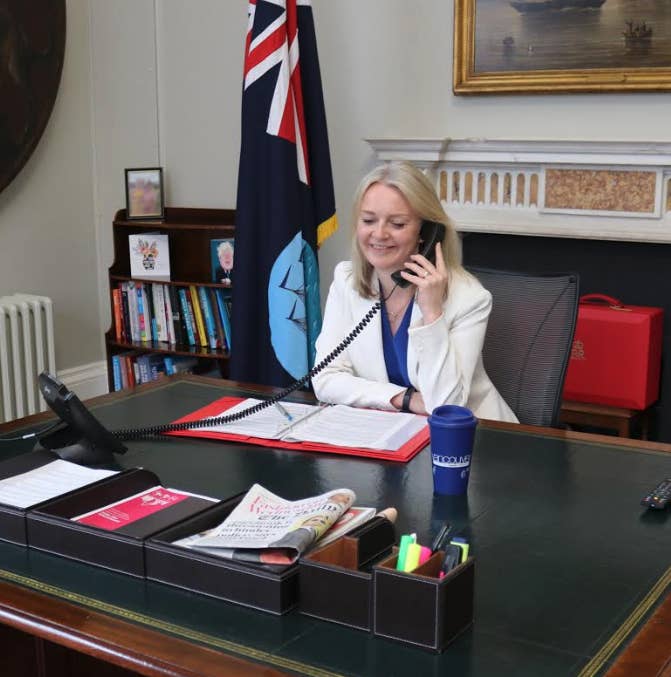 Her penchant for posting posed pictures of herself on phone calls with foreign counterparts has already raised eyebrows at the top of government — with some colleagues unkindly suggesting that her time would be better spent on trade talks than Twitter numbers.
But the visit down under was not a chance that the Tory Instagram favourite could miss.
First, a Department for International Trade press release was sent to journalists promising: "LIZ TRUSS PHOTOS: Liz Truss gears up for a trade deal in Sydney".
Second, a tweet from Truss banging the drum for the British bicycle industry got 220 retweets and 766 likes.
The publicly funded PR effort, it has to be said, was successful in the sense that it grabbed Twitter's attention.
BuzzFeed News asked the Department for International Trade about the cost of Truss's photographer and PR activities. In a statement, a spokesperson did not address those questions and instead provided a generic response about her trip.
It said: "During her visit to Australia, the secretary of state met with senior politicians and cabinet ministers including the prime minister and trade minister, where they agreed to begin trade negotiations as soon as possible post-Brexit. This will pave the way for a UK/Australian Free Trade Agreement, and increased opportunities for UK consumers."