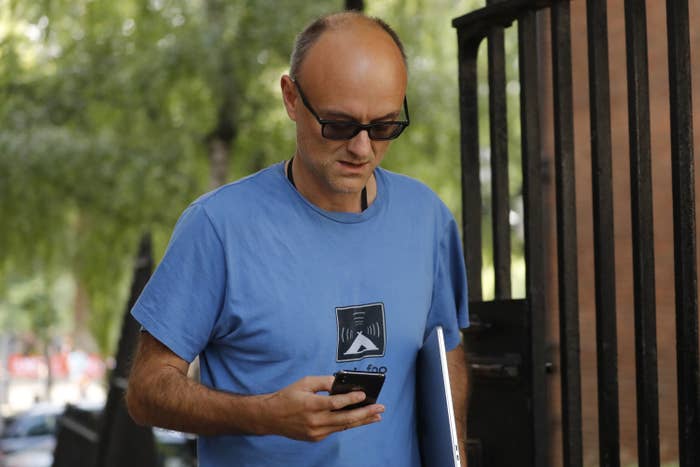 Boris Johnson's chief aide Dominic Cummings has begun a reshuffle of special advisers, with several ministerial aides expected to leave the government, BuzzFeed News can reveal.

Special advisers — known in Westminster as SpAds — are powerful taxpayer-funded political aides who work for ministers across Whitehall. Last week BuzzFeed News reported that Cummings had declared what one adviser dubbed a "jihad on SpAds", cracking down on what he perceived as a culture of leaking and disloyalty under Theresa May.
Multiple government sources said on Monday morning that a reshuffle of SpAds, organised by Cummings, was underway. Several aides have lost their jobs in the cull, government sources said. BuzzFeed News has confirmed that two SpAds are no longer in their positions as of Monday night.
Last week a third aide, Luke Tryl, who was due to be appointed as an adviser to culture secretary Nicky Morgan, had his appointment blocked by Number 10.
Special advisers who served under the May government — and automatically had to reapply for jobs when Johnson became prime minister — are due to receive their new contracts on Monday or Tuesday, where they will be given details of their roles and new pay offers.
In a further cause of frustration among government aides, Helen MacNamara, the senior civil servant in charge of propriety and ethics at the Cabinet office, has told them they will continue to be paid by their old departments in August and won't receive any pay rises until the end of September. One said they thought this was a sign Number 10 is planning for a snap election.
Special advisers told BuzzFeed News that paying them their old salaries despite them working in new jobs was an abuse of their employment rights. One said: "It's one of the worst examples of propriety and ethics you can imagine."
Aides have also been told they cannot take any holiday this summer, as the government steps up its preparations for Brexit.
Downing Street has been approached for comment.