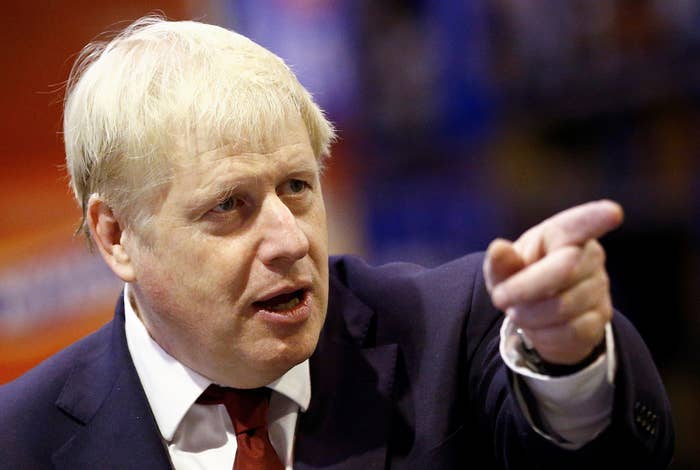 A split is beginning to emerge among cabinet ministers and advisers at the top of government over whether Boris Johnson could break his leadership election promise and delay Brexit beyond Oct. 31.

The prime minister has long insisted that he will not agree to an extension of Article 50 beyond that date and that he would rather "be dead in a ditch" than ask the EU for another delay.
But behind the scenes, cabinet ministers are divided on whether this hardline public position is realistic, with some privately suggesting Johnson could renege on his commitment to deliver Brexit by Halloween.
Ministers and aides have formed three groups, multiple government sources told BuzzFeed News: those for whom there is no alternative to leaving on October 31; those who believe Johnson should delay rather than try to get around the anti-no deal legislation passed by parliament; and those in the middle who are starting to argue that the prime minister could survive an extension if it was forced upon him.
The question among cabinet ministers and senior advisers now is which group will Johnson be in if he cannot agree on a new withdrawal deal with Brussels and is faced with the choice in a month's time.
The developments came as an internal Conservative party briefing note appeared to soften the government's position.
Tory MPs at the party's conference in Manchester have been instructed to say in media interviews that they are "determined" to leave the EU by that date, BuzzFeed News can reveal.
Previously they had been told to say unequivocally that the UK would be leaving the EU on Oct. 31. "This is the first time I have seen anything that isn't categorical about Oct. 31," a source said.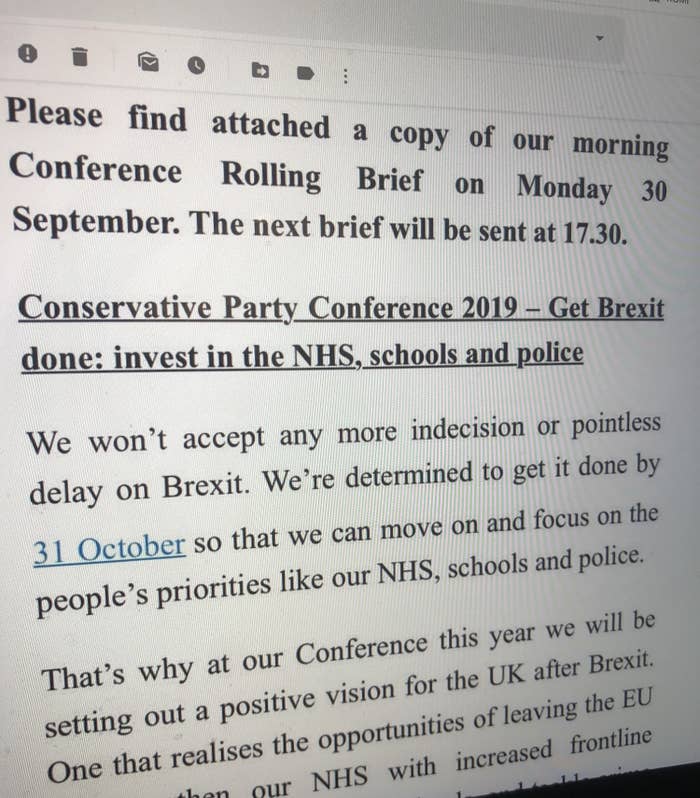 Ministers and other government sources described to BuzzFeed News how Johnson's administration now consists of three broad camps.
The first group is the "October 31ers", made up of Brexiteer ministers such as Dominic Raab and the senior group of advisers around Johnson in Downing Street who previously worked on the Vote Leave campaign, including his chief aide Dominic Cummings.
These Brexiteers take the most hardline position and the one repeated by Johnson on Monday: that the UK has to come out of the EU on that date, with or without a deal.
They want to "go straight through" the Benn law — the legislation passed by opposition MPs aimed at preventing a no-deal Brexit — and attempt to ensure that an extension is not triggered.
Some in this group believe it is preferable for the prime minister to refuse to extend Article 50, even if that means a potential second defeat at the Supreme Court and the possibility of Johnson being ousted from Number 10 by opposition MPs at a vote of no confidence.
Much of the October 31ers' argument rests on what they perceive to be the electoral consequences of Johnson fighting an election having broken his vow not to extend.
In such a scenario, they fear an election — which Cummings has told colleagues he believes will take place in November — would become far more difficult for the Tories to win because Nigel Farage's Brexit Party could accuse Johnson of betrayal.
According to one minister who spoke to BuzzFeed News, Johnson had "farmed out" his Brexit policy to the ex-Vote Leave aides, and their reputations relied on them making sure he keeps his promise.
The second group was described to BuzzFeed News by the minister as "the delayers".
It is made up of those in government who do not have a particularly strong ideological affinity to Brexit, who would prefer a delay to no deal, and for whom abiding by the law and being seen to act as a responsible government is paramount.
Whitehall sources pointed to justice secretary Robert Buckland as an example of a member of the government for whom agreeing to another Article 50 extension would clearly be preferable to attempting to ignore the Benn law or succumbing to another defeat in court.
But one October 31er told BuzzFeed News that the government could weather a raft of ministerial resignations should they refuse to seek an extension. The make-up of the government and parliament after an election would likely be very different anyway, they said.
The third group, which Whitehall sources said is increasing in numbers and influence, is the pragmatists.
These are ministers and senior advisers in the middle who still believe the UK can leave the EU on Oct. 31 and that Johnson should strive for that outcome, but who think the prime minister could survive a delay if he is forced into one.
They are starting to make the case that, if he fails to agree a deal with the EU, Johnson could realistically send the extension letter to Brussels, then argue at a November election that he tried everything in his power to keep his promise but was forced into a delay by parliament and the courts, whose actions prevented him from negotiating a better deal with the EU.
"Unlike with Theresa May, no one could seriously believe that Boris hadn't done his utmost to get Brexit done. Everyone would know it was Jeremy Corbyn and John Bercow who had blocked Brexit. The public would not forgive the opposition for being responsible for another delay," a minister told BuzzFeed News.
Those in the pragmatist group argue it is preferable for Johnson to reluctantly agree the extension — having exhausted all other possibilities — than to be brought down in a vote of no confidence that would lead to Corbyn or another opposition figure taking over as prime minister.
Senior Tories have long believed Johnson cares most about staying on in Number 10, and the prime minister has repeatedly stated that he will not resign.
Publicly he is an October 31er and there is no sign of him wavering. But privately some in government believe he would rather delay than be forced out of office.
"When it comes to the crunch, is he in group one or group three?" the minister said.
"I don't intend to literally be dead in a ditch," Johnson replied when asked by STV News in Manchester if his position was softening. "Nobody's literally going to die."